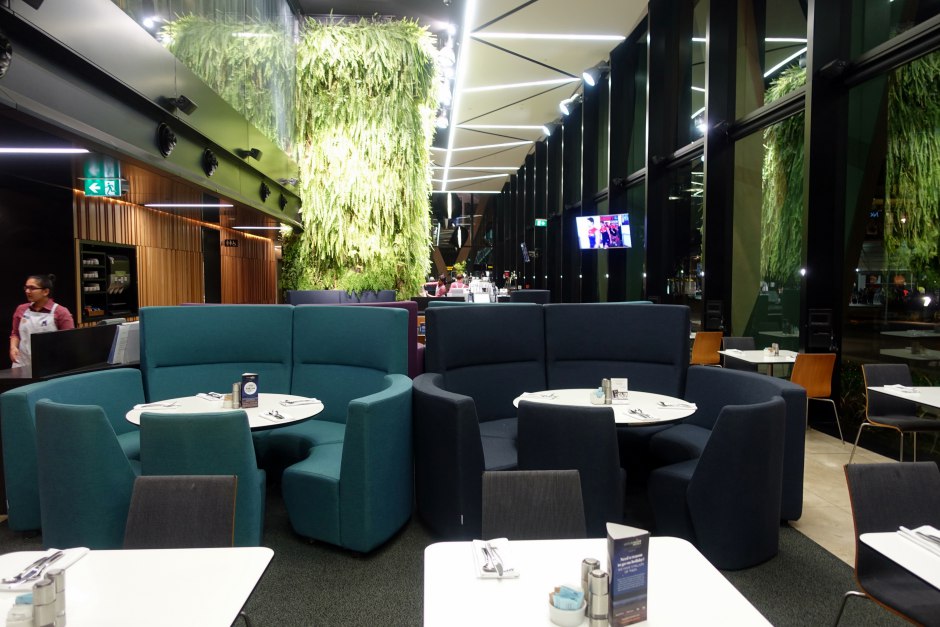 This Novotel Auckland Airport Hotel Review is from our recent 2017 stay, following our Singapore Business Class 777-300ER flight from Singapore. Auckland is your most likely entry point if you're arriving in New Zealand on an international flight, and if you have a layover and early morning flight the next day, the Novotel Auckland Airport is a very convenient choice.
The Novotel Auckland Airport is a 3-4 star hotel, not a luxury hotel, so it's not a Virtuoso member and perks don't apply. If you're seeking a more luxurious option in downtown Auckland, TravelSort can book the Sofitel Auckland Viaduct Harbour with Sofitel Step Program benefits or the Langham Auckland with Langham Couture preferred partner benefits.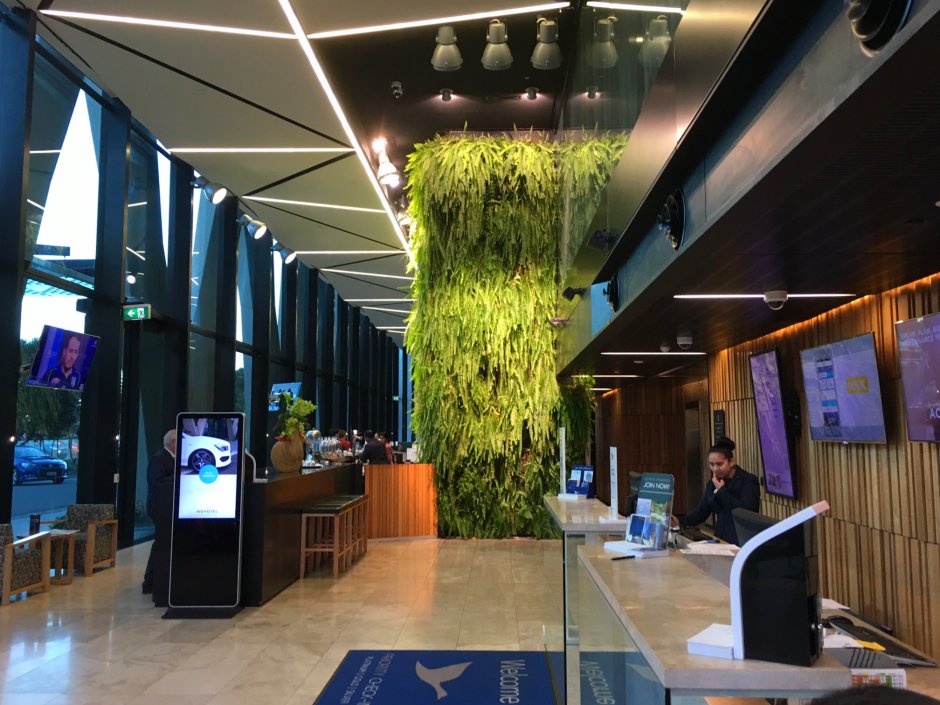 Novotel Auckland Airport Location, Lobby and Check-In
The Novotel Auckland Airport is directly across from the international terminal, so it could scarcely be more convenient. You do need to walk outside and cross the street, but it's literally just steps away, and in fact the airport is visible from the hotel lobby.
At the time we checked in there was just one associate manning the desk, so we did have to wait while she finished with another guest.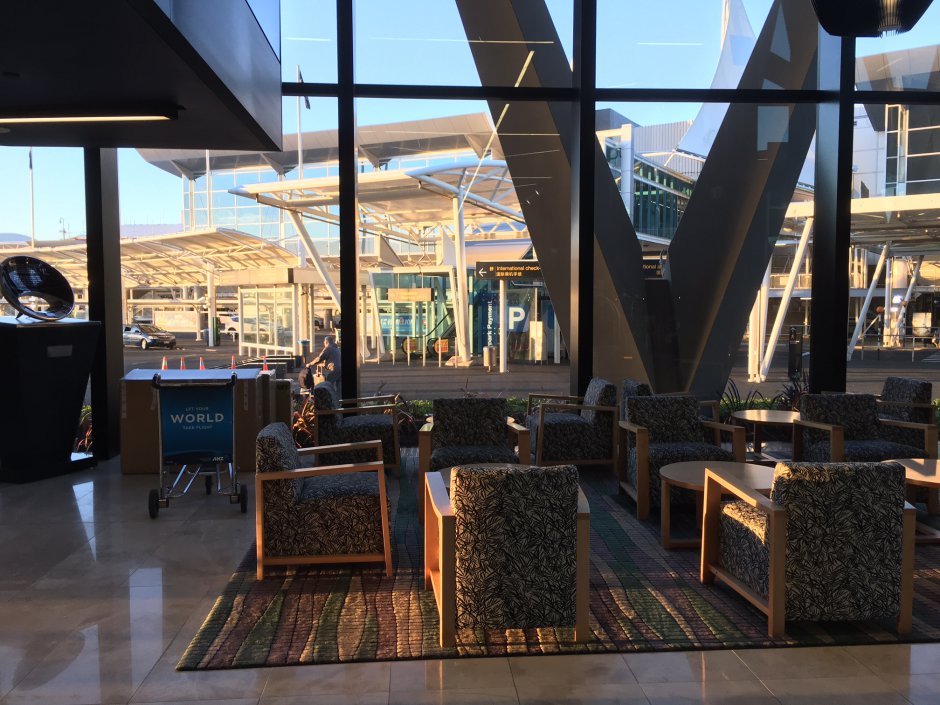 Novotel Auckland Airport Executive Room and Benefits
Executive Rooms are similar to entry-level Superior rooms in size, at about 300 square feet, but are located on higher floors, and include a few extra benefits, such as an iPod docking station, complimentary WiFi, and an in-room espresso machine. Here's the entrance to our Executive Room:
The King bed was pretty comfortable for this class of hotel, and more plush than Park Hyatt mattresses, but not as plush as Sofitel mattresses.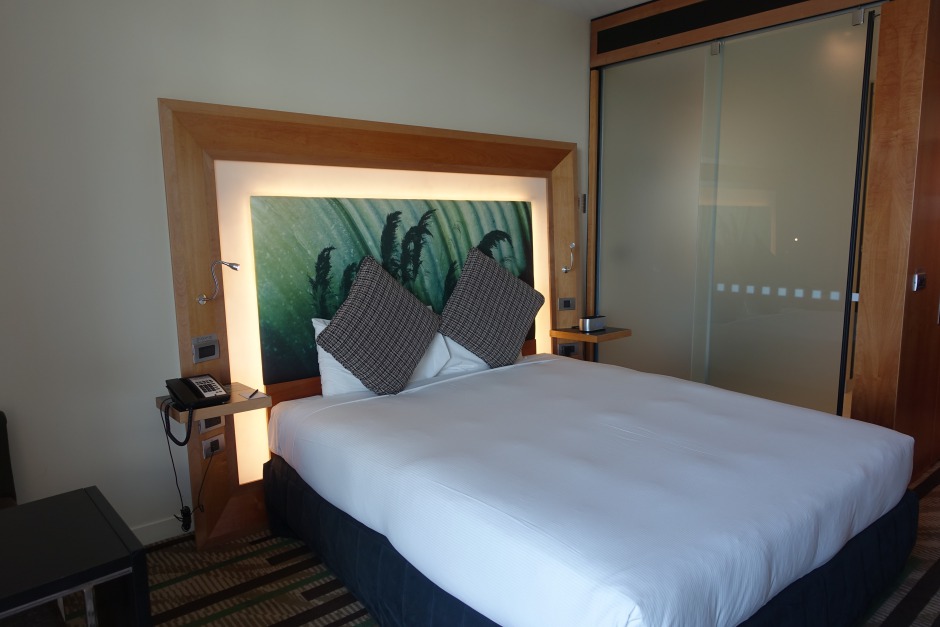 I disliked that the bathroom is only separated from the bedroom by frosted glass, so if one of you goes to the bathroom in the night, or wants to take a shower while the other wants to sleep, light from the bathroom spills onto the bed. Definitely more form over function.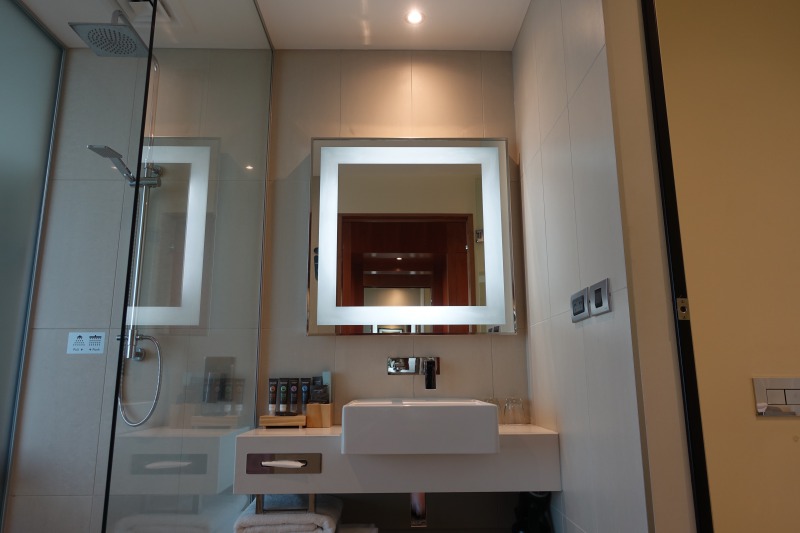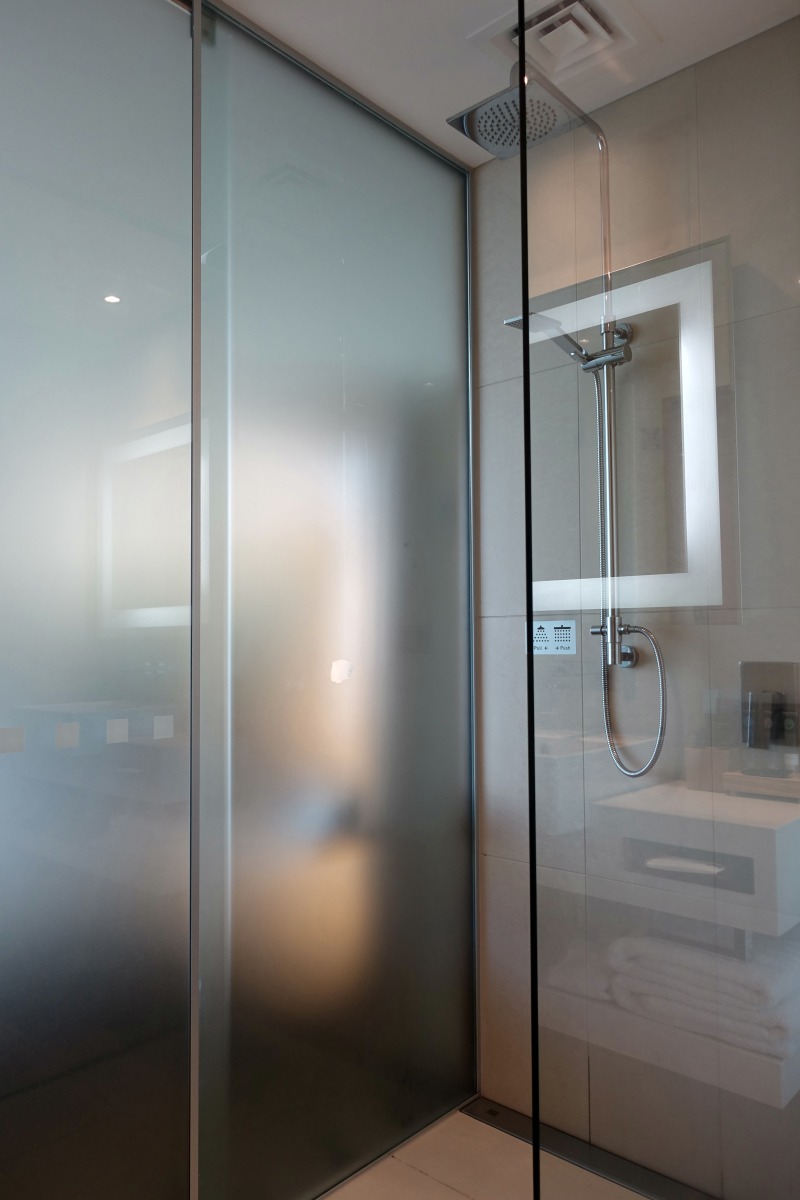 Bathroom products are Fair Trade: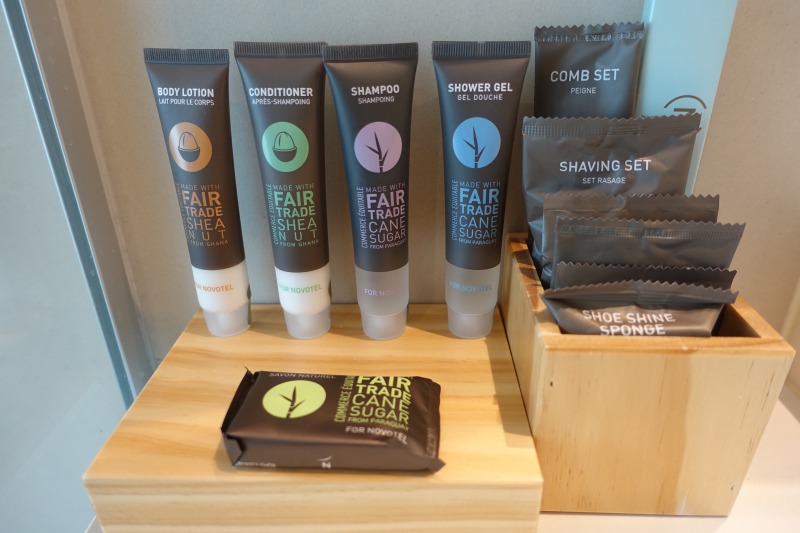 The espresso machine is not Nespresso, so I opted to use the tea kettle to make myself tea instead.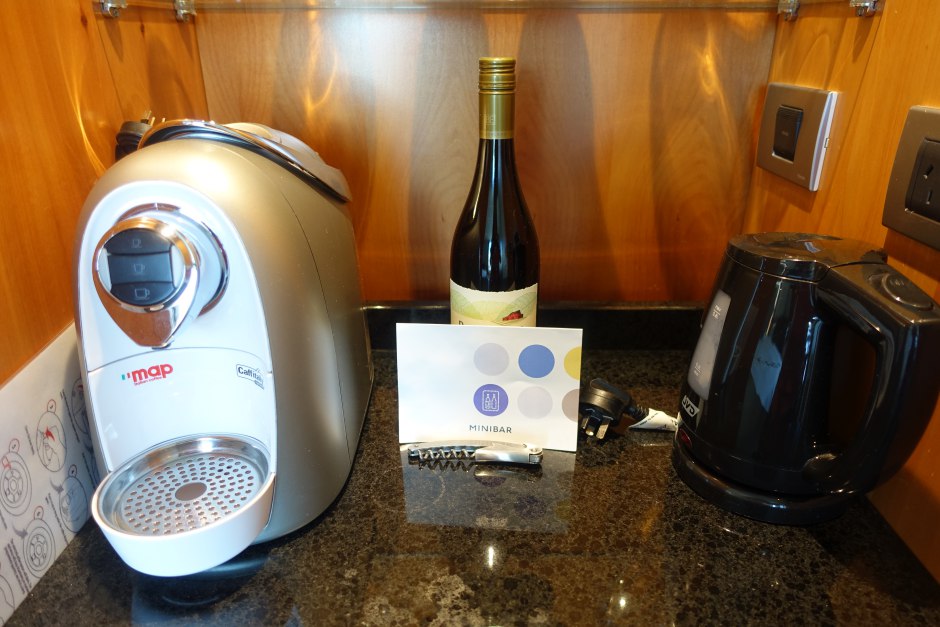 I never use the mini bar unless it's complimentary, but here are the offerings for those interested: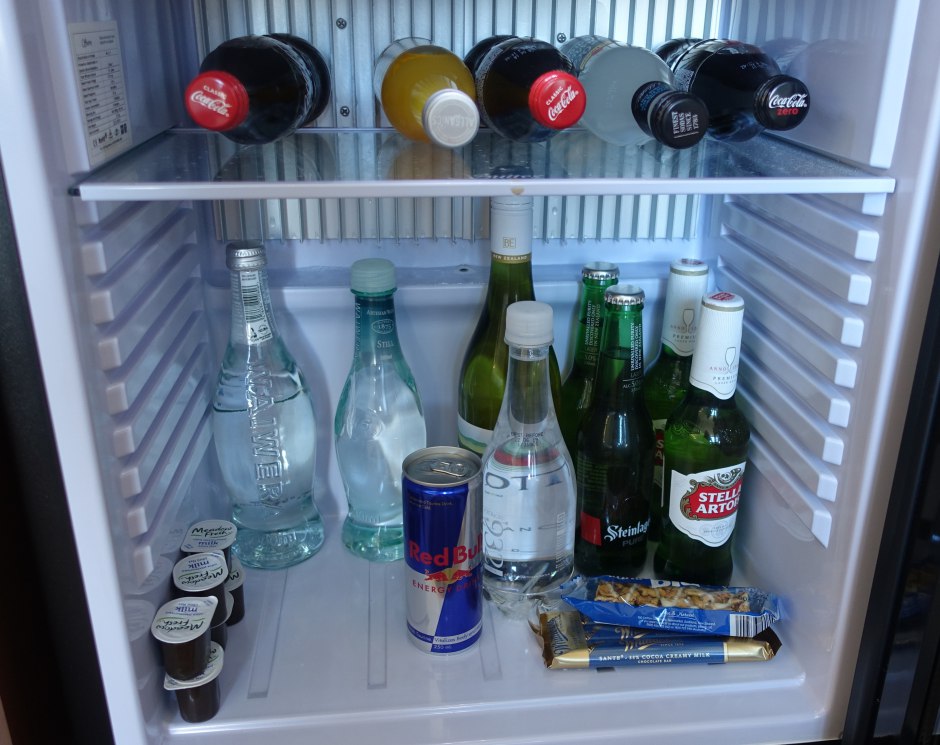 Breakfast at The Square Restaurant
Breakfast is included in the Executive Room rate, and it was a better than expected spread. The Square opens at 6am, so we had an early breakfast before checking in for our flight. Since we arrived so soon after the breakfast buffet was laid out, we were the very first guests and had our pick of where to sit, including the huge crescent banquettes.
There were several juices, but I was especially happy to see a self-service juicer to make your own fresh squeezed orange juice:
The cold buffet included a good selection of fresh fruit, as well as smoked salmon, cold cuts, cheeses, cereals and yogurt.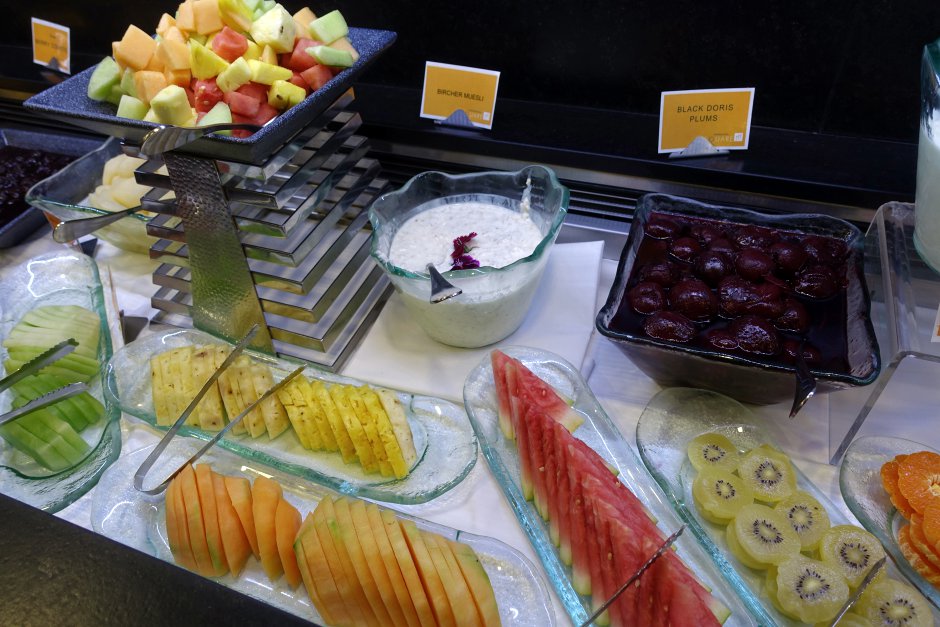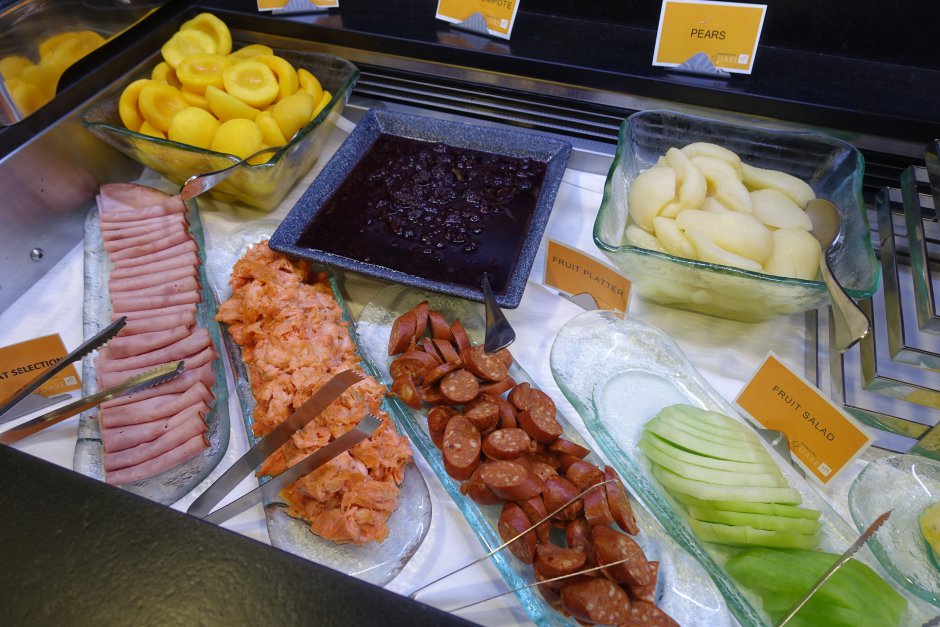 Yogurt is a breakfast staple, so I helped myself to fruit compote, plain yogurt, and granola.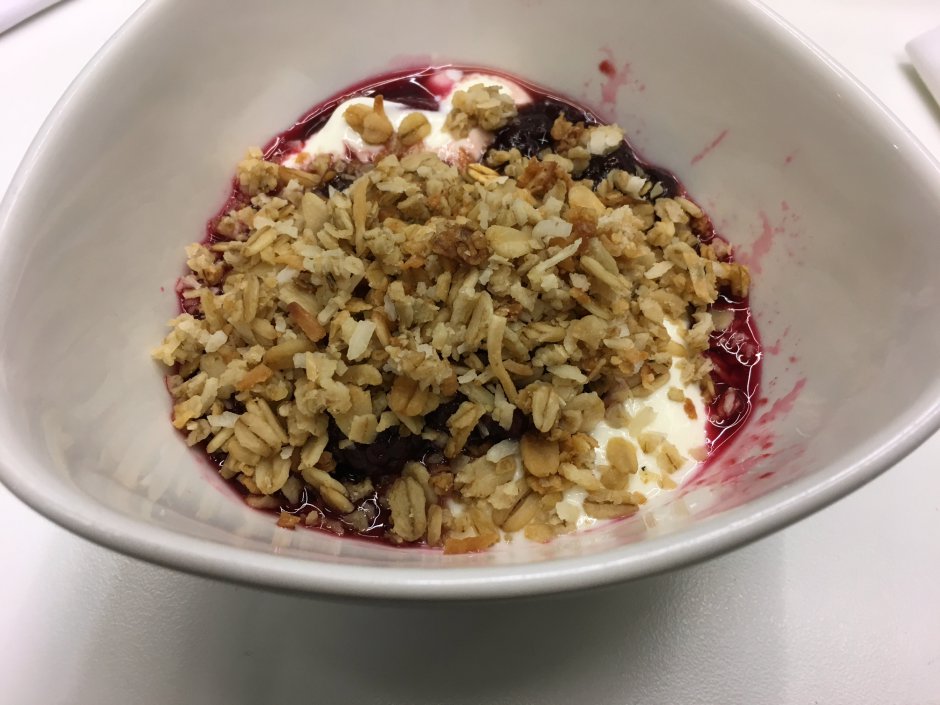 There were also some yogurt parfaits that were quite good as well: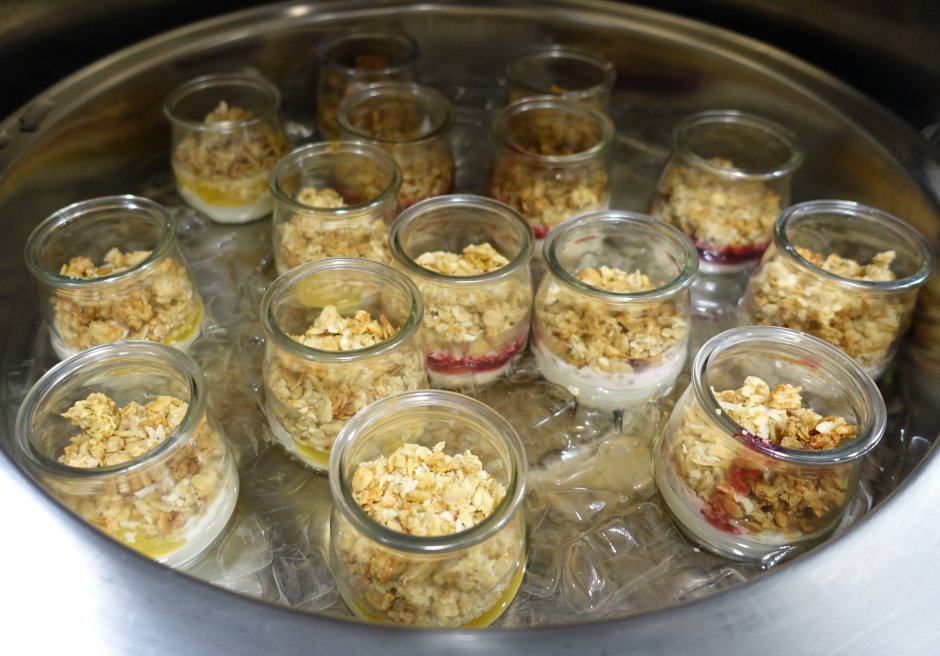 There were also a variety of breads and pastries. We had some of the bread, which was good and fresh, although the pastries didn't look that great.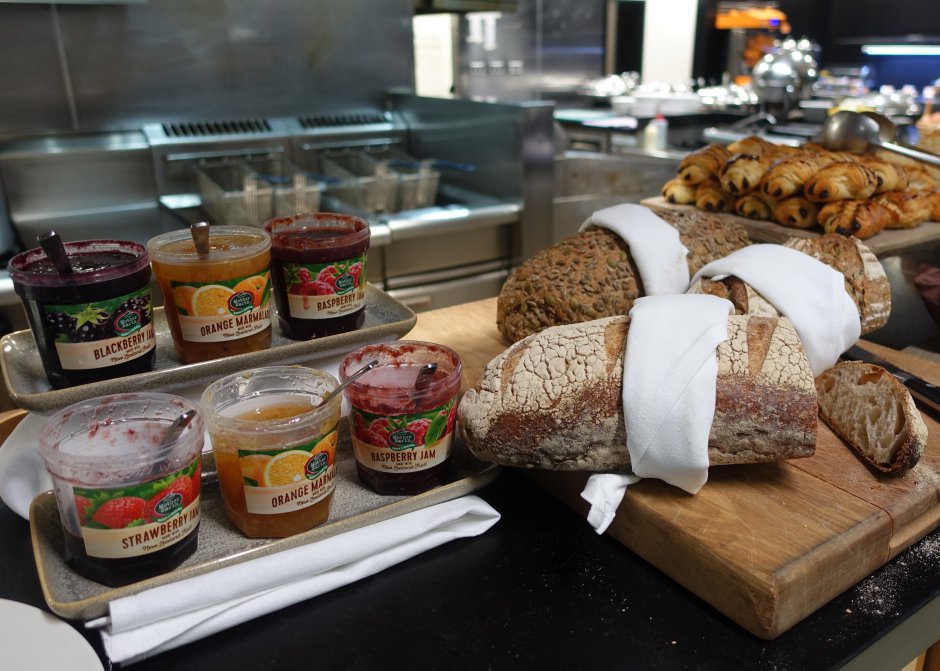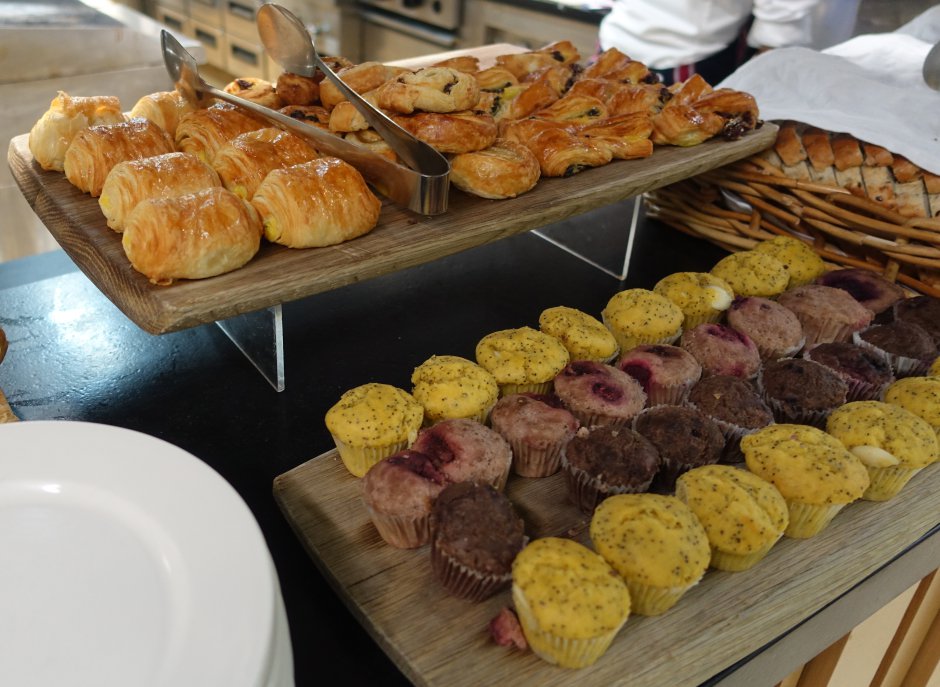 There were also some hot items, but these weren't as appealing; the bacon wasn't crisp.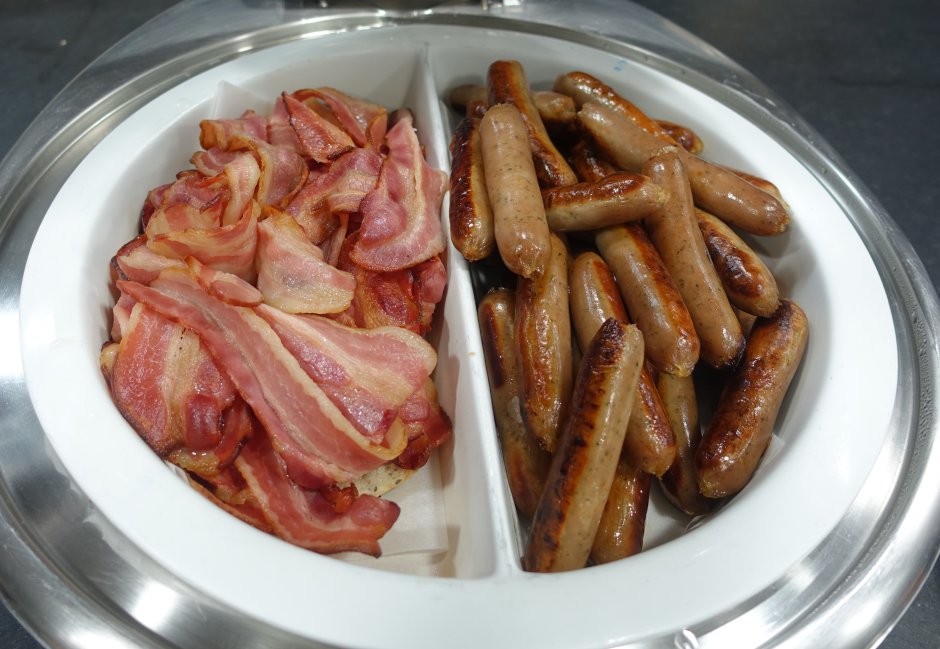 The Verdict
The Novotel Auckland is one of the nicer true airport hotels, located right at the airport just across from the terminal. Given that it has minimal competition in the area, it can be relatively pricey for a 3-4 star hotel, but consider that taxis to downtown Auckland can easily run you over USD $50 each way, and bus transport is slow, nor is there any airport train.
The bed was comfortable and there's good soundproofing, so we slept well. I detest the bathroom design of having a frosted glass partition instead of a solid wall, however, since it needlessly means that light seeps out of the bathroom and can awaken a traveling companion.
The Square Restaurant breakfast buffet was above average, with a very good selection of fresh fruits, juices, breads and jams, and even a juicer to make your own fresh squeezed orange juice. The hot buffet items looked less appetizing, but there were enough choices overall that it's a good option if you don't have lounge access and don't want to buy breakfast at the airport.
If you've stayed at the Novotel Auckland Airport, what was your experience?
Recommended Posts
Review: Sofitel Auckland Viaduct Harbour
Review: Air New Zealand Premium Economy 777-200ER
Lounge Review: Air New Zealand Auckland Koru Business Class Lounge
APEC Business Travel Card: Fast Track Arrival for China, Russia, Australia and More
Review: The Farm at Cape Kidnappers, Hawkes Bay, New Zealand
Need Award Booking Help? Our fee is as low as $75 per ticket if you book your hotel or cruise with us.
If you enjoyed this, join 200,000+ readers: please follow TravelSort on Twitter or like us on Facebook to be alerted to new posts. Get travel inspiration from TravelSort on Instagram or TravelSort on YouTube
Become a TravelSort Client and Book Your Luxury Hotel with Virtuoso or Preferred Partner Benefits!