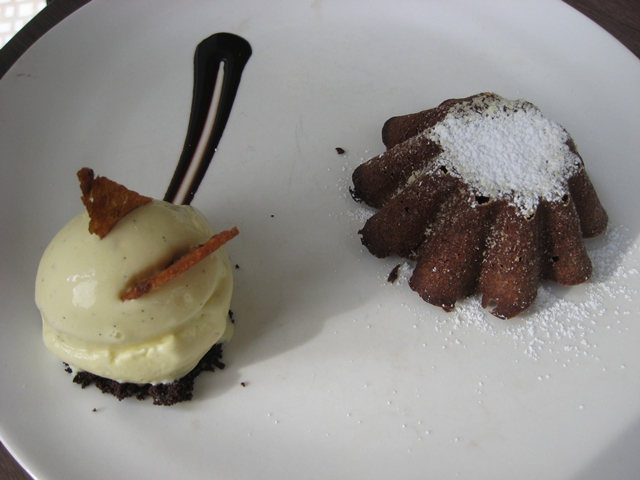 Nougatine at Jean-Georges was one of our top NYC Restaurant Week picks. While it's the more casual sister restaurant to Jean-Georges, they share the same kitchen, and even a few of the same dishes, such as the classic Jean-Georges warm chocolate cake. And even when it's not Restaurant Week, it's one of the better options for a really nice lunch, since its prix fixe lunch is $32 and includes more choices than the Restaurant Week menu.
Although originally I'd planned to have lunch with my husband, he couldn't make it so the munchkin was lucky enough to come along and do some first rate noshing. We arrived on time, relieved to be out of the freezing cold sweeping through New York, and shortly after we checked our coats we were shown to our table, which we'd reserved via OpenTable. It was by the window, as I'd requested, and even though the view is decidedly bleak this time of year, it was good to have the natural light.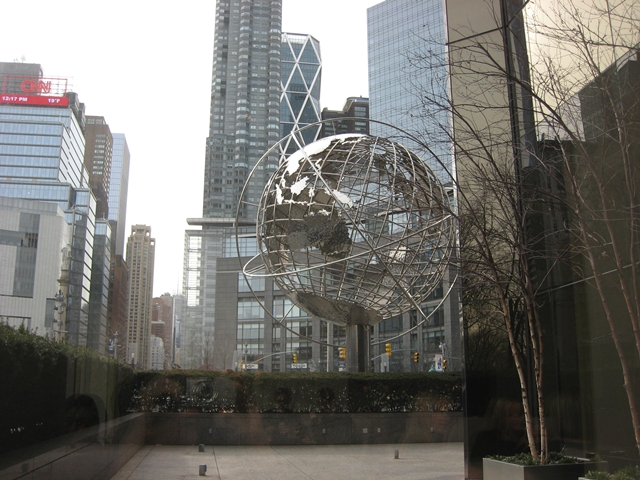 Our server introduced herself, provided menus, and asked about drink orders. Since I had quite a bit of work to get through in the afternoon I declined the wine list, and we focused on the food menu.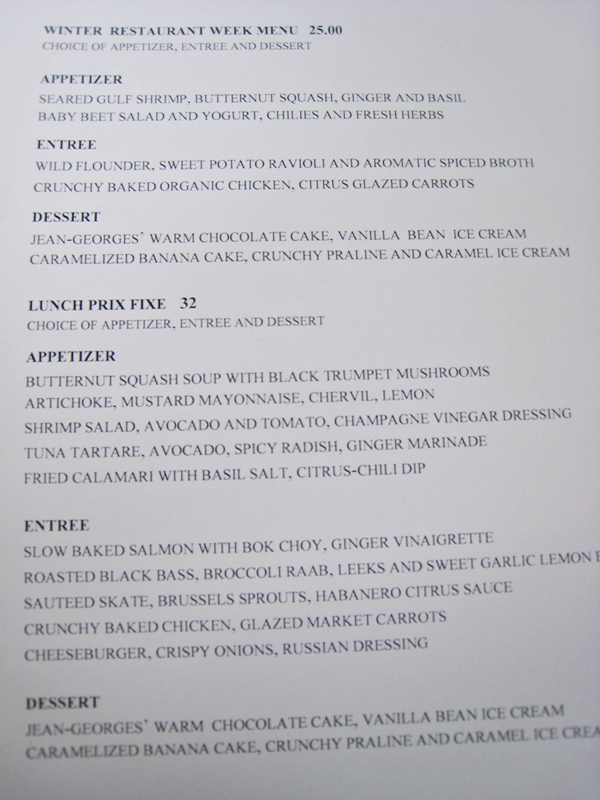 I decided to get the Restaurant Week menu for the munchkin, who chose the Seared Gulf Shrimp, Crispy Organic Chicken, and, no surprise, the Warm Chocolate Cake with Vanilla Ice Cream. I opted to try the regular lunch prix fixe, since I wanted the Tuna Tartare as a starter. I was disappointed to see that the dish I really wanted, the Roasted Capon and Black Truffle, wasn't there. I asked the server about it, and she seemed surprised, noting they haven't had that dish since the holidays. Oh well–so much for updating the online menu. So instead my order was for the Roasted Black Bass, and just to try something different for dessert, the Caramelized Banana Cake with Caramel Ice Cream.
While there's no bread basket, a different server offered us each a slice of bread, which tasted similar to the levain bread I've gotten from Zabars. Perfectly fine, and the munchkin would have eaten both of our slices if I'd let him, but not a match for the warm, flaky housemade rolls at Eleven Madison Park, the bread cart at Bouley, or the bread assortment, including pretzel rolls, at Per Se. Then again, it's not really fair to compare Nougatine–Jean-Georges is the more apt comparison.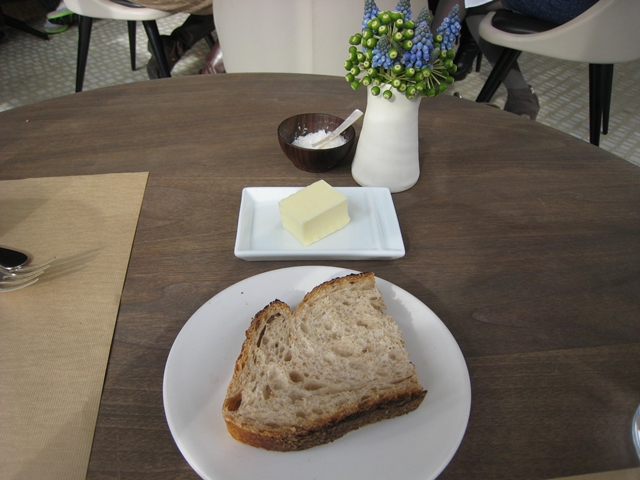 While we waited, we read some stories. Although the munchkin was the only child while we were there, he was welcomed. And at least at lunch time, there was enough of a buzz from the conversations around us that even if he occasionally said something a tad too loudly, no one seemed to notice or care.
Our server didn't actually deliver any of our dishes–instead, two others brought them and placed them in front of us at the same time. One of them then described exactly what we had before us, although I was only half listening, since it was all I could do to snap a quick photo before the munchkin seized a shrimp off the plate.
Have to say, I was very impressed with the Seared Gulf Shrimp, which was coated in spice and rested atop a silky butternut squash puree, with toasted squash seeds. I half hoped the munchkin wouldn't care for the spice, so I could finish his portion, but no such luck–he loved it, and the squash puree–the toasted seeds were all he left me.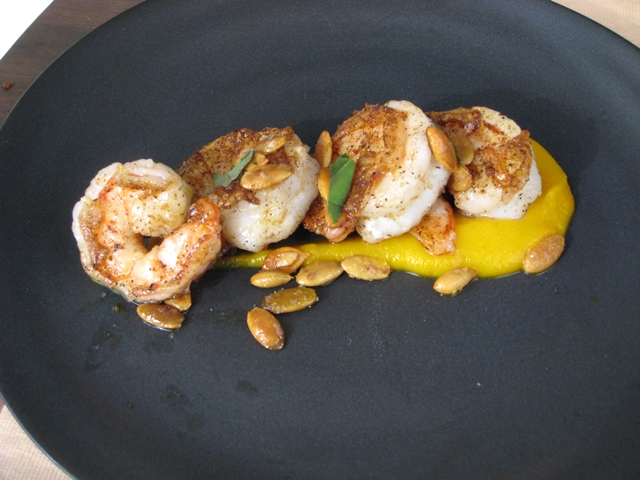 I shouldn't complain though, as the Tuna Tartare was also very good. I did find the ginger vinaigrette, which was poured tableside, both a bit overpowering and lacking something–perhaps a splash of toasted sesame oil or even a hint of togarashi wouldn't have gone amiss.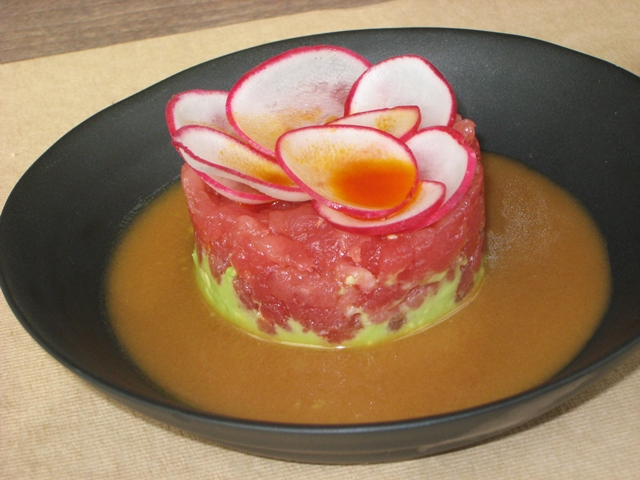 There was a bit of a wait for our main courses, but eventually they arrived, piping hot. The munchkin's Crispy Organic Chicken was exactly that, with a textbook crispy skin encasing moist meat, and he easily polished off most of it. While I enjoyed the citrus glazed carrots and beets it came with, my son puckered his mouth and refused to have more than the requisite few bites I insisted on.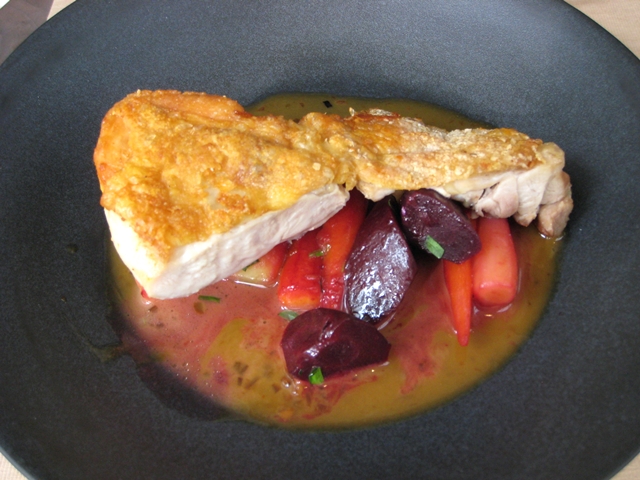 My Roasted Black Bass was delicious and presented well, if not earth shattering. I thought the sweet garlic lemon sauce complemented the fish well, and the slightly bitter broccoli raab was a nice counterpoint. I still regret not being able to try the Capon and Black Truffle, however!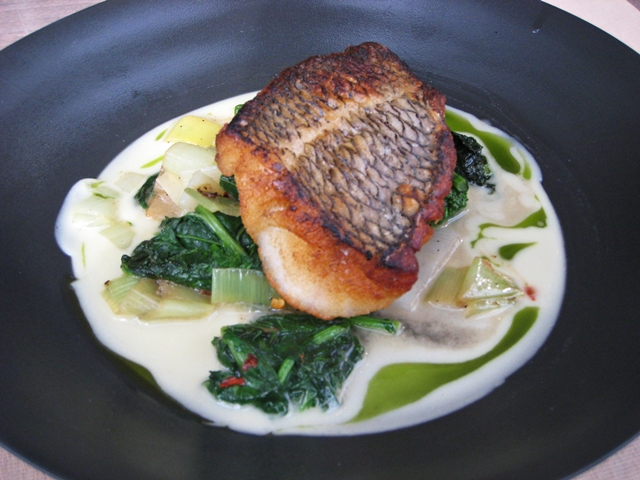 We had quite a long wait between our mains and dessert, although to be fair Nougatine, and I believe Jean-Georges as well, was completely full. I would take this into account, however, if you have an after-lunch meeting to get to.
The Jean-Georges Warm Chocolate Cake was as good taste-wise as I remembered it, although it had been baked just a tad too long, as it wasn't molten inside, though it was still moist. At any rate, this cake made someone very happy!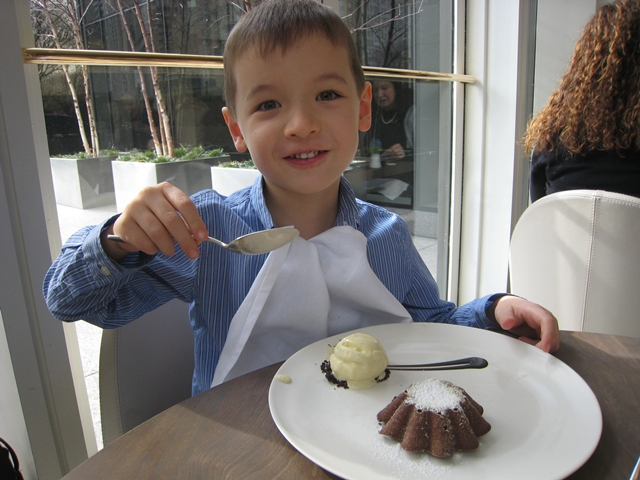 While I never get excited about banana cake, this was a solid rendition, and artfully presented with the caramelized fresh bananas on top. The best part, however, was the scoop of salted caramel ice cream it came with.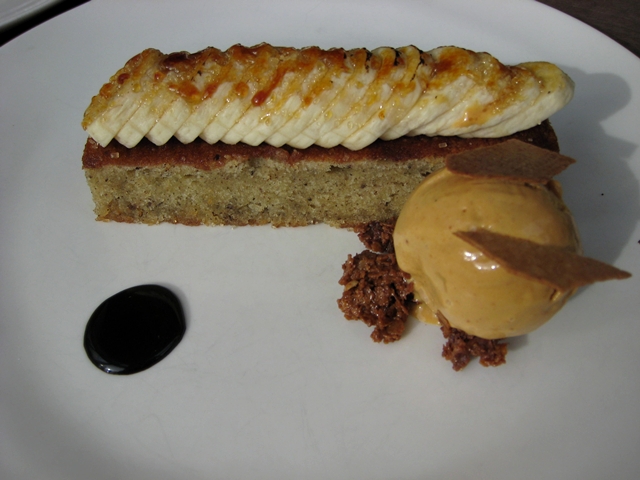 The Verdict: Lunch at Nougatine at Jean-Georges is a good value alternative to Jean-Georges, and especially during Restaurant Week lunch with 3 courses for $25. I was pleasantly surprised with how good the shrimp appetizer and crispy organic chicken main course were, and of course anyone who likes chocolate cake and vanilla ice cream can't go wrong with that as the dessert. Even outside of Restaurant Week, the $32 lunch prix fixe is a good bet, since Jean-Georges is $38 for just 2 courses, and dessert is an additional $12. Service was fine, although slow towards the latter part of our meal, apparently due to a harried kitchen. For a quieter, low key lunch with still excellent Austrian food I'd prefer Seasonal, but for a business lunch with colleagues, Nougatine is a good bet.
If you've dined at Nougatine during NYC Restaurant Week, what was your experience?
Related Posts
Jean-Georges NYC Restaurant Review
NYC Restaurant Week Winter 2013: Where to Go
Seasonal Restaurant and Weinbar NYC Review
Tom Colicchio's Riverpark, NYC Restaurant Review
Need Award Booking Help? Our fee is as low as $75 per ticket if you book your hotel through us.
If you enjoyed this, join 200,000+ readers: please follow TravelSort on Twitter or like us on Facebook to be alerted to new posts.
Become a TravelSort Client and Book Your Hotel with Virtuoso or Four Seasons Preferred VIP Amenities!