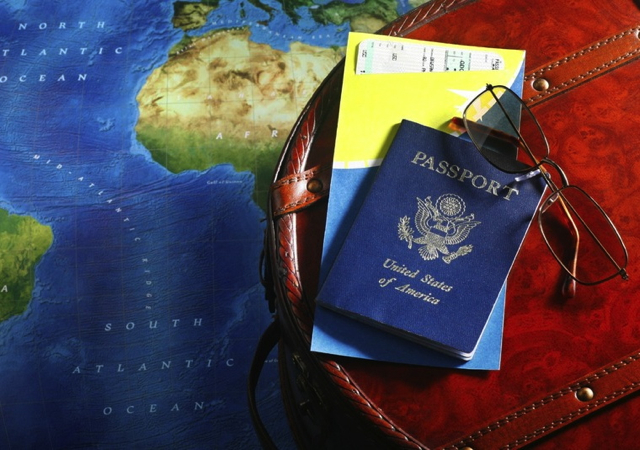 If you book an airline ticket without a middle name but your passport has your full name, including a middle name, is it a problem? Or what if you use just the first initial of your middle name?
Airlines Tell You Names Must Exactly Match Your Passport or Government Issued ID
Airlines generally tell you that you must book your airline ticket such that your name exactly matches your passport or government issued ID. After 9/11, Secure Flight was developed by the Department of Homeland Security, and requires passengers or their agents to provide their name, date of birth and gender when booking their ticket, in order to better be able to match them against known and suspected terrorists.
But Names Can't Always Be Entered Exactly as in Your Passport
That said, airline reservation systems haven't changed much in the past few decades where name input is concerned, so all that really matters are the first name and last name fields. And even these may not be able to be entered exactly as they appear in your passport.
For example, let's say you have two last names or a hyphenated last name, such as Smith-Jones: even if you input a space between them, they will be one long word on the reservation: SMITHJONES. Same thing if you have two first names, such as Anne-Marie, which will become ANNEMARIE.
In fact, for some airlines there isn't even a field for a middle name, there's only a single field for "given names" where you would enter your first name and middle name–and again, these will be mashed together, with no space.
U.S., Canada and Most of the World: First and Last Names Are All That Matter
If you inadvertently skipped the middle name field and are flying in the U.S., Canada, don't sweat it all–you'll be fine, as long as your first and last names are exactly as in your passport or ID.
In most cases elsewhere in the world you're also fine, although for complete peace of mind it's a good idea to include all of your name, exactly as in your passport (keeping in mind the above–your two names or hyphenated names will naturally be mashed together, no space or hyphen–that's just the nature of the antiquated computer systems).
What If My Name is Really Long and Doesn't Fit?
This can be a real issue for some folks with long names. Hopefully you can at least get your full last name to fit. If your first and middle names don't all fit in the given name field, then most airlines ask that you just provide the first initial of your middle name. I recommend double checking with the operating carrier directly before booking your paid or award ticket, if you're not sure what to do, especially when you're booking a ticket with a non-U.S. airline.
Can I Amend My Name?
If you booked with one of the U.S. airlines, as mentioned above, you won't have a problem as long as your first and last names are accurate. But if there's a typo in your first or last name or you just want to have your middle name there for peace of mind, you can make changes or cancel free of charge (both paid and award tickets) within 24 hours of booking.
Note this is NOT the case with foreign carriers, however, so it could end up being quite expensive to cancel and rebook if you discover a name error that you think will cause you problems.
You May Be Able to Void the Ticket and Rebook for Free
I did this just recently with an Aeroplan award ticket booked for an Award Booking Service client. Fortunately the supervisor I spoke with was able to void the ticket, which had just been booked, miles were redeposited instantly, and I rebooked it with the correct middle name. If I'd tried to do it later, however, the standard CAD 90 would have applied to cancel and redeposit miles.
Booking for Someone Else? Make Sure to Have Their Names (Preferably a Copy of Their Passport)
It's easy to assume you know someone's name, but you'd be surprised how many folks go by their middle name or sometimes a different name altogether than the one in their passport or on their driver's license. The most foolproof way to get it right is to have a copy of their passport or ID so that you don't mess anything up when booking for them.
Parents: Make Your Kids' Lives Easier by Avoiding Long Hyphenated Names!
While it's become common to combine parents' last names into a hyphenated last name for their children, consider the length of the resulting name. The longer and more complex the name, the more time has to be spent typing it and the greater the chance of getting something wrong. I have friends who have created a new, one word last name for their kids that combines their two last names (it helped that each of them had a short, two letter last name) and I also have friends who opted for just the mother's last name for the kids, an unusual but refreshing change from the typical practice of giving kids their father's last name. And as for a middle name, you could even just scrap it altogether–no one says you have to have a middle name. So have a heart when naming kids…
What's your experience with middle names on airline tickets matching or not matching your passport? Any additional tips?
Related Posts
Airline Ticket Name Change or Transfer to Another Person?
How to Complain to Airlines and Hotels and Get Compensated
How to Transfer Miles and Points Between Frequent Flyer Accounts
Need Award Booking Help? Our fee is as low as $75 per ticket if you book your hotel through us.
If you enjoyed this, join 90,000+ readers: please follow TravelSort on Twitter or like us on Facebook to be alerted to new posts.
Become a TravelSort Client and Book Your Aman Resort with VIP Amenities!