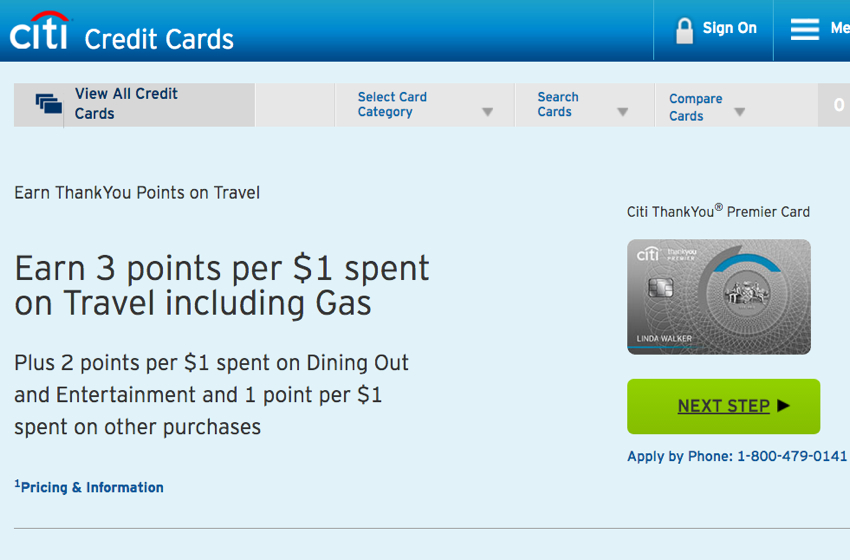 There's no Citi ThankYou Premier bonus public offer and Citi has made it harder to earn signup bonuses again. TravelSort reader Susan writes "I wanted to apply for the 40K Citi ThankYou Premier card on your Best Travel Credit Cards page, but there's no mention of the 40,000 ThankYou points bonus. Then I looked at the 50K Citi Prestige bonus, and I see that in the terms that the bonus is not available if you opened or closed the card in the past 24 months. I thought it used to be 18 months?"
Susan is absolutely right, and these are important changes, so it's worth mentioning them to all readers and clients. I've updated the Citi ThankYou Premier on the Best Travel Credit Cards page to a remaining 40K offer (Hat Tip to Doctor of Credit), but this link could be pulled at any time, so if you were planning to apply for the 40K offer, I recommend doing so now.
Citi ThankYou Premier: From 50K to 40K to No Signup Bonus
Previously, when I got the Citi ThankYou Premier, it had a 50K signup bonus. That was reduced to 40K in January 2016, and now the public offer page doesn't mention any signup bonus. Just to be sure, I called Citi and the representative confirmed there were no signup bonus points offered. But as I mentioned above, there is still a "zombie" link for the 40K offer at the time of writing this post, and that link is on the Best Travel Credit Cards page but may not last long.
As to why Citi has eliminated the signup bonus entirely for the Citi ThankYou Premier's public offer, I'm guessing Citi has a marketing budget for the card and they've already spent it, at least for the current time frame. I know people working at Citi and along with AMEX, it's definitely in cost-cutting mode, so my guess is that it's budget related.
Citi Has Made It Harder to Earn a Signup Bonus Again
Citi already has terms that state you can only earn Citi AAdvantage mile bonuses if you're a first time cardmember for that card, even though in practice many applicants do earn the bonus again for CitiBusiness AAdvantage cards: "This CitiBusiness / AAdvantage® Platinum Select Card offer…is valid only for first time CitiBusiness / AAdvantage Platinum Select® cardmembers…"
Now Citi has tightened up earning the bonus again in its terms for the 50K Citi Prestige card. Previously, terms stated that if you opened or closed a Citi Prestige account within the past 18 months you're not eligible to earn the signup bonus again. Now, the terms state 24 months: "Bonus ThankYou Points not available if you have had a Citi Prestige card opened or closed in the past 24 months."
What are your thoughts on the elimination of the signup bonus for the Citi ThankYou Premier Card, and that Citi is making it harder to earn the signup bonus again on other Citi cards?
Related Posts
Costco Will Accept Visa June 20: Earn 5X on Costco via Chase Freedom
Which Chase Credit Cards to Apply For Before 5/24 Rule Takes Effect?
Need Award Booking Help? Our fee is as low as $75 per ticket if you book your hotel through us.
If you enjoyed this, join 200,000+ readers: please follow TravelSort on Twitter or like us on Facebook to be alerted to new posts.
Become a TravelSort Client and Book Your Hotel with Virtuoso or Four Seasons Preferred VIP Amenities!