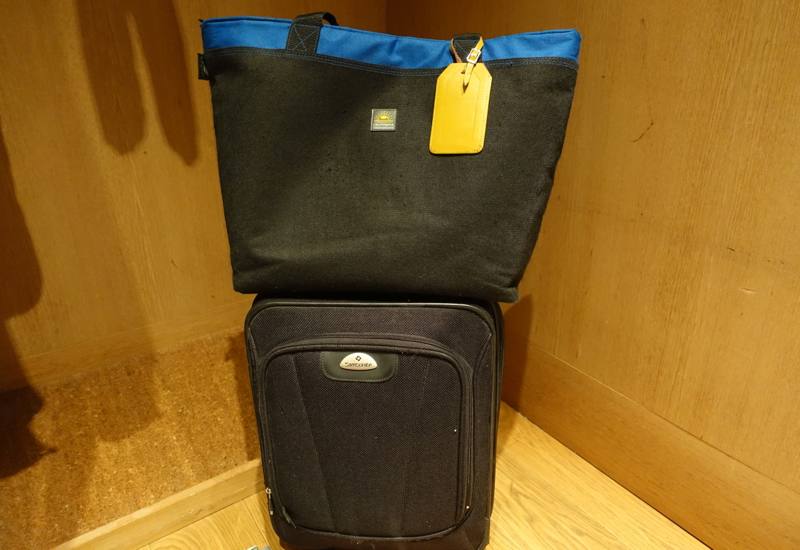 I'm a big believer in never checking luggage and bringing only carry-on bags, but how does this work for a month or more of travel? A few of my clients asked for a post on packing light, and how I make this work, so here goes. As a caveat, this is just what works for me, and I'm sure there are many others that travel far more lightly than I do.
I rely on a small wheeled case just a bit bigger than the Travelon wheeled carry-on my son carries, for my clothes, plus a zippered tote that carries my laptop, work papers and toiletry bag and which can be easily placed on top of my rolled case when walking around. So far I've never had to check a bag, even on low cost carrier flights that have rather strict carry-on limits. And while most of our trips are 1-2 weeks, on this occasion we're gone for 1 month, but have stuck to our usual carry-on baggage limit.
Packing Tips
1. Shoes: Wear 1 Pair and Bring 1 Pair Maximum
This tends to be harder for women than for men, but I rely on a pair of black leather Asics sneakers for the bulk of my walking around, with a pair of black ballet flats for dressier occasions. I also bring a pair of slippers for the pool or beach, although if there's only a pool and no beach, a pair of hotel slippers will do in a pinch.
2. Clothes: Hand Washable, Quick Dry
If you're traveling in a warm climate or during the summer, you really don't need tons of clothes. I find that a single pair of long pants or leggings and one long-sleeved top are fine for the occasional chilly evening or to protect against mosquitos in tropical climates, and 2 short sleeved tops and one pair of shorts in addition to the one I wear, plus 3 pairs of socks is sufficient. The key is that you should plan to do some hand washing or have some laundry done at the hotel, and be prepared to wear clothes multiple times over your trip, rather than try to bring new clothes for every day of your travel.
A rash guard and dive skin does take up some precious room, but I find them to be worth it if I plan to spend much time in the water in a sunny place, since they protect better against a sunburn, and also avoid adding those chemicals to the water not to mention applying and reapplying tons of sunscreen.
3. Nice Clothes: Silk or Cotton That Packs Small
Of course, shorts aren't appropriate if you plan to go to any nice restaurants, so I do bring a silk cocktail dress that packs very small, and is wrinkled silk, so it doesn't need any ironing. I also bring a light cotton dress for less formal dining, which again packs small. Additionally, one of the tops is a cotton-nylon Michael Stars shirt that looks a bit dressy and packs very small, plus can layer with my one long sleeved top if it's chillier than anticipated.
4. Lightweight Laptop for Work
It goes without saying that if you can get away without bringing a heavy laptop or any work electronics at all, go for it. I always need to work while traveling, so I have my Macbook Air with me, which is pretty light for the functionality it provides.
5. Rely on Airplane Pajamas and Amenity Kits if Flying First Class
Assuming I or my husband is traveling international first class on the outbound, we rely on the flight for a supply of pajamas and for an amenity kit. That lets us bring just the most essential medicines in a Ziploc bag. Similarly, if I know one of the early hotels I'll be staying at offers L'Occitane or other bath products I like, I won't bring them.
6. Plan to Buy 1-2 Pieces of Clothing
There's a saying that you should pack, then bring only half of it and twice as much money. While we try not to overpack in the first place, we do try to leave a little extra room and plan on buying 1-2 things wherever we're traveling to, as a souvenir, and also based on what we find we need once we get there.
7. Plan to Donate or Recycle Reading Material
If I bring a book to read, I almost never bring it back with me–it's donated to someone I meet along the way who expresses interest, or to a lending library, at a hotel that offers one. It's one less thing to carry around, and creates room for possible small souvenirs or other new reading material.
What are your best tips for packing light for a month?
Related Posts
How to Avoid Checked Luggage and 6 Reasons to Never Check Baggage
Need Award Booking Help? Our fee is as low as $75 per ticket if you book your hotel through us.
If you enjoyed this, join 200,000+ readers: please follow TravelSort on Twitter or like us on Facebook to be alerted to new posts.
Become a TravelSort Client and Book 5-Star Hotels with Virtuoso or Four Seasons Preferred Partner Amenities!