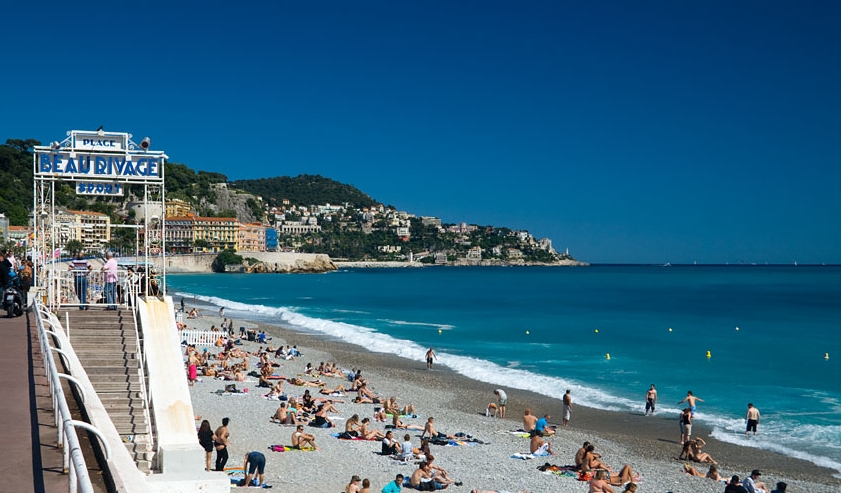 Why go
The gateway to the French Riviera, Nice is a wonderful stop on its own. This city by the sea was founded by the Greeks, who already appreciated the benefits of this Mediterranean paradise. The Romans continued to build out the city, and you can still see ruins of the Roman baths and amphitheaters. In fact, as Nice was once part of the Italian Duchy of Savoia and then the Kingdom of Sardinia until Italy ceded it to France in 1860, and the architecture in general has a romantic Italianesque quality to it. Although Nice is the fifth largest city in France, and a major resort town, with all the upscale hotels, dining and shopping one would expect, it is also surprisingly green, with many lush public parks, lovely flower beds, fountains, and tree-lined avenues. Don't forget to also visit the Cimiez neighborhood, home to both the Matisse Museum and Chagall Museum and to the Greco-Roman ruins.
And before you write Nice off as only for the rich and famous, know that many of Nice's top attractions (beaches, Roman ruins, art museums) are either free or low cost, and that Nice is very doable on a modest budget with the right planning.
Insider Tips
The airport is very close to central Nice. Your best transport option is one of the airport express buses: the 99 to the main Nice train station (Gare Nice Ville SNCF) which departs from quai 4 outside Terminal 2 or the 98 to the Nice bus station (Gare Routiere) which departs from quai 5 outside Terminal 2. Cost is 4 Euros one way, and you can obtain change at the ticket kiosk opposite the quais.
Save money by purchasing breakfast items and snacks from Monoprix (42 Avenue Jean Médecin), a French retail chain that in addition to clothes and department store items also has a grocery store.
If you do opt for a croissant and espresso at a café, it's cheaper if you eat at one of the tables where you stand up; it will be more expensive if you sit down for table service.
The city has very extensive public transport network. Tickets can be purchased at public transport stops (through machines), I for example, bought on the tram. Tickets cost 1 euro and allows you to move on any kind of public transport within 74 minutes. Note that you may change from one mode to another, but only in one direction (i.e. the transfer is not valid for a return trip). You'll need to validate the ticket prior to boarding, and the validation indicates the date, time, route number and direction, so do not take chances with a change in the opposite direction.
The sun is very strong; if you go to a public (free) beach without sun umbrellas, bring your own or at least a large hat and plenty of high SPF sunscreen to prevent sunburn.
Where to stay
The Nice Garden Hotel is a great family-run budget option in the city center, just a few minutes' walk from the seaside, close to the old town, and a 15 minute walk from the main train station. There are only 9 rooms, some of which have been recently renovated (try room 8) so book well in advance. Rates are very reasonable, 50-115 Euros in low season and 75-135 Euros in high season (April through end of October). Wi-Fi is free; breakfast is not included but costs only 8.5 Euros and is served in the garden.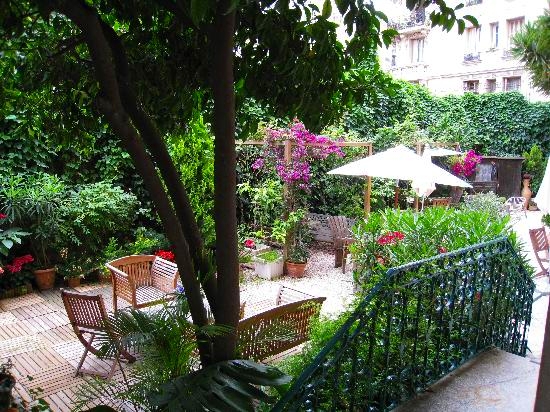 Now, if money is no object or you have enough for a 1 night splurge, the place to stay is hotel Le Palais de la Mediterranee, right on the Promenade des Anglais. The hotel's perfect location and true 5-star elegance mean that it is far from a budget choice, with rates typically starting at 275 Euros, but the property is gorgeous, with its indoor/outdoor heated pool (yes, you can enjoy a dip even in December!), sauna and hammam, knowledgeable concierge, gourmet restaurant (try the 25 Euro fixed price lunch), and rooms and suites with private terraces and sea views.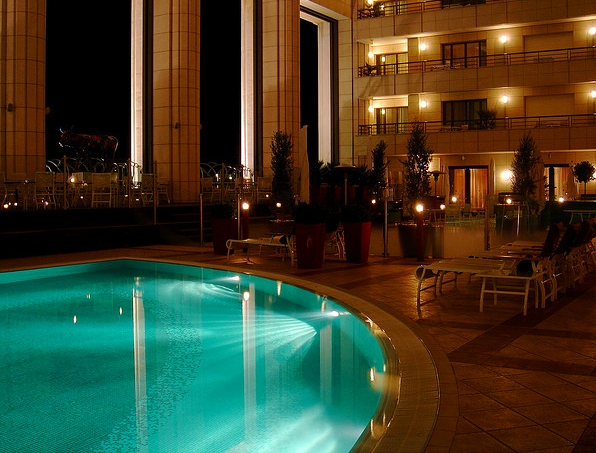 What to eat
Nice is a good place to eat as cheaply as possible by buying at Monoprix for breakfast, picnics, etc., then save up to do a really nice meal at restaurant such as Luc Salsedo. Try the 44 Euro 3-course menu, choosing from the menu favorites such as seared foie gras with grilled apple, risotto with artisanal chestnut sausage and quail jus, and chocolate crème brulee.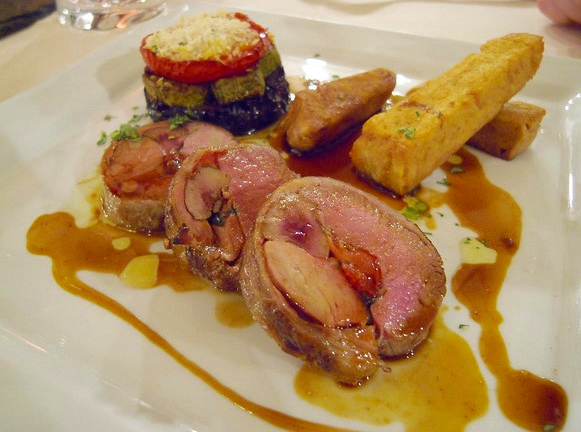 If even one splurge meal is not in the cards, try La Creperie Le Trimaran for huge savory galettes stuffed with fillings such as cheese, ham, mushrooms and egg and sweet crepes. Especially good are La Reblochonne, made with nutty Reblochon cheese, lardons (French bacon), potatoes and crème fraiche, and La Williams, with pear, caramel and toasted almonds.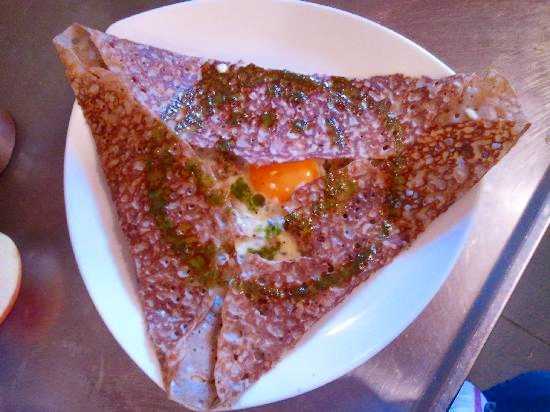 Another great snack to try from local bakeries and food vendors is Fougasse, which is similar to a puffy pizza or focaccia and usually includes olives, garlic and herbs baked right into the dough. Inexpensive and very satisfying!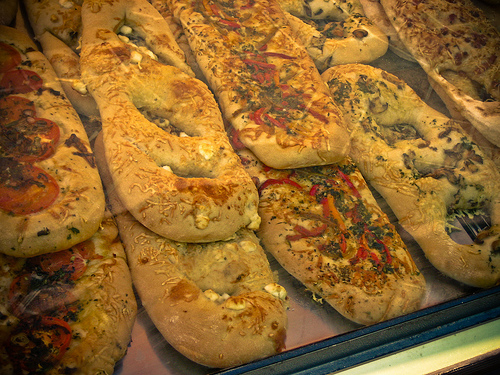 What to see
One of the main attractions of Nice is strolling on the Promenade des Anglais, a wide boulevard overlooking the sea that winds for 6 km along the beaches. It's nice to take an early morning walk or sunset stroll here, while enjoying the sea view. So why is it named after the English, whom the French are not known for having great affection? Well, beginning in the second half of the 18 th century, many wealthy Englishmen spent the winter in Nice, and soon it became popular among the well-to-do. During particularly harsh winter, many poor Britons also came, and with the available manpower, the English nobility proposed a project that would benefit all: building a track, Chemin De Promenade, along the sea.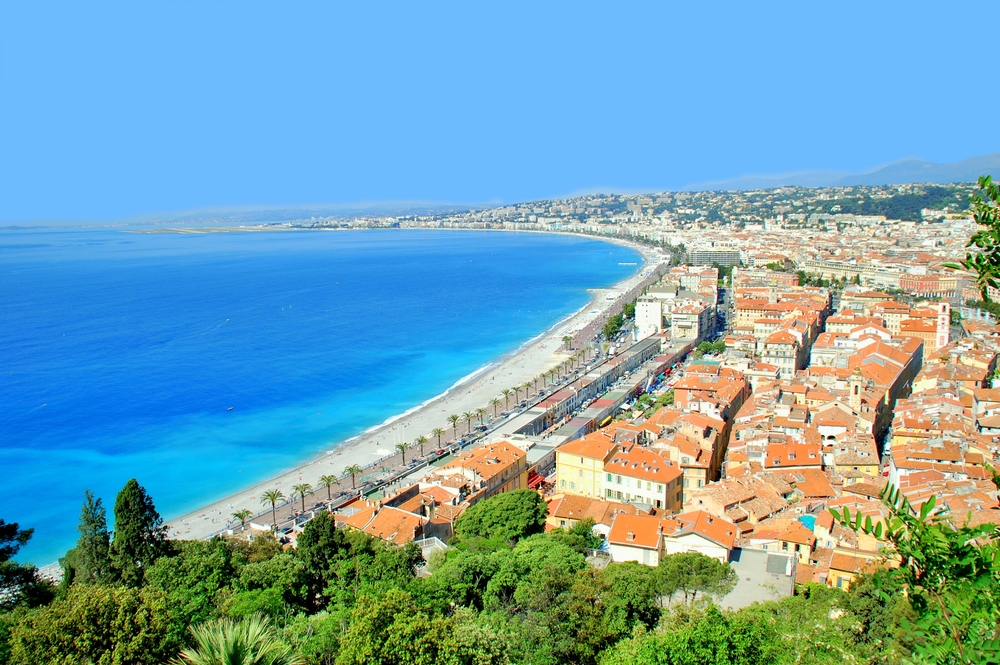 The Promenade des Anglais is well known for strolling, and the nearby area, just inland and parallel to the Promenade des Anglais, is known as the "Zone Pietonne", or "Pedestrian Zone". Cars are forbidden in this area, making it a welcome respite from the busy traffic elsewhere. Here there are a number of restaurants and cafes where you can sit and enjoy an espresso or choose from a number of varieties of coffee, desserts, and enjoy people watching. There are also a number of boutiques for window shopping. If you do need to do some real shopping, Nice Etoile is a more reasonably priced shopping mall on Avenue Jean Medecin, and the more expensive Galeries Lafayette is there too.
The beaches in Nice are divided into paid (usually with beach umbrellas and deck chairs at the price of 8-15 Euros per day) and free. Of the free beaches, I recommend Plage Publique de Beau Rivage Beach, which is situated beside a private beach at the Beau Rivage Quai Des Etats Unis.
While the water is not crystal clear, it is nevertheless very clean and a stunning shade of azure. When I was there, the water was warm—78-82 degrees—and I didn't want to come out, it was so lovely! As noted above, make sure to bring a large sun umbrella or at least large hat, sunscreen, comfortable cushions and towel to lie on, and slippers (as this and most other beaches have small pebbles instead of sand). There are stalls offering beer and food, if you don't wish to bring your own. If you're feeling particularly energetic, you can try paragliding at Nikaia Water Sport, which is between Plage Beau Rivage and Opera Quai des Etats-Unis.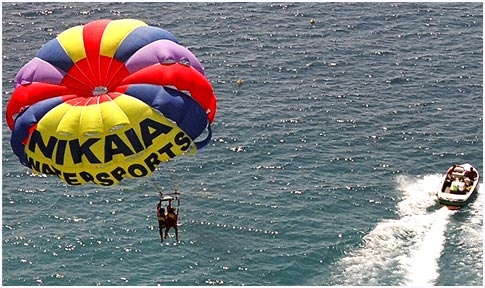 Place Massena and Old Town Daily except Monday (when a flea market is held), Place Massena is the site of a Farmers market. This is a great place to buy fresh, local foods, everything from ripe fruits, cheeses and other dairy products, piping hot pastries, and even gorgeous flowers. The only issue is that you'll need to rise quite early, since at 10 am the market is already beginning to wind down. The Massena area is also used for concerts and celebrations such as summer festivals, carnivals in February, the military parade on July 14 (Bastille Day) and other traditional celebrations and banquets. Place Massena is located two minutes' walk from the Promenade des Anglais. You'll often find various street artists performing in this area as well.
After Place Massena, you should also visit the Old City, which is located near to Place Massena. This charming narrow medieval streets and squares with the musicians and cozy cafes, and of course many types of souvenirs.
The Port of Nice, filled with its many small boats and yachts, is not only one of the main ports of the Cote d'Azur of France, it's a great place to take a short yacht or boat trip along the coast—what's not to love about the sea, sun and boating? If you have the money and time, you can also find speedboats to take you to Cannes, Monaco and St. Tropez. Or, if you're more interested in fishing and are conversant in French, you can chat with the local fisherman and perhaps even help them fish. In Nice, fishing has long ceased to be a job, instead it is done as a hobby, taking a boat out and chatting with friends over a glass of wine.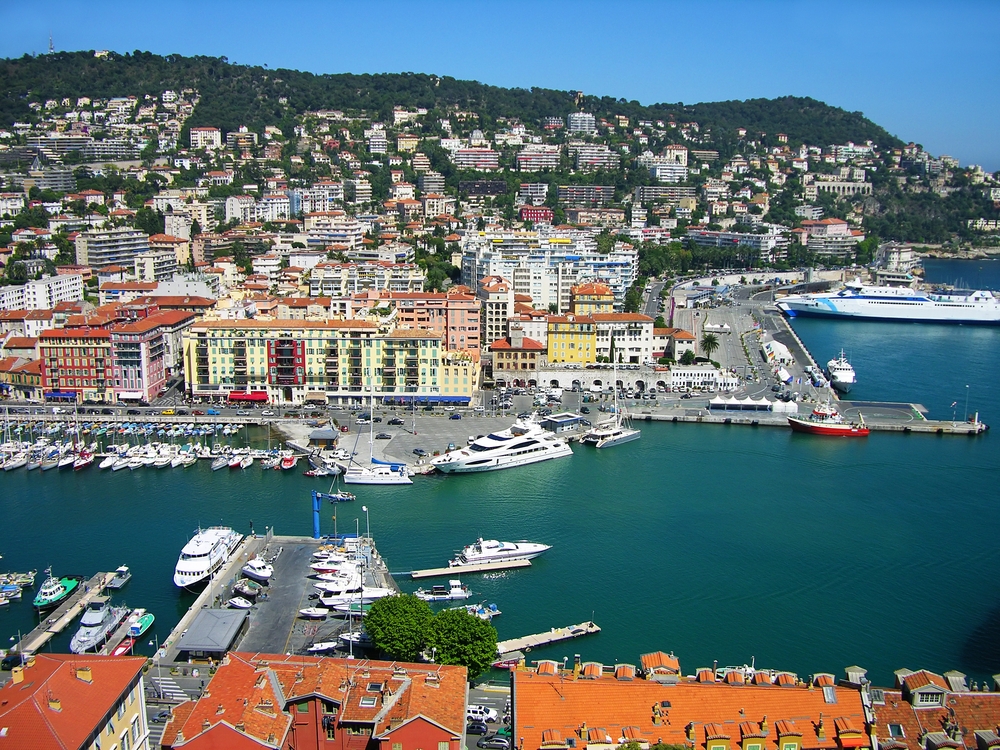 You may be wondering where the Greco-Roman ruins are that I mentioned Nice still has; to see them, head to the Cimiez neighborhood, about 2 miles inland from Nice's Old Town. Take the bus #22 or #17 to the bus stop "Les Arenes." Nearby you'll find the Museum of Archaeology (Musee d'Archeologie Nice), with sculptures and artifacts of the Roman city of Cemenelum. Step outside to see the ruins: the amphitheater, Roman baths, part of the sewer system, a house, shops and more. And the cost? Completely free. The museum is open daily from 10am-6pm, closed on Tuesdays. Nearby, and visible from the ruins, is the Matisse Museum. Cost is 5 Euros and as with the Archaeology Museum, it's open 10am-6pm daily, closed on Tuesdays. Some might find it a little small, but it's the perfect size to see his masterpieces while still leaving time for other exploration in Cimiez.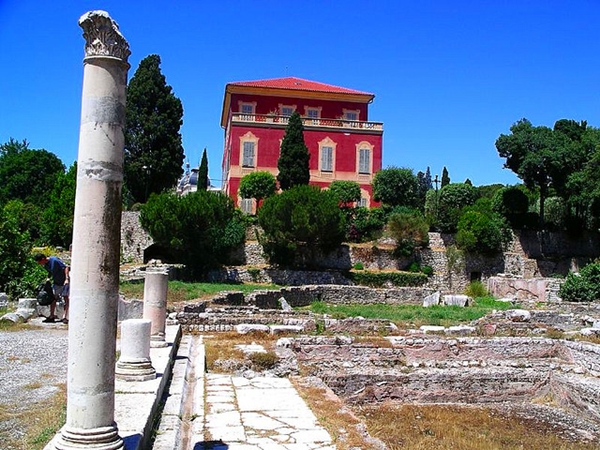 If you prefer Chagall to Matisse, you're in luck, since the Chagall Museum is also nearby. Entrance is 7,50 € and the museum is likewise open 10am-6pm daily except Tuesdays (10am-5pm Nov.-April).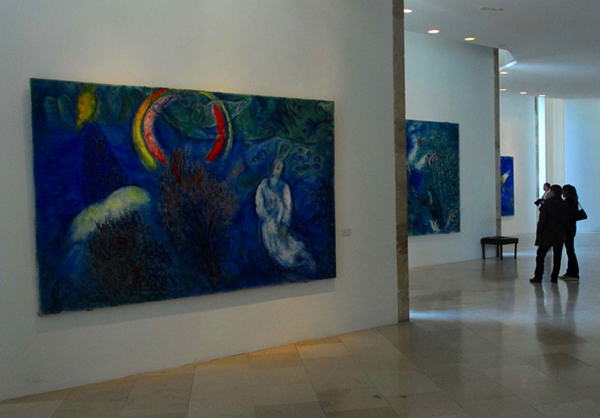 If you've had your fill of museums, enjoy a picnic lunch in the Cimiez Gardens, or buy a snack from the food vendors found around the park. If you're planning to be in Nice in July, you might also try to get tickets to the annual Nice Jazz Festival, which takes place in the Cimiez Gardens and the Roman amphitheater.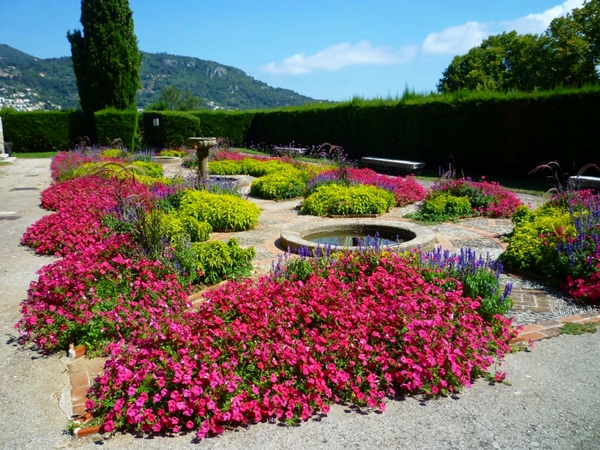 If you enjoy modern art, I recommend visiting Nice's Museum of Contemporary Art (Musee d'Art Moderne et d'Art Contemporain). The top floor has a small garden overlooking the entire city. On three floors there are a variety of exhibits, both permanent and temporary. Some of the most recent bequests to the museum include those of Niki de Saint Phalle and Albert Shyubak.
Need Award Booking Help? Our fee is as low as $75 per ticket if you book your hotel through us.
If you enjoyed this, join 100,000+ readers: please follow TravelSort on Twitter or like us on Facebook to be alerted to new posts.
Become a TravelSort Client and Book 5-Star Hotels with Virtuoso or Four Seasons Preferred Partner Amenities!