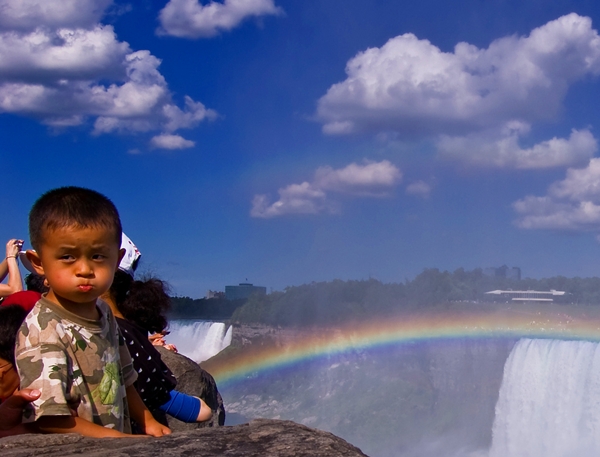 Why Go
Ever since Jerome Bonaparte, Napoleon's brother, decided to spend his honeymoon in Niagara Falls, the place has proclaimed itself as the honeymoon capital of the world. Yet despite the fact that the place continues to attract honeymooners, it is also a great place for a family vacation. Children will be in awe and will appreciate Mother Nature as they see one of her greatest wonders in the falls.
Niagara Falls, Ontario is said to have the better view of the mighty falls, yet this isn't the only attraction that it offers for families with kids. There are a huge amount of activities available in the city that the whole family will enjoy, from an amusement park to a butterfly conservatory.
Insider Tips
For many, the best time to visit Niagara Falls is from May to October because of the milder weather. Yet visitors will also find it worthwhile to visit Niagara Falls off season because of fewer crowds and discounted rates. Despite the fact that the Maid of the Mist ceases its operations from November to April, other attractions are still open. Off peak visitors will also get the chance to experience the stunning Winter Festival Lights, which occurs between late November and early January. During the festival, the whole city is illuminated with over a hundred lights, casting spectacular shades of color on the falls.
If you're planning to arrive by air, the nearest airports in Canada are the John C. Munro Hamilton International Airport and Toronto Pearson International Airport. Hamilton, served mainly by low cost carrier WestJet, is the nearer airport and is 40 to 45 minutes away from Niagara Falls. From Hamilton, you can take a Coach Canada bus which has round trip tickets for around CAD$40. Meanwhile, other tourists might prefer to land at Toronto Pearson, which is served by numerous international carriers. From Toronto, you can take the Greyhound bus. Greyhound's standard one way fare is CAD$20 per person while standard round trip fare is at CAD$40
Another way to arrive by plane is through Buffalo International Airport in New York. From the airport, you can also take the Greyhound bus to cross the other side. Standard one way fare is at US$14.50 while round trip fare is at US$29.
Remember to bring your passports and other required documents when crossing the land border from US to Canada. Americans don't need to bring a passport to enter Canada, but they are still required to show proofs of photo identification and citizenship. Naturalized Americans need to bring naturalization certificates and permanent residents of the US should bring their green cards. Also bring birth certificates of accompanying children who are below 16.If you are traveling with a relative or friend's child who is under 18, you also need to present a letter of permission from his or hers parents or guardians. Divorced parents should also bring legal custody documents. A letter from the other custodial parent is also recommended. For more details, visit Canada Border Services Agency.
Visitors to Niagara Falls are recommended to use the Canadian Dollar. For the best rates, have your money exchanged at Currency Exchange Centers or at banks which usually charge a fee between $CAD3-6 for transactions with a non-client.
If you're planning to see Niagara's Fury, ride on the Maid of the Mist and try Journey Behind the Falls as well as the White Water Walk; you should purchase the Great Gorge Adventure Pass. The Pass includes all four attractions at a price 1/3 cheaper than the original. It also includes discounted admission to other attractions such as the Butterfly Conservatory, Whirlpool Aero Car and Old Fort Erie. Also included in the pass is a 2 day ride on the Peoplemover, the Niagara Falls bus service. The pass can be purchased online at Niagara Parks. An adult pass costs CAD$44.95 while a child pass for those aged 6-12 is at CAD$32.95. Children 5 years old and under can enter for free.
During winter, the Winter Magic Pass is available with its three main attractions being Niagara's Fury, Journey Behind the Falls and the Butterfly Conservatory. The pass is CAD$24.95 for adults and CAD$16.95 for children aged 6-12. The pass can be purchased at Niagara Parks during the off-peak season.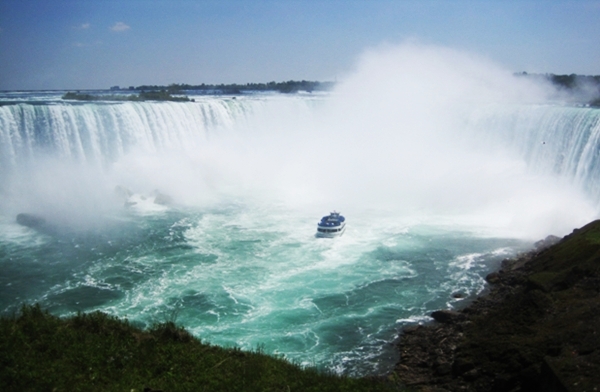 Where to Stay
If you're planning to visit Fallsview Waterpark, you might find it convenient to stay in one of the following hotels: Crowne Plaza Niagara Falls – Fallsview, Sheraton on the Falls and Skyline Inn. All three of these hotels are directly connected to the waterpark. When booking at one of these hotels, check out their breakfast and waterpark packages which often include four waterpark passes. The three hotels are also conveniently located near Clifton Hill and are at a walking distance from the bus stop. It is advised that you pay using US dollars because quoted rates are cheaper with that currency. Rates mentioned later on will be in US dollars.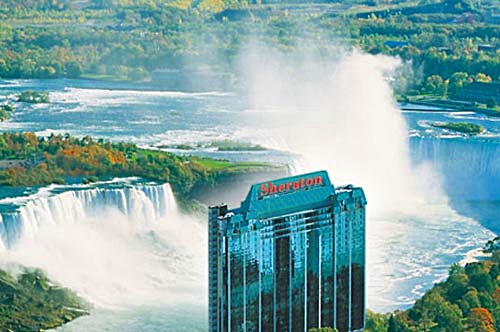 Skyline Inn (4800 Bender Street) is the most affordable hotel out of the three connected to the waterpark. At peak season, the traditional rooms with two queen beds are around US$143-171 a night during weekdays while around US$238 on Saturday nights.
You can stay at Skyline Inn if you're traveling with a group of 6 or more. The inn has a large family suite with three queen beds. During peak season, weekday rates for the suite are at around US$257-286 a night while weekend rates are around US$352 per night. Additional cots can also be requested for $20 a night. There are also bunk bed suites for around the same price.
Try out Crowne Plaza Niagara Falls – Fallsview (5685 Falls Avenue) if you also want a view of the falls from your room. Their Fallsview rooms with two queen beds have a great view of the American Falls. Room rates during peak season are around US$208 to US$228 on weekdays while the rate for weekend nights ranges around US$237 to US$247.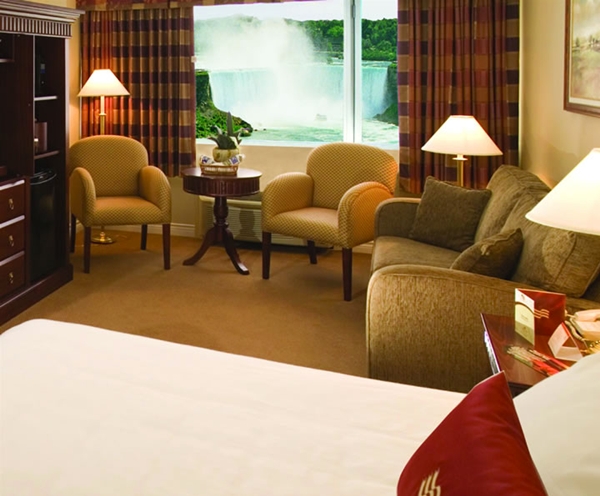 Also consider staying at Hampton Inn by Hilton (5591 Victoria Avenue). The location is great, rooms are spacious and there's also a complimentary breakfast buffet and free internet access. On peak season, the standard rooms with two queen beds are at around US$218 a night while Saturday night rates are at around US$266.
For families who love camping or traveling with their RVs, King Waldorf's Tent and Trailer Park (9015 Stanley Avenue) is a campground located near MarineLand. For a group with a maximum of 4, rates are below CAD$70 a night. There is a daily rate of CAD$4 for each extra person.
What to Eat
For families, reputed casual dining restaurant chains like Boston Pizza (4948 Clifton Hill) and T.G.I. Friday's (6700 Fallsview Boulevard) are usually recommended, because of their kid-friendly atmosphere, and their tried and tested food.
However, if you want to try a new restaurant, you should consider trying Mandarin Buffet (7555 Montrose Rd), a restaurant offering a wide selection of Chinese-Canadian food buffet-style with a price range from CAD$12-25, depending on the day and time.
Paris Crepes Bistro (4613 Queen Street) is also worth a try. The cozy French restaurant is a hidden gem with meals ranging from CAD$10-30. Aside from its specialty dishes, the restaurant has a huge number of delicious crepes to choose from, ranging from CAD$3.5-18. Kids will especially love the restaurant's different types of sweet crepes.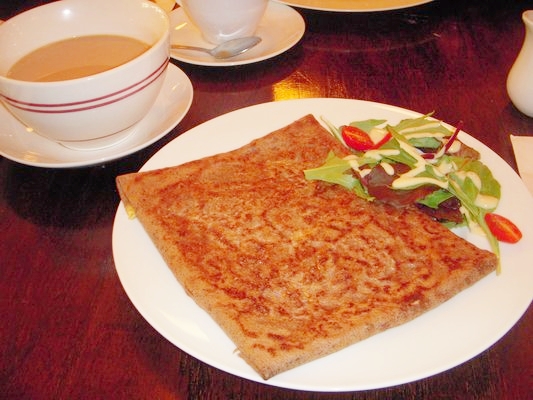 If this is your first time in Canada, you can stop by for some delicious and affordable doughnuts at Tim Hortons (4950 Clifton Hill), Canada's famous coffee shop chain.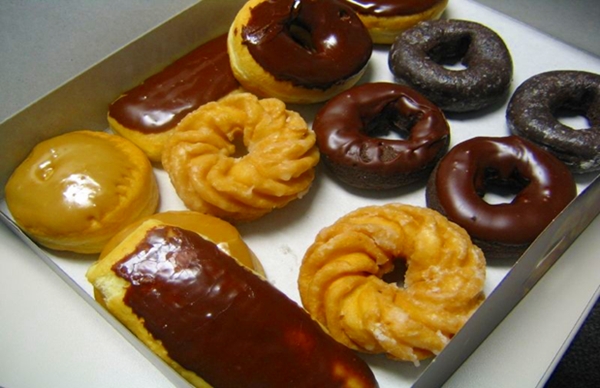 If you're looking for healthier options, you can visit Red Chateau (5815 Main Street). The cozy European restaurant uses organic, garden-grown vegetables. It's a bit pricey, with main dishes averaging around CAD$30, but you can be sure of getting a healthy and pleasant meal—try the garlic bread appetizer, made with homemade sourdough bread, goulash with dumplings and chicken paprikash. Besides this, you can also try checking out health food stores such as Vita Health Foods (3714 Portage Road).
What to See and Do
Undoubtedly the heart of Niagara Falls and the first place you'll probably ever set foot on in the city, Queen Victoria Park has stunning views of the falls, the perfect place for you to take a walk or have a picnic with your family. The best time to visit this place is during spring and summer when the flowers are in bloom, creating a beautiful carpet of colors.
Ages: All
Admission: No charge
This world-famous boat ride is a terrific experience that lives up to its fame. The boat takes you up close to the majestic falls and allows you to feel the waves roar and spray water on you. You will be given ponchos but be prepared to get wet, because it will not be able to keep all of the water from the powerful waves from getting in. Definitely, this is one of the best ways to experience the falls.
Ages: 5 and up
Admission: CAD$16.50 (13 and up), CAD$10.10 (6-12) and no charge (5 and under)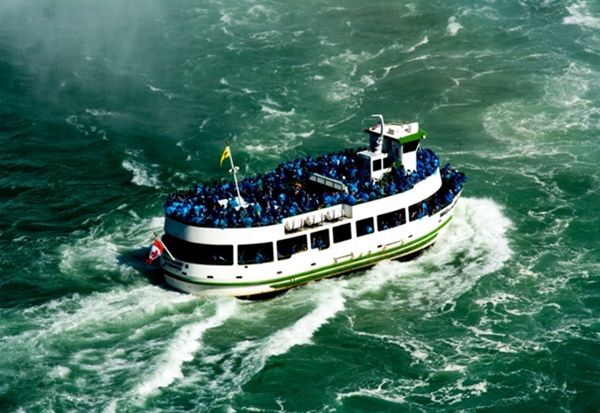 This attraction takes it visitor to a trip below and behind the Horseshoe Falls to a series of tunnels and an observation deck. The best part of the trip will be at the observation deck where visitors can have a fantastic view of the strong torrents pouring down from above. The view will be close up so you'll definitely get wet in this attraction, something that kids usually enjoy.
Ages: 5 and up
Admission: CAD$14.60/11.25 (13 and up, April to December/December to April), CAD$8.95/6.95 (6-12, April to December/December to April) and no charge (5 and under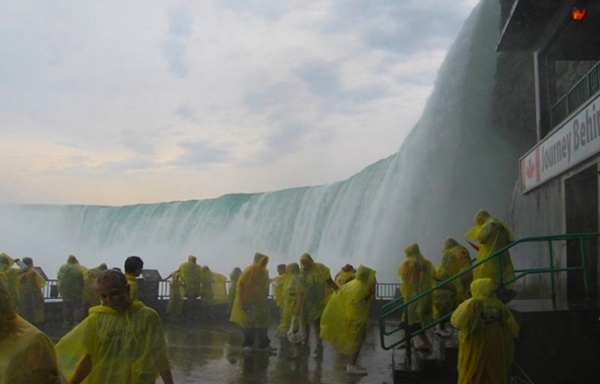 In this attraction, visitors ride an elevator that will take them 230ft or 7000m down to a tunnel that will lead them to an observation area by Niagara River. There visitors can take a fascinating walk by one of the world's strongest whitewater rapids. If you want to get even closer to the water, there are also paths along the walk that offer you that. The waves are beautiful and the trip also gives children the chance to learn more about the formation of the falls thousands of years ago.
Ages: 5 and up
Admission: CAD$9.50 (13 and up), CAD$6.25 (6-12) and no charge (5 and under)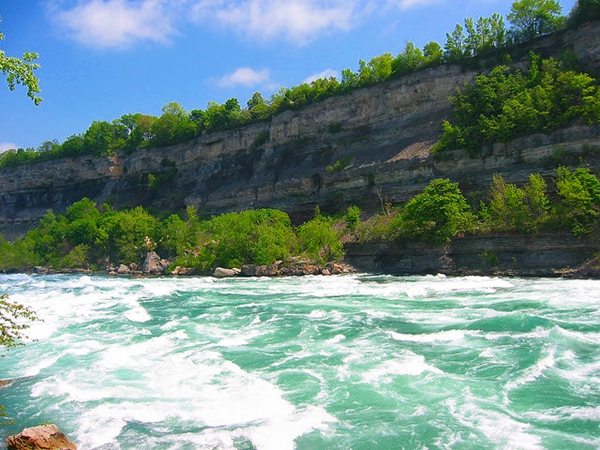 Niagara's Fury is an interactive 4D theatre presentation that tries to recreate the formation of the Niagara Falls through the use of various effects such as floor tilts and water sprays. The attraction which is especially popular with kids, can be the educational leg of the trip.
Ages: 5 and up
Admission: CAD$15.00 (13 and up), CAD$9.75 (6-12) and no charge (5 and under)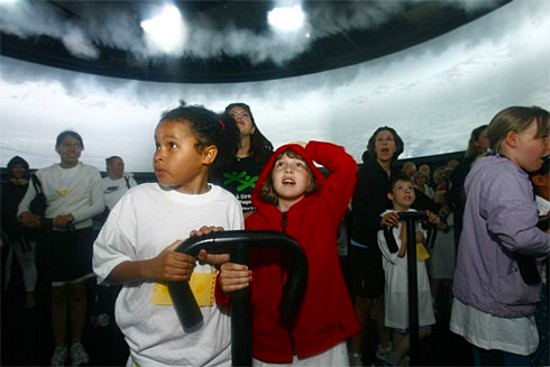 Children will be at awe as they are faced with thousands of butterflies from different species in a tropical environment. The conservatory also has some educational exhibits and shows that will let the kids learn more about butterflies.
Ages: All
Admission: CAD$12.25 (13 and up), CAD$7.95 (6-12) and no charge (5 and under)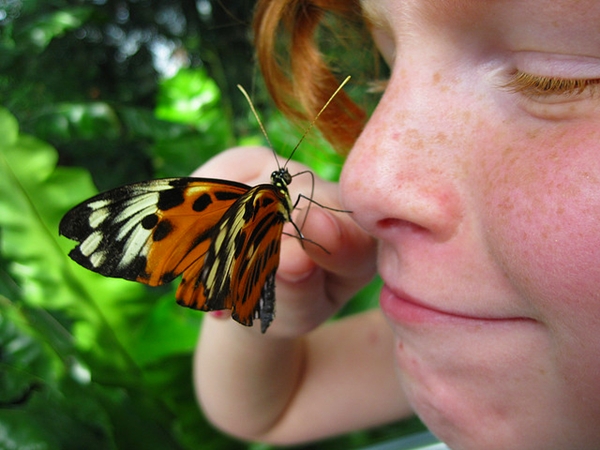 7. Clifton Hill
Clifton Hill is full of theme park attractions that the whole family can enjoy. Aside from MarineLand, the hill is also home to other family entertainment like the Ripley's Museum, Niagara SkyWheel, Dinosaur Adventure, FX Ride Theatre and Movieland Wax Museum. If you plan to visit at least five of sights, you can save by availing of the Clifton Hill Fun Pass.
Ages: All
Admission: Prices vary
8. MarineLand
MarineLand is an amusement park with rides and sea animal attractions. Kids will love the watching the marine animal shows which showcase them doing different tricks. The park's Friendship Cove is also one of the world's largest killer whale habitats for viewing. Aside from sea animals, there are also bear, deer, elk and buffalo habitats. Meanwhile there are also several rides that children will enjoy such as Lady Bug Coaster, Kandu's Twister and Bumble Bee.
Ages: All
Admission: CAD$41.95 (13 and up), CAD$34.95 (5-9) and no charge (4 and under)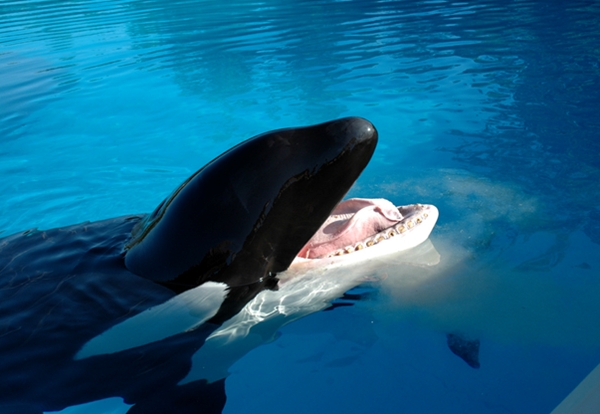 Most children love playing in the water, so there's a big chance that they will enjoy an afternoon at Fallsview. Fallsview is a huge and terrific indoor waterpark that has several waterslides and a wave pool. The water park is connected to a few hotels, so there are hotel packages that you can avail of.
Ages: All
Admission: CAD$44.95 (2 and up) and no charge (2 and under)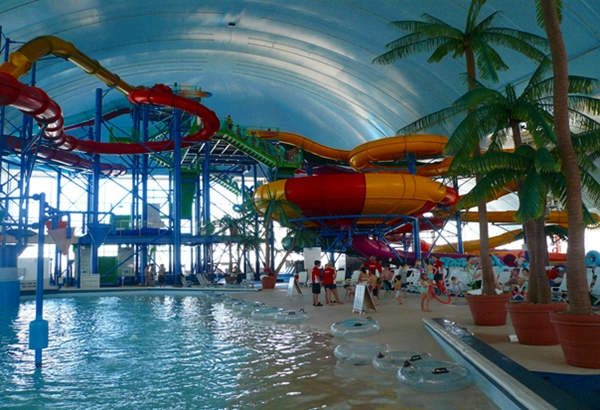 10. Lockport Cave and Underground Boat Ride
While it's a man-made "cave," the Lockport Cave and boat ride is great for some creepy fun with older kids. See What to Do in Lockport, NY Near Niagara Falls.
Related Posts
Sheraton at the Falls Niagara NY Hotel Review
Cave of the Winds Niagara Falls Review
What to Do in Lockport, NY Near Niagara Falls
Need Award Booking Help? Our fee is as low as $75 per ticket if you book your hotel through us.
If you enjoyed this, join 90,000+ readers: please follow TravelSort on Twitter or like us on Facebook to be alerted to new posts.
Become a TravelSort Client and Book Your Hotel with Virtuoso or Four Seasons Preferred VIP Amenities!