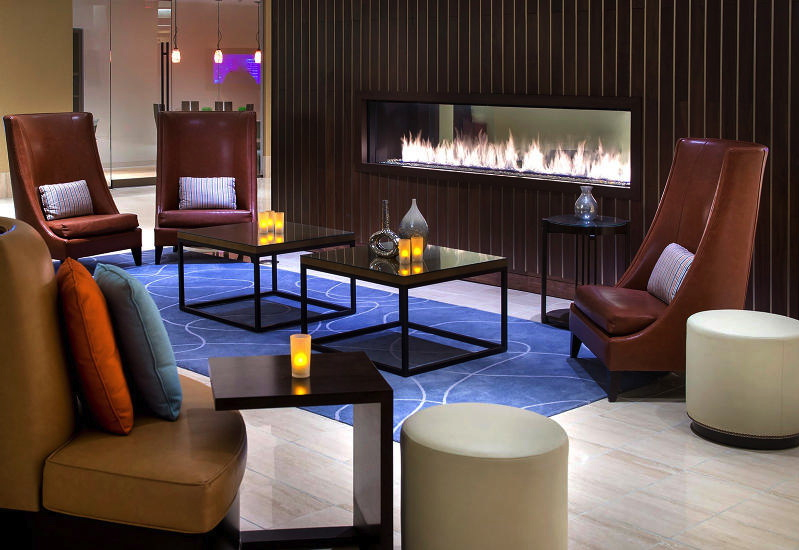 This Newark Liberty International Airport Marriott Hotel Review is from our recent stay before an Alaska Airlines flight from NYC EWR to Honolulu, followed by reviews of Hawaii and Maui luxury resorts, dining and activities.
Visiting New York? See all of our posts tagged NYC.
Newark Airport Marriott Hotel Location, Lobby and Check-In
The Newark Airport Marriott is the closest airport hotel to Newark Liberty International Airport (EWR), such that you could even walk between the hotel and the airport terminals if you don't have much luggage. That was peace of mind for me, given that we had a very early flight out of Newark, and I wanted to let the munchkin sleep as long as possible before waking him up as we had a very big travel day ahead of us.
The complimentary airport shuttle runs every 10-15 minutes, and picks up from Terminal A, Terminal B and Terminal C, as well as from the Airtrain's P4 stop (although at the time of our stay, the Airtrain was being repaired and wasn't running).
Once on the shuttle, our ride was a mere 5 minutes to the hotel, so that part was very efficient.
A bit less efficient was check-in, where there was a fairly long line the evening we were there. We had some time to look at the lobby, which was renovated in 2013 and is modern and nice–quite a bit nicer than the standard rooms, if our room was anything to judge by.
Fortunately an agent did open another desk and checked us into our double room on the second floor.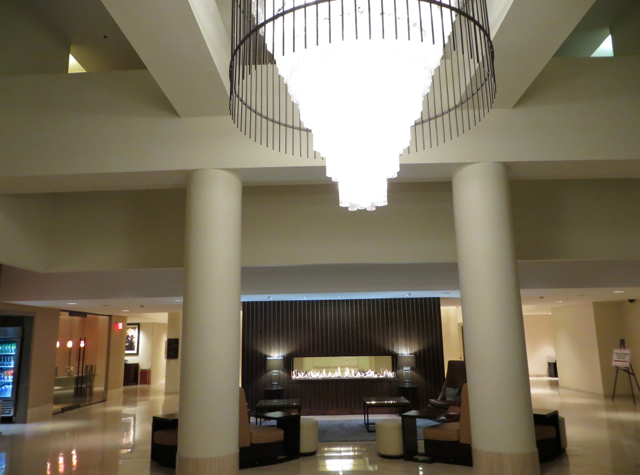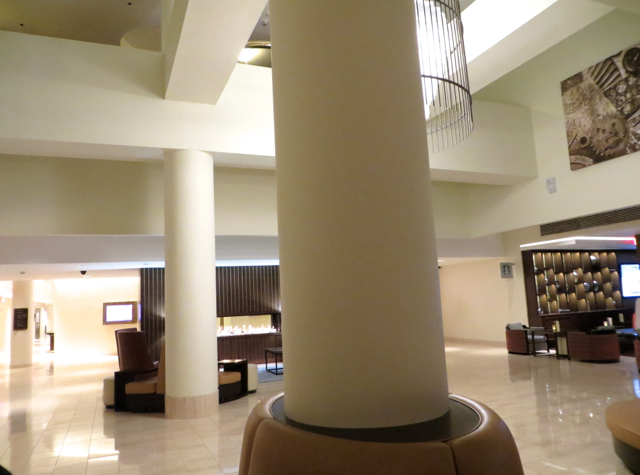 Newark Airport Marriott Guest Room
Our room was nothing special, but at least it appeared to be clean and quiet, which is about as much as you can hope for, apart from a convenient location, for U.S. airport hotels. After all, this isn't Singapore or the Crowne Plaza Singapore Changi Airport Hotel.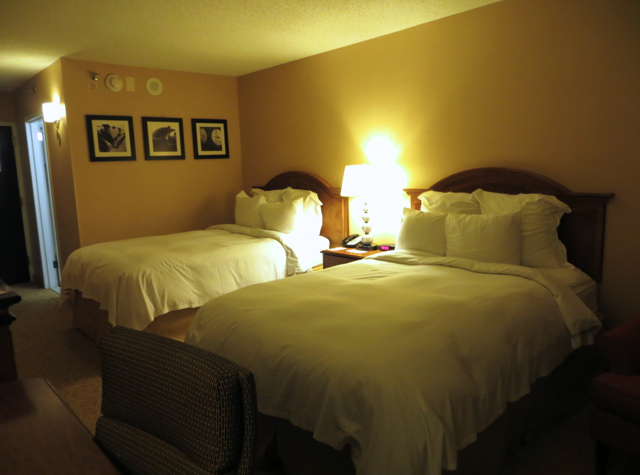 A work desk was by the window, and the flat screen TV was opposite the two beds. WiFi was $12.95 for basic access (free for Marriott Rewards Gold and Platinum Elite members).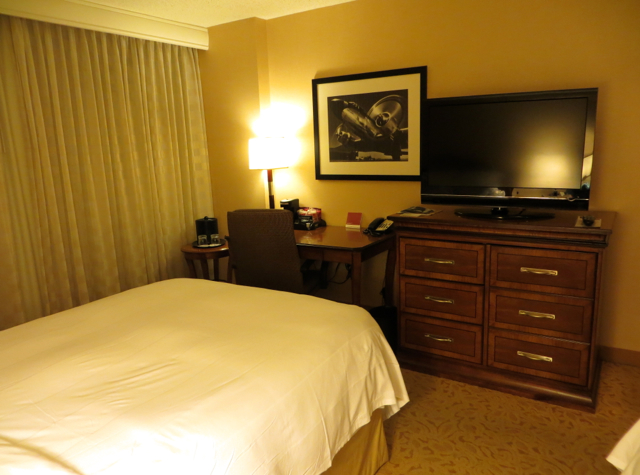 The coffee maker looked pretty ancient, with poor quality coffee and tea bags, so I would recommend getting your morning caffeine elsewhere.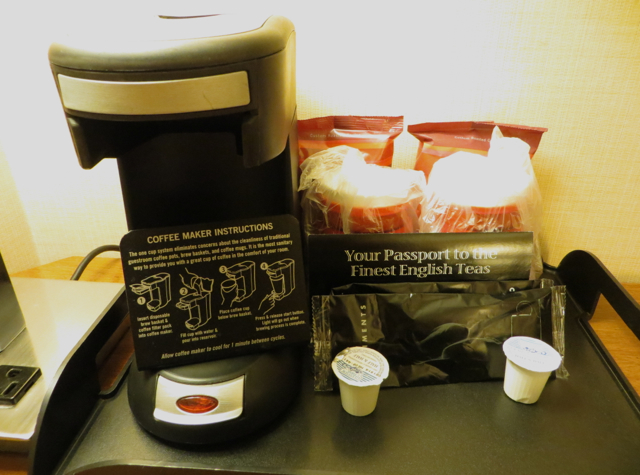 The bathroom had one sink and a bathtub-shower combination, so very standard and rather poor for the usual price of this hotel, but the price of course reflects that there's no competition in the immediate area–all the other Newark airport hotels are less convenient to get to.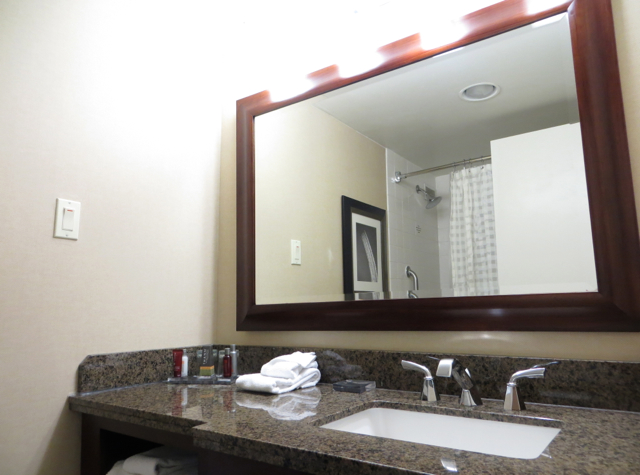 There were THANN bathroom amenities, which I'd never heard of, but apparently are part of a Thai skincare line based on botanicals and aromatherapy–perhaps a poor man's version of the Aesop skincare that are included in Cathay Pacific First Class amenity kits.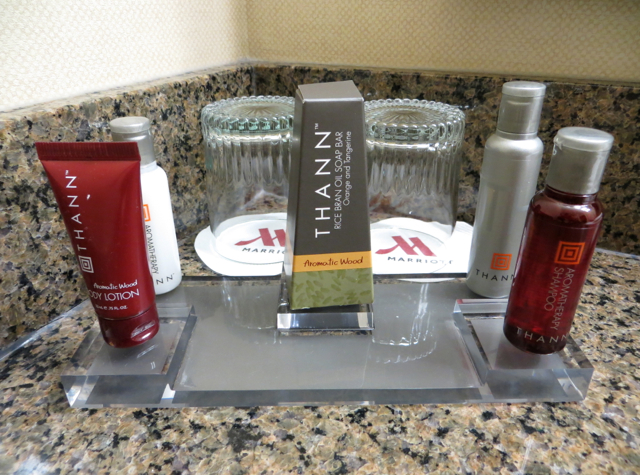 I will say that the bed was very comfortable. That, plus the fact it was past his bedtime, meant the munchkin went to sleep right after I tucked him in.
Pool
We didn't have time to use the swimming pool, but there is a smallish heated indoor pool, with a seasonally open outdoor pool, although I didn't check the hours of operation. The fitness center is open 24 hours.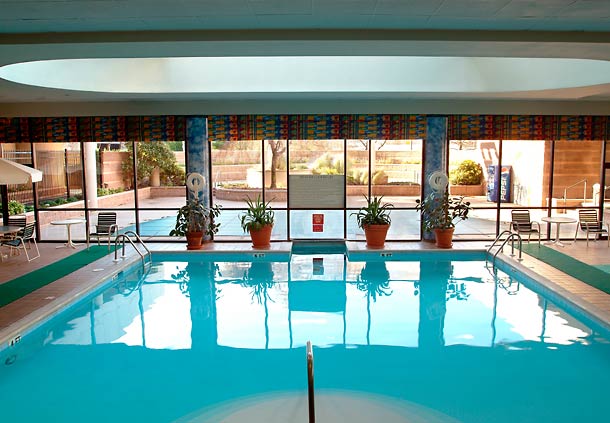 The Verdict
The Newark Airport Marriott, as you'd expect, is all about its location, which is why we (and no doubt most other guests staying here) chose it. The lobby is actually very nice, but you don't sleep in the hotel lobby. Our room was basic and rather old looking, but at least it was clean, quiet, and delivered on the sleep and convenience front, which is what we cared most about.
Note that this is a Category 6 Marriott Rewards hotel, so unfortunately you won't be able to use your annual free night here, if you have the Marriott Visa–you'd have to spend 30,000 Marriott Rewards points-ouch.
If you've stayed at the Newark Airport Marriott, what was your experience?
Disclosure: I paid for my own stay at the Newark Liberty International Airport Marriott, using a travel professional rate.
Related Posts
Complimentary Overnight Hotel Stay: Which Airlines?
Best Marriott Hotels and Resorts to Stay at Free with the Marriott Visa
Need Award Booking Help? Our fee is as low as $75 per ticket if you book your hotel through us.
If you enjoyed this, join 100,000+ readers: please follow TravelSort on Twitter or like us on Facebook to be alerted to new posts.
Become a TravelSort Client and Book 5-Star Hotels with Virtuoso or Four Seasons Preferred Partner Amenities!