Should you bring your kids on a visit to New York City? While it may not be a glamorous, romantic vacation or particularly relaxing vacation for you, NYC is great for families and kids of all ages. From marvelling at dinosaurs in the Museum of Natural History to letting off steam in Central Park or in thrilling playgrounds to feasting on dim sum in Chinatown, your little ones will be talking about New York for a long time to come.
1. What toddler isn't excited about seeing enormous dinosaur skeletons up close? New York's American Museum of Natural History will have them captivated, and a cute memento is a photo of all of you with dinosaurs in the background.
Ages: All ages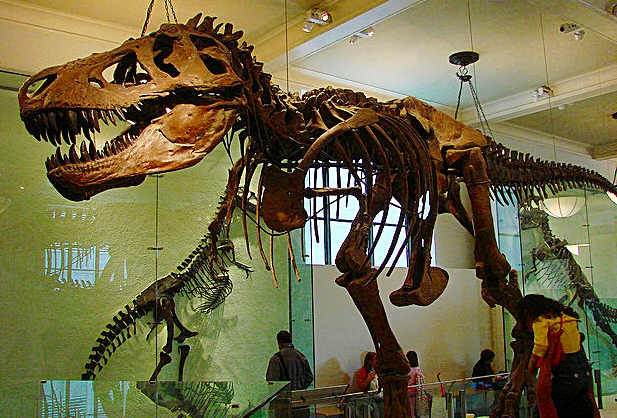 2. While most kids living in Manhattan don't have backyards, what they do have for green space is Central Park. Kids can clamber up and around the many glaciated rocks, play in one of several playgrounds, go boating with you on the lake, or visit the Central Park Zoo to see their favorite animals up close
Ages: All ages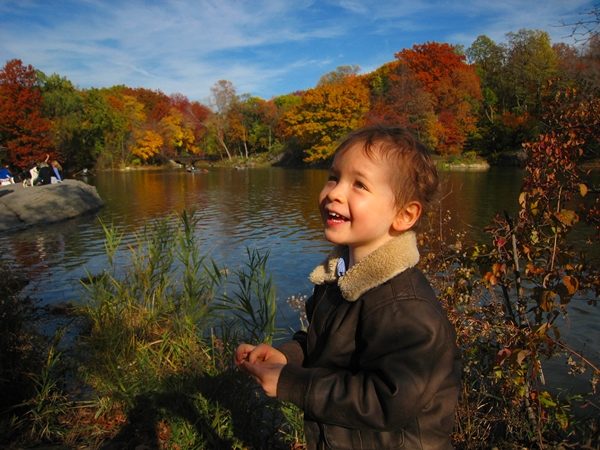 3. One of the hidden treasures in Central Park is the Swedish Cottage Marionette Theater, originally part of the 1876 Centennial Expo. It's well worth calling ahead to reserve tickets (reservations are required) to see the master puppeteers work their magic. Performances are weekdays at 10:30am and 12 noon and Saturdays and Sundays at 1pm.
Ages: Best for ages 4-8. Tickets are $5 per child and $8 per adult, more information at (212) 988-9093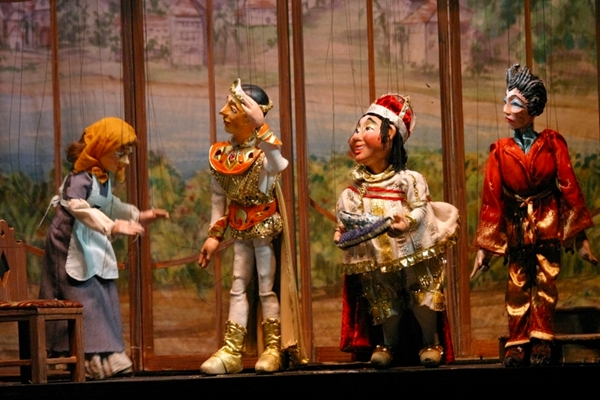 4. What would New York City be without its iconic toy store, FAO Schwarz? Try out the 22 foot piano, marvel at incredibly life-like dolls, build your own muppet and more. Just set expectations so that your child isn't counting on buying up the store!
Ages: All ages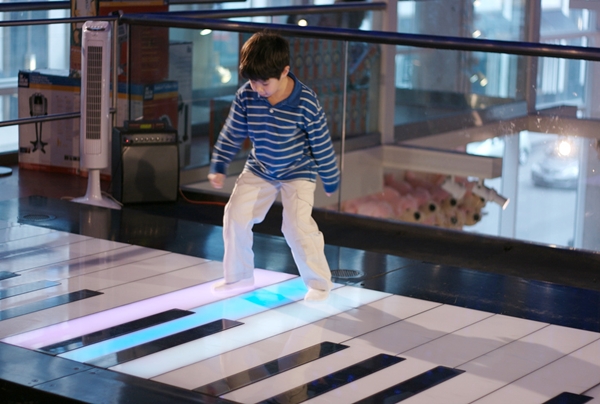 5. Children have a museum all their own at the Children's Museum of Manhattan (CMOM). PlayWorks on the 3rd floor is fantastic: toddlers can feed letters to Alfie the Dragon, play fireman or bus driver, crawl through a tunnel with dioramas, play with sand, and enjoy arts and crafts sessions. Rotating exhibits feature everything from Seuss to the Wizard of Oz to Curious George (opening mid-2011). In summer, there's also outside waterplay (complete with borrowed aprons).
Ages: Best for ages 2-7. $10 admission, adults and children over 1 year old.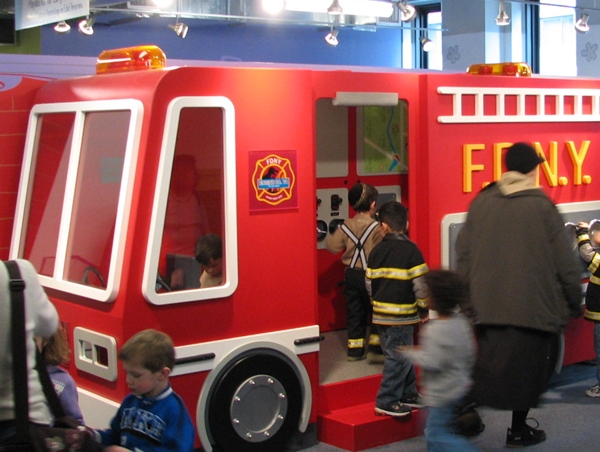 6. Looking for a break, perhaps a story time? St. Agnes Library on the Upper West Side (444 Amsterdam @ 81st St.) hosts regular Toddler Story Time and Reading Aloud for pre-schoolers. Check the calendar, and be sure to arrive early as the toddler story time is limited to 25 toddlers and tickets are provided on a first-come, first-served basis.
Ages: Baby Lap Time: 0-18 months; Toddler story time: 18-36 months; Reading Aloud: 3-6 years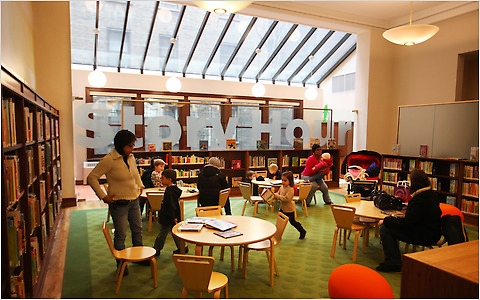 7. Bryant Park is a pleasant oasis, with tables and chairs for impromptu dining al fresco, a grassy area to run around (dodging sunbathers) and a carousel ride for your little one at Le Carrousel, whose 14 classically styled animals revolve to French cabaret music.
Ages: All ages; 1 ride is $2
8. One of the nicest playgrounds in the city is the reopened Union Square Playground, with its unique climbing structures, thrillingly steep slides, sandbox with marble frog, huge climbing dome and, in summer, a fountain for water play. On Fridays and Saturdays when the Union Square Farmers Market is held, combine a visit here with shopping for some tasty locally produced edibles, such as organic fruit, yogurt drinks from Ronnybrook, and applie pie (or apple cider in winter) from Breezy Hill Orchards.
Ages: Best for ages 2-8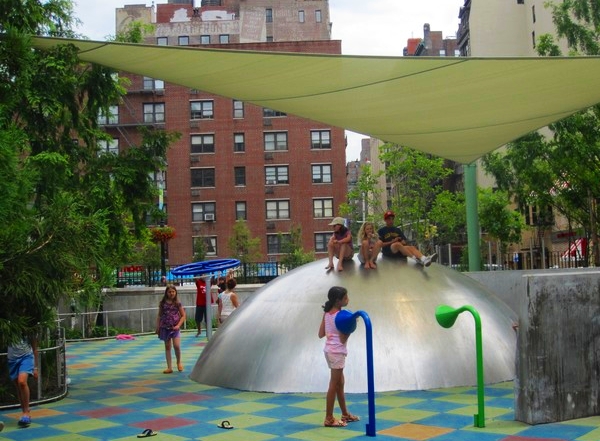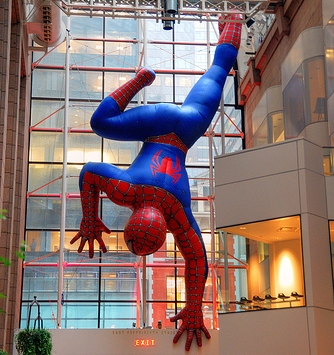 9. The Sony Wonder Technology Lab is a sure hit for older kids, and you certainly can't miss the building with its giant inflatable Spider-Man hanging inside its 3 story atrium. Kids will love its Dance Motion Capture that allows kids to see their coolest dance moves performed by their favorite Sony-animated characters; the Nanotechnology exhibit introducing the current and future applications of nanotech; the Production Studio where kids simulate the roles of Cameramen, Reporters, Hosts and Producers to create an HD broadcast; and an In the Game exhibit where players test some of the latest immersive PlayStation® 3 games, among many other exhibits.
Ages: Best for ages 4 and up; Dance Motion Capture has a height minimum. Admission is free but advance reservations are recommended (212) 833-8100
The Best Places in New York to Eat with Kids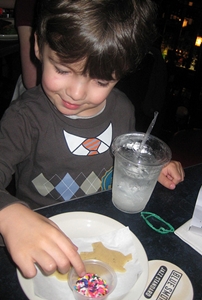 1. You may not think of BBQ when you think of New York, but Blue Smoke satisfies cravings for moist, smoky pulled pork and ribs, gooey mac and cheese, cornbread and hush puppies. Even seasonal vegetables are cooked perfectly, although vegetarians may still want to steer clear given all the meaty offerings.
Blue Smoke is especially good with kids, who not only get their own menu but also get to decorate a sugar cookie (of a pig of course!) which is baked while you eat.
Downstairs is Jazz Standard, which has a Jazz for Kids program on Sundays at 1pm. The performers are talented young musicians that perform as the Jazz Standard Youth Orchestra. Instead of a cover charge, a $5 donation is requested, that goes towards fostering an appreciation of jazz among NYC schoolkids.
2. Chinatown is a bit far from where most visitors stay in NYC, but it's worth the trek simply for a nice big dim sum brunch, especially if your kids like dumplings. Try Oriental Garden (14 Elizabeth Street, south of Canal, 212-619-0085) for lotus leaf wrapped rice stuffed with ground pork, mushrooms, shrimp and sausage; fried chive and shrimp dumplings; scallop dumplings; and baked custard bun for dessert. Get there before 11:30am to beat the crowds.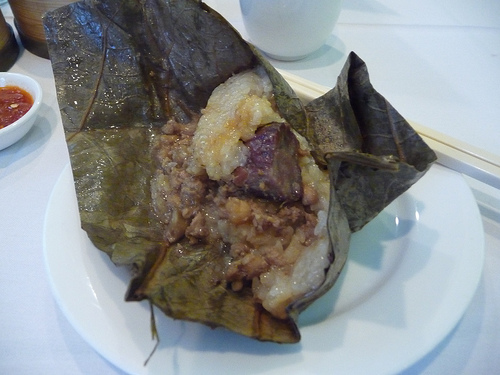 3. Does your little one love tea parties or simply enjoy yummy scones, hot chocolate, and other treats? Head to Alice's Tea Cup (several branches) where you can warm up with any one of countless loose leaf teas, and the munchkin can happily nosh delicious scones (our favorite is pumpkin, although the chocolate chip scones are excellent as well).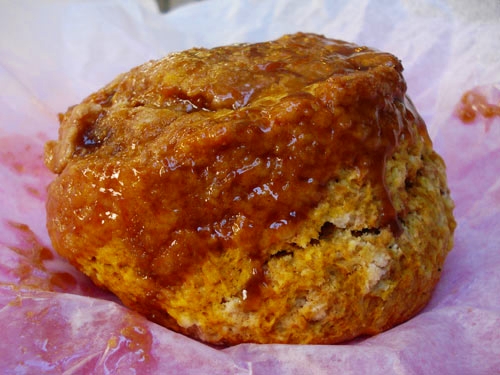 Family-friendly hotels to stay in New York City
Unfortunately, hotels in Manhattan are notoriously expensive, so if you're on a budget you'll need to choose carefully to find a good choice under $250/night.
Although the neighborhood is a bit of an eyesore, the price is right–often $200 or less–at the Distrikt Hotel (342 W. 40th Street at 9th Ave.), a great modern choice, with comfortable beds, Frette linens, flat-screen TV and complimentary Wi-Fi. Ask for a room on a high floor for great city or Hudson River views.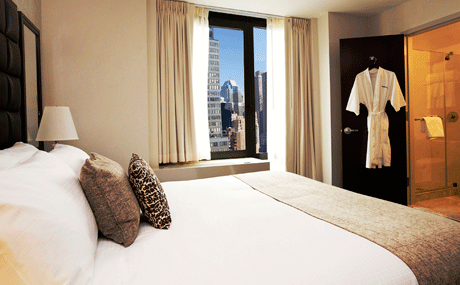 Also consider staying across the Hudson River at the Sheraton Lincoln Harbor Hotel in Weehawken, New Jersey. Weekend nights can be had for ~$180, with weekday stays in the $230-250 range. If you're an SPG member, ask for a room with a view of the Manhattan skyline. NJTransit bus 158 will take you to the Port Authority in Times Square (10-15 minutes if there's no traffic) and on weekdays NY Waterways (which also operates harbor cruises) operates a ferry from in front of the hotel to the ferry terminal at W. 39th Street, with free connecting buses to take you into midtown–perfect if your kid loves boat rides! A bonus is that rooms come equipped with microwaves and small fridges, and the hotel has a swimming pool, which is not common for Manhattan hotels
Related Posts
Blue Smoke NYC Restaurant Review
The Best Airlines for Kids and Families
Check out and apply for the Best Travel Credit Cards.
If you enjoyed this, please follow TravelSort on Twitter or like us on Facebook to be alerted to new posts.
Become a Member to find your perfect luxury or boutique hotel at up to 50% off: TravelSort Hotels
Photos: Museum of Natural Histor, Hilary Stockton, NYC Parks and Recreation, Marcin Wichary, ktylerconk, Distrikt Hotel, Sheraton Lincoln Harbor