For New York City chocoholics, this past weekend was a sweet one: the annual
New York Chocolate Show
. Travelsort was invited to attend, and so Sunday morning found us at the Metropolitan Pavillion where it was held. Even though we arrived just a few minutes after 10am, the place was mobbed–clearly this city has a ton of fellow sweet tooths.
During a first quick round, we stopped briefly at Valrhona, which is one of my top three choices when it comes to baking with chocolate. It's also favored by many restaurants, where you'll often see it specifically named on dessert menu descriptions. I didn't buy any though, since it's not hard to find.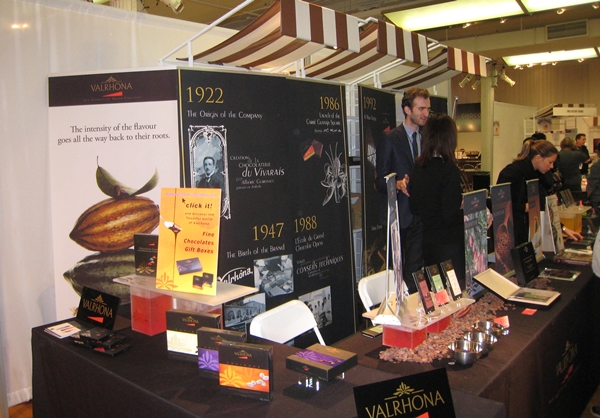 Next up was
Payard
. Francois Payard's original Patisserie and Cafe on the Upper East Side closed some time ago, but he has two newer locations in NYC, Francois Payard Bakery at 116 West Houston Street, and the FC Chocolate Bar in The Plaza Hotel (not to mention locations in Las Vegas, Japan and Korea). Although sadly they didn't have any of the exquisite pastries for which Payard is so known, such as the Louvre (layers of chocolate mousse, hazelnut mousse, hazelnut dacquoise and hazelnut wafer covered in dark chocolate) they did have his fantastic flourless chocolate walnut cookies: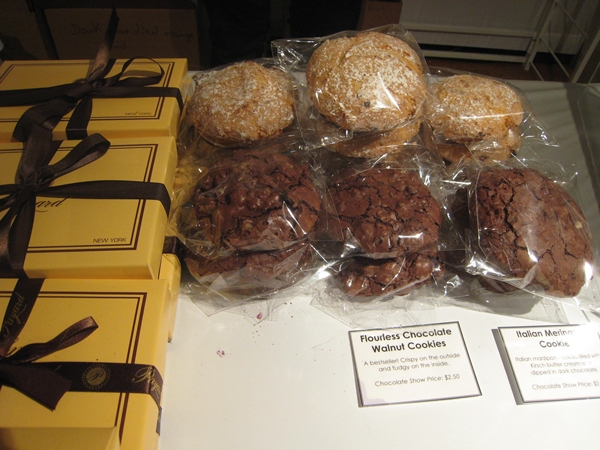 Next up was Francois
Pralus
, who is one of the very few chocolate makers who roasts their own cocoa beans; Pralus even has its own plantatioin in Madagascar, although it also sources beans from a variety of other plantations around the world. Since it was Sunday, the last day of the Chocolate Show, Pralus had sold out of a number of items, including its fantastic creme de noisette, but they did still have a few Barres infernales left. It only took one bite to convince me that $15 was well spent for this incredibly delicious almond-hazelnut praline enrobed in superbly balanced dark chocolate.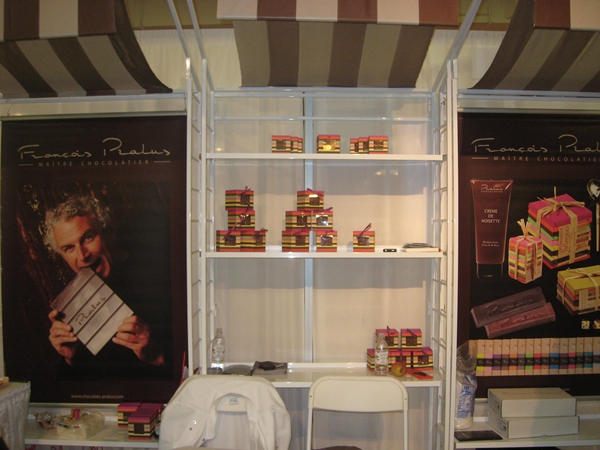 Right next to Pralus was
Bernachon
chocolate, which I was just as excited about sampling. Bernachon is based out of Lyon in France, and as with Pralus, roasts its own cocoa beans. The chocolate bar I most wanted, the Kalouga (dark chocolate with a silky salted caramel filling), wasn't even brought to the Chocolate Show, since, according to Bernachon staff, it's simply too delicate and tends to get crushed and gooey in transit. They did have one last petit sized sample, an individual Kalouga chocolate, if you will, so I was lucky enough to try that–I actually saved it until I got home, to fully savor it, since the show's crowded and noisy environment wasn't really the ideal place. I did pick up an Almondine bar and pepitos, which is studded with cocoa nibs, plus a tiny chocolate sampler of 5 chocolates, and look forward to trying, er, gifting them (we'll see if any make it to their intended recipients!)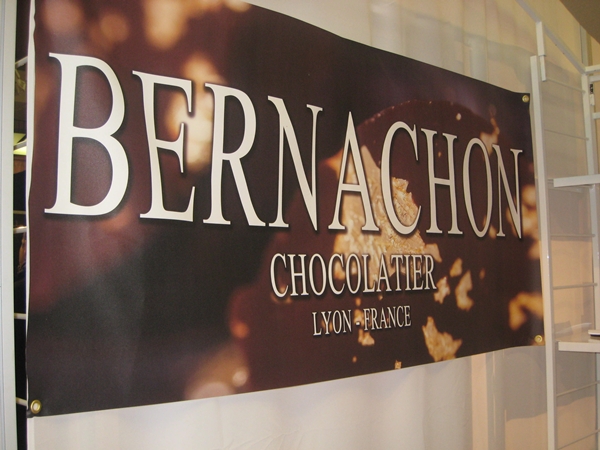 At this point, my partner in crime, aka the munchkin, was getting antsy, so it was time for the Kids' Corner. While it wasn't anything elaborate, the staffers were nice and quickly set my son up with coloring his own chef's hat: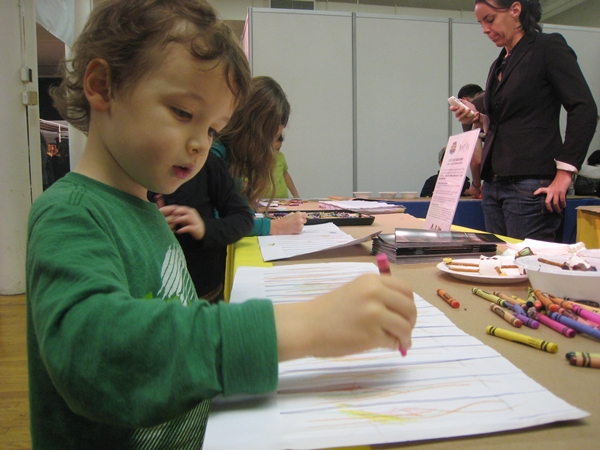 We then took a look at some of the fashions from the Chocolate Fashion Show, which this year had Broadway as its theme. This Playbill dress was made entirely of chocolate (not sure how the models wore these without them melting, though!)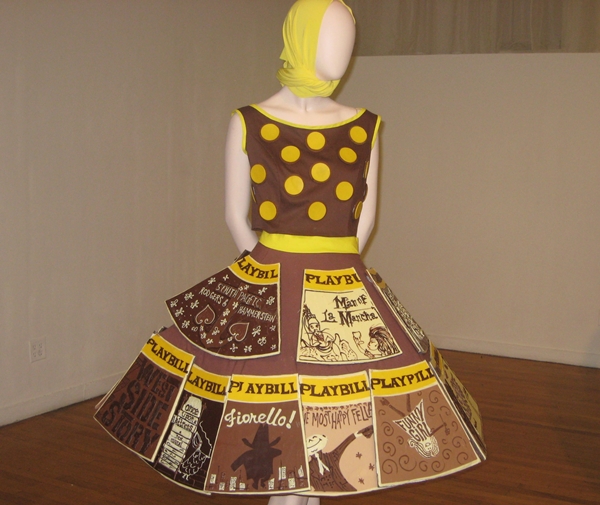 There was even a miniature Broadway made entirely of chocolate: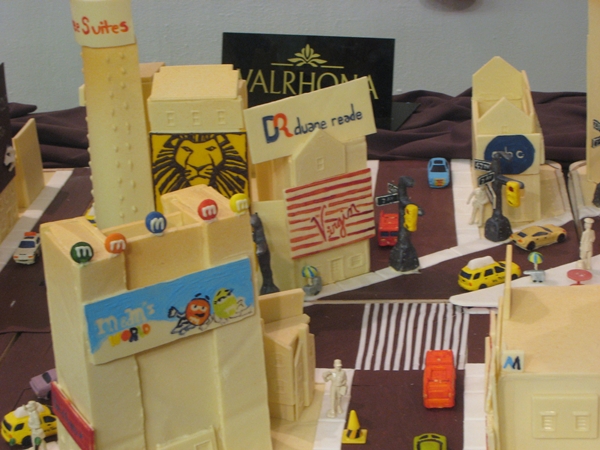 Then it was time for a little more sampling. We liked the rich ChocoBolo original cake: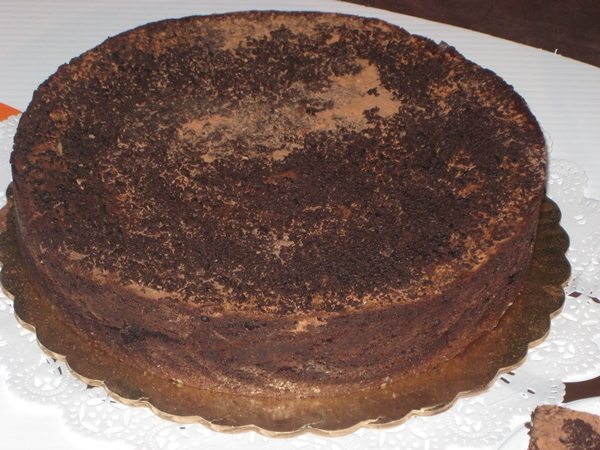 And the Comptoir du Cacao Praline Feuillete Noisette I sampled (lower right) was incredible–here again, I was lucky to get the very last bar they had on hand–the display one!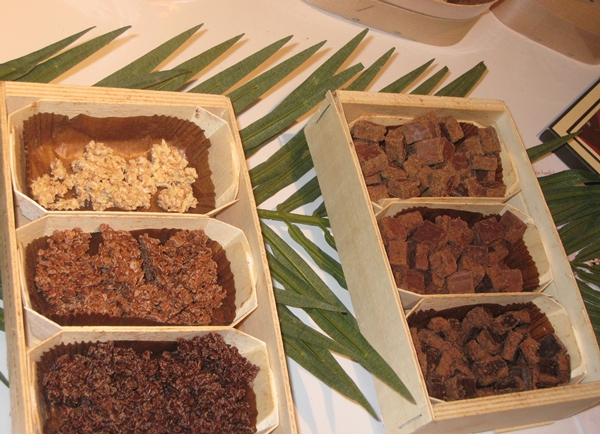 There were also a few non-chocolate vendors; one of the most popular was Quady Winery. I tried their best known dessert wine, Essensia Orange Muscat, and was very taken with it. I rarely drink dessert wine, since often I find them too cloying, but this was perfectly balanced and fresh tasting. I think it would go perfectly with an apricot frangipane tart.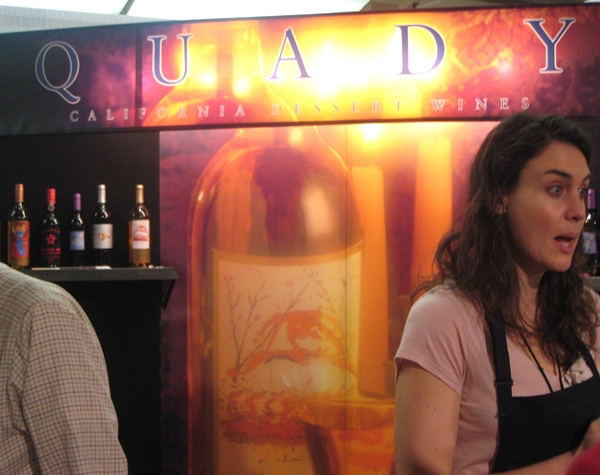 There were a number of vendors that I didn't have a chance to try. There were also vendors that weren't at the Chocolate Show, presumably because they already have plenty of loyal fans and don't need the added publicity–check out our
Can't Miss Best Dark Chocolate Desserts in New York
Of the Chocolate Show participants whose chocolate I sampled, the below were my top picks (Pralus, Bernachon and Comptoir du Cacao also because you can't easily buy them in New York), and the chocolates I actually bought: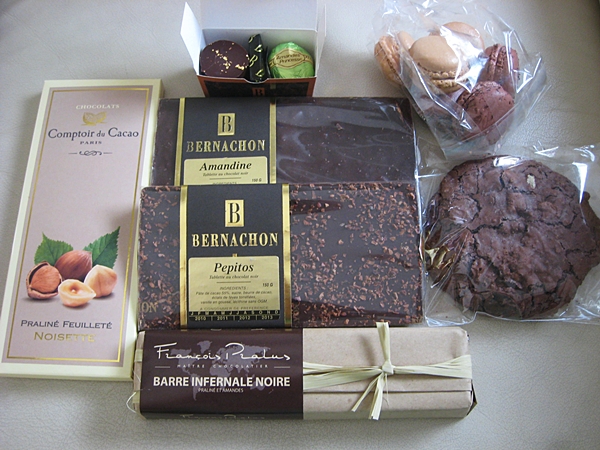 While The New York Chocolate Show is over for this year, it will be back in Fall 2012. There are also upcoming Chocolate Shows in Lyon (December 9-11, 2011), Shanghai (January 13-15, 2012); Marseille (February 10-12, 2012), and Lille (March 9-11, 2012).