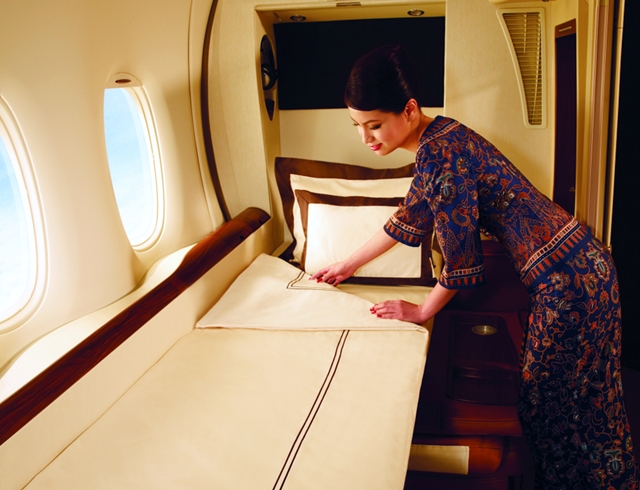 There are new travel rewards credit cards in Big Oaf's (aka my husband's–I'll explain below) wallet, which I thought I'd share as part of our strategy of earning frequent flyer miles and points for travel. I'm fortunate that my husband goes along with the cards I pick for him, but if you have a reluctant spouse or partner, check out Credit Card and Miles and Points Strategy for the Reluctant Spouse or Travel Partner. And for my current ranking, see Best Travel Rewards Credit Cards
Cards Big Oaf Already Has
To put this in perspective, here are the travel rewards credit cards my husband already had before his latest applications:
Chase Freedom
Chase Sapphire Preferred
Citi AAdvantage Visa
Citi AAdvantage AMEX
Hyatt Visa
1. AMEX Business Gold: 75,000 Membership Rewards Points (Current Offer: 50,000 points)
No Annual Fee the First Year; Then $175
The 75K bonus points offer was a limited time offer, but if you're patient, it's likely to reappear at some point. Unlike some, who swear by the SPG AMEX, I prefer earning AMEX membership rewards points bonuses in order to more quickly earn enough points to transfer to Singapore KrisFlyer and redeem for Singapore Suites, Singapore First Class or Singapore Business Class. Sure, you don't get the 25% transfer bonus when transferring in increments of 20K, as you do with the SPG AMEX, but it's possible to earn Membership Rewards points much more quickly through bonuses, and they usually transfer to KrisFlyer miles within 24 hours, so you have a much better chance of grabbing the award.
2. Chase Ink Bold: 60,000 Ultimate Rewards Points (Current Offer: 50,000 points)
No Annual Fee the First Year; Then $95
There was a 60K Bonus Offer for the Ink cards in June during Small Business Week, so we jumped on that offer for Big Oaf. Now, here's how he got his (temporary!) nickname of Big Oaf–soon after he got the card and made one purchase on it, he managed to lose the card. He claims this has never happened before, but I gave him some grief about it, so he nicknamed himself Big Oaf.
Anyway, back to the Ink Bold. The reason I and many others use the Ink Bold or Ink Plus so much is for its 5X at office supply stores. Now, I'd advise of course not *only* using it for 5X, since you likely do want to keep applying for Chase cards, so you shouldn't be a money losing customer for them. But it is great to be able to consistently earn 5X points on all Amazon spend, refill your Starbucks card at 5X, and double dip with Ultimate Rewards Mall bonuses by first buying gift cards then going through the Ultimate Rewards Mall for those bonuses–see Ultimate Rewards Mall July 2013 Deals
You also receive 5X for Internet, cable and phone spend, so don't forget to put those recurring bills on your Ink Bold or Ink Plus card. And 2X is offered for hotels and gas, even though you can do better with cards such as the Sapphire Preferred for hotels (thanks to the 7% annual dividend, which turns it into an effective 2.14X) or using the Chase Freedom for 5X on gas when it's a quarterly bonus.
3. Citi AAdvantage Platinum Select Visa: 50,000 AAdvantage Miles
No Annual Fee the First Year; Then $95
American miles are quite valuable to us, since Cathay Pacific First Class remains such a great way to get to Asia (or even fly coast to coast–see my Cathay Pacific First Class NYC to Vancouver Review). And since we just burned several hundred thousand of these for 2014 travel, it's time to replenish. Following the BankDirect Devaluation, we aren't able to passively earn many that way, so that's where the Citi Platinum Select comes in. Also see Citi AAdvantage: 100K AA Miles from 2 Citi Platinum Visas.
4. Barclays Arrival Card: 40,000 "Miles" = $440 Statement Credit on Travel
No Annual Fee the First Year; Then $89
It's a good thing Big Oaf hadn't been actively applying for many cards prior to these latest applications, because Barclays can be quite picky about this. If you're planning on applying for Barclays credit cards after applying for a slew of other travel rewards cards, I'd advise the opposite, because they don't look kindly on applicants with many recent inquiries.
The reason we wanted the Barclays Arrival Card is for the bonus: it's effectively $440 back on travel spend, and the card has no foreign transaction fees, so we plan to use this toward 2014 short haul international flights that we'll be taking, where the paid flight is the route we need and isn't served by carriers that we could get award flights on.
Another good bet is using it towards the taxes, fees and fuel surcharges of an award flight. Thanks to this card, you can actually make an award flight completely free: there IS a free lunch 🙂 Also see: Barclays Arrival Card Review
Which cards have you recently applied for?
Related Posts
Travel By Points: What's In My Wallet
Citi AAdvantage: 100K AA Miles from 2 Citi Platinum Visas
Need Award Booking Help? Our fee is as low as $75 per ticket if you book your hotel through us.
If you enjoyed this, join 90,000+ readers: please follow TravelSort on Twitter or like us on Facebook to be alerted to new posts.
Become a TravelSort Client and Book Your Hotel with Virtuoso or Four Seasons Preferred VIP Amenities!