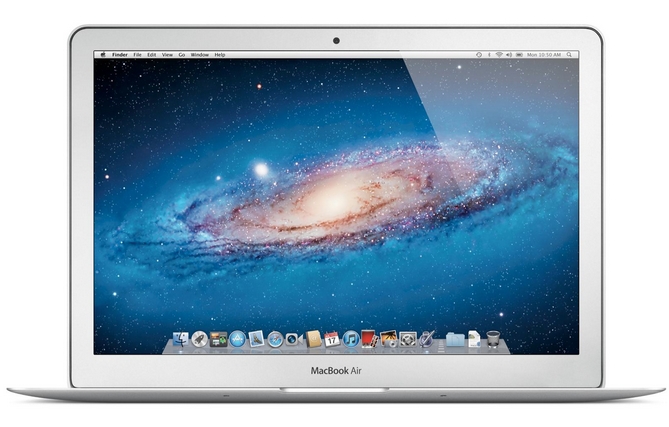 Thomas writes: "I'm planning to buy a new MacBook Air laptop computer and want to maximize miles and points. What are my best options?"
Great question Thomas–computer and other major purchases are the perfect way to meet minimum spend on new credit cards and potentially earn bonus points as well, but it's also important to consider warranty eligibility, especially on laptop computers since with travel they tend to be more suceptible to things going wrong.
I'm not sure which model you're considering, but for purposes of comparison, I'll assume the MacBook Air 13.3″ with 4GB Memory and 128GB Flash Storage.
Here are the options I'd recommend, with pros and cons of each.
1. Best Buy, Paying with Freedom for 5X Points and Earning Best Buy Reward Points
Unfortunately, Best Buy is only 1 extra point in the Ultimate Rewards Mall, but 1 extra point is better than nothing. You can click through, then use your Chase Freedom Card to pay, since through December 31 you'll earn 5X points at Best Buy (up to $1500 for October-December 2012 bonus category purchases). By paying with your Freedom, you also receive warranty extended protection: "The Extended Protection Benefit automatically doubles the free repair time period under the original manufacturer's written U.S. warranty up to one (1) additional year on eligible warranties of three (3) years or les when an item is purchased entirely with your eligible card…"
And if you join Best Buy Reward Zone, you earn 1 point per $1 spent and get a $5 reward certificate for every 250 points. On a purchase of over $1000, that's $20 in reward certificates good for other Best Buy purchases.
Cost: $1129.99 and free shipping
Pros:
6X points by clicking through the UR Mall to Best Buy and paying with your Chase Freedom
Earn $20 in Best Buy reward certificates
Get 1 year extended warranty protection by using your Chase Freedom
Cons:
You can't customize your computer at Best Buy (or other third party resellers) the way you can buy buying at the Apple Store
2. Apple Store with Education Store Discount, Going Through Ultimate Rewards Mall
If you want to customize your MacBook Air, for example with 8GB Memory for faster performance, you'll want to purchase via the Apple Store. If you're an educator, homeschool your K-12 child or are a student or the parent of a student accepted to or enrolled in a college or university, you qualify for Apple's Education Store discount, which is around $50 off.
As with Best Buy, the Apple Store is only at 1X in the Ultimate Rewards Mall, but better than nothing. Click through, use the Education Store discount if you qualify, and pay with whichever card you're working on meeting minimum spend with, if it provides extended protection. Note that most extended protection clauses exclude used, pre-owned and refurbished items, and only apply to new computers that you pay for wholly with the card (so don't also use gift cards when making the purchase). Check your card's specific additional benefits terms to be sure.
Cost: $1149 (with Education Store Discount) and free shipping
Pros:
Ability to customize your computer by purchasing through the Apple Store
Take advantage of the Apple Store Education Store Discount (although at least for the model in our example, Best Buy price is actually cheaper)g
Get 1 Year extended warranty protection if you use a qualifying credit card
Cons:
You won't earn as many points as in the Best Buy example
3. Amazon with Gift Cards Bought with Ink Bold or Ink Plus for 5X Points
Amazon's price is similar to Best Buy for our example model, at $1129.98, and remember that you can earn 5X points on all Amazon spend by purchasing Amazon gift cards at Office Max with your Ink Bold or Ink Plus, then loading them to your Amazon account.
In fact, some folks will get even more points if they use an AMEX Business OPEN card to first purchase OfficeMax gift cards to get OPEN cash back (10%, although have heard this ends January 13, and that recently folks need to secure message to get the full 10% back) then using these OffieMax gift cards to purchase Amazon gift cards. Note there is a risk here: not all OfficeMax locations will allow you to use a gift card to purchase other gift cards, so proceed at your own risk.
If you do manage to use an AMEX Business card with OPEN savings to get 10% cash back when purchasing OfficeMax gift cards, you'd be looking at $110 in savings in addition to the 5X points from using the Amazon gift cards. But don't forget to weigh the fact that you won't be getting any free extended warranty protection by using gift cards.
Cost: $1129.89 and free shipping; $1019.89 if you manage to get $110 back from 10% OPEN Savings.
Pros:
Additional cash back possible by using an AMEX Business card with OPEN cash back savings to first purchase OfficeMax gift cards, before using those to buy Amazon gift cards
Cons:
You can't customize your computer at Amazon (or other third party resellers) the way you can buy buying at the Apple Store
You won't get the free extended warranty protection that you get by purchasing with many credit cards by using Amazon gift cards, although you can purchase AppleCare extended warranty coverage from Amazon and get 5X on that with Amazon gift cards.
Related Posts
Earn 1 Million Miles and Points a Year Without Flying
5X Points for All Amazon Spend
Make Your Own 100,000 Credit Card Bonus Offer
Ink Plus and Ink Bold Minimum Spend to Increase: Time to Apply
Do you have any tips to add about meeting minimum spend for the Chase Ink Bold while also gaining additional bonus points? Share your tips in the comments!
Check out and apply for the Best Travel Credit Cards.
If you enjoyed this, please follow TravelSort on Twitter or like us on Facebook to be alerted to new posts.
Become a Member to find your perfect luxury or boutique hotel at up to 50% off: TravelSort Hotels