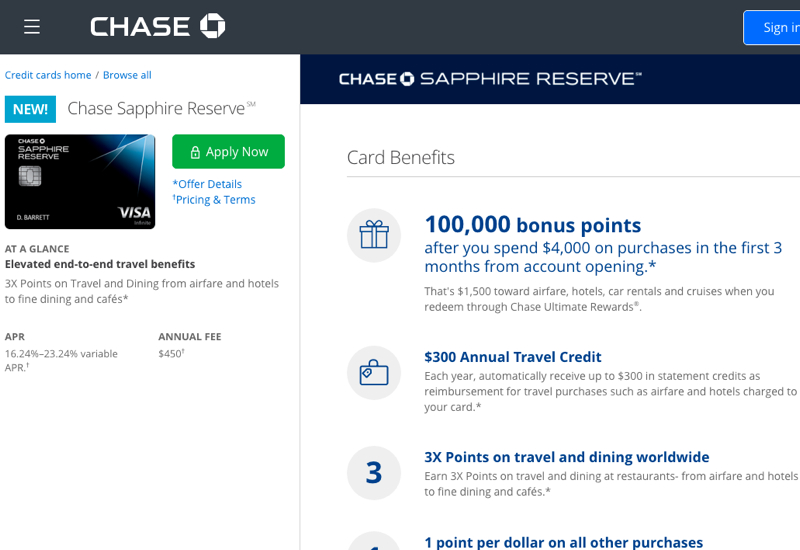 Update: The current highest offer is for the 50K Chase Sapphire Reserve.
A new 100K Chase Sapphire Reserve Card launched August 21, 2016 per these Flyertalk and Reddit posts. Here are the benefits and costs:
100,000 Ultimate Rewards points signup bonus after spending $4000
Earn 3X Ultimate Rewards points on travel purchases
Earn 3X Ultimate Rewards points on dining
$300 Travel Credit per year statement credit automatically applied for travel purchases charged to your card
Up to $100 Global Entry or TSA PreCheck Fee Credit if charged to your card
Get 50% more value when you redeem points for travel through Chase Ultimate Rewards
Priority Pass Select lounge access
Card will be made of bonded metal card, similar to Chase Sapphire Preferred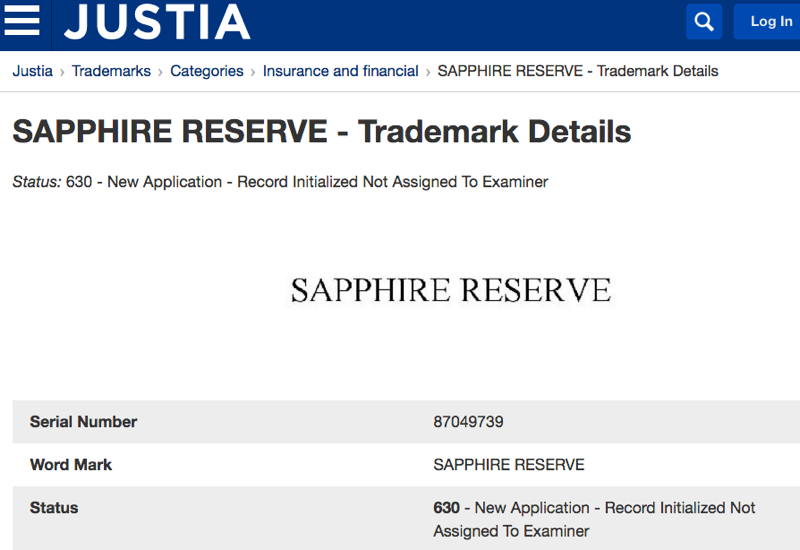 Updated Analysis
While we still don't know the complete benefits of this card, it's nice to see the additional 3X Ultimate Rewards points on dining. This is great for everyday, although those with the Chase Freedom can do better, at least on the first $1500 of dining spend, by buying gift cards to their favorite restaurants when restaurants are a 5X category, as they are now, for Q3 2016. Still, the advantage of 3X on a premium card such as the Chase Sapphire Reserve is that it can be used overseas, with no foreign transaction fees, so for frequent international travelers and foodies, and those who entertain clients often, this card is superb.
The $300 per calendar year travel credit is better than we originally thought, since from the language that has been leaked so far, it seems that any travel (not just airline) charged to the card will be eligible for automatic statement credit. This makes it not only easier to use than the AMEX airline incidental credit (which is tied to a single airline and is hard for many frequent flyer elites to use since it can't be used on actual tickets and is officially valid towards things such as seat upgrades and baggage fees that elites don't pay for) but also better than the Citi Prestige $250 airfare credit, since the Chase Sapphire Reserve credit will be for any travel, not just an airline credit.
In any case, Chase has impeccable timing with this card; the Citi Prestige has just announced several negative changes, albeit at least with a year's advance notice: access to American Admirals Club Lounges will be discontinued, the 3 free rounds of golf will be eliminated, and the 4th night free benefit will be an average of all nights and will not include taxes (see
Reduced 40K Citi Prestige Signup Bonus and Remaining 50K Citi Prestige Link
). So some disgruntled Citi Prestige card holders are bound to be considering other premium card options, just as Chase rolls out its 100K Chase Sapphire Reserve offer.
FAQ
What is the Card Called?
JP MorganChase filed on May 25, 2016 for trademark protection for
Sapphire Reserve
and the new card is confirmed as the Sapphire Reserve. This has a nice ring to it, reminding you of a great bottle of wine.
How Will the $300 Travel Credit Work?
We now know that the $300 credit will apply to travel-related purchases including:
Airline tickets
Hotels
Car rentals
Train and subway tickets
Bus tickets
Taxis
Ferries
Bridge tolls
Parking
This is fantastic news, since it makes Chase's credit far more valuable than the AMEX Platinum airline incidental credit, and even better than the $250 Citi Prestige airfare credit, since it's $300 and applies to more travel categories. It effectively makes this card just $150 per year (who doesn't spend $300 per year on some kind of travel?)
Keep in mind that the first year, you'll receive the credit from the time you get the card through the first December statement date, and the next credit will be from after your December statement date until the following December statement date (so NOT by calendar year).
What About Global Entry?
Receive a Global Entry statement credit up to $100 every 4 years as reimbursement for the application fee, if charged to your Sapphire Reserve card. This is in addition to the $300 per year travel credit.
Are There Other Benefits of the Card?
Yes; other key benefits include:
Trip Cancellation and Trip Interruption benefit: up to $10,000 per covered trip
Trip Delay Benefit: If delayed more than 6 hours or the delay requires an overnight stay, you can be reimbursed up to $500 per ticket. The cardholder, cardholder's spouse or domestic partner and dependent children under age 22 are covered.
Lost Luggage Reimbursement: Lost or damaged checked or carry-on bags are covered up to $3000 per passenger
Emergency Evacuation and Transportation: If you or a member of your immediate family are injured or become ill and require emergency medical evacuation, you can be covered for medical services and transportation up to $100,000.
Will Chase 5/24 Mean I Won't Be Able to Get Approved for the New Chase Elite Card?
I'd assume Chase 5/24 (meaning that if you have opened 5 new credit card accounts within the past 24 months–including being added as an authorized user–you won't be approved) will apply to this new Chase card, but we don't know yet for sure.
Are There Any Exceptions to Chase 5/24?
If you receive a targeted Chase offer with an invite code, or if you are a Chase Private Client (generally you or a family member needs to have $250K with Chase to qualify for Chase Private Client) you're more likely to get approved for new Chase cards, even if you exceed 5/24.
Another exception is when you have certain business credit cards or charge cards. Obviously Chase business cards do count, since Chase has a record of them. But since AMEX business cards and Citi business cards are not reported to credit score bureaus, you could for example have three new personal credit card accounts and 3 AMEX/Citi business card accounts opened over the past 2 years and potentially be approved for a new Chase card.
If I'm at 4/24 Should I Hold Off On New Credit Card Applications?
If you value Chase Ultimate Rewards points and have a good chance of being approved for the new Chase Sapphire Reserve card (or however it is named once launched) yes, I recommend waiting. If you're not interested in the card once it's launched, you could always apply for a different Chase card, but the launch date is in less than 1 month, so it's not that long to wait.
Are Ultimate Rewards Points Worth More Than Citi ThankYou Points and AMEX Membership Rewards Points?
In my view, Ultimate Rewards points are definitely worth more than Citi ThankYou points, and I value them slightly higher than AMEX Membership Rewards points because I like being able to transfer points to Korean Air SkyPass for clients (which tends to have better first and business class award availability to Asia than most other frequent flyer miles) and I like being able to easily transfer 1:1 to British Airways Avios and MileagePlus to top up accounts for awards. But I do recommend
diversifying your miles and points earning
.
Related Posts