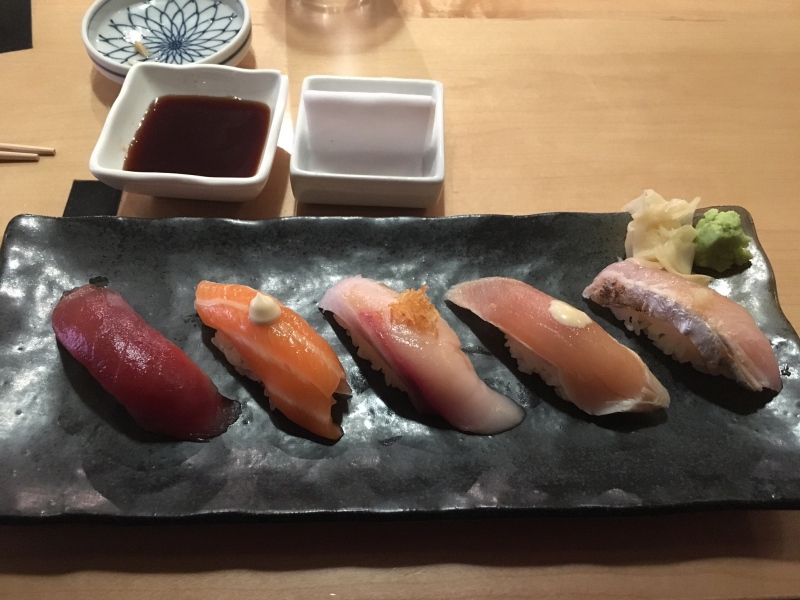 This Neta NYC Review is from my recent lunch there during 2017 NYC Restaurant Week. Neta is one of my picks for a NYC Restaurant Week lunch, even though Neta is not Michelin starred (it once had 2 Michelin stars, under Chefs Nik Kim and Jimmy Lau, ex-Masa). Still, solid sushi can be a good bet for Restaurant Week, and sushi is what I often crave for lunch. The question for me was whether this would best my usual midtown launch haunt, Tsushima.
Visiting New York? See all of our posts tagged NYC.
Getting to Neta
Neta is located at 61 West 8th Street, in the West Village. The closest subway stops are Christopher Street (1, 2, 5 trains) and West 4th Street (A, B, C, D, E, F, M trains).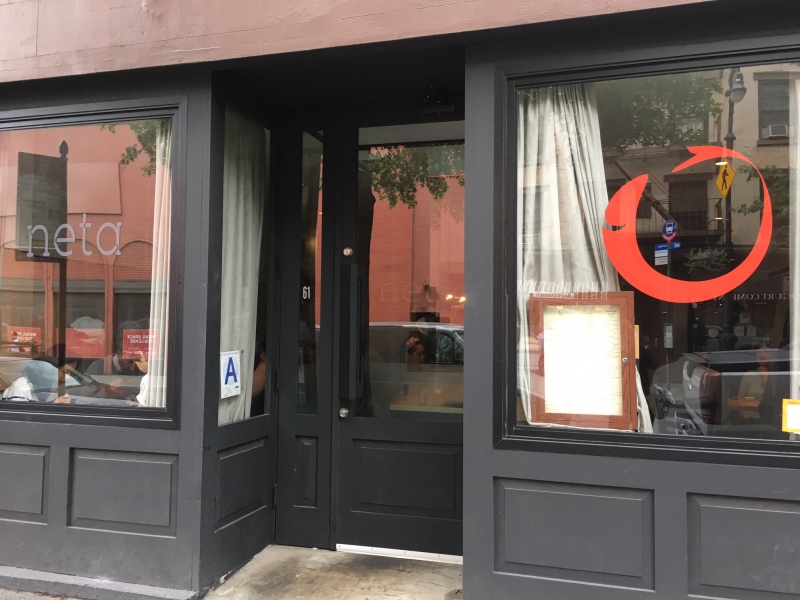 The Scene
I was dining solo, and was led to the sushi bar, where another couple was. Most of the diners were couples and friends in their 20s-30s, and were seated in the tables across from the sushi bar or in the front of the restaurant. I was glad it came before the sushi bar filled up, as it was already quite noisy given the acoustics of the place.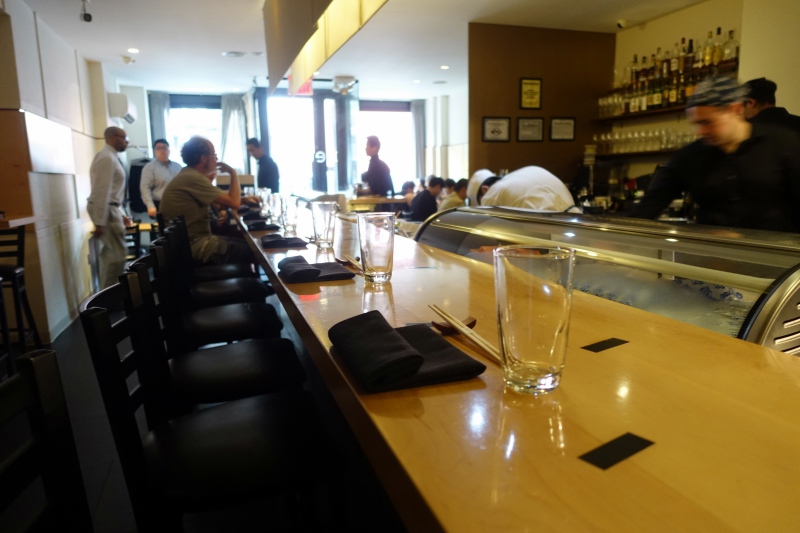 Neta Menu and Food
Here's the Restaurant Week lunch menu during my visit: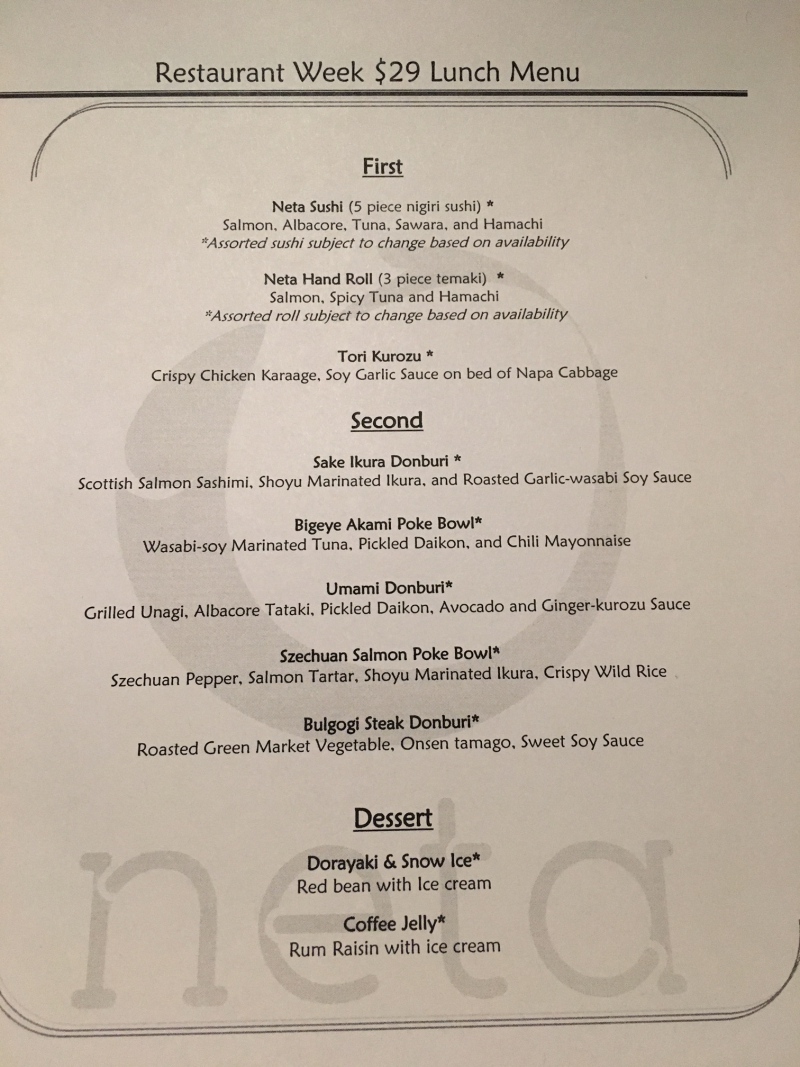 As a starter, I chose the Neta Sushi, with tuna, salmon, albacore, sawara and hamachi. My favorite was the hamachi, although in second place I enjoyed the salmon, which seemed sweeter and more flavorful than usual. The sawada and albacore were fine, although not exceptional. The tuna, however, I didn't care for at all, given that it had too much wasabi and didn't taste as fresh as I'd hoped.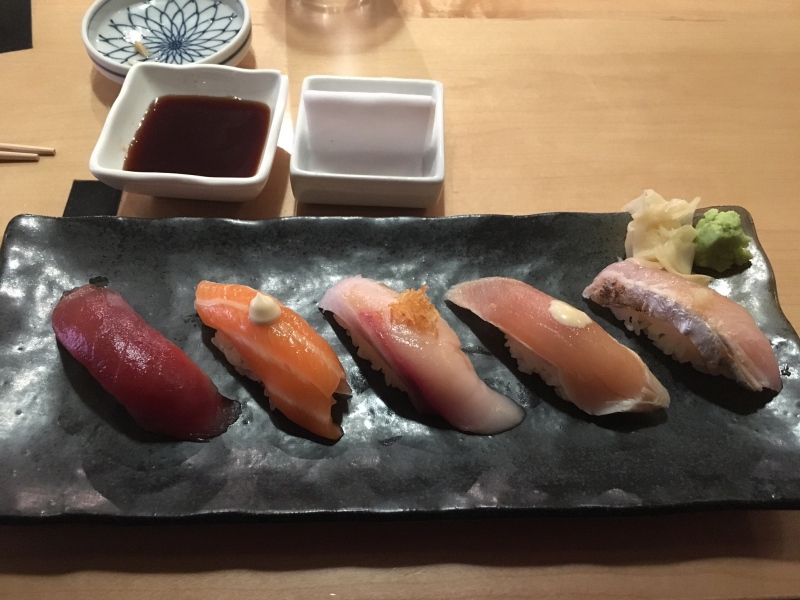 There was quite a wait for the main course, the Umami Donburi with grilled unagi, albacore tatake, daikon, avocado, and ginger-kurozu sauce. I'd never heard of kurozu before, but apparently it's a kind of black vinegar. Since the restaurant wasn't completely full and there was a least 1-2 kitchen staff standing around, it didn't seem like the most efficient operation.
But at last I received my donburi, and it was very good. Nothing earth-shattering, and something that wouldn't be hard to make at home, but satisfying.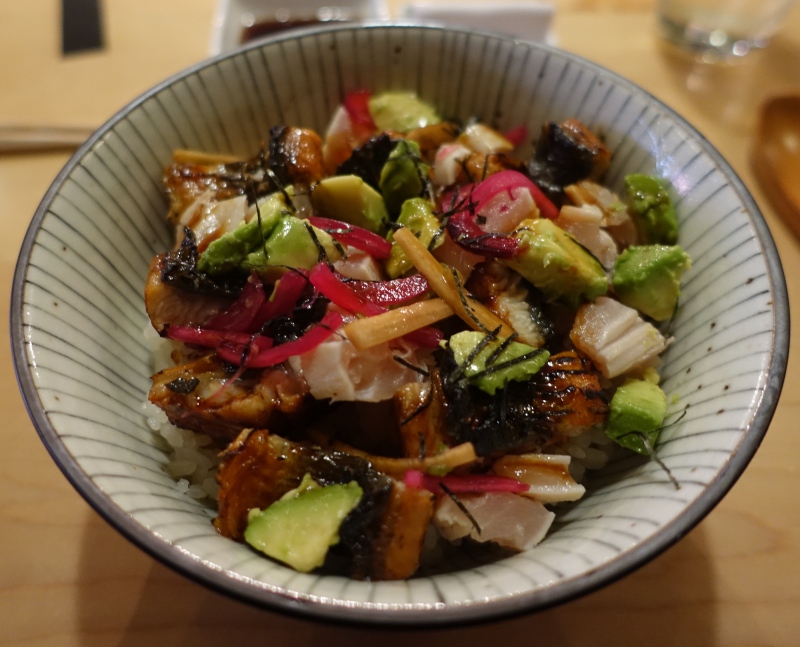 Japanese and other Asian restaurants aren't usually known for their desserts, and Neta is no exception. I chose the Coffee Jelly because the other option, the Dorayaki with azuki bean filling, was even less appealing. I suppose if you like jello and other wobbly, gelatinous foods, the Coffee Jelly could appeal. I personally liked the ice cream and rum raisins–everything except the coffee jelly–and only ate half of it.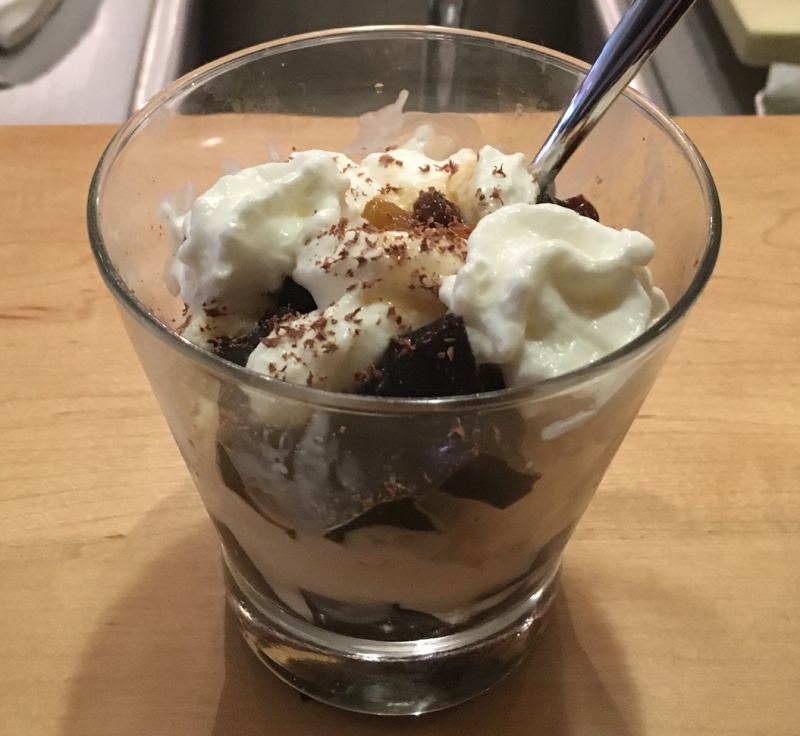 The Verdict
I liked but didn't love Neta. I did prefer the sushi at Neta and my donburi there to my Restaurant Week lunches at Morimoto and at Nobu, although Morimoto and Nobu had better dessert and a better space and ambience.
Recommended Posts
NYC Restaurant Week Summer 2017: Where to Go and AMEX Statement Credit
Chase Freedom: 5X on Restaurants for Q3 2017
The Modern NYC Restaurant Review, 2 Michelin Stars
Sushi Iwa Tokyo Review, 1 Michelin Star
Need Award Booking Help? Our fee is as low as $75 per ticket if you book your hotel through us.
If you enjoyed this, join 200,000+ readers: please follow TravelSort on Twitter or like us on Facebook to be alerted to new posts.
Become a TravelSort Client and Book Your Hotel with Virtuoso or Four Seasons Preferred Partner Benefits!