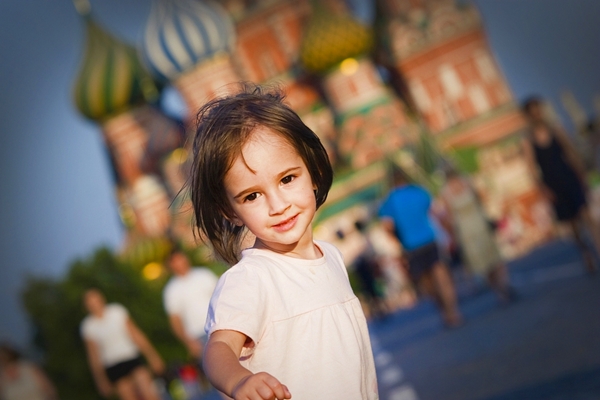 Moscow is one of the major world capitals and a city that combines ancient traditions with the latest trends. Although it's true that it's primarily thought of as a business center, Moscow actually has a lot to offer to families with kids. Well-known attractions include Red Square and the Kremlin, the symbols of Russia and its history, beautiful in the daylight and magical in the evening lights when they're illuminated. There are a number of parks, gardens, theaters and shows that are perfect for kids' boundless energy and some, such as the unique cat theater and dolphinarium, will astound you as well. Even getting around can be exciting for little ones, since as in St. Petersburg and other major Russian cities, Moscow has some of the most beautiful subway stations in the world, true works of art in themselves, adorned with marble, stained glass, chandeliers and mosaics.
If you think that Moscow is not very kid-friendly, you couldn't be more wrong. The only problem of organizing your stay with kids in Moscow might be the confusion of what activities to choose among a whole lot of astounding attractions.
What to see and do

1. Red Square and St. Basil's Cathedral
Red Square is a symbol of Russian history and the main sight in Moscow along with the Kremlin. You can't go back home and tell people you have not seen Red Square. It is like going to Paris without seeing the Eiffel Tower. Red Square is a very vast area surrounded by beautiful buildings, each having unique architecture. You have so many sights collected for you all in one place. The Kremlin, St. Basil's Cathedral, GUM (a huge department store), and numerous museums. At each time of the day you will find strolling tourists and locals, taking pictures or just enjoying quality family time in a beautiful place. The square is rarely packed and children feel very comfortable there. Besides, the architecture has some magical fairy tale touch to it that appeals to children of all ages.
St. Basil's Cathedral immediately draws attention with its bright, multi-colored onion domes. You might wonder if it is a good place for children, but once you go inside you will see that it is as colorfully adorned as the domes themselves, the chapels are interconnected like a maze which prompts children to explore the place more on their own. You don't have to worry as the Cathedral is pretty small inside which guarantees that your little one won't get lost on his/her way.
Opening hours: Daily from 11.00 to 17.00
Tips:
You are not allowed to use lenses larger than 70 mm when you are in the Red Square and the Kremlin
Try visiting Red Square in the evening too. The illumination creates a miraculous effect and the place looks even more breathtaking. Your children will love it (and not just because they're out past their bedtime!).
Ages: Any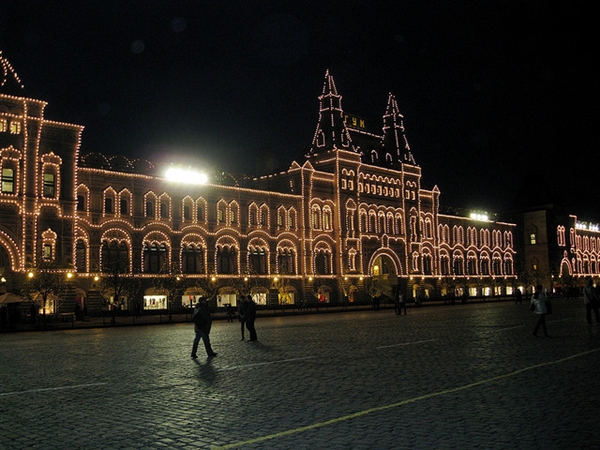 2. The Kremlin
The Kremlin, a symbol of Russia, with all its red-brick walls and towers might look to your kids as though it is a medieval citadel, but it is not so medieval anymore. In a way, the Kremlin is a symbol of national identity for Russia, and the measures taken to present it in the best way possible are impressive. Two thirds of the Kremlin are closed for the public, yet the remaining one third is willing to reveal all its secrets to you and your children, althoughonly if you pay close attention.
The Tsar Cannon and Tsar Bell are definitely among the first things inside the walls of the Kremlin that will catch your children's' attention. The size of them will impress you, too, but given that they look even larger to your kids, the excitement can be foretold.
When you go to the Kremlin, plan your time accordingly. It can take you the whole day if you want to see the Armory Chamber, the Diamond Fund, and the architectural complex. Of course, you know best what might interest your kids more and can tailor your visit accordingly.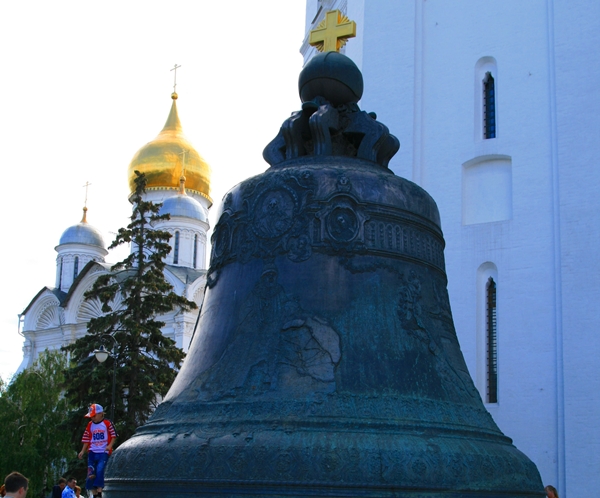 What else can get your kids excited in the Kremlin?
The Armory Chamber and State Diamond Fund are two attractions that are particularly worth a visit. The Russian tsars used to pamper themselves with expensive things such as gold-plated carriages, diamond-encrusted thrones and crowns, and jeweled Faberge eggs. The Tsars seemed to live a fairy-tale of their own, which can also enchant your little prince or princess.
For your Kremlin experience you can book guides who specialize in guided tours for children. The guides will offer you a special tour based on the age of your children and will highlight exhibits and history facts while taking into account children's knowledge, interests and insight. You can find additional information about guided tours for families with children on the official Kremlin website at http://www.kremlin.museum.ru/en or on the website of the Moscow Tourist Bureau at http://www.mostrip.ru.
Tickets are $12 for architectural complex inside the Kremlin (including all the cathedrals), $23 for the Armory, $27 (adults) and $4 (children) for the Diamond Fund. Please note that children of pre-school age (6 years old and under) are usually not allowed into the Diamond Fund Museum which makes sense since it will hardly be of interest to them.
Audio-guides in English, French, German, Italian and Spanish are available which are informative, but, especially if you're there with children, you'll get a better experience with an experienced guide.
Tips:
The Armory Chamber is a very popular tourists' attraction, and with only 4 sessions per day it gets tough to get in on some days. They start selling tickets 90 minutes prior to the session, so don't wait until the last minute to get your tickets if you don't want to be disappointed.
Tickets to the Diamond Fund can be purchased only in its booking box on the territory of the Kremlin. You can be sure you are not the only one who wants to visit this museum, especially on weekends; there are always long lines to get a ticket.
If you don't want to waste your time in lines, you can book the tickets for both the Armory Chamber and the Diamond Fund in advance (usually 5 days prior to your museum's visit) with one of the companies that render such services. It will be more expensive, though. Note that the official Kremlin website does not sell tickets online.
The most popular services to book tickets for these museums online are Biletek and Kremlin Tours.
Ages: For architectural complex of the Kremlin – any, for the Armory Chamber and the Diamond Fund – 7 years and older.
The Moscow Zoo is the first Zoo in Russia, opened back in the 19th century. Today you can see over 8,000 animals from more than 1,000 species there. Monkeys, tigers, polar bears, lynx, panthers, snow leopards, elephants, zebras and many more animals will sure captivate your child's attention.
For a special treat, you can book a pony or a carriage ride (only for children from 2 to 10 years old). In winter carriages are replaced with a sledge.
Tickets: $5 adults, free admission for children. Exotic animals' exhibition and dolphinarium entrance requires separate admission
Ages: any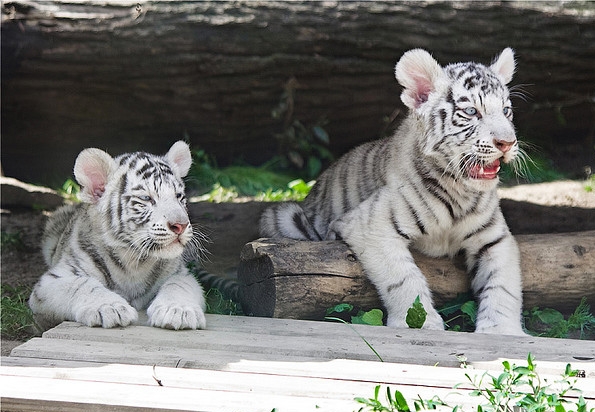 4. The Moscow Zoo Dolphinarium
The Dolphinarium is a part of the Zoo, so you can easily combine the visits to both the attractions. The show lasts 25-30 minutes during which trained dolphins, sea lions, beluga whales, and walruses will amaze you and your children with tricks you'd have never thought possible.
After the show you can take the photographs with one of the marine artists. The dolphins will spring out of water just for you and a professional photographer will capture the moment, making sure that this photograph will become a gem in your family archive.
Tickets are $5 per person.
Ages: Best for children older than 3 years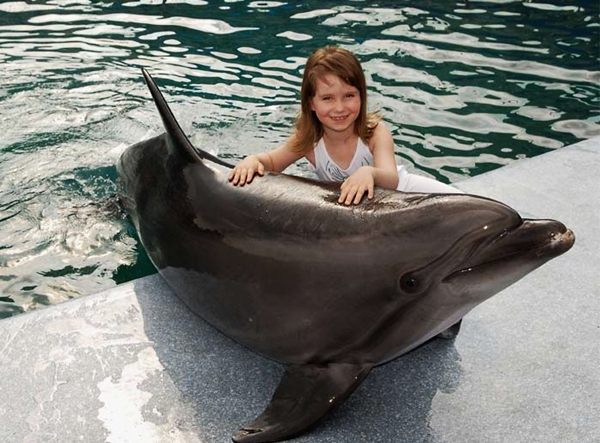 5. The Yuri Kuklachev Cat Theatre
The Cat Theater is one of the most unique theatres in the world. The performers are cats, who are ostensibly not trainable. And yet, for over 20 years they have amazed children and their parents with their tricks, among them handstands and aerial acrobatics.
Ticket prices range from $5 to $50.
Ages: Any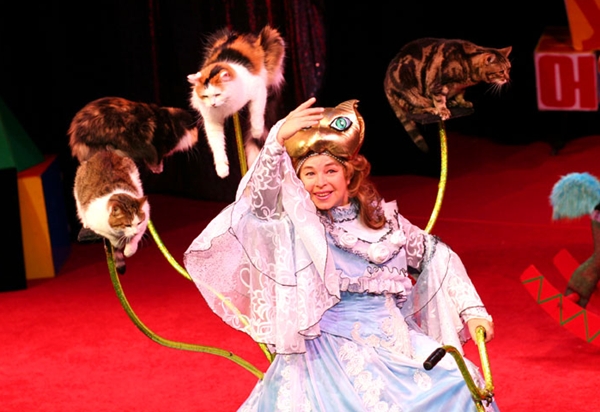 6. Gorky Park
Gorky Park is the most famous entertainment park in Russia, where you can spend all day long without getting bored. It is suitable for children of all ages, and traditionally attracts a lot of people, especially in Summer.
For toddlers there is a variety of simple rides, including Mini-Mouse or Rio-Grande train journeys, carousels, and boat rides that are designed with toddlers in mind. For older kids there are numerous roller-coasters, a house of horrors, flight simulators and many more.
A visit to the Gorky Park will remain an unforgettable experience for you and your children.
One ride will cost you from $3 to $30 with the average being $5-6.
Ages: Best for children older than 3 years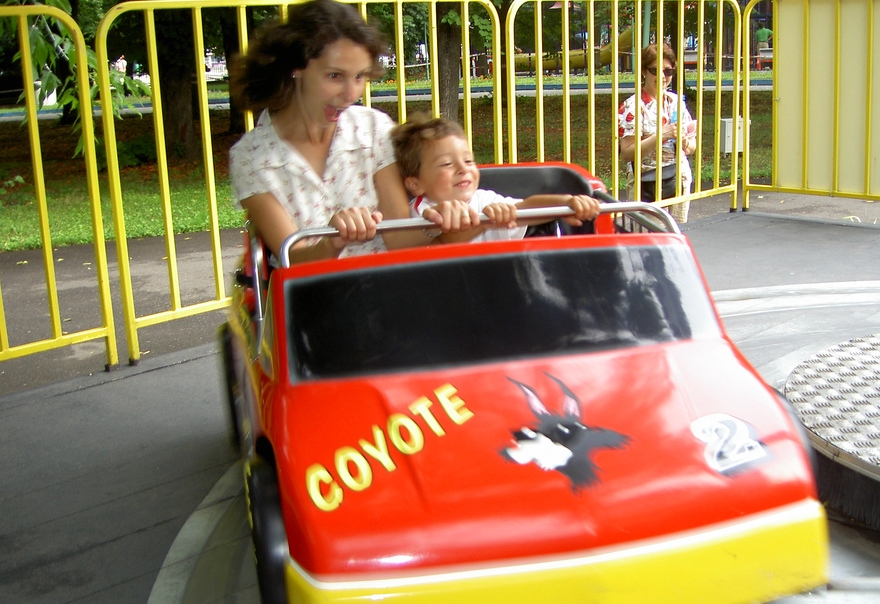 If you want to spend some time close to nature without leaving Moscow, Sokolniki Park is a place to go. Admission is free on weekdays, and there is a token payment on weekends. The park is located in a central part of the city and is a great place to bring children for a picnic or a walk. It is a beautiful place full of tall trees and lot of greenery. In summer there are a lot of performances in the park, including concerts of classical music. In winter you can use the benefits of the park's ice-rink to enjoy (skates are there for rent).
Ages: any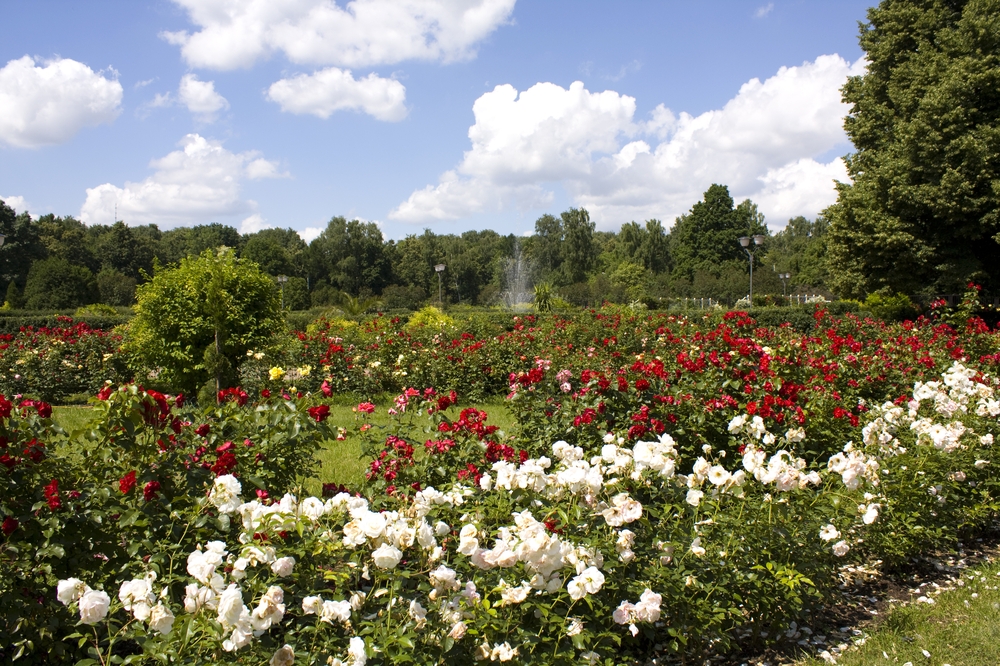 Where to stay in Moscow

When you travel with children you want to have comfortable accommodation, preferably in the city center. Moscow is an expensive city to stay in, but if price is no object, you can't do better than the new Four Seasons Moscow, which is right by Red Square in the historic Hotel Moskva, which offers special kids' welcome amenities, child size bath robes, and a large pool for the entire family to enjoy.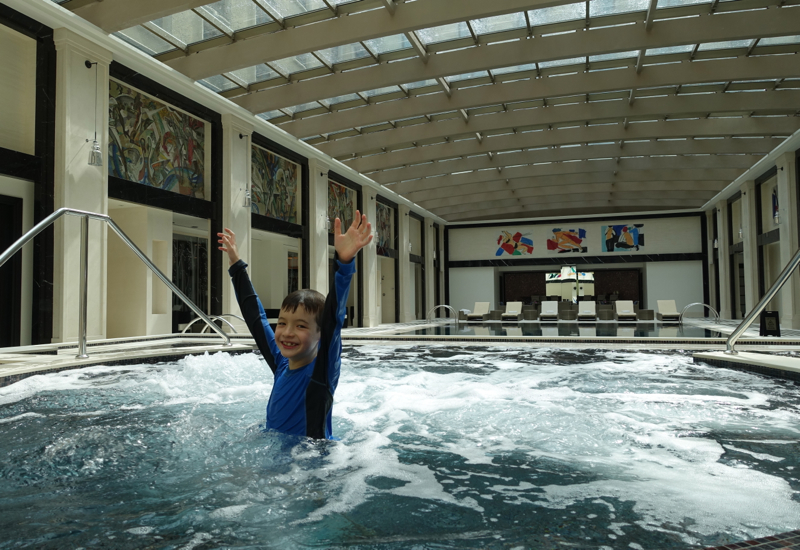 If you're on a budget, you might want to consider staying outside the city center. The most important factor you should take into account here is the proximity of a metro station. Moscow is famous for its extensive metro network which helps you to access almost any place in the city within an hour at the most, and within central Moscow, just a few minutes.
The Golden Apple Boutique Hotel, a 4.5-star hotel on Malaya Dmitrovka (city center, Metro Pushkinskaya) is a great choice not only for couples and business travelers but also families with children. Apart from having a perfect location (the hotel is located within a few minutes' walk from the Kremlin and Red Square) the hotel has surprisingly reasonable room rates for its class and location. Deluxe rooms are just a little over $200 per night. The hotel also provides free cribs.
The hotel is famous for its exclusive design by a Canadian architect Raphael Shafir with each floor matching one of the rainbow colors. The hotel takes pride in its terrific service, and you will certainly be overwhelmed by all the hospitality. The rooms are rather small and minimalist, nevertheless, well-designed and very comfortable. The hotel's restaurant is excellent but pricey.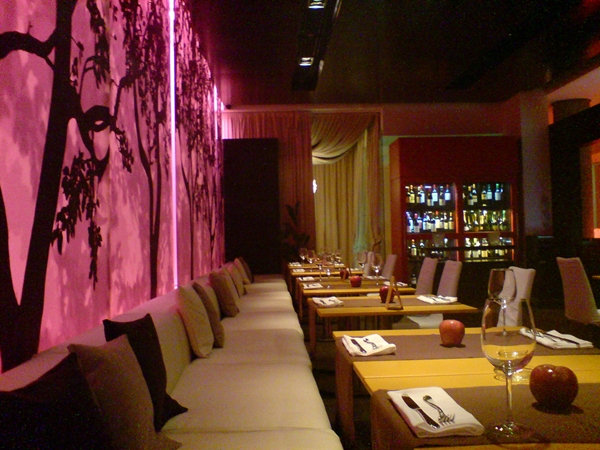 The Alrosa Hotel 4-star hotel is situated just a few minutes walk from the Tretyakov Gallery (one of the greatest museums in the worls which hosts a collection of Russian fine art) and Metro stations. Spacious and elegant rooms along with friendly and helpful staff will make your stay in this hotel a pleasant experience. The hotel also provides cribs for small children for free (available upon request), children under 12 years stay for free without an extra bed. The room rates are rather high since the hotel is relatively close to the city center. For one night you will be charged $270-450.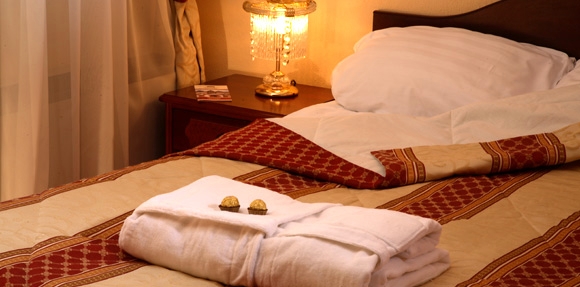 The Izmailovo Vega Hotel 3-star hotel can be your choice if you are on a tight budget. The hotel is also located near a Metro station with a direct line to the city center; the subway trip will take you just 15 minutes. Room rates are $110-400 per night. Rooms are rather small but comfortable, with TV, DVD player, and Internet access. All children under 7 years stay free of charge when using existing bedding. Cribs are available on request but not for free (approx. $25). For the same money you can request an additional bed for your child. You may also want to check out the Izmailovsky craft market nearby for Russian souvenirs—be sure to look around and even bargain a bit before buying, as there are many vendors and lots of choices.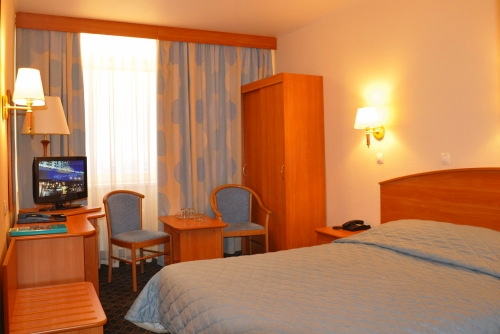 Kid-friendly restaurants in Moscow
Usually it is a challenge to find a place in a foreign country that will offer you exactly the food your little one is used to. In Moscow you'll have few problems. The city has such a wide choice of restaurants and cafes with with delicious cuisines from all over the globe that it can easily outdo Paris in terms of sheer variety.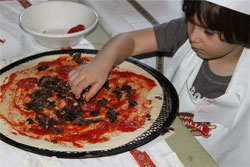 One of the really good choices could be a chain of restaurant's Mamina Pasta ("Мамина паста"). This ia family restaurant which serves italian food. Currently the chain has 3 restaurants, all of them being located near Metro stations (stations Mayakovskaya, Pushkinskaya, Barrikadnaya, Krasnopresnenskaya, Kurskaya) in the close proximity to the city center.
The main menu includes soups, fish and seafood, and traditional for Italian cuisine pasta, lasagna and pizza. For dessert you can try an incomparable tiramisu. On the weekend, the restaurant even has a supervised kids' room with toys (12-6pm Spiridonevskii Per. location, 2-7pm Novinskii Boulevard and Zemlyanoy Val locations).
You can also sign up for a kids' cooking class where your budding chef will learn to prepare pizza and salad.
If you prefer vegetarian, you can try Cafe Avocado ("Авокадо", 12 Chistoprudnyi Boulevard). The motto of the restaurant is to serve delicious but healthy dishes. The recipes for the menu have been collected from all world's cuisines. Only organic products are used for cooking. Every 2-3 weeks the menu is updated. There is a special menu for children, too. An additional advantage is that Avokado is a smoking free zone, probably one of the few in the Russian capital.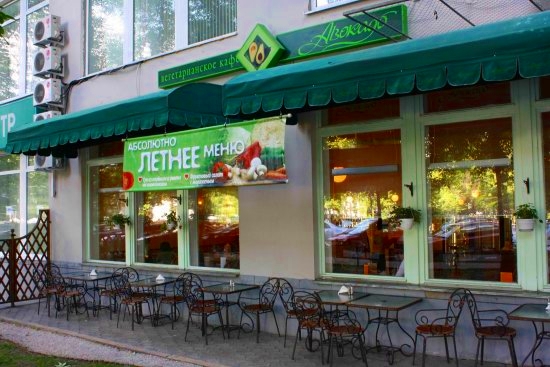 One of the most popular restaurant-cafes in Moscow was started by an American expat, Issac Correa in 2003. Today, there are several branches of Correa's serving delicious salads, sandwiches, entrees and desserts, Good kid choices include cheese pizza with fresh basil, chicken noodle soup and tuna salad sandwich, while choices such as grilled scallops with asparagus and steak with mushroom and thyme sauce will please adult palates.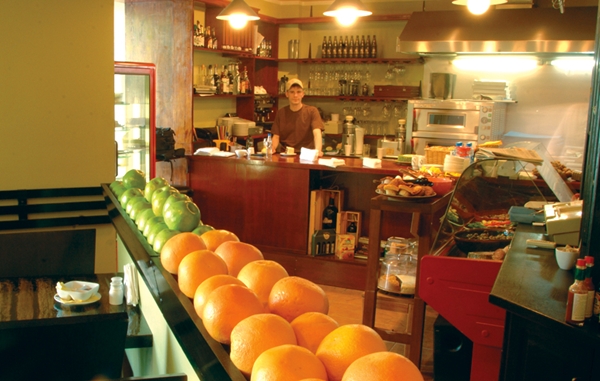 Also take advantage of all the cuisines of the former Soviet republics; Georgian food is a favorite for many Russians, and if your kids love cheese they're sure to love khachapuri, a traditional Georgian cheese pie. Try Café Khachapuri ("кафе хачапури" B. Gnezdnikovsky, 10, near Pushkinskaya metro station) and order a variety of the different khachapuri for your family to try.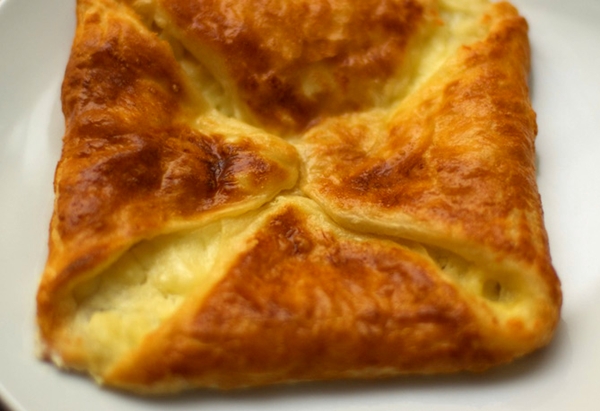 Other options can be mid-ranged restaurants chains such as Il Patio ("Il Патио") with Italian cuisine, Yolki Palki ("Ёлки-палки") with a great choice of Russian traditional food, an American style Starlite Diner chain with children menu and kids' corner.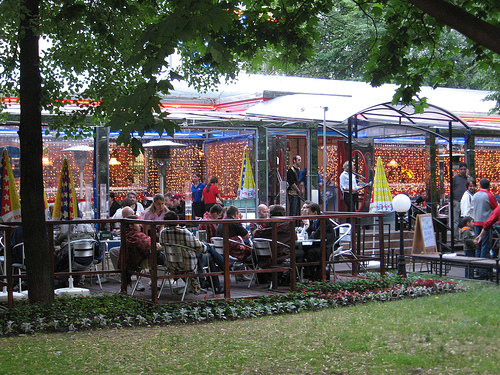 In case you would like to buy some organic products for your children such as cereals, fruits or yoghurt, you can try a few grocery chains that either specialize in organic food or have a special dedicated section in the store. The best selection of organic products can be found in Azbuka vkusa ("Азбука вкуса") chains and Grunvald ("Грюнвальд") supermarkets. "Azbuka vkusa" stores can be found all over the city while "Grunvald" is located on Rublyovskoe shosse (Metro station Molodyozhnaya) and Lesnaya Street (Metro station Belorusskaya).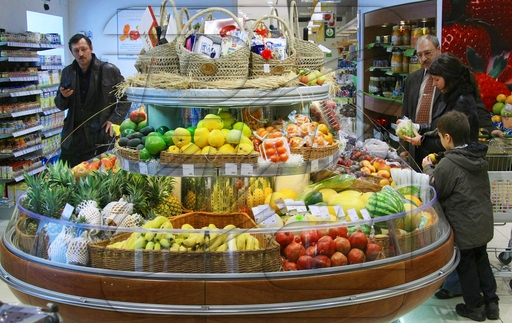 For some of the best baked goods anywhere, head to Volkonsky («Волконский»; closest metro station: Mayakovskaya) which offers heavenly fresh breads and French pastries made to the exacting standards of French master baker Eric Kayser. Must-try items include chocolate-almond croissants and seasonally available black currant pastries. The small adjoining café is perfect for a quick breakfast, lunch or snack. Try the smoked salmon sandwich with cream cheese and dill on Volkonsky's own bread.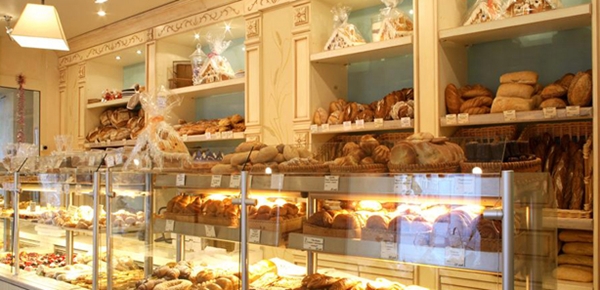 Moscow might not be an obvious choice to go to with children. But if you give it a try you won't be disappointed as the city has much to offer to families. Filled with fun and excitement, this trip is one your kids and you shouldn't miss.
Related Posts
Moscow Metro Tour with Happy Moscow Tours
St. Petersburg, Russia with Kids
The Most Beautiful Subway Stations in the World
Need Award Booking Help? Our fee is as low as $75 per ticket if you book your hotel through us.
If you enjoyed this, join 200,000+ readers: please follow TravelSort on Twitter or like us on Facebook to be alerted to new posts.
Become a TravelSort Client and Book 5-Star Hotels with Virtuoso or Four Seasons Preferred Partner Amenities!
Photos: Ed Yourdon, Bernt Rostad, nursesebo, Andrew in Raleigh, smallritual, Moscow Dolphinarium