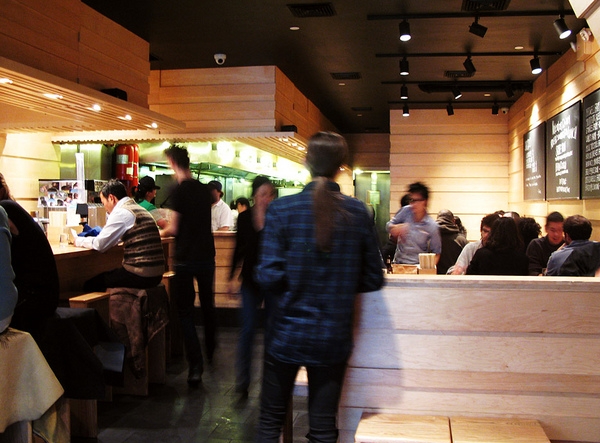 My birthday was on December 10, 2011. Yet aside from all of the well wishes and the presents I received, the day was meaningful for another reason: I was finally able to secure a reservation for the famed fried chicken dinner at Momofuku Noodle Bar in New York City. When I shared this exciting news with my friends, I was greeted with blank stares. Frankly, should I have expected anything else? For while I am a self-proclaimed New York city foodie, someone who lives to eat rather than eats to live, my friends are admittedly not. Consequently, they were utterly baffled when I told them about the intricate process I had to go through in order to secure this meal.
While a normal dinner at Momofuku Noodle Bar can be enjoyed by any diner who is willing to wait for a table (Momofuku operates on a first come first serve basis), the fried chicken dinner requires a reservation. To begin with, an individual must create a username and password to sign onto Momofuku's online fried chicken reservation system. If you are willing to accept the absurdity that there is an online reservation system solely for a fried chicken dinner, then you, like me, are probably willing to endure the other trials and tribulations that one must endure in order to partake in this meal. For if one truly wants to experience the Momofuku Fried chicken dinner, one must play by Momofuku's rules.
After setting up one's account, due to the large quantity of chicken, a party is required to have between four and eight people. Thus, before even trying to find an open slot for lunch or dinner, you must put down the exact number of people. This is key because regardless of when you are able to make the reservation, you have to arrive with the exact number of people specified at the time of your reservation (although you can change the number in advance by calling the also absurd "fried chicken hotline)."
Then, one must scour through the reservation system, looking for an available date and time, which is no easy task. For lunch the meal is offered at 12 p.m. and 2 p.m.; for dinner, Momofuku offers the fried chicken at 5:30, 6, 10, 11:45, and 11:55 p.m. Though I celebrated my birthday on December 10, the first available opening for a Fried Chicken dinner was Friday, January 6, luckily at the reasonable time of 5:30 p.m. Once you secure your reservation, you have to put down your name and credit card information. This extra step ensures that the individual who makes the reservation actually goes to the meal, instead of trying to sell this very popular commodity, which is not allowed. At the same time it ensures that if a party is not able to make it to the dinner and does not cancel 48 hours in advance, they will still be charged the $100 cost of the Fried Chicken Dinner.
After waiting four weeks, the day arrived. While I have been to Momofuku Noodle Bar numerous times before, this time was different. In the past, I had to endure incredibly long lines just to put my name down for a table. With these memories seared in the back of my mind, I relished the opportunity to walk past a mass of people, show the server my confirmation e-mail, and sit down while others enviously looked at my good fortune. I got none of that. What I did not realize was that our 5:30 reservation was also the time that Momofuku noodle bar opened for dinner service. Thus, for the first time in my life my guests and I were the first people in the restaurant.
Although the fried chicken dinner arrives 15 minutes after one's party sits down, we decided to order additional food beforehand. We began with a duck salad with squash, hazelnut, and brown butter. It was incredibly light and refreshing. What I marveled at was how each element was clearly evident, as one flavor did not dominate the dish. Instead, each component was wonderful on its own and everything mixed very well together.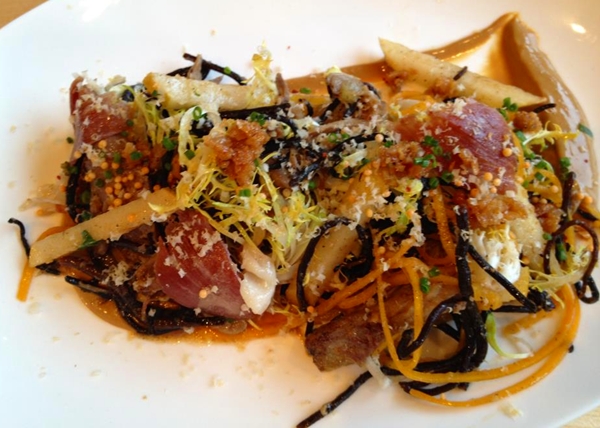 The same cannot be said of the grilled octopus with scallion kimchi, chinese sausage, and squash. Although I am a huge fan of both the flavor and texture of octopus, I was surprised by how mild it was, lacking the chewy texture and flavor I love. The Chinese sausage and squash were both incredibly bland as well. What truly surprised me was the lack of pop from the scallion kimchi, lacking both spice and the unique kimchi flavor that I have grown to love. These factors in conjunction made for a truly unimpressive dish.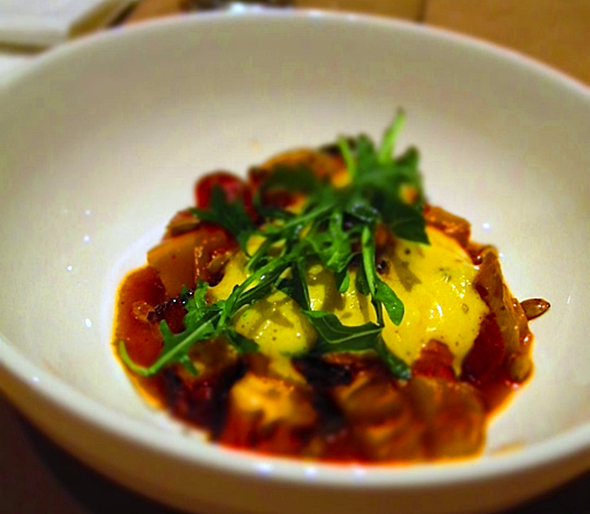 What came afterwards though, is nothing short of spectacular. If there is one thing that David Chang does better than anyone else, it is his buns. His pork buns with hoisin, scallion, and cucumber are the epitome of a dish that is incredibly decadent. The two generous slabs of pork belly in each bun were complimented nicely by the hoisin sauce. To offset the dominating richness of the pork belly, I thoroughly enjoy putting on the Momofuku kimchi sauce, which has a small amount of heat, but a lot of flavor.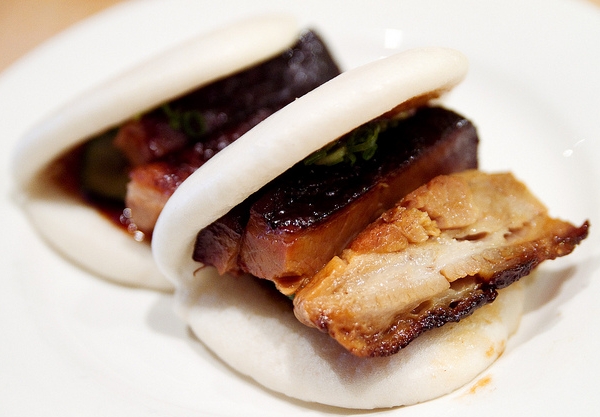 While the pork bun was incredibly rich, the shrimp bun with spicy mayo, pickled shallot, and iceberg lettuce felt light in comparison. Although the kimchi sauce is so good in fact, that I would probably eat a boot if it was covered in it, I would recommend not putting it on the shrimp bun. While it complements the richness of the pork belly, it would overpower the "shrimp patty" and all the other delicate components of the bun.
My least favorite bun was the brisket with horseradish, pickled red onion, and cucumber. That's not to say the bun is bad by any means. Although this admission might seem like heresy coming from a New York City Jew, I have my reasons. The bun tasted very much like pastrami. And while I love going to Katz's, I love going for their corned beef, not really being a fan of that other meat with the pickling spices. My opinion aside, my other dining companions concurred that it was the weakest of the buns. With that said, as with anything at Momofuku Noodle Bar, it is seriously enhanced with that liquid gold that is the kimchi sauce.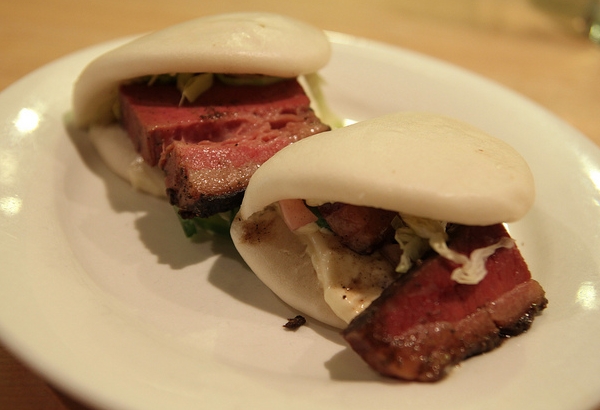 After our appetizer plates were cleared, our server brought out mu shu pancakes, an assortment of seasonal vegetables (carrots and lettuce), and four different sauces in anticipation of the fried chicken.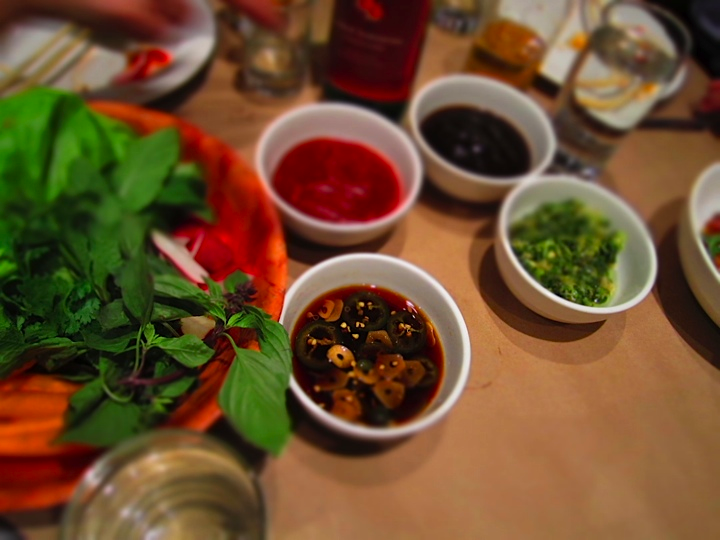 Then the moment we had been anticipating for over four weeks arrived. Out came the server with an enormous bowl containing wonderful pieces of heaven: southern style and Korean fried chicken. Not withstanding the fact that we had appetizers, it was an incredible amount of food. My companions and I dug into our fare, Being a purist, I wanted to initially taste the chicken on its own before attempting to assemble a mu shu pancake.
The Korean style was wonderful: The chicken had an incredible crispness (due to being triple-fried) on the outside while maintaining juiciness on the inside. The "light spicy glaze" on the outside provided a subtle heat and phenomenal flavor that really enhanced the chicken.
While I was enamored by the Korean style, the same cannot be said about the Southern style chicken. The Southern style is fried in a buttermilk and old bay seasoning batter that I thought would add character – yet there was very little pop. Unlike the Korean style, it was actually a little dry on the inside, and the seasonings did not really work to create a uniquely flavored crust. Consequently, while I found myself eating the Korean style by itself, I put the Southern style in a mu shu pancake with lettuce and a combination of the four sauces, which admittedly was very good.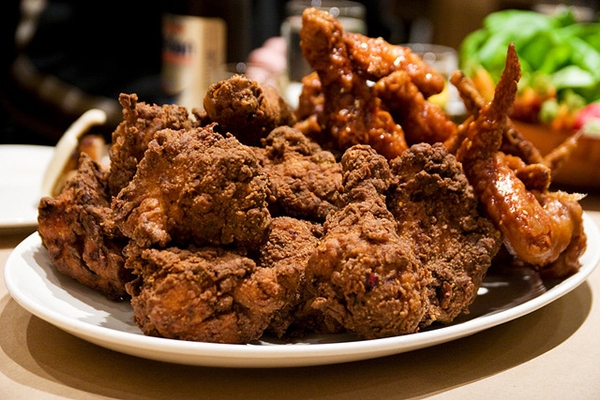 By the time my dinner companions and I threw in the towel, only three pieces of chicken remained. I truly could not have asked for a more perfect night, being around the three "F"s I love most: food, family, and friends. With satisfaction digesting in our very full stomachs we left the restaurant, looking back at a line of people trying to get a table that stretched out the door.
On the street I asked my Dad, the fried chicken enthusiast of my family, what he thought. He ultimately claimed that Willie Mae's Scotch House in New Orleans is still the best-fried chicken he has ever eaten. As I have never been there, I can neither concur nor disagree with his statement. What I can agree with is what he said afterwards, which resonated with me and I will share with you now. My father remarked that while the fried chicken was good, very good in fact, it was still inferior to everything else we had eaten there: namely the various buns and the duck salad.
Momofuku Noodle Bar, along with the rest of David Chang's restaurants, is a truly exceptional place to dine. They may not be fancy or expansive, but they are just really good restaurants. Between Milk Bar, Noodle Bar, and Ma Peche, I have never had a bad meal at one of his establishments. Ever. In fact, after spending a month in China a couple of summers ago and enjoying delicious food in many villages, my family and I still raved about how much better our meal at Noodle Bar was than the majority of the food we ate in China. And so while their fried chicken is good, it cannot hold a candle to all of the other wonderful dishes that Momofuku Noodle Bar or David Chang's other restaurants have to offer.
For in this day and age with the emergence of the Korean Fried Chicken craze, there are numerous restaurants that serve a pretty darn good fried chicken. If you want a solid Korean Fried Chicken, I would recommend either the numerous Bon Chon Chickens or Mad For Chicken on 5th avenue between 31st and 32nd street. Ultimately, I believe the best Korean fried chicken I have eaten is at Blue Ribbon Bar and Grill at 308 West 58th Street, where the meat is incredibly juicy and tender, while the matzo meal makes for a very crispy and satisfying crust. With that said, my one complaint with Blue Ribbon that Noodle Bar's Korean Style Fried Chicken addressed was that while the meat was very good, the crust lacked flavor. However, Blue Ribbon offsets this deficiency with a wonderful honey wasabi sauce that goes wonderfully with the chicken (or anything else for that matter).
At the end of the day, did I thoroughly enjoy the Fried Chicken Dinner at Momofuku Noodle Bar and believe it was worth the $100 cost? Absolutely. In retrospect, would I have tirelessly scoured the online reservation system to secure this meal and have waited four weeks? Ultimately, I would not. If there is one thing to take away from this blogger's review it is that I would highly recommend going to any of David Chang's restaurants in New York City for their mouthwatering creations – and that while the Fried Chicken is good, I would not recommend killing oneself to try to acquire a reservation.
Want to read more yummy NYC restaurant reviews and New York travel tips?
Zabb Elee NYC Restaurant Review: Best Thai Food in Manhattan
NYC Restaurant Week Winter 2012: Where to Go
Where to Go for the Best Brunches in New York
Blue Smoke – NYC Restaurant Review
Romantic Getaway to New York City
Hip Traif – NYC Restaurant Review
Need Award Booking Help? Our fee is as low as $75 per ticket if you book your hotel through us.
If you enjoyed this, join 90,000+ readers: please follow TravelSort on Twitter or like us on Facebook to be alerted to new posts.
Become a TravelSort Client and Book Your Hotel with Virtuoso or Four Seasons Preferred VIP Amenities!