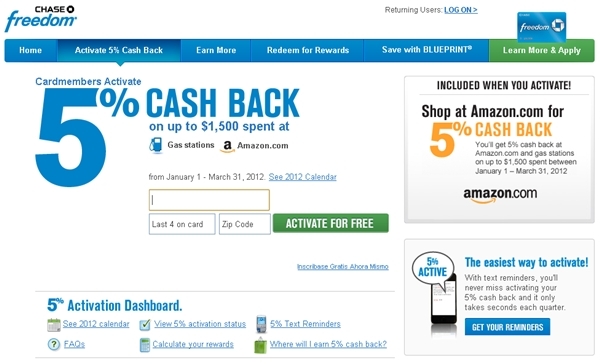 We wrote earlier this year about the Chase Freedom Visa Amazon bonus, which this quarter offers 5x Ultimate Rewards points for up to $1500 total spend on Amazon purchases (or gas station spend, although I personally can't use that, living in NYC without a car). If you're trying to get more United miles, we also mentioned the Chase Freedom as one of the Best United Miles Bonus Offers Available Now
Since it's almost mid-March, here are a few more ideas for maximizing this bonus if you are just getting the card now. These are personal recommendations that I have personally ordered and can vouch for (we appreciate if you apply through our links, as we receive an Amazon referral), but let me know in the comments if you have some other recommendations!
A few pointers:
Make sure you've activated the bonus before you start your spend; the Chase Freedom Visa bonus must be activated each quarter
The 5x bonus is on up to $1500 spend for January-March 2012, so any additional spend above $1500 will not be bonused.
Don't forget that all your Amazon Subscribe & Save items are also eligible for the 5x bonus, as long as you remembered to make your Chase Freedom Visa the default payment option for them and the payment is processed by the end of March.
You'll see your Ultimate Rewards points when you log into the Ultimate Rewards portal. The best use of Ultimate Rewards points is transferring them to airline points, especially United MileagePlus.
Foodie
A lot of people are surprised when I tell them I order almost all our cereal via Amazon. It's perhaps especially useful in NYC, where so many of us don't have a car and either haul stuff back or rely on grocery delivery, but there are also products on Amazon that are either hard to find in the average grocery store or are simply cheaper, especially at the Subscribe & Save price.
I first found British-made Dorset cereal at my local grocery store in Moscow, Russia, which, ironically, was probably better stocked in many departments than most groceries in the U.S. My favorite is actually Dorset's cranberry cherry almond muesli, but unfortunately that's no longer available as a Subscribe & Save option on Amazon, so these two have become my new favorites:
Dorset Simply Fruit & Seeds Musesli
Our go-to granola bar for days out in NYC or travel is organic and delicious, with cherries, cranberries and chocolate chunks, made by a San Francisco company, 18 Rabbits:
18 Rabbits Cheeky Cherry Chocolate Organic Granola Bar
At least in the winter, I usually end up drinking a lot of tea to warm me up and for those days I'm fighting a cold. My favorite bagged herbal tea is Yogi organic tea:
Ok, so I almost never let my son have candies, but we did need to get some for Halloween last year and these organic lollipops were the best thing I could find that we could hand out safely without worrying about kids' nut, dairy etc. allergies:
Yummy Earth Organic Fruit Lollipops
Family with babies or young kids
We've used Naturepedic's organic crib mattress for my son since he was born, and now that he's older we're now getting a queen size Naturepedic mattress for him.
Why organic? Well, babies and young kids spend much of their days sleeping (even now, at 4, my son sleeps a total of 12 hours a day) and many crib mattresses, even those from big name manufacturers, use materials that are pretty toxic.
Take vinyl (PVC), which many cribs use as a waterproof barrier. The plasticizers that make vinyl flexible and elastic are usually phthalates and can off-gas into the surrounding air. Studies have linked phthalates to asthma, cancer, and harm to the reproductive organs, kidneys and liver.
Then there's polyurethane foam, often used for crib mattress filling, and made from petrochemicals, which can potentially irritate mucous membranes and cause breathlessness, coughing, nausea, reduced pulmonary function and asthma-like symptoms. There are also chemicals added to make the typical crib mattress fire retardant, and manufacturers usually use PBDEs (linked to cancer, learning and memory problems and immune suppression) for this purpose, or other fire retardants that have not been well studied.
Suffice to say, we were very happy to find an organic mattress that uses organic cotton in its filling, food-grade polyethylene for water resistance, and baking soda and non-toxic hydrated silica to meet flammability standards.
Naturepedic No Compromise Organic Cotton Classic 252 Crib Mattress
Naturepedic Organic cotton Queen Quilted Deluxe Mattress
The mattresses provide firm support, so we also use an organic cotton mattress pad to provide a little more comfort and breathability:
Naturepedic Non Waterproof Organic Cotton Deluxe Crib Mattress Pad
Apart from his crib mattress, the baby item we got the most use out of, especially when walking or traveling anywhere, was the Ergo baby carrier. It's much better than the Baby Bjorn, since, as its name implies, it's ergnomically correct for both child and adult. It distributes the child's weight more to the adult's hips, avoiding too much strain on the lower back and shoulders.
Of course, it goes without saying that all the usual baby supplies are available on Amazon, from diapers to wet wipes. When my son was a baby, our favorite diaper was Pampers Swaddlers, and Pampers Sensitive Wipes. Both of these are available at a further discount using Amazon's Subscribe & Save option:
Sports enthusiast
I've had the same sneakers for years, so I decided it was finally time to replace them. I searched around and decided on a pair of ASICS, which have a great gel cushioning system. Having put them to the test in several workouts, I can say what a difference the cushioning makes, especially vs. the old sneakers I was using.
There's of course a ton of other sports-related things on Amazon, but given how little I get to work out, my puchases in this category have been pretty much non-existent apart from replacing my sneakers 🙂
Of course, if you somehow can't find anything you need on Amazon (!) or you don't have time to decide by the end of March, you can always simply buy Amazon gift cards to get the bonus spend now, then either gift them or use them yourself later in the year (or even sell them on eBay):
Check out and apply for the Best Travel Credit Cards.
If you enjoyed this, please follow TravelSort on Twitter or like us on Facebook to be alerted to new posts.
Become a Member to find your perfect luxury or boutique hotel at up to 50% off: TravelSort Hotels