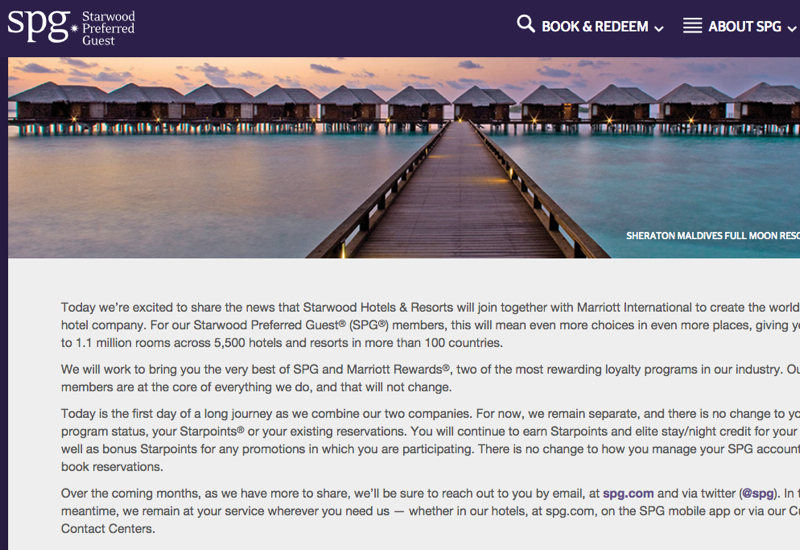 Marriott will acquire Starwood Hotels & Resorts, per the SPG and Marriott press releases today. If approved, the merger would close in mid-2016
The focus is on the scale of the combined entity, which would be the largest hotel company in the world if the merger is approved, with over 5500 hotels and 1.1 million hotel rooms in over 100 countries.
The combination is complementary from a brands perspective, since Marriott has more budget and extended stay brands thn SPG–Courtyard by Marriott, Residence Inn, Fairfield Inn, TownePlace Suites, SpringHill Suites, Marriott ExecuStay.
Starwood and its loyalty program, Starwood Preferred Guest (SPG), however, tend to be favored by many business travelers, though its poor growth, as measured in part by just 7000 new hotel rooms added in 2014 (2% net room growth), prompted the departure of CEO Frits van Paasschen earlier this year. In contrast, Marriott added 39,000 rooms in 2014 (6% net room growth), much of it from conversions (other hotels reflagged as Marriotts) and from acquisitions.
So what's wrong with the Marriott acquisition, apart from the stock price of both companies having gone down after the deal was announced? Naturally the details on the future of Marriott Rewards and Starwood Preferred Guest have yet to be announced (so I'm making some assumptions below), but here are my reasons for being pessimistic, with the additional caveat that this is from the vantage point of a guest interested in luxury hotel stays and excellent service.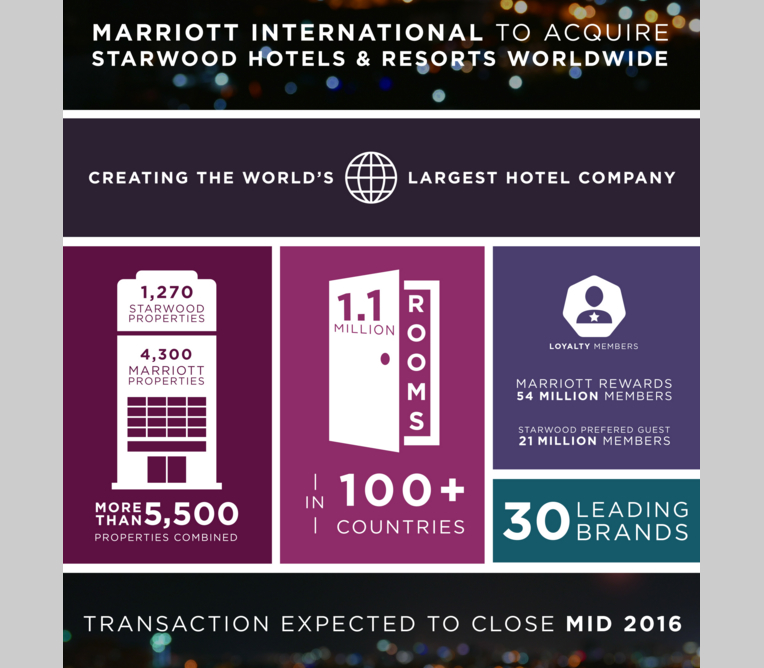 1. The Marriott Touch: Turning Gold Into Straw
I've stayed at several Ritz-Carltons over the years, including before 1998, when Marriott purchased its second major stake in Ritz-Carlton (giving Marriott 99% of the company), as well as since then. Over time, I've seen service standards, service recovery, and even maintenance standards at many Ritz-Carlton properties slip to the point where I don't recommend them, and will only book them for clients who insist on staying there after I make clear that it's not my recommendation for the given city or destination. And several of my clients who did insist on booking the Ritz-Carlton in spite of my advice not to have since sworn off Ritz-Carlton hotels entirely, due to their poor experiences.
While it could be a coincidence that the Ritz-Carlton has declined significantly after being acquired by Marriott, I do think that under Marriott's ownership, cost-cutting initiatives and lack of commitment to the higher standards of service the Ritz-Carlton used to pride itself on have played a role.
So Starwood fans: just as we're seeing with American Airlines getting "Parkerized" and the flying experience diminished, prepare for something similar with Starwood hotels, as it gets "Marriottized."
2. If SPG Starpoints Are Converted to Marriott Rewards, Goodbye Transfers to Frequent Flyer Programs?
While I've seen some folks hoping that somehow the SPG loyalty program, points and perks will remain separate, I wouldn't hold my breath. This is, after all, Marriott acquiring Starwood, so the final loyalty program is going to be Marriott Rewards. Sure, it should take awhile, so I wouldn't worry about burning all your Starpoints immediately, but don't expect to have Starpoints in 2 years, if this deal goes through.
While some will particularly miss Cash & Points awards, what I and many clients will miss most are SPG transfers to frequent flyer programs. After all, for those based in the U.S., it's challenging earning a lot of Lufthansa Miles & More miles unless you actually fly paid fares on Lufthansa, or earning JAL Mileage Bank miles, which can come in handy for Emirates redemptions that don't touch the U.S. (since Alaska miles can only be used to redeem for Emirates awards to or from North America).
Most hotel loyalty programs have abysmal transfer rates to airline frequent flyer programs, with Starwood Starpoints the main exception, particularly with the attractive 25% transfer bonus when transferring in increments of 20,000 points. See SPG Airline Partners: Transfer Starwood Points to Miles. This is the perk I'll miss most by far, so I'll be keeping an eye on the looming death knell for Starpoints, so as to be able to transfer them in time before being severely devalued by a forced conversion to Marriott Rewards.
3. Goodbye Starwood Luxury Privileges
Starwood Luxury Privileges enables me to reserve higher end Starwood properties for clients with Virtuoso-like amenities, even if the property is not a Virtuoso member, for example certain Starwood Luxury Collection hotels, all W Hotels and Resorts, and certain Westins such as the Westin Paris, which is not Virtuoso but can be booked with Starwood Luxury Privileges. Starwood Luxury Privileges provides:
Upgrade based on availability

Daily breakfast (typically full American or buffet breakfast, but occasionally continental)

Early check-in if available

Late check-out if available

Hotel-specific welcome amenity or hotel credit, up to $100 or so in value, once per stay
Because of the hotel-specific amenity, it makes sense for even Starwood Platinum elites to reserve with TravelSort or another Starwood Luxury Privileges agent, since they wouldn't receive that amenity on their own when booking direct.
In contrast, it's telling that even the Ritz-Carlton preferred partner program, Ritz-Carlton STARS, does *not* provide an upgrade as a benefit of the program, or a $100 amenity. It's the only preferred partner program I can think of where it consistently makes more sense to reserve the hotel with Virtuoso benefits.
4. SPG Elites: Say Goodbye to Many of the Benefits You Enjoy Most
Here are some of the SPG perks elites currently enjoy, which are likely to die or be sharply reduced once the loyalty programs are combined:
SPG Platinum: complimentary upgrade to best available room, including a Standard Suite
SPG Platinum: welcome gift option–can choose complimentary continental breakfast
SPG Gold, SPG Platinum: Guaranteed 4pm late check-out
SPG Platinum with 75 nights per year: Your24 flexible check-in / check-out
SPG Platinum with 75 nights per year: Earn 4 Starpoints per dollar with Uber
Bottom Line
While most of my pure leisure clients are unaffected, as they prefer more luxurious properties than Starwood and Marriott offer, such as Aman Resorts, Four Seasons, The Peninsula, and luxury lodges, this isn't good news for those of my clients that travel for business and sometimes have maximum rates of $400 or $500 per night that, depending on the market, can rule out a Four Seasons stay but does make a Starwood stay possible.
We'll still need to wait for more details on the proposed merger, let alone the combined loyalty program, but I do think that for each Marriott Rewards elite who's excited about the merger, there are three or more SPG elites that have serious misgivings about how the merger will affect their elite benefits, the value of their Starpoints, and the quality of their preferred Starwood hotels and resorts.
What are your thoughts about the Marriott acquisition of Starwood?
Related Posts
How to Transfer Starwood Points Between Accounts
SPG: Free WiFi for All Members Combines with Starwood Luxury Privileges
Keep Starwood Points From Expiring?
Redeeming 800K Miles and Points: Why We Don't Save Our Miles
Which Travel Credit Card to Replace an SPG Business AMEX for Lufthansa Awards?
Need Award Booking Help? Our fee is as low as $75 per ticket if you book your hotel or cruise through us.
If you enjoyed this, join 200,000+ readers: please follow TravelSort on Twitter or like us on Facebook to be alerted to new posts.
Become a TravelSort Client and Book Your Hotel with Virtuoso or Four Seasons Preferred VIP Amenities!