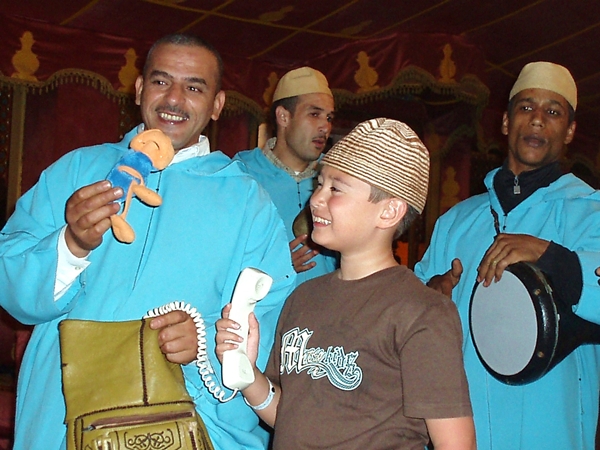 Why Go
Marrakech has always been on the top of my list when it comes to must-see places. But hey, why take the risk of travelling to a Muslim country in Africa with a child, right? However, after scouring the Internet for travel advisories, I realized that going to Marrakech seemed no more dangerous than going to any other major city in the world. And now that my son is old enough to appreciate and enjoy diversity, I knew it was time for us to go and soak up the flavors of this former imperial city of Morocco.
Everywhere you turn, there is always something to catch your attention. From labyrinth-like alleyways, vividly colorful designs, majestic architecture, "caleches" and donkeys trotting its thoroughfares, exotic smells of spices, calls for prayer from mosques, flamboyant costumes in stark contrast to mystical traditional attires, to simply the beauty of the snow-capped Atlas Mountains that serves as the city's breath-taking backdrop, Marrakech never ceases to stimulate the senses.
And what about the kids? Well, any child who's heard of "Aladdin" or any of the "One Thousand and One Nights" stories, will be thrilled to take this journey into a whole new world… of grand palaces, medieval-like settings, horse-drawn carriages, street entertainers, commanding minarets, traditional markets and a lot more that lives up to one's childhood fantasy.
Travel Warning: Unfortunately, on April 28, 2011, our 5th day in Marrakech, the city's terrorist incident-free record was tainted when an explosion at a popular cafe in the main square, Djemaa el-Fna killed more than a dozen foreign tourists.
Although no travel restrictions have been imposed, take sensible precautions for your personal safety if you're travelling to that area. Before heading to Marrakech, make sure to update yourself with the latest security and travel information.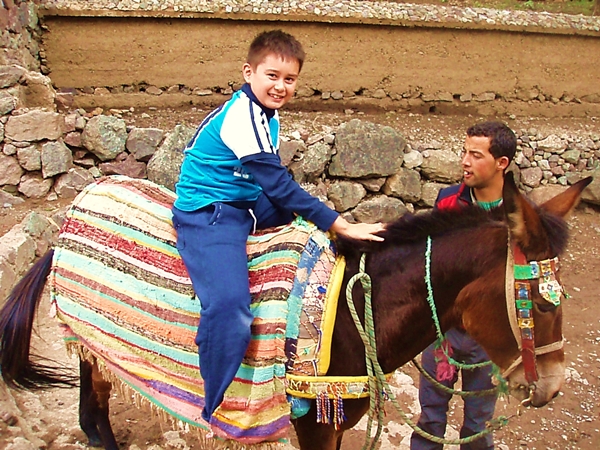 Insider Tips
Weather-wise, the best time to visit Marrakech is from April to early June and late September to October. I was told by locals that temperatures soar up to 50C during the summer and it can get pretty cold and wet during winter. Peak tourist season is in July and August so you can avoid the tourist crowd by going before or after the summer.
Before booking your trip, find out if it falls during Ramadan. This is the period when Muslims fast until sundown. Out of respect for this tradition, you should not eat, drink or smoke openly during daylight. Muslim children are not required to fast until the age of puberty. However, many kids like to join in the fast for part of the day or just a day in a week, mainly just to take part in observing Ramadan. Although most tourist restaurants are open in Marrakech during Ramadan, the problem arises if you plan to take trips outside Marrakech. Most places to eat or drink are closed during the day. Opening hours of shops, souks, banks and museums, even those within Marrakech might also be altered during Ramadan and Eid (the 3-day celebration after Ramadan) holidays.
Unless you're prepared to haggle with taxi drivers, pre- arrange for your airport transfers with your hotel or travel agent. If you're travelling with small kids, bring your own car seats. No one seems to have them in Marrakech.
Don't get in a taxi before agreeing the price first. At an average, it will cost MAD20 to go anywhere within theMedinaand MAD100 from theMedinato Le Palmeraie. For other destinations, ask your hotel to give you an idea of acceptable taxi fares.
According to Moroccan law, Moroccan Dirhams (MAD) cannot be bought or sold outside the country. So to play it safe and to be able to re-exchange your excess dirhams when you leave Marrakech, retain your receipts as proof of legal currency exchange. You can obtain MAD from banks and ATMs, which you'll find almost everywhere, including the airport. Many hotels also exchange money at the same rate as banks without charging any commissions. Major currencies such as Euros, USD, GBP are widely exchangeable. However, note that travelers'' checks are very difficult to exchange inMorocco
Always have some small changes available with you for tipping (or charity). Tips are expected everywhere in Marrakech, even in the most unexpected circumstances. Prepare to be asked for tips when you use toilets in the airport, if you ask for directions or even if you take pictures in front of stalls at the souk!
Moroccans don't easily take "no" for an answer. They can be relentless in trying to sell you something. However, we noticed that a polite but firm "la shokran", which is "no, thank you" in Arabic usually works to ward them off.
Moroccans are generally very children-friendly. So be prepared for your kids to get a lot of kisses. Wet wipes or liquid hand sanitizers may come in handy.
Always bring tissues with you. Many public toilets are not so well provided.
Drink only bottled water. Avoid ice (because it is usually made of tap water), street-sold food, fresh cut fruit and uncooked salads.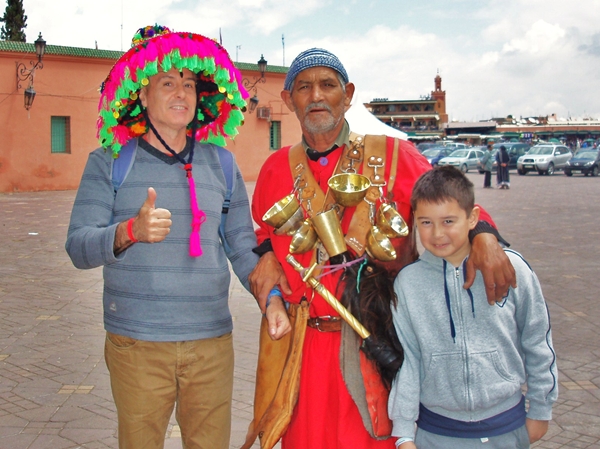 Where to Stay
We found the all-inclusive formula of the 4-star Clubhotel Riu Tikida Palmeraie Resort a very good arrangement for a family with kids. Taking all or most of our meals in the hotel relieved a lot of our concerns about possible food hazards. At the same time, we didn't have to worry about hunting around for food that our child would like. Although there are plenty restaurants in Marrakech, finding one with a children's menu is not a very easy task. Luckily, the restaurants of Riu Tikida served a wide variety of food that kept all of us happy day by day. Its Moroccan restaurant also made sure that we didn't miss out on delicious Moroccan food.
Riu Tikida is tucked inside a beautiful and large garden, 25 km from the airport and about 5 km from the Medina(old town). It has all the facilities you could ask for to relax without getting bored, including a kids' club, indoor and outdoor swimming pools, gym and a wellness centre with a "hammam" (Moroccan bathhouse). The average off-season all inclusive rate is €137/night.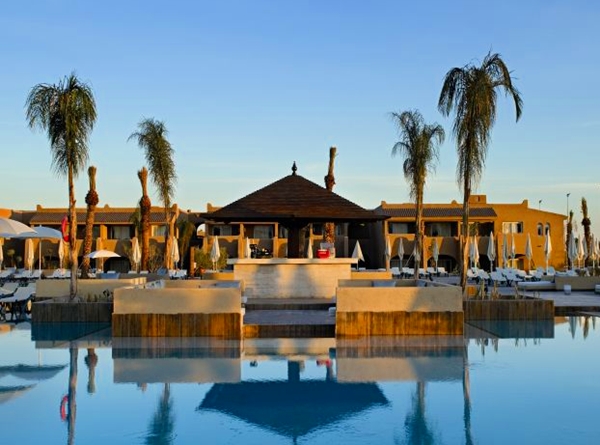 If you want to experience staying in a riad (a typical Moroccan house with an interior courtyard) and have no budget limitations, then you can't go wrong with the luxurious 5-star Les Jardins de la Koutoubia. Aside from being centrally located within just 2 minutes walk to the famous Djemaa el-Fna Square, it is also one of the not so many children-friendly riads. Unfortunately for families with kids, many riads do not accept kids at all. The Les Jardins de la Koutoubia, however, is a riad-style hotel where kids are welcomed. It has a big swimming pool and big enough grounds so your children can play without you having to worry about them bothering other guests.
A night at the Les Jardins costs from €205 for a double room with breakfast. Additional beds or baby cots are charged extra.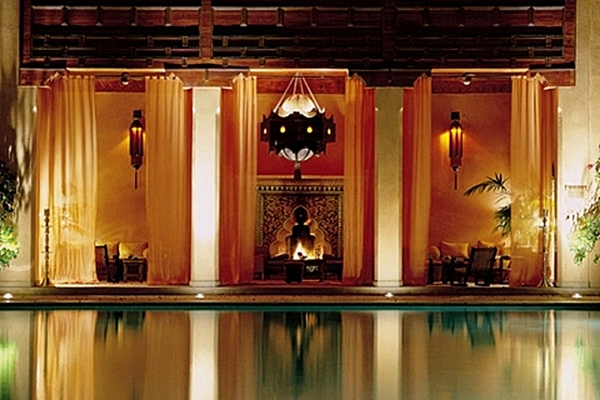 For a Marrakech luxury hotel, consider the Four Seasons Marrakech, with its fantastic (and complimentary) Kids for All Seasons Kids Club. Become a TravelSort Client to book it with Four Seasons Preferred Partner benefits, such as an upgrade, complimentary breakfast, and spa credit.
What to Eat
Moroccan food is very interesting, even for children. Although pizzas, pastas, burgers and most of the food children desire was plentiful at the restaurants, there were times when my son was happy to give those up to try Moroccan cuisine.
Chicken or Lamb and Vegetable Tagine
You can't leaveMorocco without trying this. This is a delicious slow –cooked stew with an exciting blend of spices, such as cumin, cinnamon, saffron, coriander and ginger. Fruits, like figs, olives, raisins, nuts, dates or apples may also be added to it. Try this with fiery hot "harissa sauce" for an extra kick.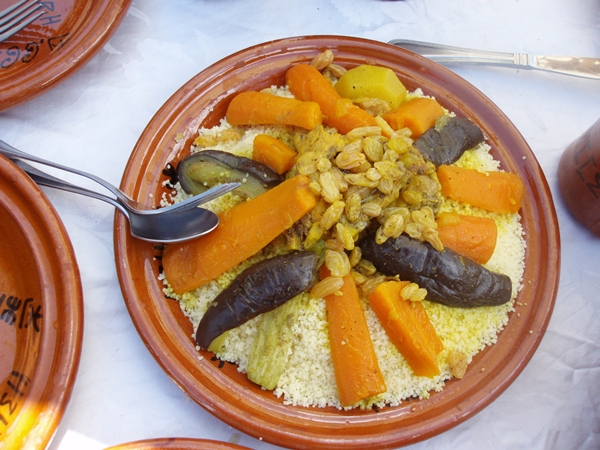 Harira Soup
This was a family favorite. It is a hearty and tasty tomato-based soup with lentils and chickpeas flavored with Moroccan herbs. I loved that my son actually enjoyed this Moroccan dish and could eat something other than just meat.
Moroccan Lamb Kofta with Tomato Sauce
My son didn't need a nudge to devour these lamb meat balls cooked in a tagine (a Moroccan clay pot). These are yummy eaten with bread or couscous. An ideal place to enjoy this savory dish is Restaurant Palais Arabe (2 Place, Djemaa el-Fna, tel. 0524 384 304). The restaurant was the former home of a noble Moroccan family and its interiors showcase superb Moroccan workmanship. There were traditional Moroccan entertainers playing music for lunch, but they also have belly dancers performing some evenings.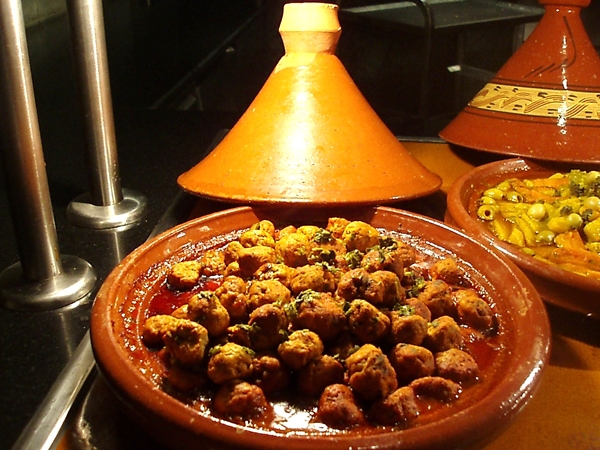 Kaab el Ghazal (Gazelle's Horns)
For dessert, try these traditional Moroccan pastries stuffed with almond paste and sprinkled with sugar.
Mint Tea
Moroccan mint tea is green tea with mint leaves and is usually taken anytime of the day. The preparation of mint tea is an art form in itself and its service a sign of hospitality. Everyone in the family, including our 9-year old, looked forward to our mint tea after every meal.
What to Do
1. City Tour
A full-day guided city tour is a convenient way of getting a quick overview of the sights, sounds and interesting heritage of Marrakech. If you're lucky, you'll get an excellent tour guide like ours who passionately passed on lots of very interesting information and stories about Marrakech and its culture. This tour involves a lot of walking, which can be a bit tiring for kids. We had the luxury of being the only people in our tour, so when my son was no longer happy to walk, our guide easily managed to get our van driver to whizz us off to the next attraction.
Among the historical landmarks you'll see are the Koutoubia Mosque, Bahia Palace, the Saadian Tombs and Ben Youssef Medersa. The tour may also include a fascinating stroll through the narrow streets of the old Medina, the souks and Djemaa el-Fna Square.
A full day city tour cost us €32/adult and €19/child.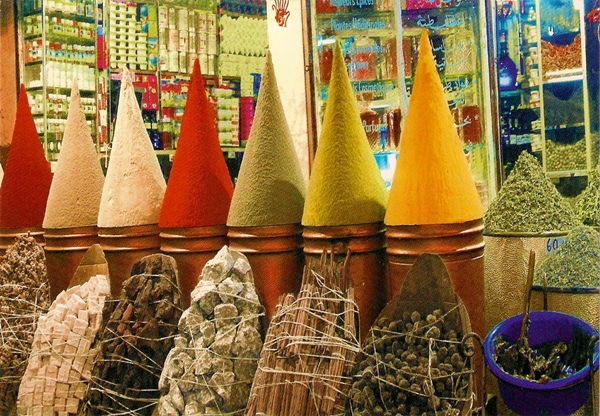 2. Watch Djemaa el-Fna Square Spectacles
Located in theMedina, this square is the center of all the action in Marrakech. It is known for the variety of spectacles that go on all day long. During the day, orange juice sellers, snake charmers, Barbary apes and colorfully dressed water sellers carrying traditional leather water bags roam the scene. Later on in the afternoon, there's a turn-over to acrobats, fire-eaters, story-tellers, witch doctors and magicians who share the open stage with dozens of food stalls. Due to the changing entertainment, try to come to the square at different times of the day.
Watch out as you walk around the square. Before you know it, your child will have a snake around his neck or is handed novelty items or toys. Of course, these don't come free of charge.
By the way, the water sellers or "gerrab" with their wide tasseled hats don't really sell water. They go around catching tourists to pose with them for photographs. MAD20 is a generous tip for a few photo shots, although the water sellers will always grumble to try to get more.
If you want to witness the hustle and bustle of the square with tranquility, there are surrounding cafes with terraces overlooking the action at the square.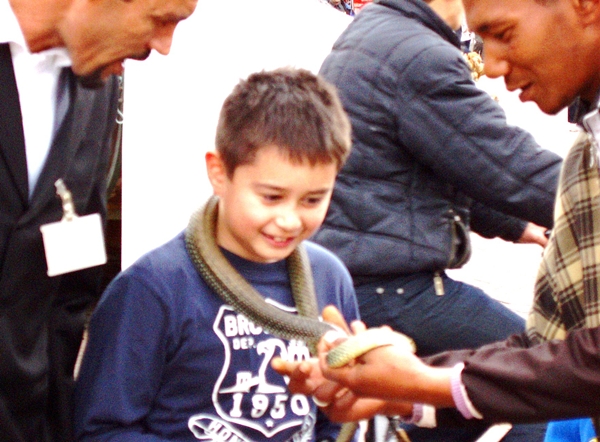 3. Caleche Tour
Along the west side of Djemaa el-Fna Square, fronting the entrance of Club Med, is a line of horse-drawn carriages or "caleches" waiting for passengers to hop in.
Whoa! But before you hop into one, remember to bargain the price first with the driver. There usually is a price list posted but drivers but expect to be charged more. About MAD200/hour is a reasonable rate.
A night caleche tour in theMedinais romantic and magical…one that you and the kids will immensely enjoy.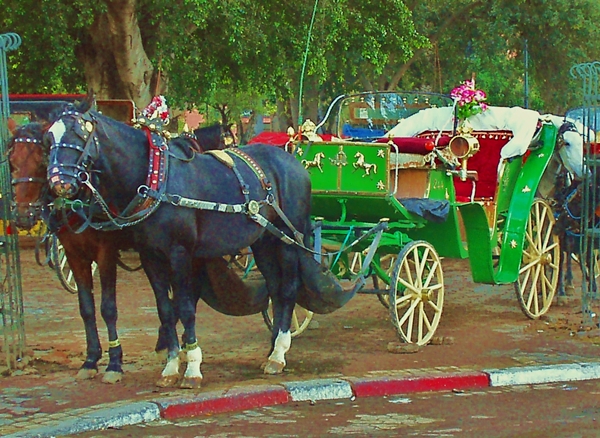 4. Visit the Menara Gardens
Menara Gardens consist of a long wide boulevard, bordered by olive groves, that leads to a man-made reservoir and pavilion. Here, children can run around freely and explore through the olive orchards.
Unexpectedly lurking in the still murky waters of the Menara Gardens' pool are huge fish. Buy a dirham or two of old bread from a man by the steps to the pavilion then tell your kids to toss a few pieces of bread to the water. They'll be pleasantly surprised to see enormous fish suddenly surfacing up to gobble their treats.
This garden was originally used as a picnic and get away place by the Sultan and his family. The massive pool was also said to be used as a training swimming pool by soldiers many years back.
On a clear sunny day, theMenaraGardens' pavilion is a fantastic sight to behold. The snow-capped Atlas Mountains visibly provide a stunning backdrop, while the still waters of the huge pool reflect its mirror image.
Entrance to the garden is free.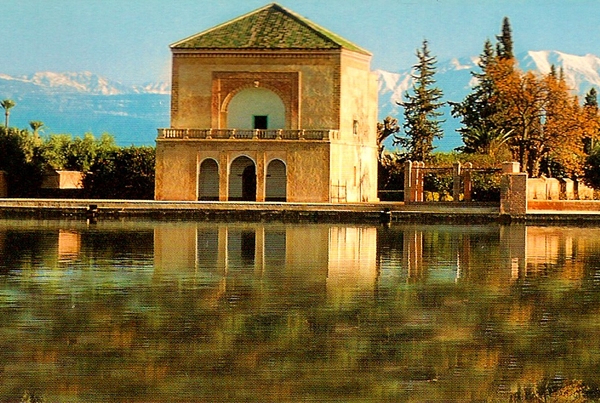 5. Fantasia Night
This is a horse-riding spectacle with dozens of rifled traditionally clad charging horsemen. It's usually held nightly in July on a field just outside the city walls as part of the Popular Arts Festival.
If you're not in Marrakech in July, on the city's outskirts in Palmeraie is the Chez Ali Restaurant. With a set dinner, you can watch their re-enactment of Fantasia nightly.
Chez Ali is like a Moroccan Disneyland. It is a massive restaurant complex, including exhibition halls for regional costumes, Ali's cave and an outdoor arena. Aside from a full-course Moroccan dinner consisting of Harira Soup, Roasted Lamb, Chicken with couscous and mint tea in a caidal tent, you'll be entertained by troops of musicians who go from table to table. As always in Marrakech, bring plenty of small changes for tipping.
Fantasia starts after dinner and finishes at around mid-night, so make sure your kids are well-prepared for a late night. The show itself is held outdoors so you might want to bring warm clothing.
The show includes horse-back acrobatics, Berber tribe folklore, belly dancing, and culminates with a faint movie projection of the Sultan and his partner soaring on a flying carpet, followed by a firework display.
You can pre-book your dinner online including hotel pick-up and drop-off from €37/ adult and €19 / child.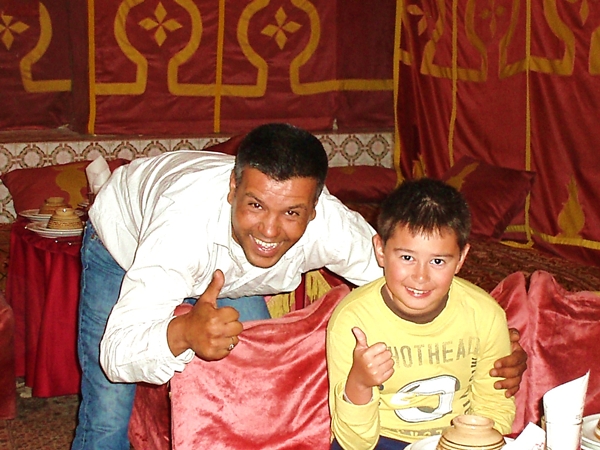 An hour and a half drive away from Marrakech City but well worth every minute of it is the Kasbah du Toubkal. This award-winning eco-friendly mountain lodge in the Atlas Mountains offers the most spectacular terrace views. It stands at the foot of Jbel Toubkal, the highest peak in North Africa.
A trip to the Kasbah du Toubkal is an excellent family day out and a great way to experience traditional Berber hospitality. Along the way, you'll see remote mountain villages and beautiful sceneries, visit an argan oil outlet and pass a mountain retreat owned by Sir Richard Branson before finally arriving at the village of Imlil.
This is as far as any vehicle can go, so to reach the Kasbah, you'll either have to take a 20-minute uphill walk or a guided mule ride. Although the trek up to the Kasbah is not difficult, kids will have the time of their life riding a mule.
If you have a bit of time to spare, venture out of the Kasbah walls. Just about 10 minutes walk away, you'll find the Imlil Cascades.
A day excursion to Kasbah du Toubkal, including lunch, roundtrip hotel-Kasbah transfers and use of Kasbah facilities including the hammam costs €85/adult and €42.50/child.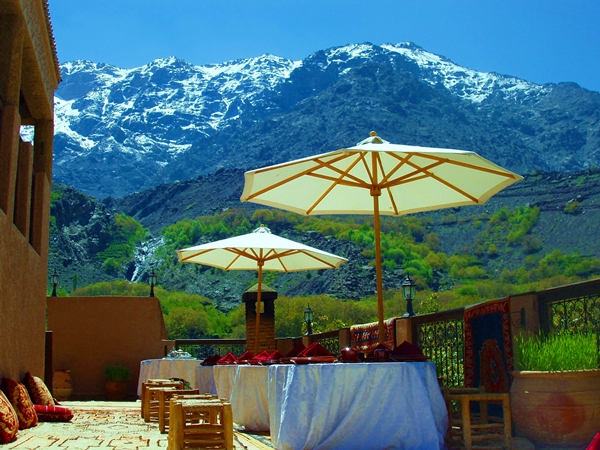 7. Educational Trip to SPANA, Marrakech
SPANA or the Society for the Protection of Animals Abroad is a charity working in poor countries of the world to make lives better for working animals and the people who depend on them.
SPANA has a veterinary center in Marrakech, which also houses an educational center, where kids can learn more about animals and their environment.
A trip to SPANA is a great opportunity for children to visit an animal hospital and experience first-hand contact with animals. The people at SPANA are also very accommodating and will give you a lot of interesting information about their work.
SPANA Marrakech welcomes visitors and donations.
Address: Cité Mohammadia Nord, Rue Ibn Sina, DAOUDIAT
Tel: 00 212 05 24 30 31 10
Email: spana@spana.org.ma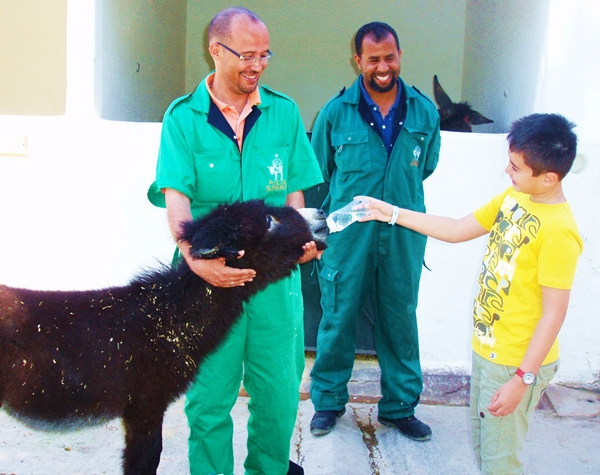 8. Complexe d' Artisanat
Exploring the souks of Marrakech is definitely an experience not to be missed. But when you're pressed for time to complete your souvenir shopping and are not in the mood for haggling in the souk, the Complex d'Artisanat is your one-stop, fixed-priced, hassle-free shop in Marrakech. It houses a huge variety of products from Moroccan furniture, carpets, oils and creams down to tiny souvenirs.
It is located in the Kasbah area within theMedina.
Related Posts
Four Seasons Preferred Partner Benefits
Top Hotels in Madrid, Barcelona, Lisbon, Istanbul and Marrakech
Atlas Mountains and Berber Village Tour from Marrakech, Morocco
Need Award Booking Help? Our fee is as low as $75 per ticket if you book your hotel through us.
If you enjoyed this, join 90,000+ readers: please follow TravelSort on Twitter or like us on Facebook to be alerted to new posts.
Become a TravelSort Client and Book 5-Star Hotels with Virtuoso or Four Seasons Preferred Partner Amenities!
Photos: J. Lauri, Chardart Editions, Riu, Les Jardins de la Koutoubia, Imprimerie Moderne