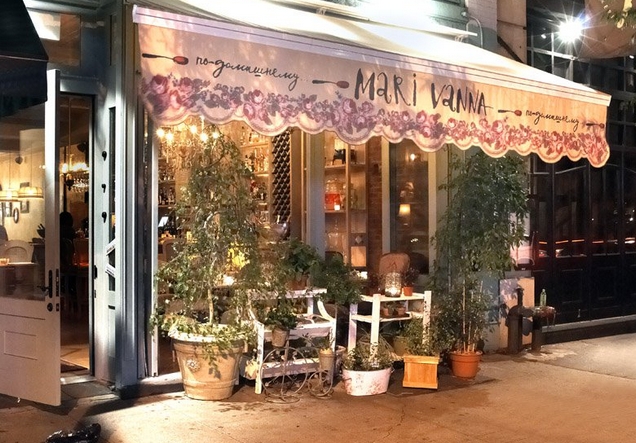 Mari Vanna is very easy to miss, as a tiny storefront on 20th Street in Gramercy. But that would be a shame, since it serves some of the best Russian food in Manhattan. Opened in 2009, Mari Vanna is actually one of 4 Mari Vanna restaurants: the first two are in Moscow and St. Petersburg, Mari Vanna in London opened earlier this year, and Los Angeles will be opening "soon" per the Web site. We made a last minute reservation on Open Table for an early dinner with the munchkin, and fortunately, since it was a Sunday, there were still tables. If you're planning to dine on a Friday or Saturday night, however, I recommend reserving a few days in advance since the place is popular with well-heeled Russians, both locals and visitors.
We stepped inside and the hostess, who had been showing another guest to a table, stepped forward to greet us, initially in English, before I responded in Russian. She smiled at our son and graciously showed us to our table, which was towards the back of the restaurant. I'd requested the back of the restaurant, since it's even more ornately and cozily decorated than the front, with chandeliers, matrioshka dolls, photographs, bookshelves of Russian literature, and all kinds of memorabilia from pre and post Soviet Union Russia.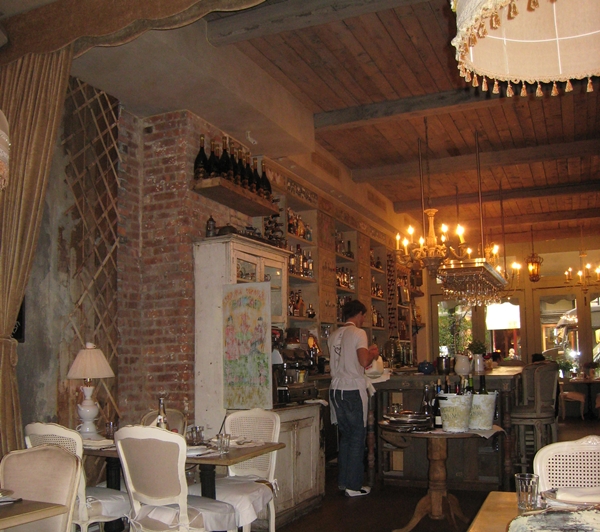 Our waiter came by within seconds of being seated and haltingly introduced himself in Russian, and looked immensely relieved when I switched to English. He explained he was Australian and was still learning Russian, so this was a new one–I've never been served by a non-Russian speaker at Mari Vanna before, but he was well-versed in the menu and friendly, as every other server I've encountered here has been. He brought out the customary bread board, with brown bread, a raisin nut bread, regular and herb butter, radish, and green onion, which I barely managed to take a photo of before my son reached in to help himself: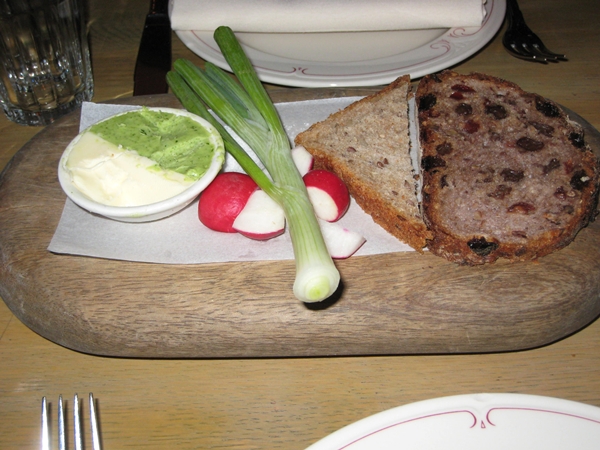 While it would be easy to rack up an enormous bill with selections from the extensive flavored vodka or cocktail list and blini with Petrorossian caviar, we stuck to comfort foods that I miss from my time living in Russia: borscht, Georgian khachapuri, beef strognaoff with buckwheat kasha, and mors (homemade berry punch).
I've always ordered khachapuri here, and while it's a small portion for the price, compared to what you'll get in Brighton Beach, let alone in Russia, I don't know another good place to get this in all of Manhattan. Yes, it's a simple cheese pie, but so delicious, fresh from the oven with the melted cheese. Traditionally, Georgian sulguni is used, but the manouri and mozzarella mixture they use approximates the taste quite well.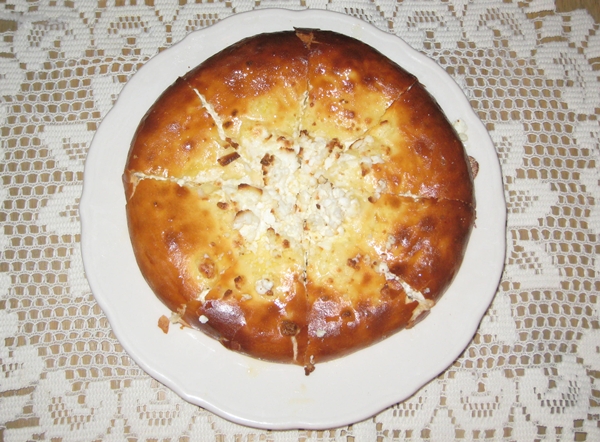 Borscht is another must-order dish for me. This is homestyle food at its best, with a richly flavored and brilliantly hued broth from the beets and tender beef, and slivers of carrots, cabbage and potato. It's of course more of a warming winter dish, and it's getting warmer these days in NYC, but no matter–delicious, especially with a generous dollop of smetana (sour cream), served alongside.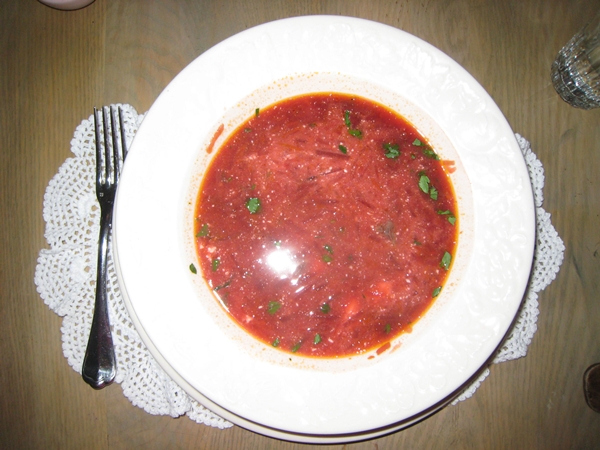 I'd never ordered the entrees here before, but my husband wanted to try the beef stroganoff with buckwheat kasha. A very generous portion of beef stroganoff came on its own plate, and the buckwheat kasha in a cute brown ceramic mini-tureen, exactly the kind that I used to often be served soups in at restaurants in Moscow. It was even initially covered by an elaborate doll-like tea cosy, which was removed with a flourish.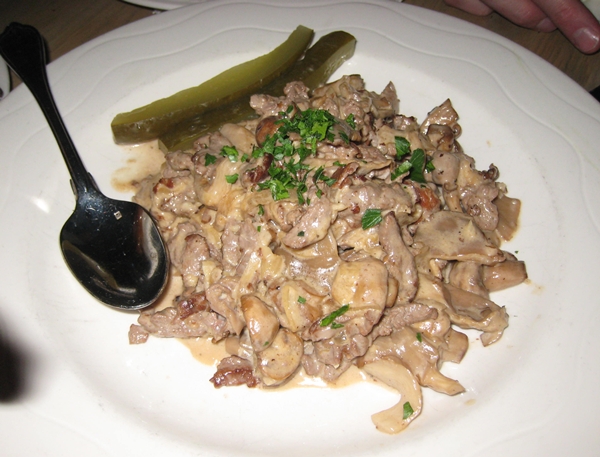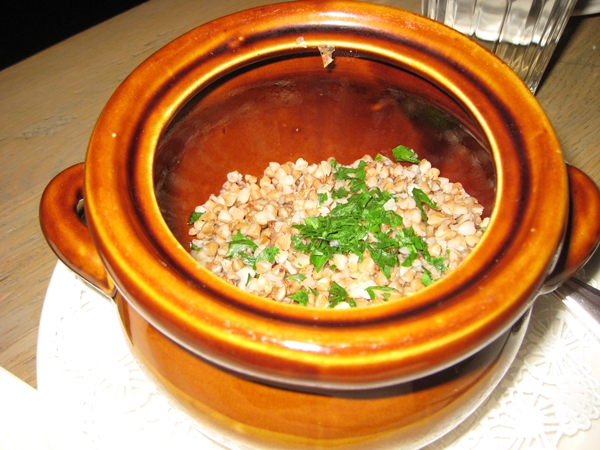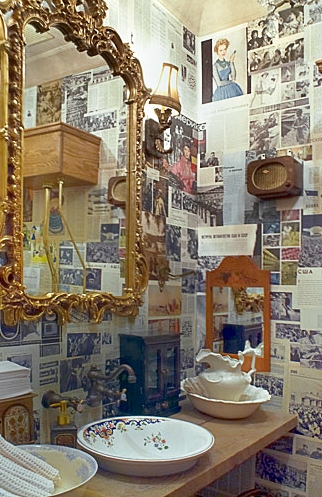 The one major gripe I had this visit was not the fault of the restaurant–my son and I waited probably 15 minutes for the bathroom, but it wasn't a Russian model taking her sweet time, just a mother with a baby, so as a mother myself I really can't blame her–I know how that goes. Assuming you don't have as long a wait for the bathroom, check out the walls, adorned with layer upon layer of Russian newspapers, and a number of signatures as well, including apparently Bill Clinton's and Mick Jagger's.
You should know that a meal here does not come cheap–soups are $12, our smallish khachapuri was $14, beef stroganoff is $29 and other entrees are mostly in the $25-36 range, with pelmeni and vareniki $19. Fortunately, when we visited last weekend, we took advantage of the AMEX Twitter sync promotion a $10 statement credit any spend in lower Manhattan, and split the bill using our American Express Premier Rewards Gold Card to receive $20 off our meal, and we shared our soup, khachapuri and beef stroganoff family-style, which wasn't a problem at all. For authentic and well-prepared albeit pricey Russian food in a kitschy yet cozy setting with good service, Mari Vanna is worth a visit.
Related Links:
British Airways Visa Offers $100 Off 2 NYC Michelin Restaurants…Again!
Per Se Salon NYC Restaurant Review
Eleven Madison Park, NYC Restaurant Review
20 Best Cities in the World for Foodies
Need Award Booking Help? Our fee is as low as $75 per ticket if you book your hotel through us.
If you enjoyed this, join 90,000+ readers: please follow TravelSort on Twitter or like us on Facebook to be alerted to new posts.
Become a TravelSort Client and Book Your Hotel with Virtuoso or Four Seasons Preferred VIP Amenities!