The Mandarin Oriental, Washington DC was our pick for our first night on a recent family trip to Washington, DC to visit family and friends. It's by the Tidal Basin, which is about a 15 minute walk to the Washington Monument and a bit less than that to the National Air and Space Museum. There's little in the immediate area, but that was fine, since we were out and about anyway, visiting our friends for a birthday party and lobster feast (yum!) and the next day, the National Arboretum.
After arriving at Union Station, we took a taxi to the hotel. We were welcomed, and ushered inside to the rather palatial looking lobby, with a gorgeous floral centerpiece.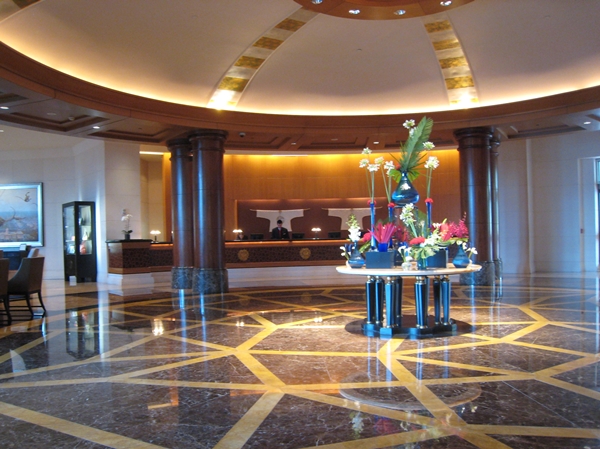 While my son enjoyed exploring with my husband, I lined up to check in. It was a bit of a wait–about 10 minutes–so I can't say I was that impressed with check-in efficiency, although once it was my turn, the front desk associate was very welcoming. She easily retrieved my reservation, brought a cool towel, and, when I asked if there might be an upgrade available, she was happy to check for and find a Deluxe Water View Room. As it was being cleaned, she took down my phone number so that they could call us when it was ready, and we then left our luggage with the bellman and went to visit our friends. I received the call that our room was ready mid-afternoon, about 3:30pm.
In the early evening, we returned to the hotel and fortunately this time, there was no line. We received our keys and retrieved our luggage and were on our way. Our room was on the 6th floor at the western end, by the Tidal Basin. To be honest, the view wasn't that spectacular, mainly because of things outside the hotel's control: the fairly busy road running around the Tidal Basin and bridge across it, and the fact that the day was a bit overcast. Still, there was a good amount of natural light from the window, which to me is a must, along with effective blackout curtains for a good night's sleep. And there was absolutely no noise inside the room, either from outside the hotel or from other rooms, so great soundproofing.
Another nice aspect is the privacy button by the door, which makes it easy for housekeeping to know not to disturb you–no fiddling with the hanging do not disturb signs. The InterContinental Boston and Le Burgundy in Paris that we've stayed at also have this feature, and I wish all hotels would adopt it.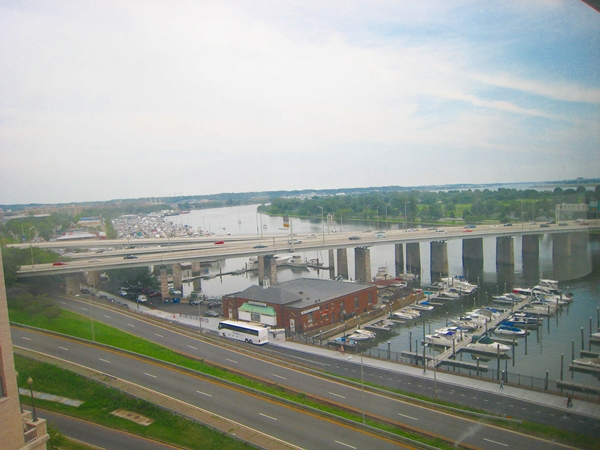 More importantly, however, the king bed was very comfortable, with a pillowtop mattress, soft Mandarin Oriental sheets and a light down duvet. I can't say I was blown away by the decor, but that's not what the Mandarin Oriental is about–it's more soothing neutral tones and subtle Asian accents, so it was exactly what I expected. Housekeeping brought a rollaway to the room for our son, and he slept very comfortably on it.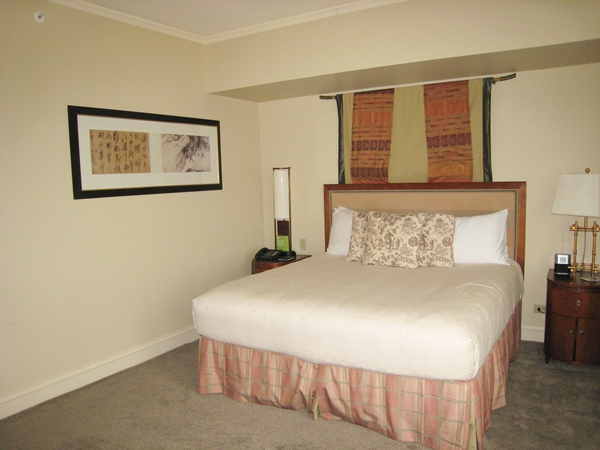 The marble bathroom included a deep soaking tub, which any parent with little kids knows really appreciates (I've yet to meet a toddler or little kid that prefers a shower to a bath).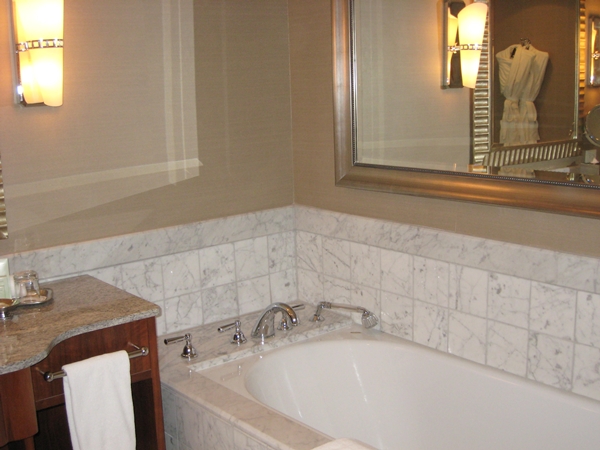 The glass enclosed shower got the thumbs up from my husband, with its high shower nozzle that accommodated his 6'5 frame.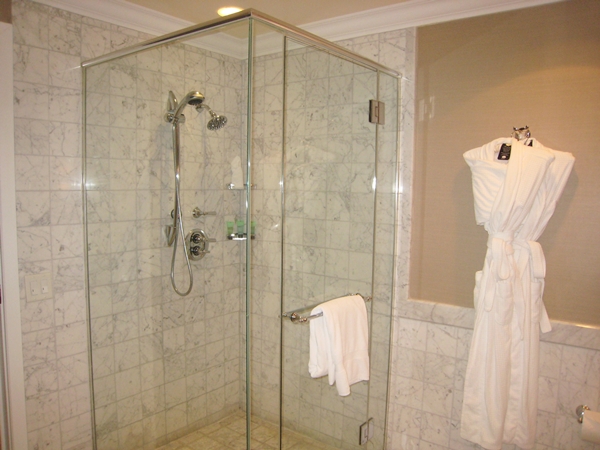 There were two Platinum Collection robes, but no slippers provided. And toiletries were a disappointment: Gilchrist & Soames. I don't consider this 5-star and would have expected L'Occitane or equivalent. Fortunately I'd brought my own.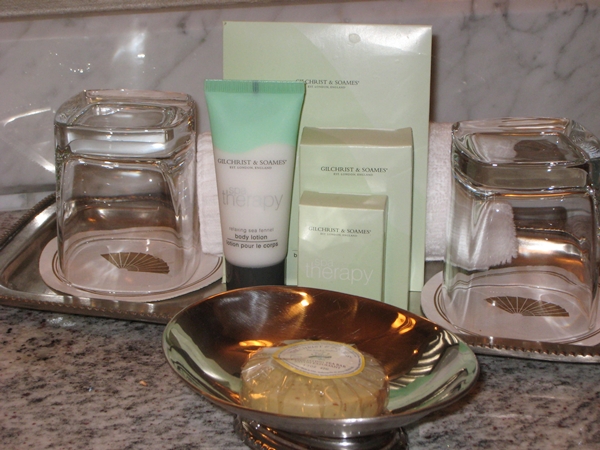 The desk was a good size, and nicely placed by the window, so you could have plenty of natural light if you needed to get some work done. There was also a large HDTV, although as a non-TV household we didn't use it.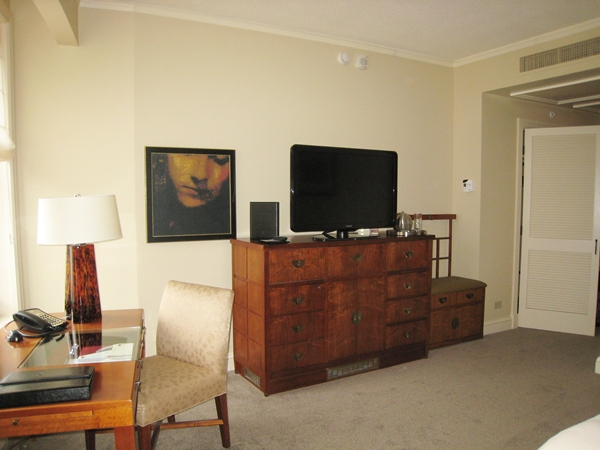 In the morning, complimentary tea and coffee are provided just off of the lobby, a nice touch, especially as the tea is Mighty Leaf, one of my favorite brands if I'm having bagged rather than loose leaf tea.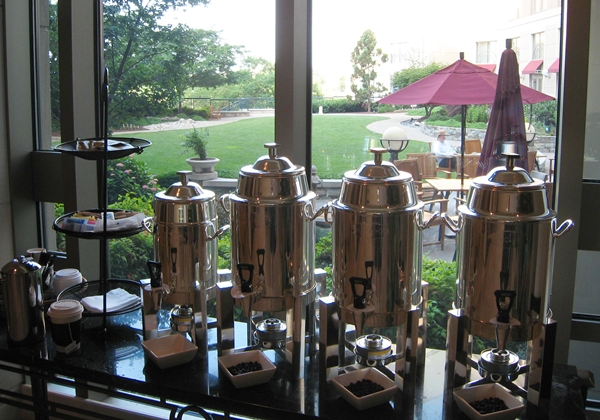 My favorite part of the hotel was the pool, located in the spa. After stepping off the elevator, the dim lighting and meditative music was very soothing. The spa attendants were friendly, and asked me to sign in, before I took my son to the pool. It's really a lap pool, but when we were there, they had thoughtfully cordoned off just 1 lane for lap swimmers, and the rest could be used recreationally. The pool area, unlike the spa, is flooded with natural light from the windows on two sides, but also has the same meditative music–nothing obtrusive, but very calming. My son loved playing in the water, and most of the time we were there, we were the only ones there. There are also large round lounge beds to relax on after your swim, and also a few sunbeds outside, although the atmosphere inside (with no traffic noise) is more inviting.
The verdict: this was my first stay at a Mandarin Oriental, and, recognizing that individual properties in a chain can vary considerably, I'd put it at about the same level as a Ritz-Carlton, but not quite that of most Four Seasons I've stayed at. The room was very comfortable and enjoyed great natural light, but the main reasons to stay here would be the lovely pool (and perhaps spa, although I can't confirm personally, not having had a treatment) and proximity to the National Mall and monuments, especially during the spring cherry blossom season.
Related posts:
Four Seasons Washington DC Seasons "Power Breakfast" Review
Blue Duck Tavern, Washington DC Restaurant Review
Best Luxury Hotels in Washington, DC
History, Ghosts, and Delicious Eats in Washington, DC
Where are the best pancakes in Washington, DC?
What are the best kid-friendly sights and things to do in Washington, DC?
Need Award Booking Help? Our fee is as low as $75 per ticket if you book your hotel through us.
If you enjoyed this, join 200,000+ readers: please follow TravelSort on Twitter or like us on Facebook to be alerted to new posts.
Become a TravelSort Client and Book the Mandarin Oriental Washington, DC with Mandarin Oriental Fan Club Benefits!