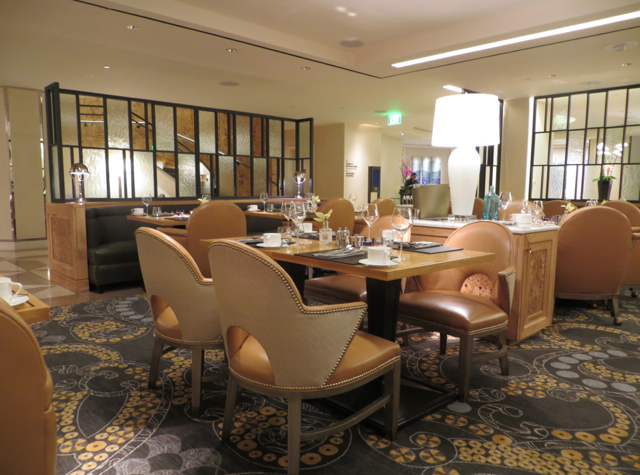 This Mandarin Oriental San Francisco Brasserie S&P Restaurant Review is part of a San Francisco trip report. For the prior posts, see:
Mandarin Oriental San Francisco Hotel Review
Marrakech Magic Theater with Peter Morrison, San Francisco
House of Thai (Thai House Express) San Francisco Restaurant Review
Brasserie S&P at the Mandarin Oriental San Francisco opened last year in 2012, replacing the more upscale Silks at the Mandarin Oriental. S&P, contrary to what you might think, does not refer to salt and pepper; it references the hotel's location, at Sansome and Pine Streets. As you'd expect for an restaurant that serves breakfast, lunch and dinner, it's located on the hotel's ground floor, just off the lobby. The emphasis is on locally sourced products and California cuisine, so it's at a more accessible price point than the former Silks.
Thanks to still being on East Coast time, we were up around 5:30am, enjoying early morning views from our room of the Bay Bridge. We killed some time at the Fitness Center, after which we were both ravenous for breakfast, so we made our way down to Brasserie S&P at about 7am, when Brasserie S&P opens for breakfast on the weekend (during the week, breakfast is served from 6:30am).
Two hostesses greeted us, and were happy to show us the kids' menu when I asked about one. I was pleasantly surprised to see how reasonably priced the kids' breakfast menu items were, and wondered if they would be too small for the munchkin, but figured I could always order another item if needed. I needn't have worried, but more on that later.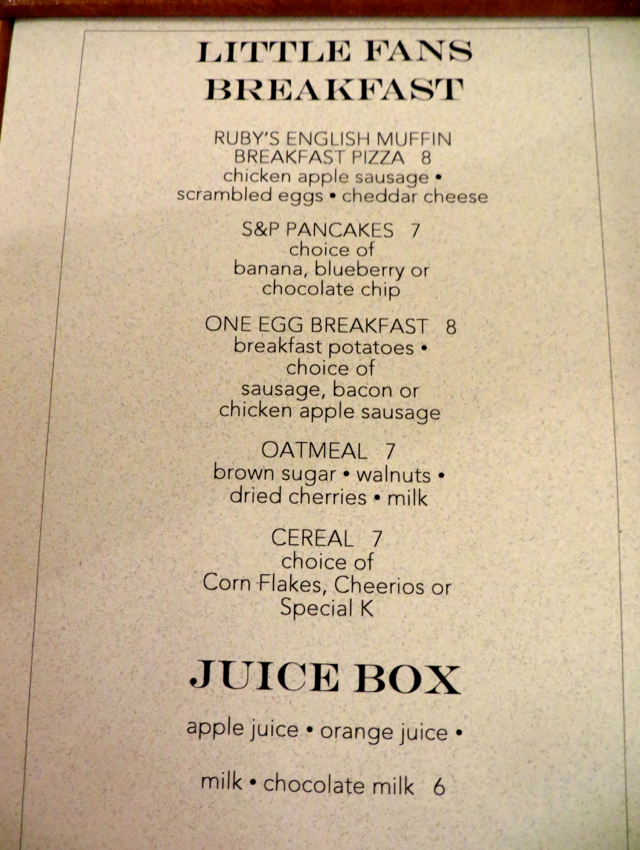 We were seated at a two-top, which turned out to be fine, although in retrospect I would have asked for a banquette, as I usually prefer to sit next to the munchkin and read stories to him while we wait for our food. We were offered beverages, and since I knew I needed something for the munchkin quickly, I ordered a mixed berry smoothie. Not cheap at $9, but delicious and worth it given how hungry we were.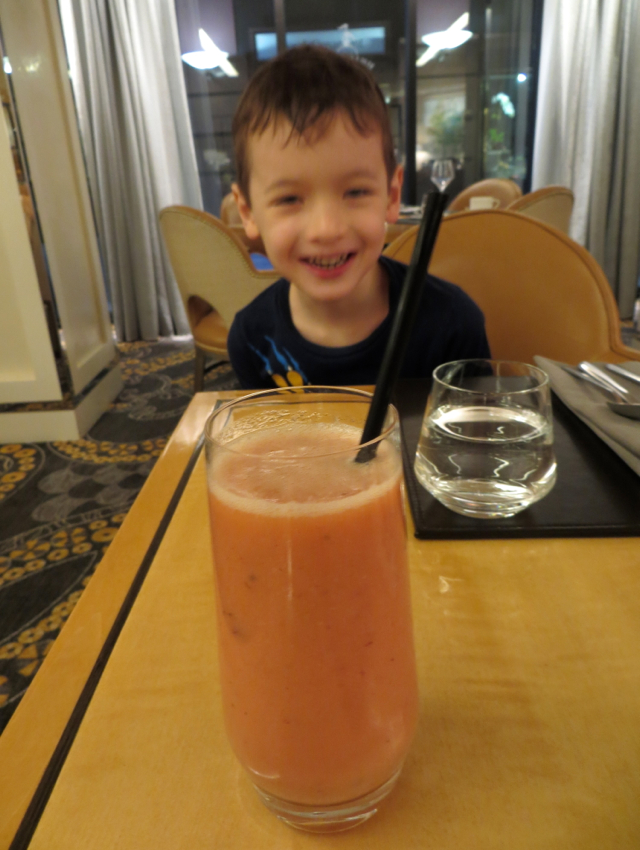 From the kids' menu, the munchkin of course wanted pancakes, and he wanted to combine bananas and chocolate chips. I asked our server if the kitchen could do that, and she was happy to oblige.
The regular menu offered the usual suspects in terms of various egg dishes, smoked salmon and accompaniments with a bagel, pancakes, french toast, oatmeal and the like, as well as a couple more intriguing options such as the roasted oyster mushroom omlette, and dungeness crab benedict with chervil hollandaise, plus a continental breakfast buffet (complimentary with a Virtuoso reservation).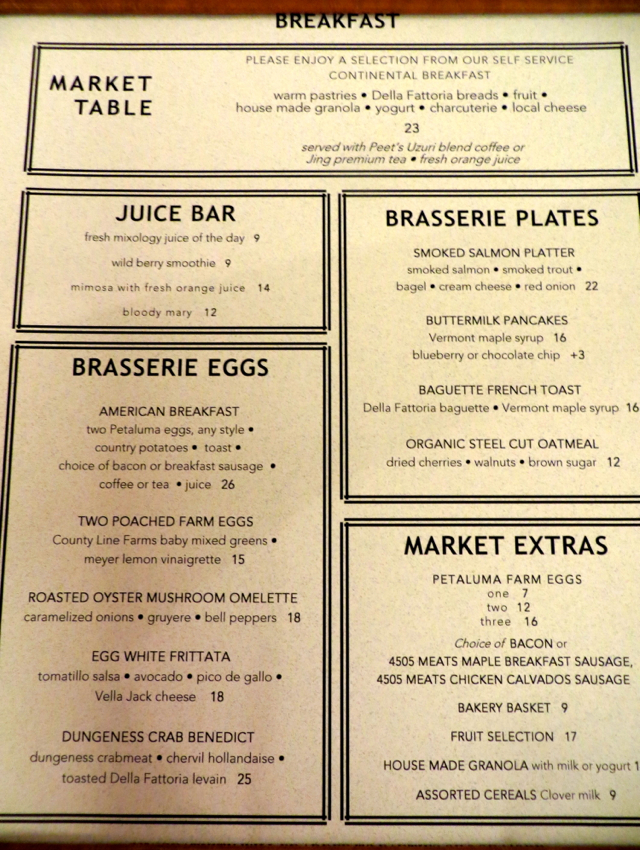 The munchkin wanted pancakes, so for the sake of variety, I decided to get an eggs dish. Our server recommended the egg white frittata, so even though I don't normally order egg white only dishes, I decided to take her up on the recommendation. She asked what kind of toast I'd like, and I asked if I could substitute a croissant instead, which wasn't a problem.
After placing our order, I decided to walk over to the continental breakfast buffet to take a few photos of it for my clients who are interested in Virtuoso stays at the Mandarin Oriental San Francisco, since the continental breakfast buffet is complimentary with all Virtuoso reservations.
There are bagels and breads that you can toast, along with some gluten free options: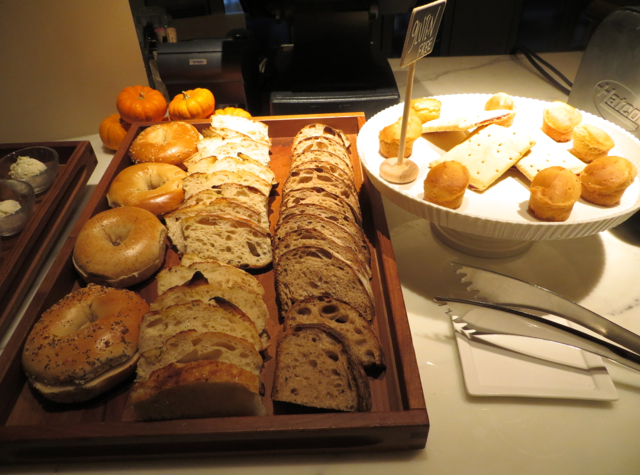 Della Fattoria pastries include croissants, pain du chocolat, pain aux raisins and danishes: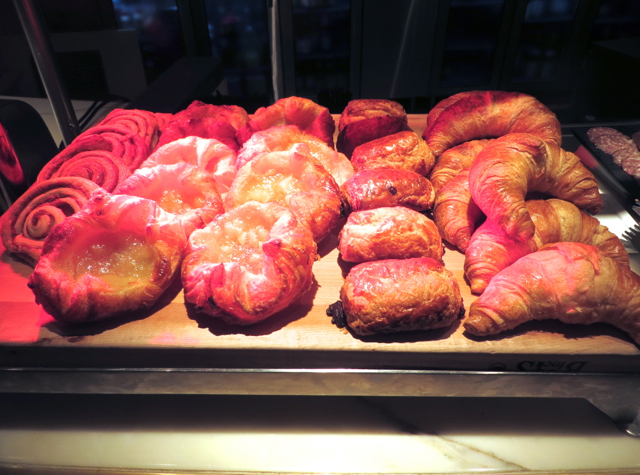 Cured meats and local cheeses: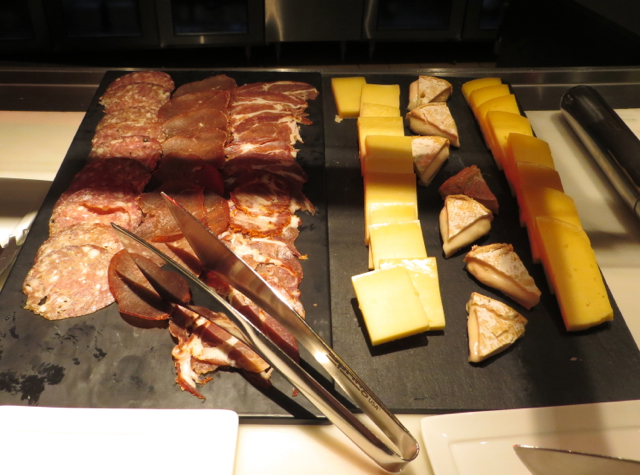 Whole fruits and fresh squeezed juices (the one pictured is an especially healthy concoction that includes kale, so not my thing, but there's also fresh squeezed orange juice available):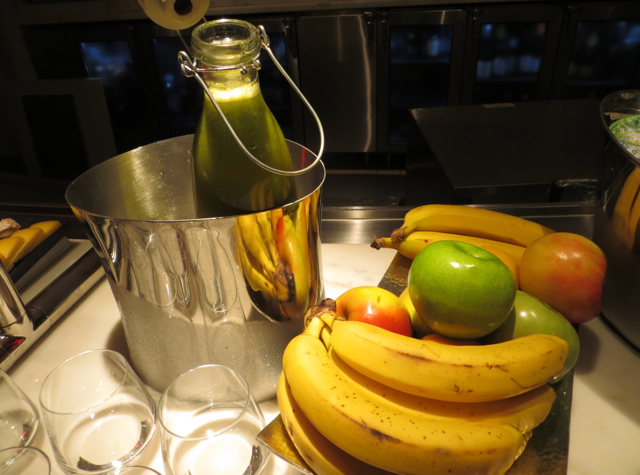 Yogurts, including organic Wallaby yogurt (my personal favorite) and Chobani greek yogurts: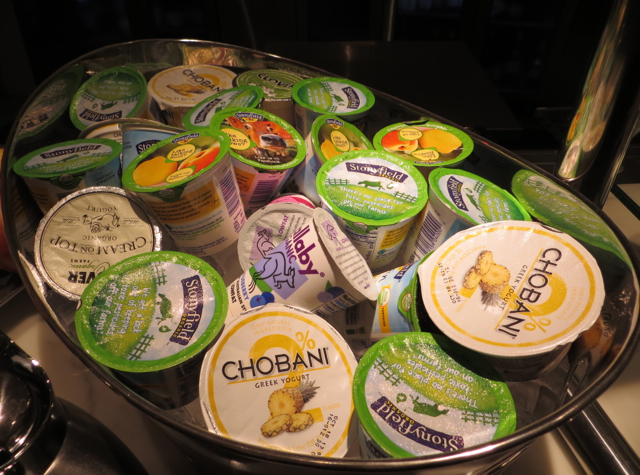 Fresh pineapple, melon and berries: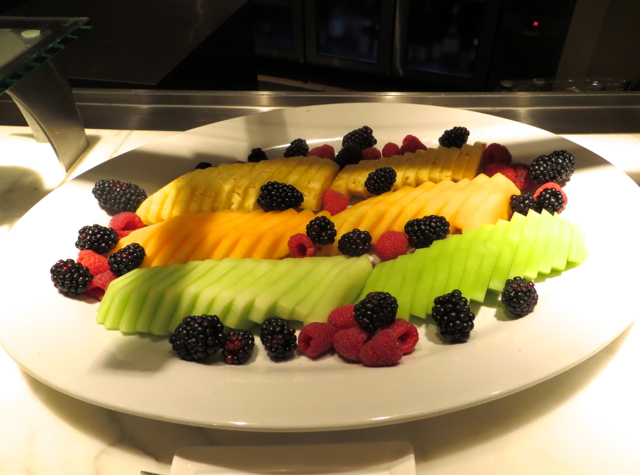 More fresh berries: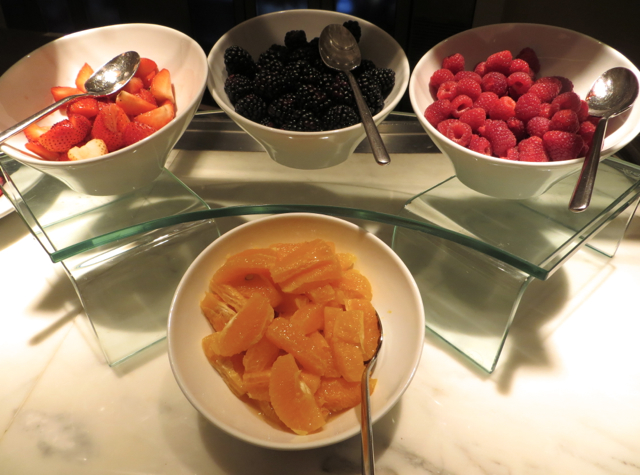 There were dried fruits, nuts and seeds, probably popular with the runners that seemed to be staying at the hotel for a race: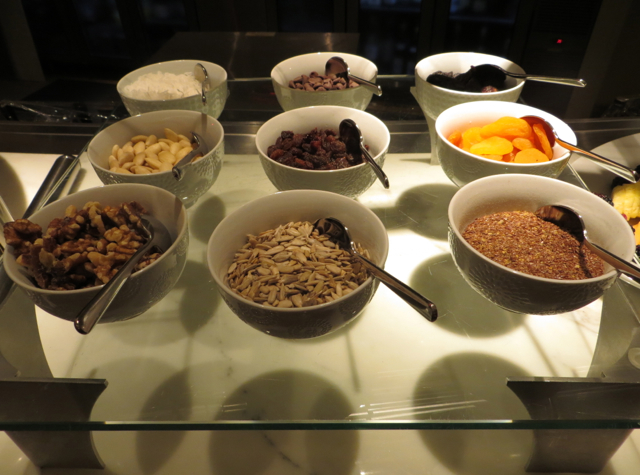 Housemade granola, and also gluten free rice Chex cereal: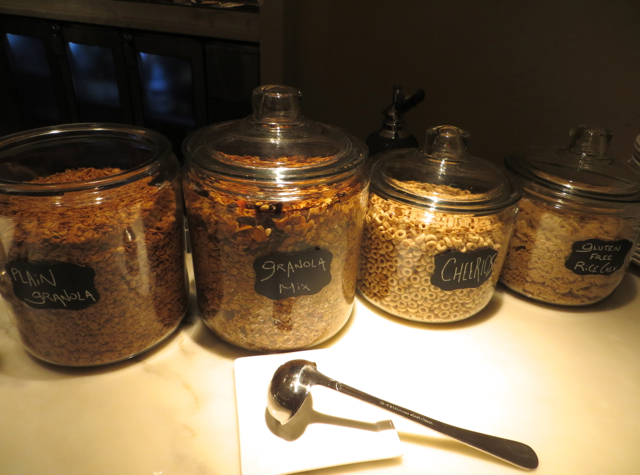 When the munchkin's banana chocolate chip pancakes arrived, I thought there'd been some mistake–he was given two huge pancakes accompanied by pure maple syrup, more than many adults I know would be able to finish. Needless to say, he was thrilled, and wasted no time in digging in, barely giving me time to get a photo.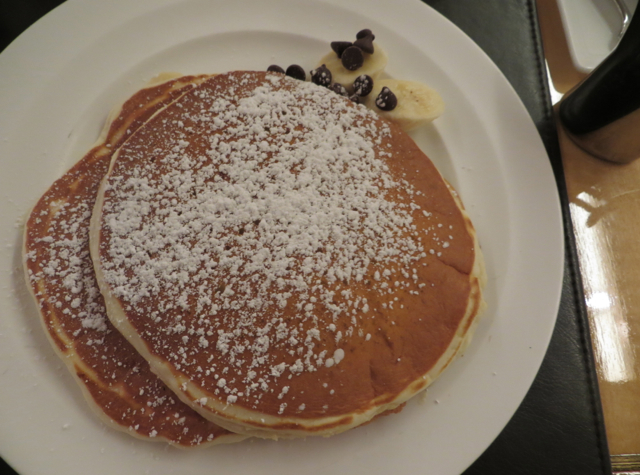 My egg white frittata was beautiful and well prepared, and came with the requested croissant. The frittata was so substantial (plus, I sneaked a few bites of the munchkin's pancakes) that I ended up taking the croissant with us. It heated up beautifully the next day and was delicious.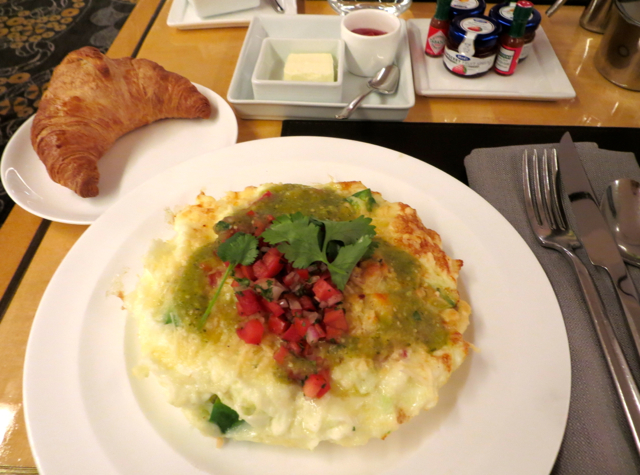 I did find it a bit bland (not surprising, since I never order egg white-only dishes). This wasn't a problem, however, since the jam dish conveniently also provides tabasco sauce, and after some liberal sprinkling of that it had a nice kick to it.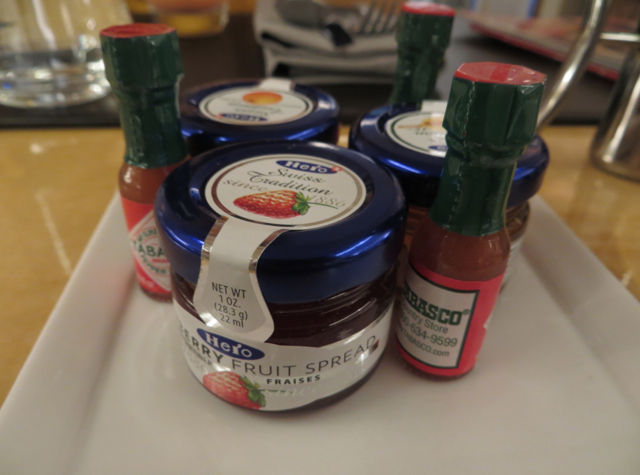 The Verdict: Brasserie S&P at the Mandarin Oriental San Francisco offers a good breakfast and very accommodating service. Both of my requests, for a special kids' pancake, and to substitute a croissant for toast, were graciously met. The continental buffet breakfast is a wonderful complimentary benefit for Virtuoso reservations, although otherwise a bit pricey at $23 per person. The best value of all is the kids' menu, with adult sized portions for just $7.
Disclosure: I paid for our meal at Brasserie S&P, but enjoyed a complimentary stay at the Mandarin Oriental San Francisco. As always, the views expressed in this post are my own.
Related Posts
Mandarin Oriental San Francisco Hotel Review
Best Fine Dining Restaurants in San Francisco for a Splurge?
What are the Best San Francisco 5-Star Hotels with Great Views?
Need Award Booking Help? Our fee is as low as $75 per ticket if you book your hotel through us.
If you enjoyed this, join 90,000+ readers: please follow TravelSort on Twitter or like us on Facebook to be alerted to new posts.
Become a TravelSort Client and Book 5-Star Hotels with Upgrades, Complimentary Breakfast and Other VIP Amenities!