This Mandarin Oriental Hong Kong Review of an Oriental Suite is part of a trip report including Cathay Pacific Business Class and First Class to Hong Kong and Bali, plus reviews of luxury hotels and dining in Hong Kong and Bali. Prior posts include:
Review of British Airways Galleries Lounge at JFK Airport
Cathay Pacific Business Class Review: 777-300ER NYC to Hong Kong
Cathay Pacific First Class NYC-Hong Kong
Tim Ho Wan Review: Hong Kong's Best Dim Sum and Cheapest Michelin Star?
While we were rather loathe to leave the Four Seasons Hong Kong, with the beautiful harbour views and lavish Executive Lounge dining and delightful service, I had long ago already made a reservation at the Mandarin Oriental Hong Kong and was looking forward to comparing it, both to the Four Seasons Hong Kong and my recent prior experience at the Mandarin Oriental Singapore.
Though the Mandarin Oriental looks to be fairly close to the Four Seasons Hong Kong on the map, it was too far to walk with all of our luggage, and with the traffic in Central, it took us perhaps 12-15 minutes to get there. From a location perspective, it's not quite as convenient as the Four Seasons for those using the Airport Express train, since the Four Seasons is connected to the IFC Mall which contains the Airport Express stop, whereas the Mandarin Oriental is a short taxi ride away. That said, taxis in Hong Kongare plentiful and pretty inexpensive.
The Mandarin Oriental's driveway is very small, but staff was waiting to help us with our bags, most welcome as there steps up to the lounge area, then down again to reach the reception area to check-in. As with the Four Seasons Hong Kong and the Mandarin Oriental Singapore, there was no wait at all, and a friendly reception agent checked us in. He noted we were staying just 1 night, and voluntarily took it upon himself to see if he could upgrade us (although these one night stays don't win me any points with my family, who would prefer to stay in one place for awhile, one of the benefits is that it's often easier to be upgraded!) And upgrade us he did, from a Deluxe Room to a Oriental Suite-score!
His colleague escorted us to the Oriental Suite, which was one of the most elegant I've stayed in, in a major city. And while 775 square feet isn't unusual at all in, say, Bali, it's quite spacious for Hong Kong. We left our shoes in the entrance way, which set the tone for the Asian decor throughout the suite (except the bathroom):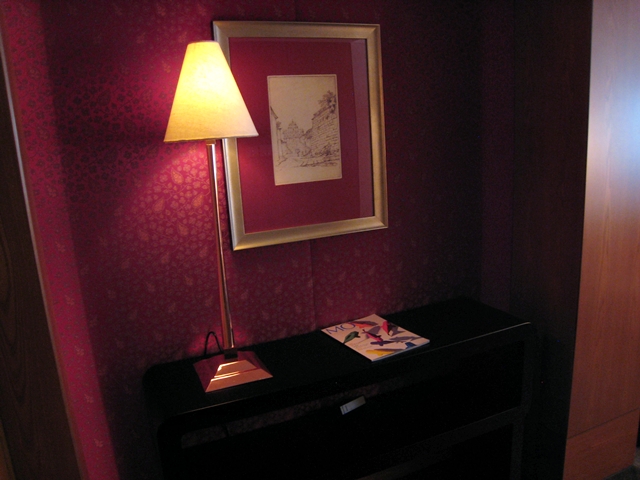 It took me a few shots to get a photo of the living room that didn't have the munchkin in a blur racing through it, since he was so thrilled with the space that he initially ran laps around it, until we reined him in: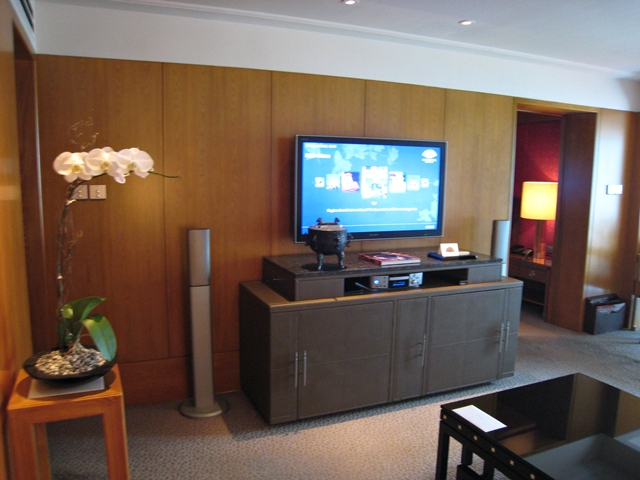 The sitting area had a comfortable sofa and armchair, which we moved closer together to make room for a rollaway bed for the munchkin. I liked the lovely orchid in the living room–orchids are some of my favorite flowers.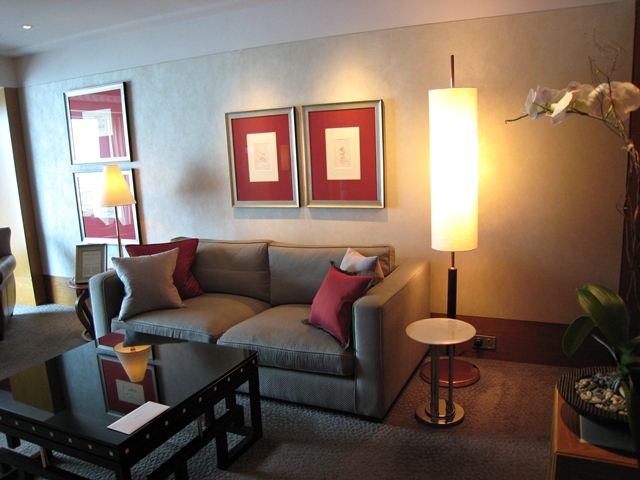 There was also a good sized desk, which I neglected to get a photo of, and a Nespresso machine to one side of it: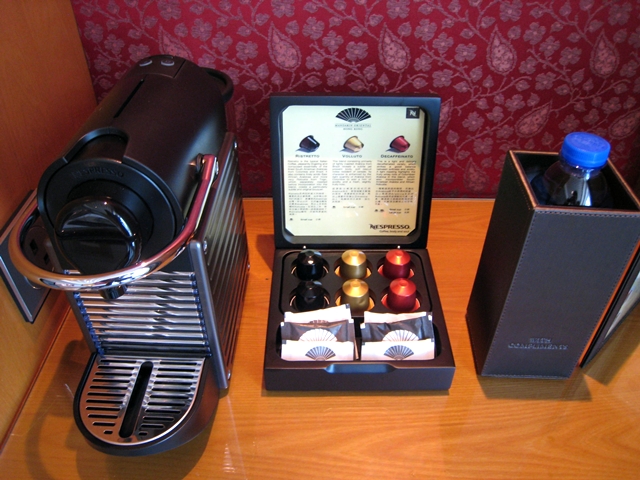 The view wasn't of the harbor, but was instead of the city and a nearby square, brightly decorated for an upcoming Chinese celebration of some kind: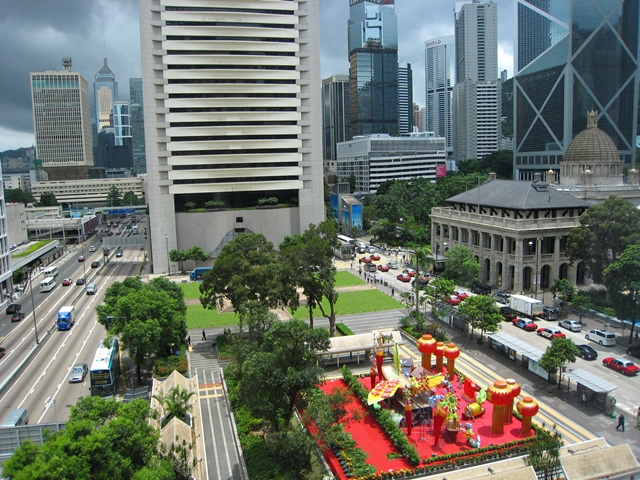 The bedroom was a bit dark for my taste, but the most important part, the bed, was just as comfortable as the one at the Four Seasons and the Mandarin Oriental Singapore. My husband was a bit disappointed with the movies on offer, however–I think he found better choices in Cathay Pacific First Class.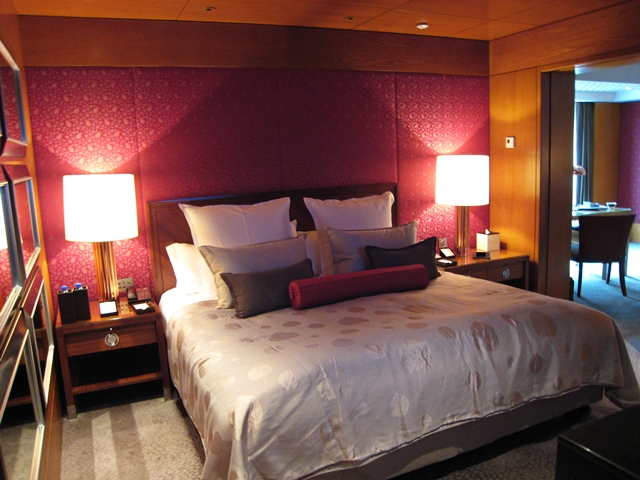 The bathroom is what I'd say was the real highlight, with the large soaking tub as the focal point: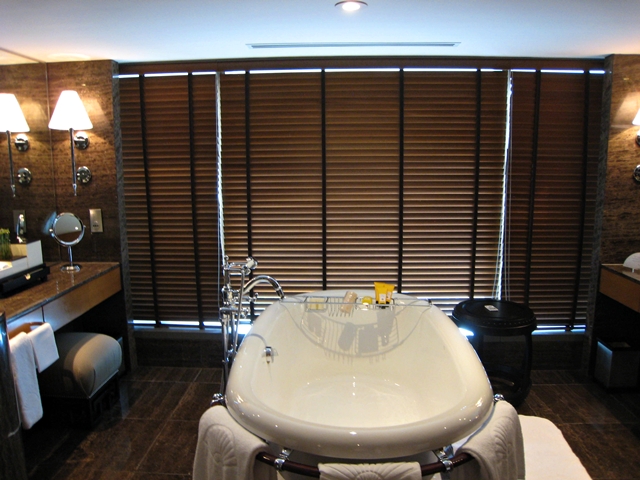 There were two vanities, one on each side of the room. The one to the left was across from the glass enclosed toilet. While I'm personally not focused on TVs at all since I don't watch them, I will say that the bathroom TV isn't ideally placed if you wanted to watch it from the bathtub, since it's off to the side. It would probably best work if you were getting ready at the vanity and using the TV to catch the morning or evening news.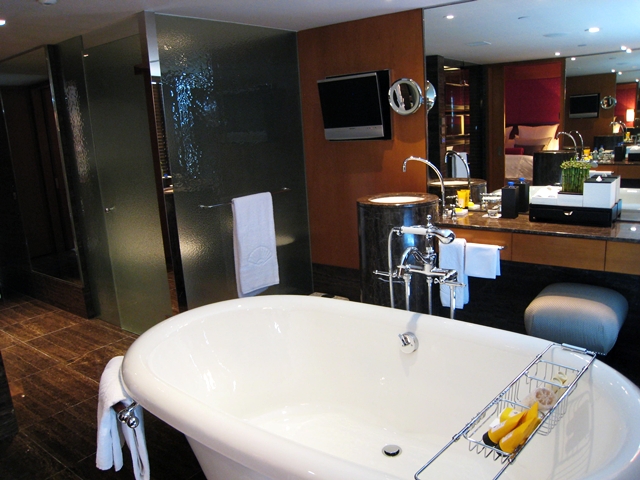 And Acqua di Parma bath amenities, which I've never had before in any hotel. Refreshing scent and of course a very nice luxury brand, though I do wish they were organic. I'm not sure Acqua di Parma amenities are in the regular rooms–I'm guessing it's just the suites.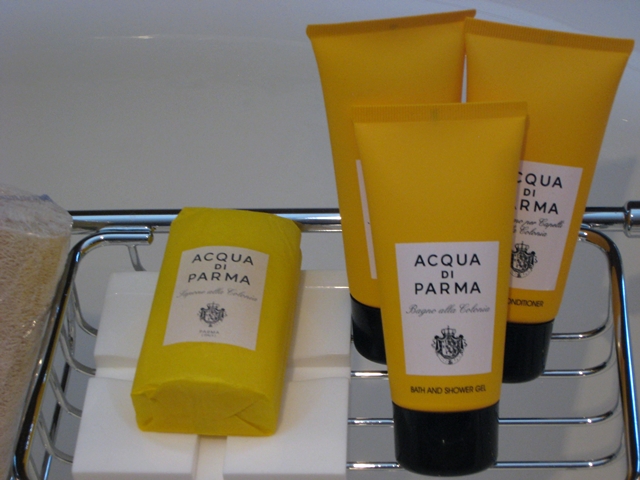 Across from the second vanity and before entering the bedroom was a large glass enclosed shower, with great water pressure: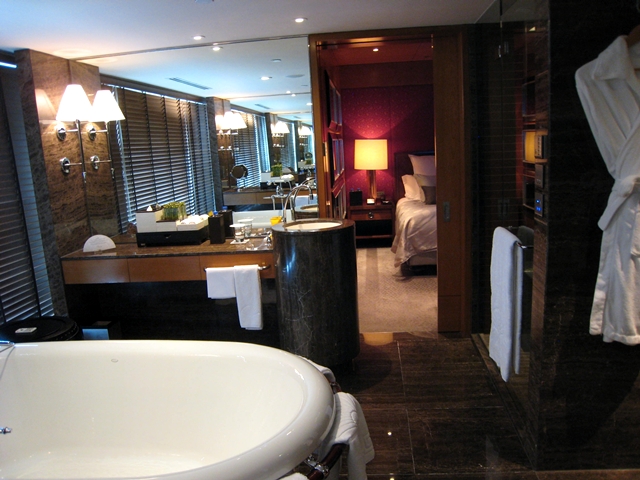 We were brought tea shortly after our arrival, and we're not just talking a cup of tea each, but rather an entire tea pot for each of us, in the same kind of traditional tea warmers that my Chinese grandmother had: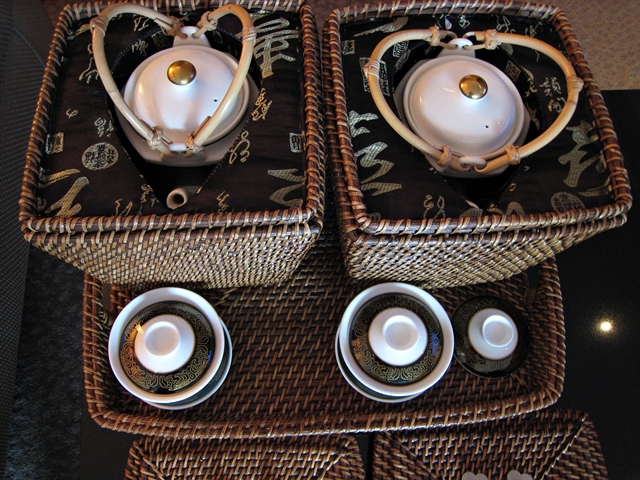 Our son wasn't forgotten either; he was given a cute child-size backpack, which he loved carrying around, and had his own child-size bath slippers. He also enjoyed going swimming in the pool on the top floor, though as an indoor pool it wasn't as spectacular looking as the Four Seasons pools.
Verdict: Either I've been incredibly lucky at the Mandarin Oriental Hong Kong and Mandarin Oriental Singapore, or their associates are very empowered to provide upgrades to guests, since in both cases I received wholly unexpected upgrades, and in the case of Hong Kong, a double upgrade. My husband said of the Mandarin Oriental Hong Kong that "it's the nicest hotel room he's ever stayed in." I actually prefer a more modern style, as at the Four Seasons, but I did love the elegance and spaciousness of the bathroom, with its standalone bath and dual vanities, and the traditional tea we were served, with an entire tea pot for each of us that was still hot an hour later thanks to the tea cosy. And while we ended up just talking rather than watching a movie, the suite set up with our son on a rollaway bed in the living room was perfect. We were able to put our son to bed early, at his usual bedtime, and be able to stay up later without having to whisper or turn off all the lights.
In terms of property amenities, the pool, as noted above, is nice but not exceptional, especially compared to the outdoor pools with spectacular views at the Four Seasons. The fitness center is large and well equipped for a Hong Kong hotel. I didn't have any spa treatments, but the Mandarin Oriental is known for being one of Hong Kong's top spas, albeit with prices to match. I would love to have tried the dim sum at Man Wah, which is supposed to have exceptional high end dim sum, but the restaurant states that only children 6 and older are allowed, and the munchkin is 4.
While our stay was so short we didn't miss not having an Executive Lounge, on a longer family stay I might have, as it's so convenient when traveling with a child that wants to eat every 3 hours or so to be able to reliably find something tasty, relatively healthy, and appealing to a child just an elevator ride away, without having to worry about reservations.
Book the Mandarin Oriental Hong Kong with TravelSort for members-only preferred rates.
Related posts:
Best Luxury Hotels in Hong Kong
Cathay Pacific Business Class Review 777-300ER: NYC to Hong Kong
Which Places in Hong Kong Serve the Best Dim Sum?
Check out and apply for the Best Travel Credit Cards.
If you enjoyed this, please follow TravelSort on Twitter or like us on Facebook to be alerted to new posts.
Become a Member to find your perfect luxury or boutique hotel at up to 50% off: TravelSort Hotels
Disclosure: I paid for my stay at the Mandarin Oriental using a travel agent rate.