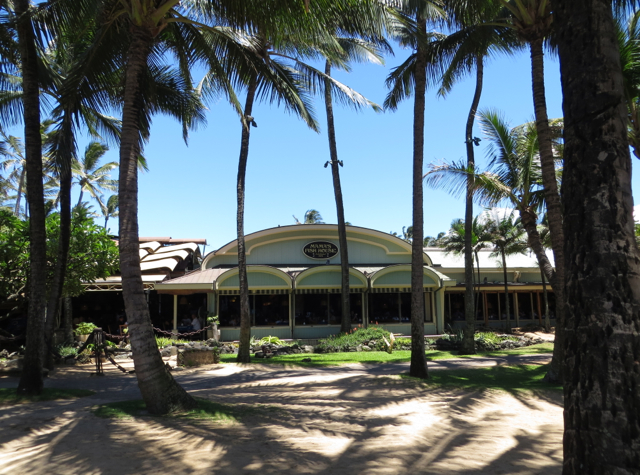 This Mama's Fish House review is from our recent visit to Maui and the Big Island of Hawaii, including stays at the Andaz Maui at Wailea, Four Seasons Resort Maui at Wailea and the Four Seasons Resort Hawaii at Hualalai.
For the previous posts of this Maui and Hawaii trip report, please see:
Alaska Airlines First Class Review
Alaska Airlines Board Room Seattle Lounge Review
Alaska Airlines First Class to Hawaii
Hyatt Place Waikiki Beach Review
Ka'ana Kitchen Review and Andaz Maui at Wailea Dining
Getting to Mama's Fish House in Paia
Mama's Fish House is located at 799 Poho Place in Paia, Maui. Most TravelSort clients and readers will be coming from Wailea, which is about 35 minutes away. Take Highway 31, then Highway 311 (Mokulele Highway), turn right onto Hansen Road, right on Hana Highway (36), drive through the town of Paia, and about 1.5 miles after the town, look for the Mama's Fish House sign on the left. Even though there's a fair amount of "highway" driving, much of it is quite scenic: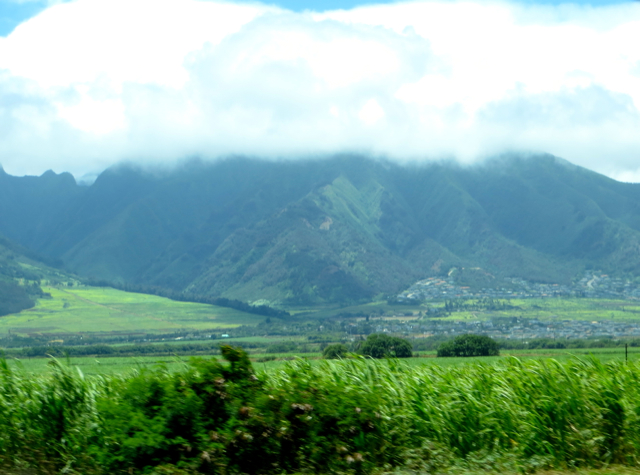 The Scene
A nice thing about Mama's Fish House is that it's very low key, there's not a "scene" to speak of. You drive up, and while there is complimentary valet parking instead of self parking, the valets are friendly, there's no pretension there or at the host desk. While you wouldn't want to go in your swimsuit, there's no dress code to speak of. We went for lunch, and many other guests were also in a casual top and shorts, just as we were, although some were more dressed up, and I imagine more people dress up a bit for dinner.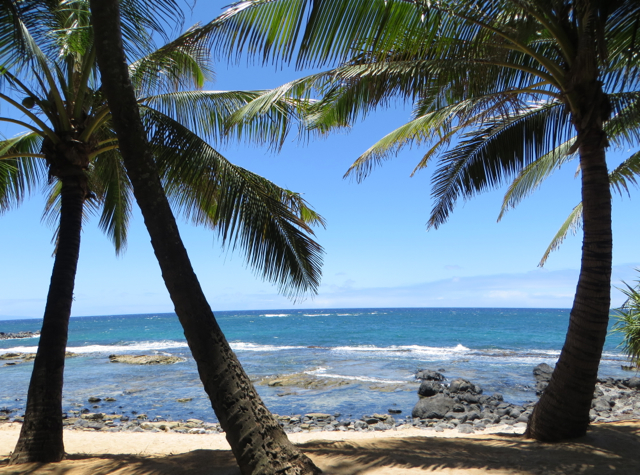 Mama's Fish House is set in a secluded grove close to a small beach, as you can see in the first photo of the post. As you enter, you might either feel it's way too kitschy, or you may really enjoy the Polynesian antiques and "Old Hawaii" feel to the place. While I won't pretend it's my favorite type of decor, I did like the Japanese glass floats–my grandfather used to sometimes find these back in the day, when he went fishing.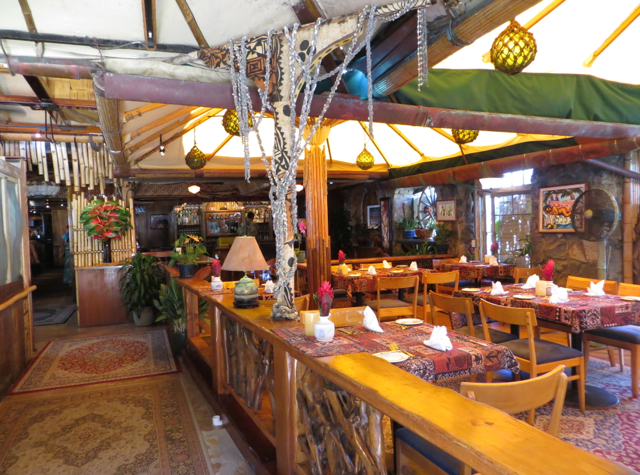 Even though I'd made a reservation months ago on Open Table, we were originally seated in the left hand side of the restaurant, which I found very dark, plus it was the third table back and didn't have any view to speak of. I asked our server if we could move to a table with a better view, and although it took a little while, she was able to accommodate us, which I appreciated.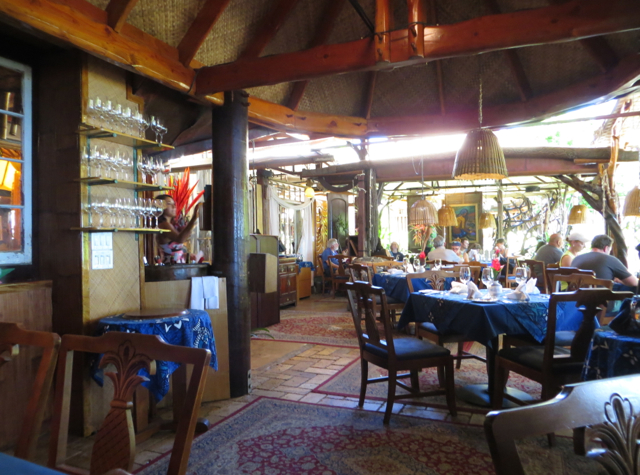 I definitely preferred the more light filled room we were reseated in, with a better view of the ocean.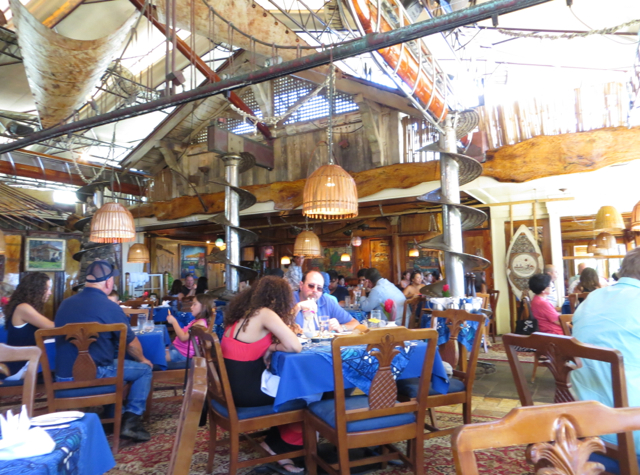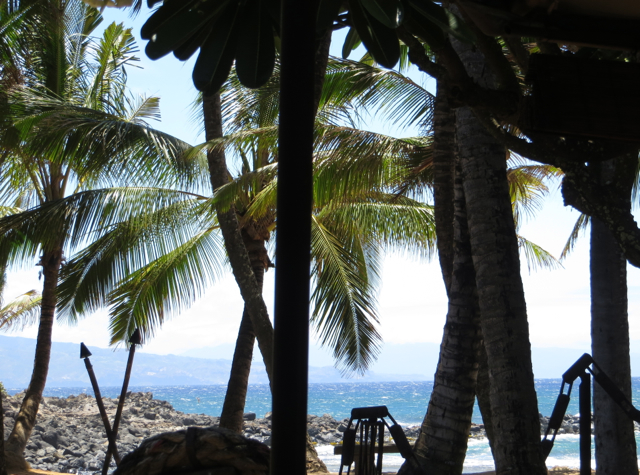 Mama's Fish House Menu and Food
Mama's was the first Maui restaurant to really focus on freshly caught fish back when it opened in 1973, and its menu pays homage to the fishermen who caught the day's fresh fish by including their names on the menu, and where the fish were caught.
I don't know about you, but I would not want to be catching fish off of Kaho'olawe, which was used as a bombing range by the military during World War II, with live fire exercises only ceasing in 1990. As far as I know, there are still unexploded bombs in and around that island, so if anything, I was surprised that the fish caught there didn't command an even heftier premium 🙂
There was also a kids' menu, and we persuaded the munchkin to order the grilled fish, since after all, that's what Mama's Fish House is known for.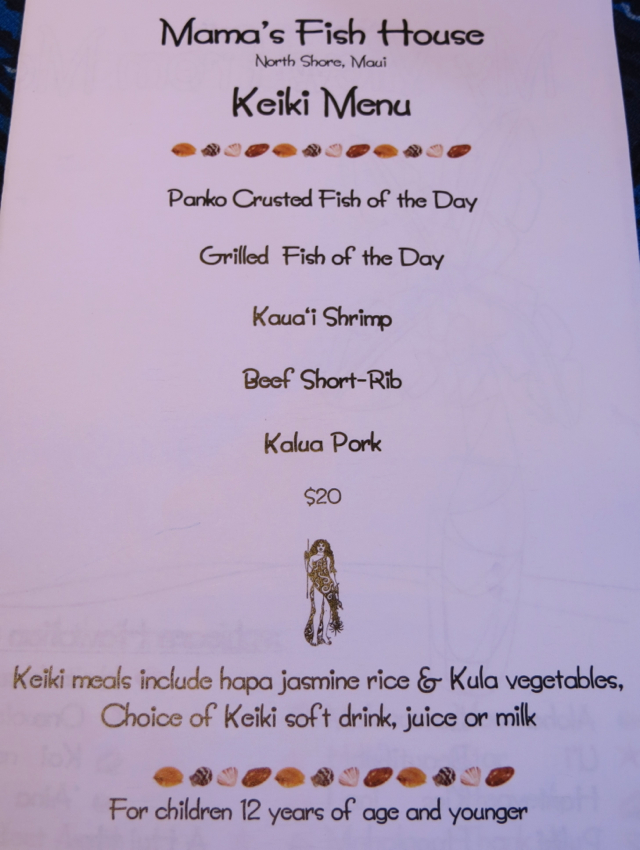 Our meal started with warm housemade whole grain bread and butter, which was delicious. Eventually I had to move the second loaf we were given (after polishing off the first) away from my husband and the munchkin, who would have just filled up on bread.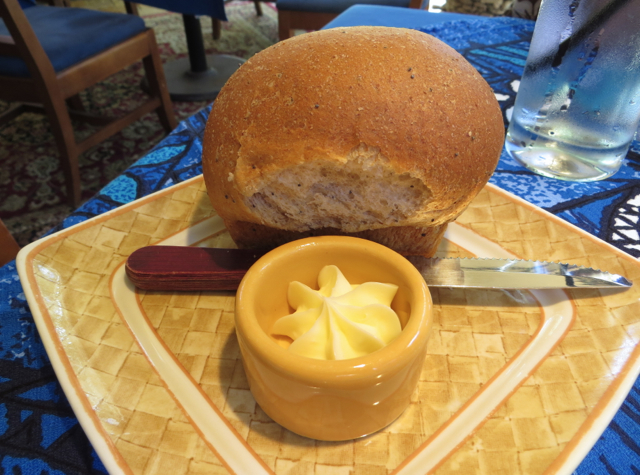 I was pleased, meanwhile, that complimentary poi is offered. This is perhaps the test of a kama'aina, or local, vs. most tourists: whether you enjoy poi or not. Since poi was my first food and I was born and raised in Hawaii, I enjoy it, while my husband and the munchkin won't touch it. Keep in mind that it's actually not meant to be eaten by itself; it's a starchy staple, similar to bread or potatoes, so you normally eat it with a main dish. I ordered a side dish of kalua wild boar, which was smoky and succulent (my husband loved it as well), which went perfectly with the poi.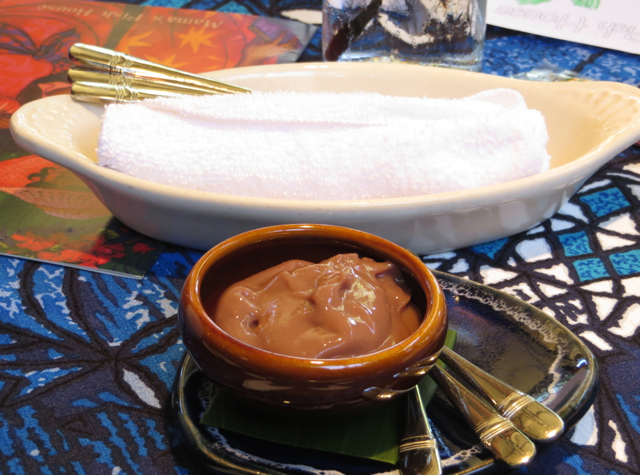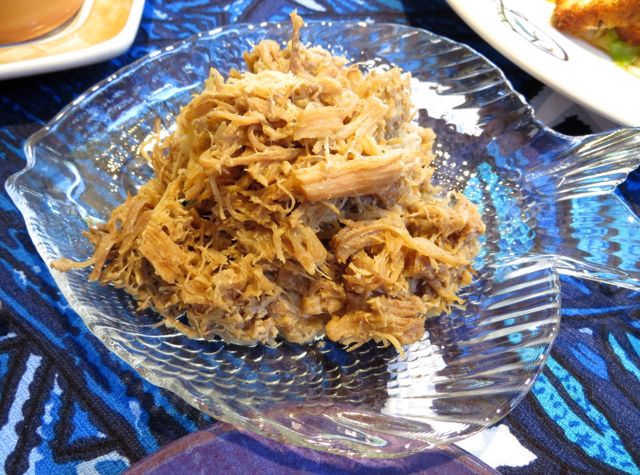 For an appetizer, I ordered the Onaga Kama (Hawaiian Red Snapper Cheek) for us to share. That was superb–ultra fresh and perfectly roasted, even better than Hamachi Kama, which is a must order for me when I see it on the menu at Japanese restaurants.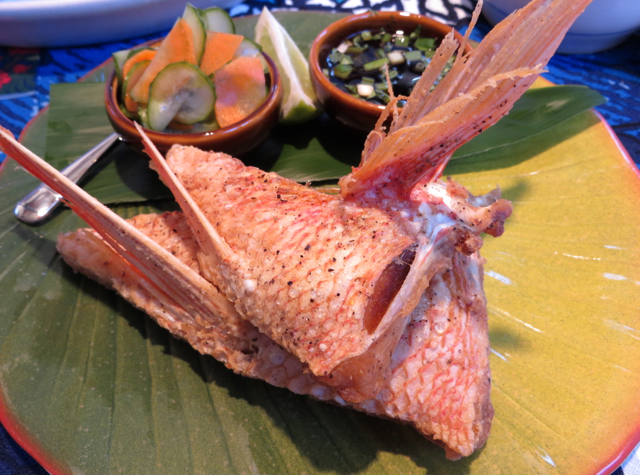 The munchkin enjoyed and ate most of his grilled fish of the day, which was mahi mahi served with vegetables and jasmine rice: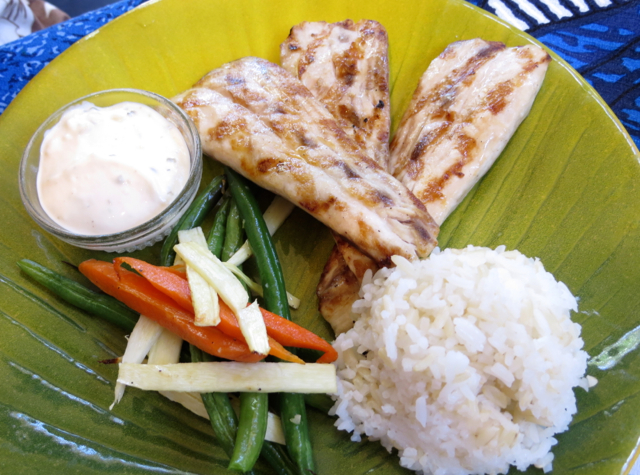 My husband and I split an entree of Seared, Panko Crusted Ono (Wahoo), served with Kalua Fried Rice. That was excellent as well, with a nice zing and exterior crunch from the ginger panko crust, while still fresh inside. I didn't even miss the Opah, which I was hoping Mama's Fish House would have but which wasn't on offer that day.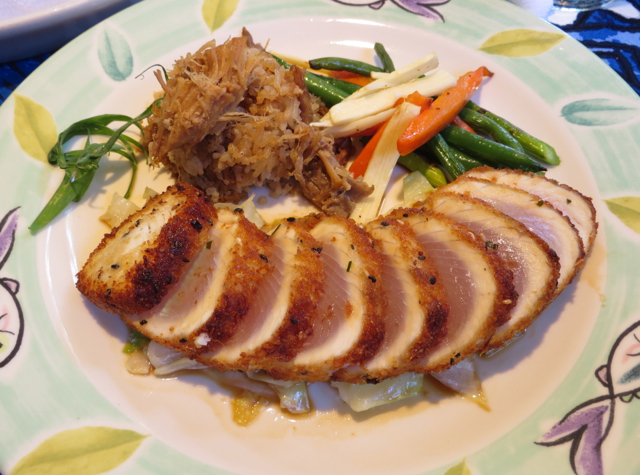 We just had enough room to share a dessert, so we looked at the dessert menu: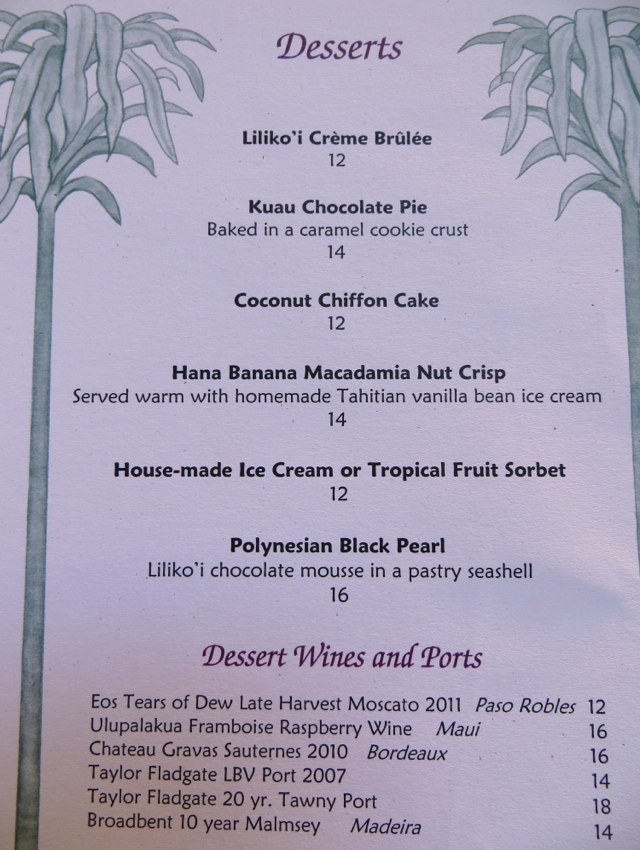 I'd heard good things about the Polynesian Black Pearl dessert, so we ordered it. It was striking in its plating, made to look like an sea shell. Nestled inside was a chocolate lilikoi (passionfruit) mousse. Yum! Needless to say, the three of us made short work of it.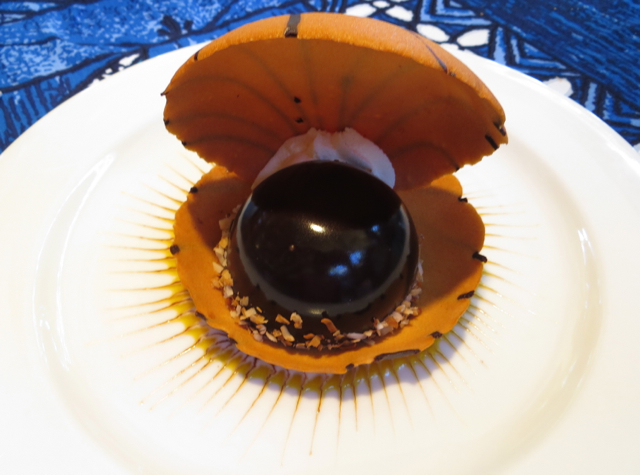 A final nice touch were local style mignardises of coconut haupia: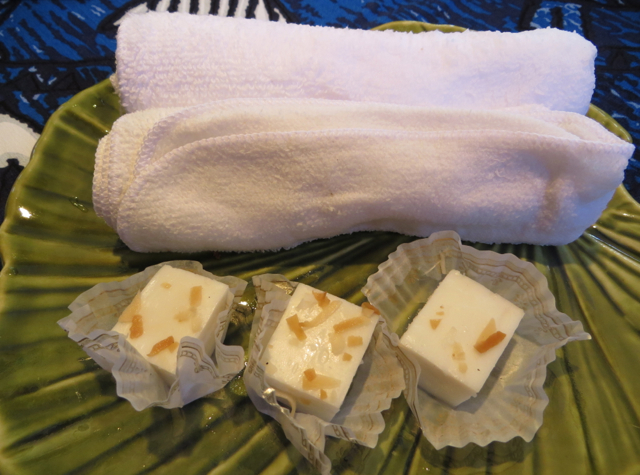 The Service
Service at Mama's Fish House may be a bit more laid back than you're used to, and it did take awhile for us to be reseated. That said, once we were reseated, our server was very responsive, checked in on how we liked the dishes, and the meal was well paced.
The Verdict
Mama's Fish House is often seen as a Maui institution, given that it's been around for over 40 years. Fortunately, in my view, the food and views do merit a visit, if you have a few days on Maui. Although very popular for a romantic sunset dinner, I would actually more highly recommend a leisurely weekday lunch, when it can be less crowded and you have a better chance of getting a table with a good view. Prices are high, but fair, I think, given that the fish are locally caught (which isn't true of a lot of seafood served at restaurants in Hawaii) and the preparations, that we experienced at least, are excellent.
Related Posts
Best Frequent Flyer Miles for Hawaii Award Tickets
Ka'ana Kitchen Review and Andaz Maui at Wailea Dining
Top 7 Four Seasons Preferred Partner Guaranteed Upgrades
Disclosure: We paid for our own meal at Mama's Fish House.
Need Award Booking Help? Our fee is as low as $75 per ticket if you book your hotel through us.
If you enjoyed this, join 100,000+ readers: please follow TravelSort on Twitter or like us on Facebook to be alerted to new posts.
Become a TravelSort Client and Book Your Hotel with Virtuoso or Four Seasons Preferred VIP Amenities!