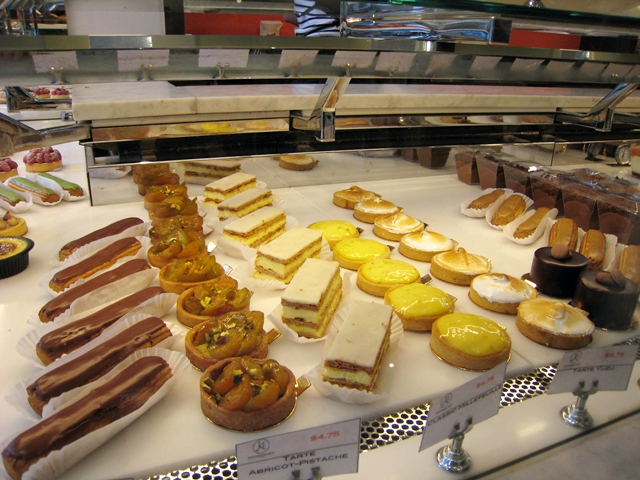 Eric Kayser is well known to bread lovers the world over. From his first Paris boulangerie at the original 8 rue Monge location to over 80 Maison Kayser locations as far afield as South Korea, Japan, Singapore, Russia and the UAE, his traditional levain (sourdough) breads as well as pastries have become local favorites, with unique products developed for each market in addition to wholly traditional French specialties.
Ever since enjoying Kayser bread and pastries at Wolkonsky, as Maison Kayser is branded as in Russia (see 8 Things to Eat in Moscow), I've been wondering when they would open in the U.S. There was an initial foray into the Los Angeles market that apparently didn't work out (and I never made it out there while it was in operation), but now Maison Kayser has arrived in NYC. Yesterday I used one of my $25 AMEX Small Business Saturday credits to sample some of their breads and pastries.
Based on what we've tried so far, here's my ranking. I'll be adding more to this page as we try more treats!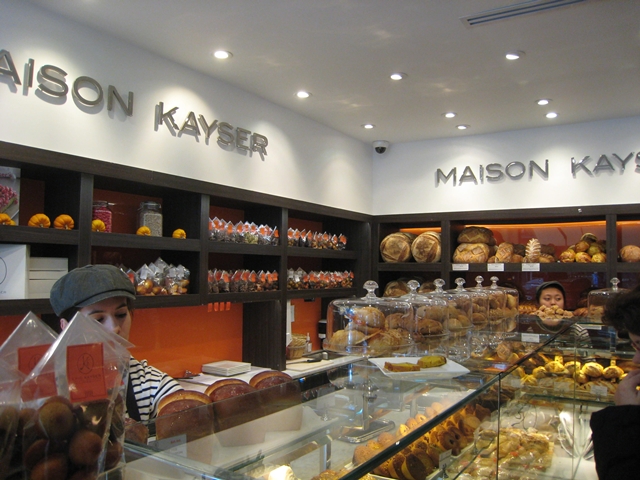 1. Chestnut Buche de Noel (Seasonal)
How I wish Maison Kayser's chestnut Buche de Noel was available year round–it's that good. Silky chestnut mousse nestles a raspberry coulis, with marrons glaces (candied chestnuts) and dark chocolate squares on each end providing beautiful and delicious adornment.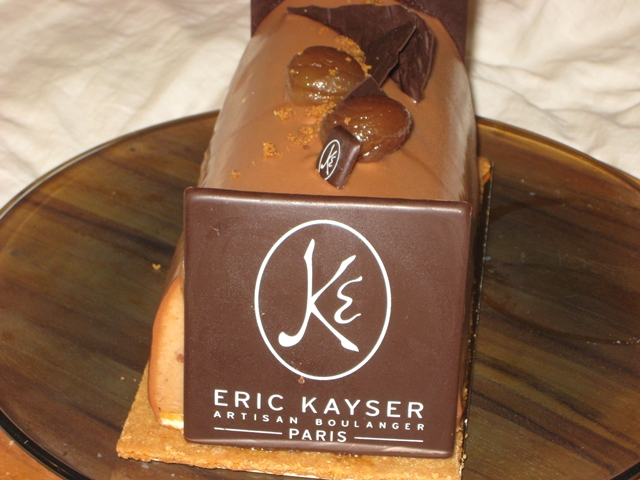 2. Croissant Aux Amandes (Almond Croissant)
One of the things I missed most when I moved to NYC from Moscow was not being able to get a really good almond croissant, as Wolkonsky / Maison Kayser makes fantastic ones. The croissant is buttery and flaky, with a heady almond frangipane filling and some additional crunchy almond paste on top with a sprinkling of toasted almonds. Well, finally NYC has a fantastic almond croissant. Although Eric Kayser is known above all for his breads, his viennoiserie (breakfast pastries) are excellent as well.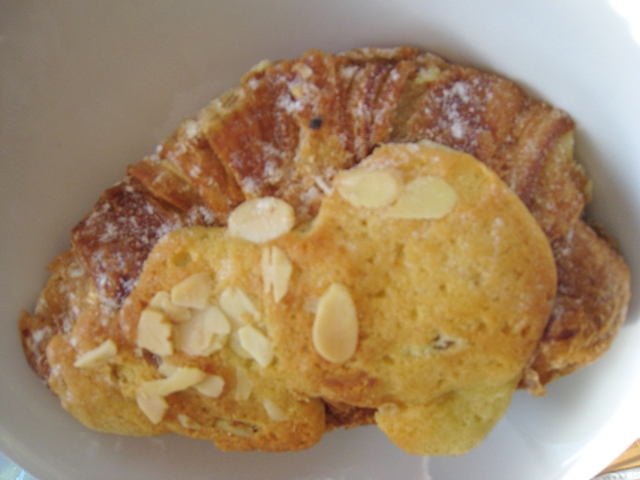 3. Tarte Feuilletée Aux Pommes (Apple Tart)
Sometimes the simplest desserts are best, and this square apple tart is a perfect example. Flaky puff pastry forms the base, then ground almonds and apple compote with thin apple slices baked on top. Not overly sweet, and truly the perfect fall tea-time treat or dessert.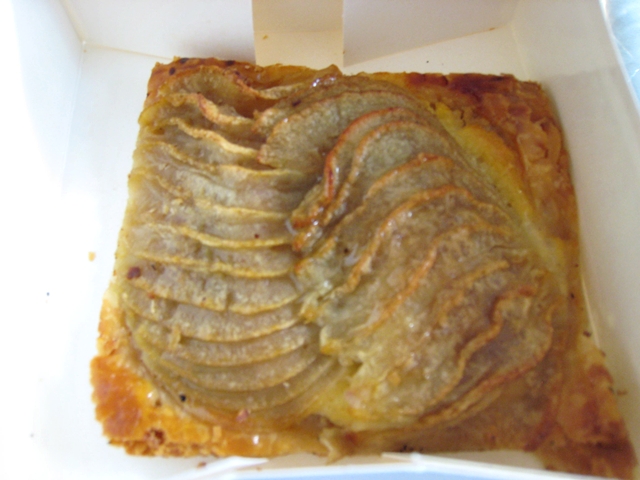 4. Large Apple Tart (Tarte aux Pommes)
For a dinner party, this is the perfect way to end a meal. It's very similar but not quite identical to the above individual apple tart, as there are no puffy edges to the crust, the apples are more formally laid out, and there's a bit more glaze.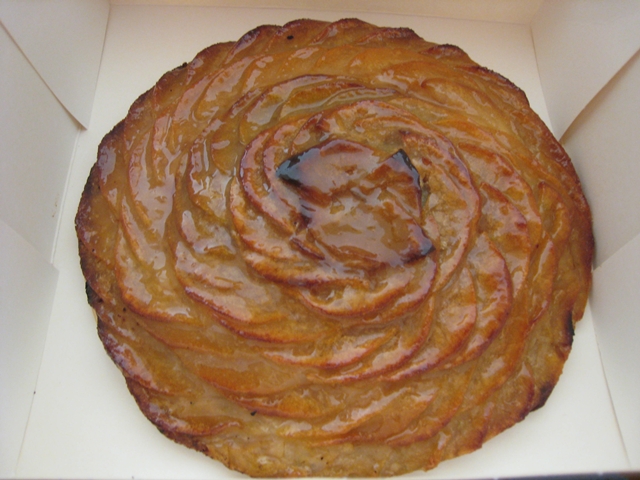 5. Pain Abricot-Pistache (Pistachio Apricot Bread, Seasonal)
The munchkin (who taste tested with me) and I both loved this unusual bread, green from the pistachio paste used in it and studded with jewel-like apricot pieces. We enjoyed eating it plain, as it was so fresh and flavorful, but you could also lightly toast slices and spread them with butter, cream cheese, or even a mild goat cheese.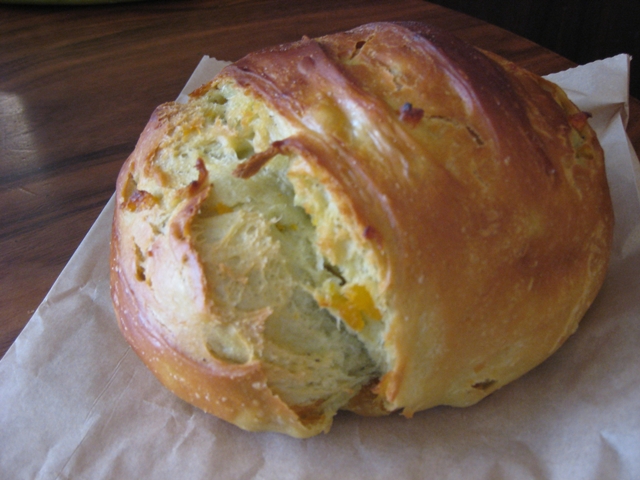 6. Tumeric Hazelnut Walnut Bread
This bread was similarly addictive, with its brilliant yellow hue and crunchy hazelnuts contrasting with the fragrant crumb. I couldn't resist snacking on this bread almost the entire way home. It would be the perfect accompaniment to a Moroccan dinner, alongside harira soup, followed by bastilla or tangine, or lightly toasted with some extra virgin olive oil.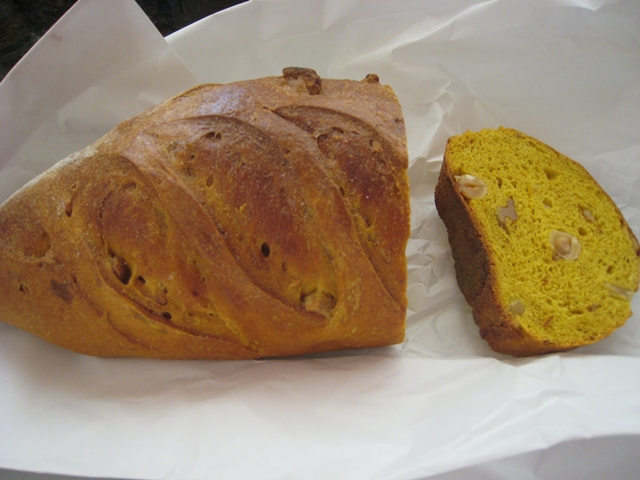 7. Pistachio Brioche (Available on Weekends)
I haven't seen pistachio brioche anywhere else, and Maison Kayser's version is perfection–light and airy, with a fragrant pistachio crumb and the crunch of pistachios on top. Cut thick slices and toast lightly (watch it doesn't burn!) then enjoy plain or spread with organic apricot jam from Trader Joe's.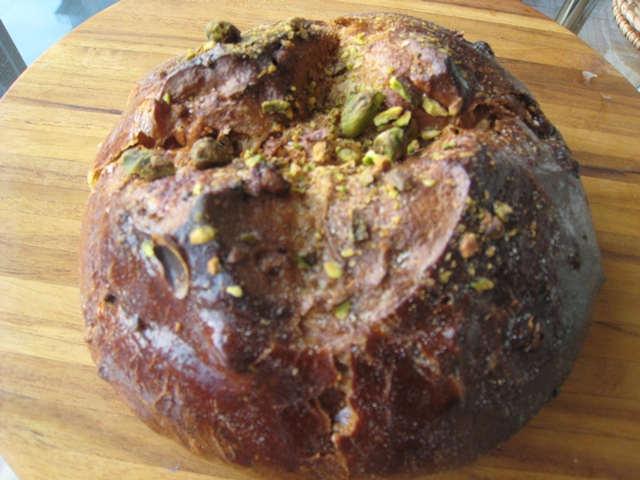 8. Brioche
If you don't care for pistachio, Mayson Kayser's plain brioche is almost as good–buttery and light, so make sure you use a bread knife to cut it so you don't squash it. We enjoy it lightly toasted and spread with d'arbo cherry jam. Or for a decadent dinner appetizer, toast and cut into small squares then spread with black truffle foie gras mousse from d'artagnan.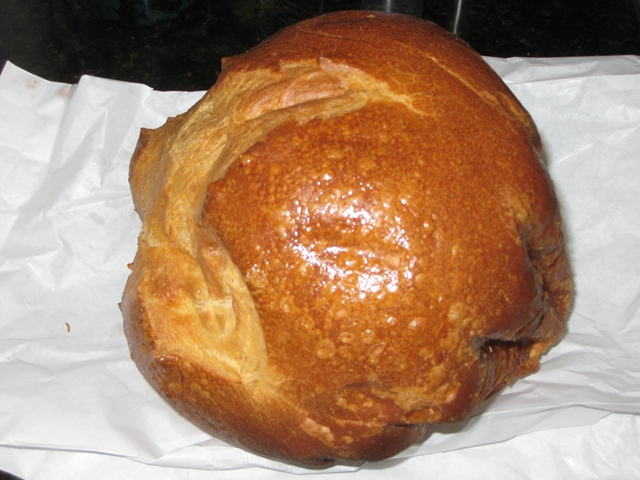 9. Wholewheat Bread (Pain Complet au Levain)
This wholewheat version of Kayser's traditional pain au levain was, as with all the breads, exceptionally fresh, with a nice crunchy crust and tender crumb, with nuttiness from the whole grains. While great on its own, it also stood up well to open face toasted sandwiches that we made with pulled pork from Blue Smoke, avocado, and smoked cheddar. Yum!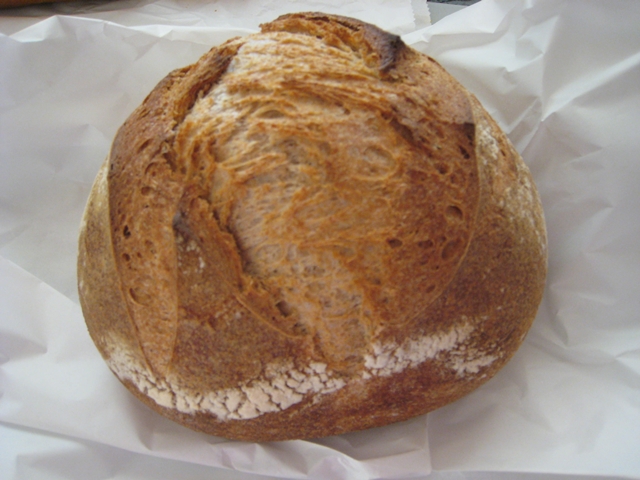 10. Financier Pistache (Pistachio Financier)
Kayser is also known for his financiers, so we tried this large version of his pistachio financier. It was nice and crispy on the outside, and fragrant, buttery and tender inside. I wouldn't say it's as distinctive as some of the other items I rank higher, but it can be hard to get a really good pistachio financier in NYC, so it's still worth getting if you enjoy them.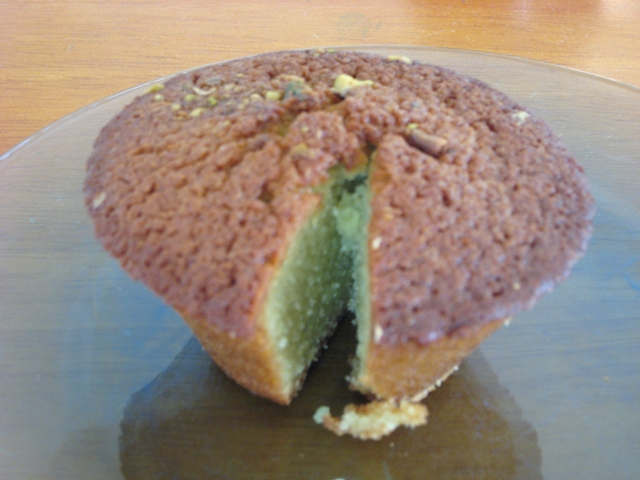 11. Christmas Stollen
I was hoping to enjoy this more than I actually did. It's of course better than any pre-packaged stollen, and the almond paste is housemade, but as bakery stollens go, I actually prefer the less traditional version made by Bouchon Bakery.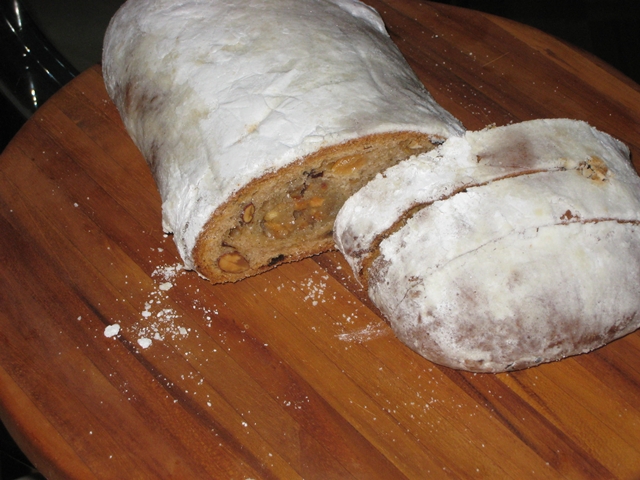 12. Baguette
I'd normally get one of the levain breads Kayser is known for, but my husband wasn't feeling so well and needed plain white bread. At least to me, plain white baguettes taste much the same if made by a quality bakery, and the crust and crumb really distinguishes better ones. Kayser's crust is perfect, and I don't know if I've ever bought a fresher baguette in NYC. So, while this may seem low down on my list, it's because the pastry items above were so good, not because the baguette wasn't.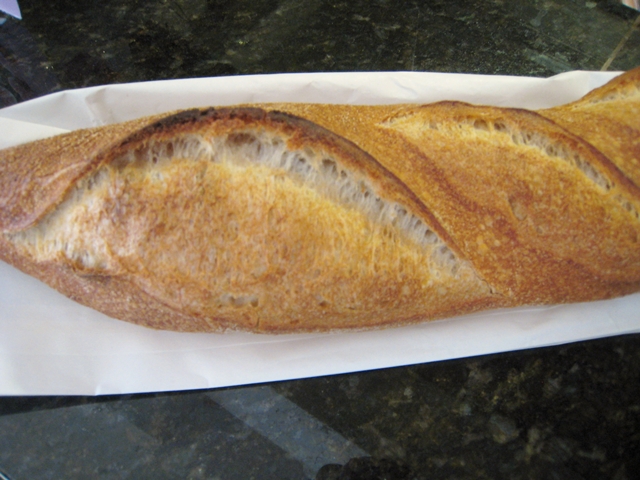 13. Millefeuille
I'm not usually a huge fan of millefeuille, but the munchkin chose it as his treat. It was perfectly fine, and I could see the vanilla bean specks in the pastry cream, which was delicious, but it still can't compare in my view to the amazing 2000 Feuille with caramelized pastry layers and praline pastry cream at Pierre Hermes in Paris (See Don't Miss These Paris Desserts). But keep in mind, Pierre Hermes is a dedicated Patissier (pastry specialist) while Eric Kayser is first a Boulanger (baker) who also does pastries and runs cafes.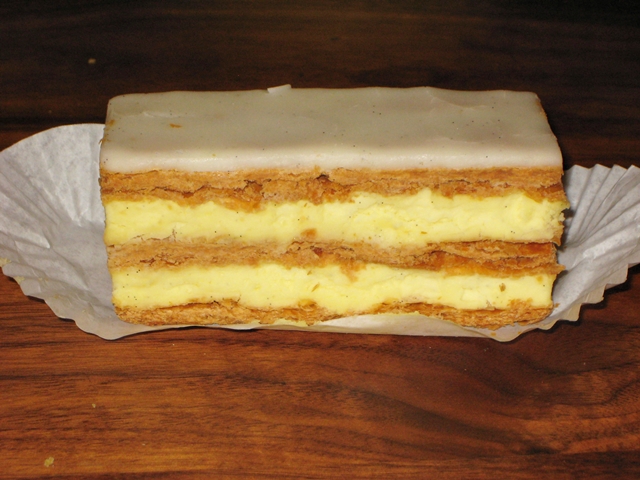 14. Pistachio Eclair
Maison Kayser's pistachio eclair is fine, but not exceptional. Although they don't offer pistachio, I prefer the eclairs from Tartine in San Francisco, with vanilla bean specks in the filling and Valrhona chocolate glaze.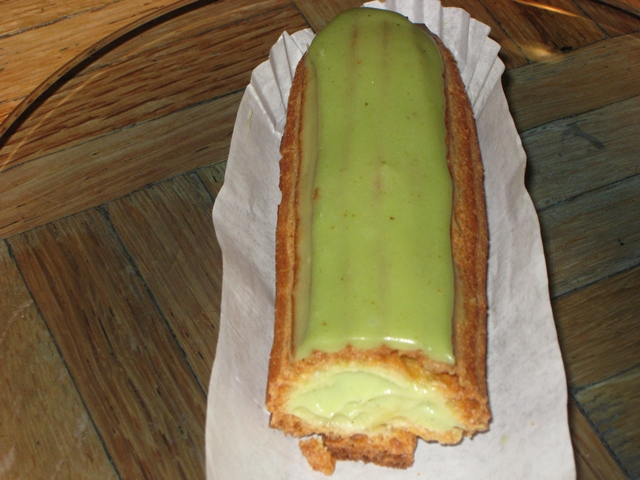 15. Double Chocolate Cookie
If you like crunchy cookies, you'll like these more than I did. Personally, I prefer the gooey and chewy cookies from Levain Bakery.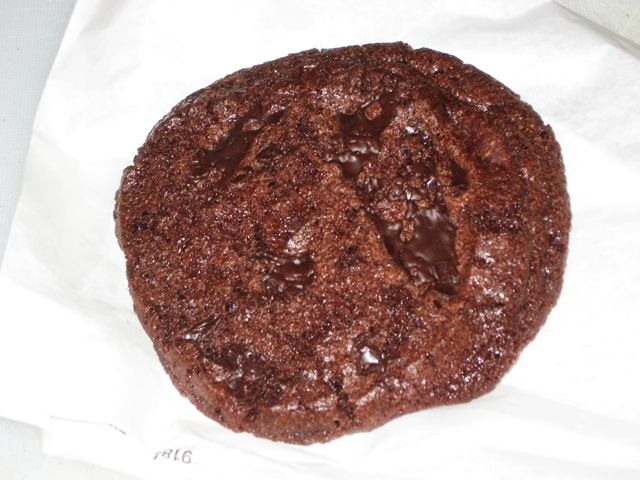 In addition to the tempting bread and pastry display cases for take away orders, Maison Kayser also has a sit-down cafe. I've seen mixed reviews of it, perhaps because people are expecting too much. The real stars here are the bread and pastries, and the cafe simply leverages the bread for toasted sandwiches and for those who want an espresso drink while sitting down to enjoy a pastry. I don't know if we'll even get around to trying the cafe side, but we'll definitely be stopping by the bakery quite often, even now that AMEX Small Business Saturday is over–I'm now paying with Visa gift cards bought with my Ink Bold to earn 5X points.
Maison Kayser
1294 Third Avenue at 74th Street
New York, NY
Tel. 212-744-3100
Hours: 7am-11pm
Related Posts
Doughnut Plant Chelsea NYC Menu and Review
Can't Miss Best Chocolate Desserts in New York
Paris for Foodies: Where to Eat
Tartine Bakery San Francisco Review
Need Award Booking Help? Our fee is as low as $75 per ticket if you book your hotel through us.
If you enjoyed this, join 90,000+ readers: please follow TravelSort on Twitter or like us on Facebook to be alerted to new posts.
Become a TravelSort Client and Book 5-Star Hotels with Upgrades, Complimentary Breakfast and Other VIP Amenities!