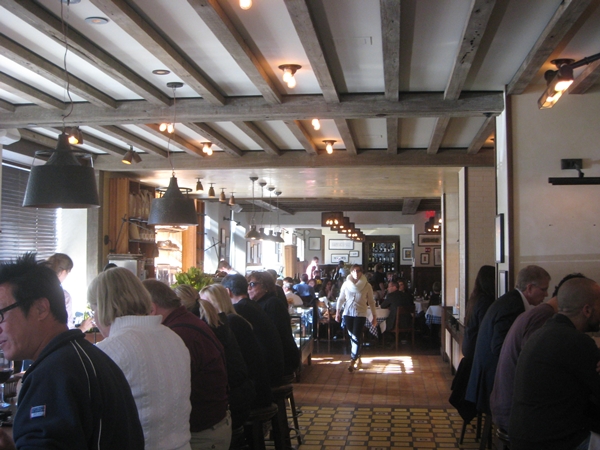 Maialino Restaurant is aptly named: its name means "little pig" and many of the dishes feature the restaurant's signature suckling pig. Part of Danny Meyer's Union Square Hospitality group (which includes Gramercy Tavern, The Modern, Union Square Cafe, Blue Smoke and others, it's the only one that's participating in Restaurant Week (or rather, 3 weeks, from January 16-February 10) and one of the picks I highlighted in NYC Restaurant Week Winter 2012: Where to Go along with Estiatorio Milos along with Le Caprice and Boulud Sud.
Ultimately, even though we've enjoyed brunch at Maialino before, this Restaurant Week lunch was a decidedly mixed experience.
We got to Maialino right on time and were greeted by the hostess, together with our server. Given that our server had all the appearances of being one of those model-like "too cool to serve you" types so often found in upper mid-range NYC restaurants (could he saunter any more slowly as he led us to our table?) I had my doubts. For better or worse, that turned out to be less of an issue than some other things.
We were handed the menu, and right away we noticed that there was what we came to term a "poor man's menu" on the left and a "rich man's menu" on the right. Restaurant Week lunch is supposed to be $24.07 at all participating restaurants. While Maialino had the "poor man's menu" at that price, it was pretty clear looking at it that it was the cheapest dishes on the menu–three pasta choices and a chicken choice for entrees, and not a single meat option, for example. The "rich man's menu" had the most desirable choices, and was clearly being promoted as an upsell, for really trying the kitchen's best dishes. So right away, I was resenting Maialino. After all, it's not as if $24.07 is so cheap for lunch, and one expects the restaurant to make an effort to build customer interest by making the menu representative of their actual menu. We decided to do a comparison and give each menu a try, ordering one "poor man's menu" and one "rich man's menu."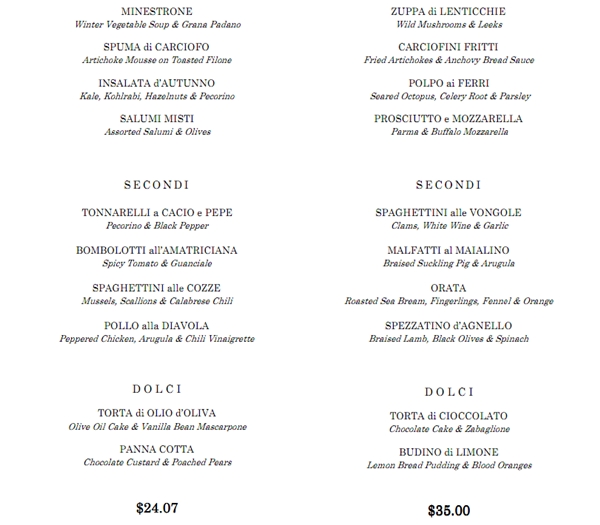 The one good thing that mitigated the poor first impression of the underwhelming "poor man's" Restaurant Week Menu was that there were three discounted wine choices: a Prosecco for $7 a glass, and a Sauvignon Blanc, and Perolla (Merlot blend) each for $5 a glass. We opted to split a glass of the red, and even when split, it was a decent pour. And we were both very pleasantly surprised by how good and smooth it was–I really wasn't expecting much for a discounted $5 glass of wine, but it was excellent.
We were soon brough fresh bread and olive oil. I was quite ravenous, so it was good, but I wasn't blown away. I think my standards for restaurant bread have unfortunately been raised, ever since the incredible warm, buttery rolls we were served for our splurge lunch at Eleven Madison Park.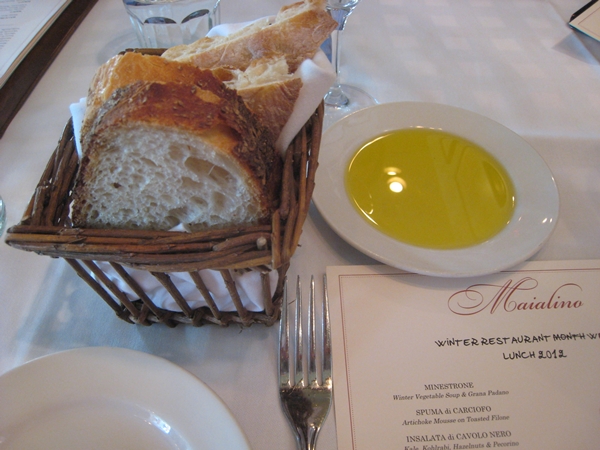 Our appetizers arrived, and they were nice enough to put them in the center and give us separate plates since we had mentioned we wanted to share everything.
The salumi misti was decidedly underwhelming–the best part were the olives. I would also be seriously upset if this small portion was what was served when ordering it for $16 off the regular menu.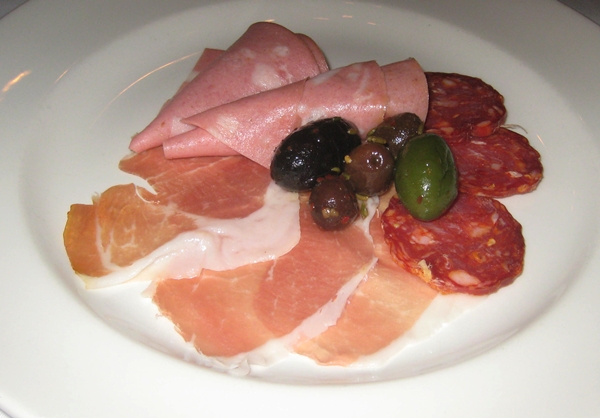 By contrast–and perhaps no surprise–the seared octopus was superb and arguably the best savory course we had: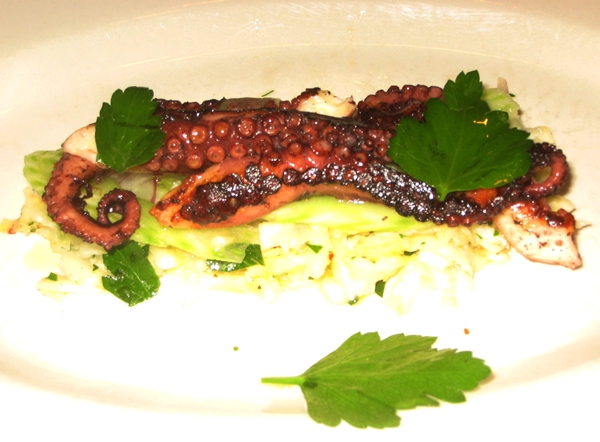 I was only slightly less disappointed by the Bombolotti all'Amatriciana. Yes, I knew from the description that it was a simply dish, with spicy tomato sauce and guanciale (unsmoked Italian bacon) but I was still hoping for something better than I can make at home, and I didn't get it. I was hungry enough not to care too much, but I'd never pay full price for this dish.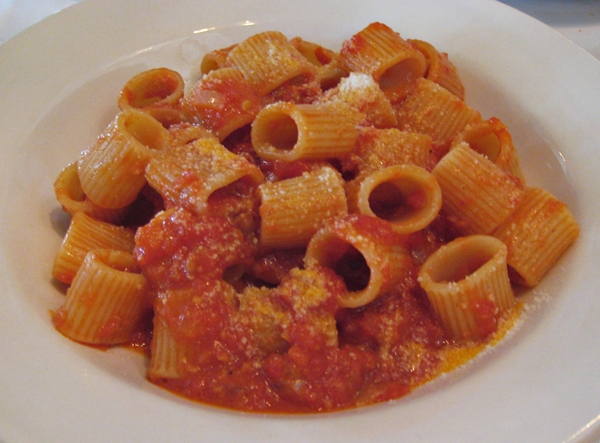 The Spezzatino d'Agnello (braised lamb with black olives and spinach) was much better and meltingly tender, and even though it at first appeared a rather small portion size, given that it was a rich meat dish, it turned out to be plenty, when my husband and I shared along with the pasta dish. I wasn't blown away but it was very satisfying.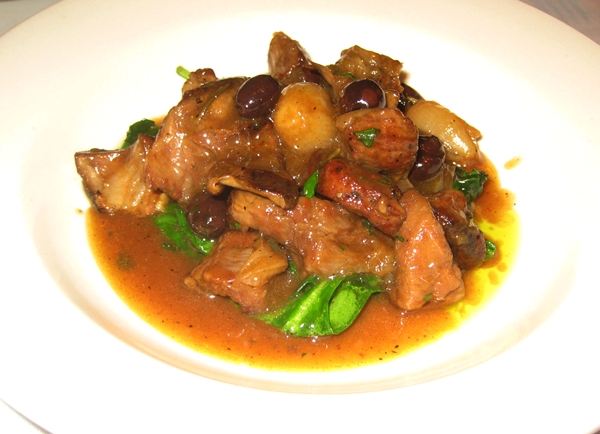 Surprisingly for an Italian restaurant, the desserts turned out to be the highlight of our meal. The chocolate panna cotta with wine poached pears was unquestionably the best part of the "poor man's menu." I'm usually not a fan of panna cotta, but this silky chocolate version, with the contrast of the wine poached pears, was delicious.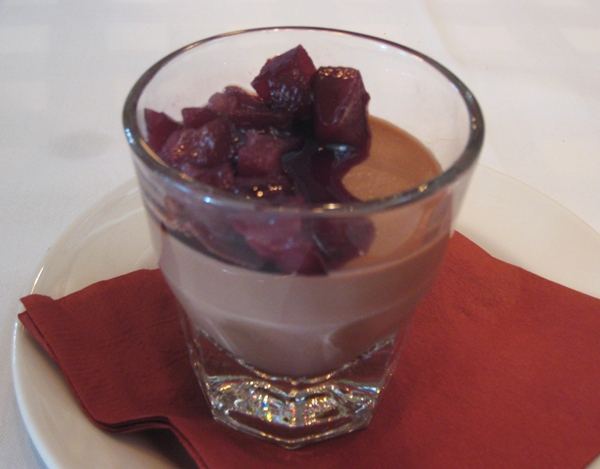 But if that was wonderful, my husband's Torta di Cioccolato was addictive: dark, bittersweet dense yet moist chocolate cake served with perfectly made zabaglione cream sauce. My usually experience with Italian cakes is that they're quite dry and crumbly, but that certainly wasn't the case here.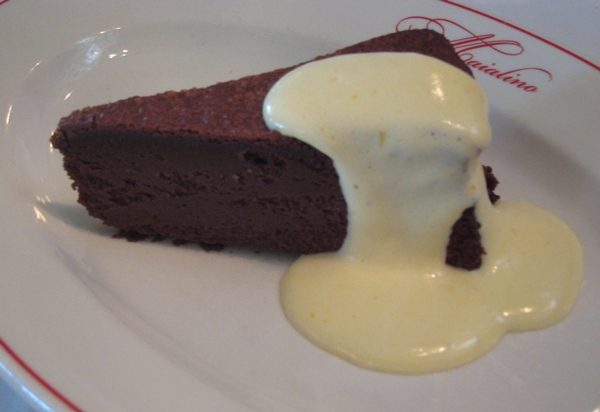 Bottom line: For Restaurant Week, be prepared to splurge on the $35 lunch menu or you may well end up disappointed. Saving grace is the great $5 glasses of wine. I would come back for brunch, based on our prior experience, and also for a light meal of appetizers (especially the seared octopus), wine and dessert, but I wouldn't pay full price for main dishes based on our experience. Good thing we're each getting a $20 credit after 3 Restaurant Week dines, since we registered our AMEX cards.
If you enjoyed this, please follow TravelSort on Twitter or like us on Facebook to be alerted to new posts.
Become a Member to find your perfect luxury or boutique hotel at up to 50% off: TravelSort Hotels