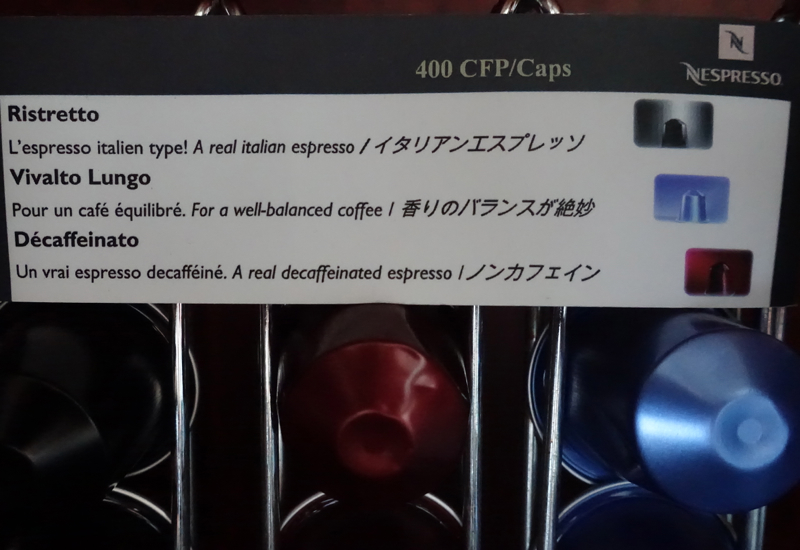 Free in-room hotel coffee is something I take for granted, even though I don't always use it. And generally, since I focus on luxury hotels, it's either a Nespresso machine or more rarely an Illy espresso machine.
Now, I still tend to travel with my own Nescafe espresso powder, as I mentioned in 8 Foods We Pack When Traveling, but that's for times such as airport lounges and the occasional airport hotel night when there's no Nespresso machine.
But this is a first: having left the Four Seasons Bora Bora, where there was complimentary Nespresso coffee in each bungalow, we're staying at another Bora Bora property and the charge is XPF 400 (about $4) per Nespresso pod. I thought for sure I was misreading things, but sure enough, the minibar price list also lists an XPF 400 charge.

Then I went back and looked at the hotel amenities, where an espresso maker is listed. Now to be fair, a minibar is typically also listed as a room amenity, and in most cases guests understand that the minibar contents are not complimentary, and are billed. There are some luxury hotels such as The Upper House in Hong Kong where everything non-alcoholic in the mini bar is complimentary, and I certainly applaud that, although don't expect it. But to me, if I see an espresso maker as a room amenity, I think the reasonable expectation is that a guest may use it to make a complimentary cup of espresso. If there is a charge, it should be disclosed, because it's so unusual for luxury hotels to charge for this.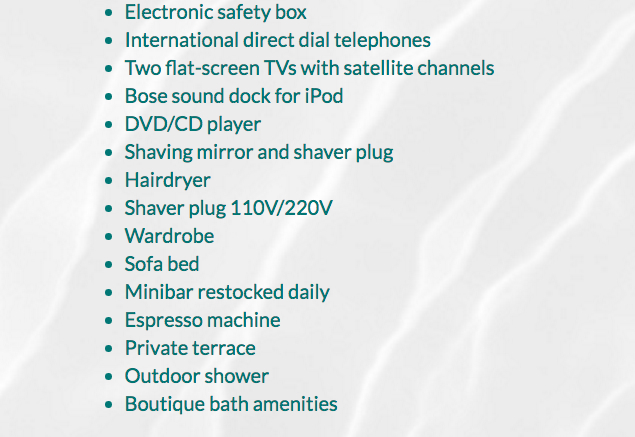 I've never personally stayed at a luxury hotel until now where the espresso pods are charged for. To me at least it strikes me as nickel and diming. Why not simply embed the cost of the Nespresso pods in the cost of the room rate? After all, there are good quality Dammann Freres tea bags that are complimentary. To be fair, there is some instant powdered Nescafe offered complimentary, but just about any serious coffee drinker is going to prefer Nespresso and have a natural expectation that if there's a Nespresso machine in the room, its use (including the requisite Nespresso pods) should be complimentary, just as hotel bath products and bottled water (if the tap water isn't potable or safe to drink) should also be complimentary.
Apparently this is not a new thing for this hotel either, since I was able to find a TripAdvisor thread dating back to 2012 about bringing one's own Nespresso pods.
In any case, we ended up using my Nescafe espresso powder to make our own espresso, which we enjoyed with some homemade biscotti that I'd made based on an Otahuna recipe (for any foodies, Otahuna in Christchurch is a gem and an absolute must visit in New Zealand).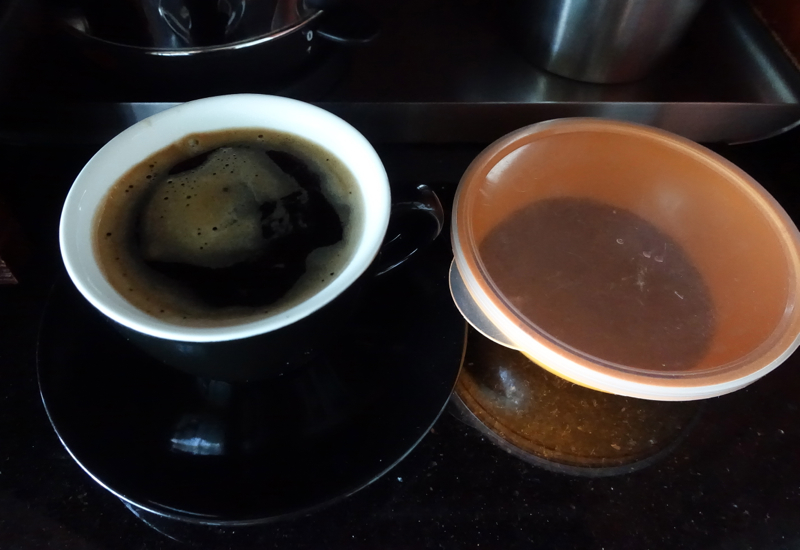 But back to the post topic: have you been charged for in-room coffee in luxury hotels, specifically for using Nespresso pods?
Related Posts
7 Things I Love About Luxury Hotels
Top 12 Hotel Booking Mistakes to Avoid
Top 20 Virtuoso 3rd Night Free and 4th Night Free Offers 2016
Need Award Booking Help? Our fee is as low as $75 per ticket if you book your hotel through us.
If you enjoyed this, join 200,000+ readers: please follow TravelSort on Twitter or like us on Facebook to be alerted to new posts.
Become a TravelSort Client and Book 5-Star Hotels with Virtuoso Amenities!