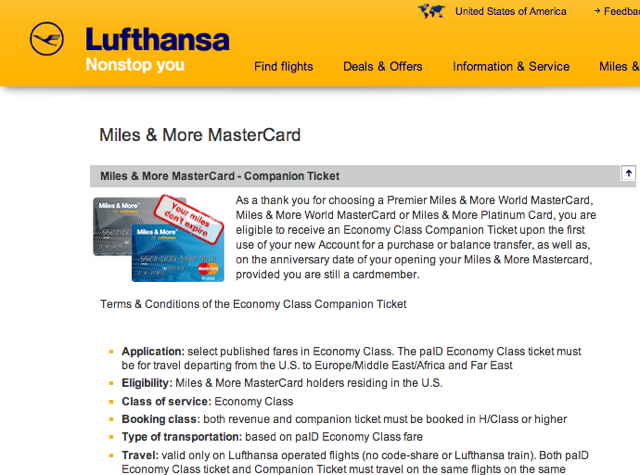 The Lufthansa Miles & More Card has a new companion ticket benefit, for both new cardholders and existing cardholders. But is it worth it? Here are the details:
Economy Class only, in H fare class or higher
Must pay taxes and fees on the companion ticket
Must depart from U.S. to Europe, Middle East, Africa or Far East
Not combinable with any other promotions, discounts or special fares
Almost Never a Good Deal, Due to Required Fare Class and Paying Tax on Companion Ticket
As I suspected, this is almost never going to be a good deal, compared to outright buying two tickets in Lufthansa Economy. For example, I picked a couple of dates in March 2015 for JFK-FRA-JFK where the lowest paid fare in Lufthansa Economy was $910 per ticket, total of $1820 for two. With the Lufthansa Miles & More companion ticket, the cardholder's fare was $1087 and the companion's taxes and fees were $708, for a total of $1795. This is just $25 lower, so not what I'd call a good deal.
I then tried a couple of dates in May 2014, again JFK-FRA-JFK in Lufthansa Economy, where the lowest nonstop paid fare was $1103 per person, total of $2206. In this case, the cardholder would pay $1678 and the companion would again pay $708 for taxes and fees, for a total of $2386, so the paid fares save you $180 over using the companion ticket.
Long Haul Companion Tickets Usually Not Worth It
In general, long haul companion ticket offers are NOT worth it, for one or more of these reasons:
Expensive Fare Class Required: Often you must purchase the first paid ticket in an expensive fare class, so you're not able to use the companion ticket with the lowest discount fare you see online. This is true with the AMEX Platinum Companion Ticket, which is usually not a good deal and will often cost you more than simply buying discount business or first class tickets outright.
Must Pay Taxes and Fees on the Companion Ticket: Having to pay taxes and fees on both tickets, including the companion ticket, also often drastically reduces the value of a companion ticket. This is what causes many folks to forego the British Airways Companion ticket, even though if you want to fly first class to Europe it can still be valuable, when planning far enough in advance. See British Airways Companion Ticket Worth it for Europe Award Travel?
Economy Ticket Only: The Alaska Visa used to be very popular for those going to Hawaii, because the companion ticket used to be valid for Alaska First Class. Now, of course this is domestic first class, so not that special, but still better over flying coach. Well, Alaska eliminated that benefit in 2012 (see Alaska Visa Companion Ticket: No First Class from August 1, 2012) which prompted many folks to get rid of the card, at least if that was the reason they were holding it.
But the new Miles & More companion ticket offer is not a real benefit, for most cardholders.
Instead of the current low bonus for the Miles & More card, I recommend the Barclays Arrival with a 40,000 Bonus, which as a cash back travel card gets you over $400 in free travel from the sign up bonus plus minimum spend. In fact, after the $3000 minimum spend, you'd have 46,000 miles (40K from the bonus + 6K from 2X on the $3000 min. spend), enough for a $460 statement credit when redeemed for travel–perfect for paying for fuel surcharges and taxes on award tickets.
Related Posts