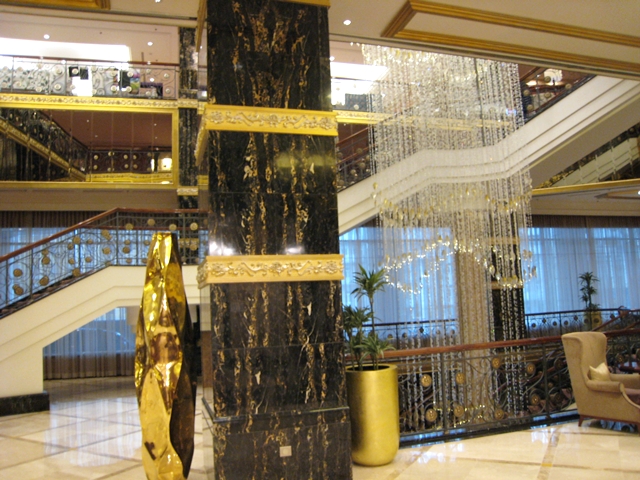 This Lotte Hotel Moscow Review is part of a trip report including First Class and Business Class to Moscow on Lufthansa, with reviews of luxury hotels and dining in Moscow and St. Petersburg, Russia.
For the prior posts, see:
Lufthansa First Class Award Booked 15 days in Advance
Lufthansa New First Class Review
Review: Lufthansa First Class Lounge in Munich
3-Year Russian Visa Application Requirements and Tips
Radisson Royal Moscow Hotel Review
The Lotte Hotel Moscow is consistently among the top rated Moscow hotels on Tripadvisor, and recently won the Conde Nast Traveler Readers' Choice Award for the Best City Hotel in Russia, a huge coup for a hotel that's only two years old and is competing against more established 5-star Moscow luxury hotels such as the Ritz-Carlton Moscow, Ararat Park Hyatt Moscow and others. The hotel is the first international hotel of the South Korean Lotte Group, and the final part of a Moscow project that includes a Lotte shopping center and business center.
Unlike most guests, I arrived by foot, since I'd stayed the previous night at the Radisson Royal Moscow which is just a 15 minute or so walk away. The location near the end of the Noviy Arbat isn't as ideal for tourists as the hotels closer to the Kremlin and Tverskaya, but it is a short walk from the old Arbat, a pedestrian street that can be fun to walk along. I was cheerfully greeted by the bell staff, who offered to help me with my small suitcase, but I declined, since I was traveling light. The lobby is a grand affair, although with a more modern flair than the classical grandeur of the Radisson Royal.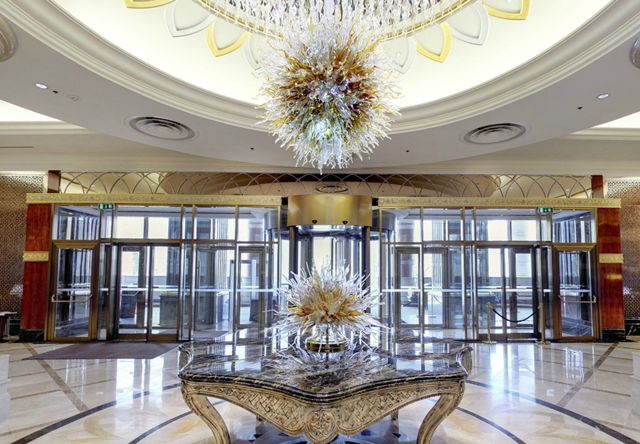 The reception staff were welcoming, with perfect English, and efficient. I was soon on my way to my Superior Room on the 9th floor. i couldn't help but notice the Swarovski crystals filling the handrails of the elevator: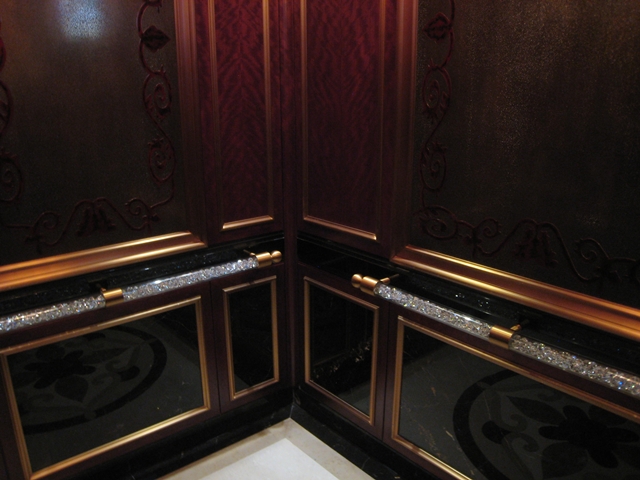 While the Lotte Moscow doesn't command the kind of views that the Ritz-Carlton does, it has created an attractive internal courtyard and atrium, lending a tranquil air and welcome greenery.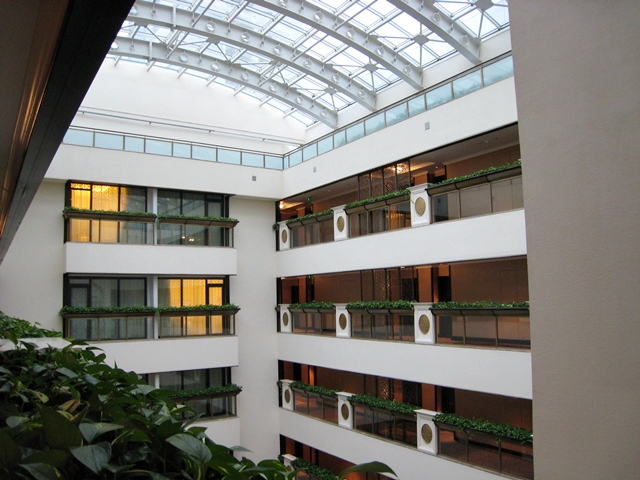 I entered my Superior Room, and immediately felt at home. The decor is not calculated to wow you, but rather soothe you, with its neutral palette and everything of the highest quality. I also loved the tall ceilings, which lent additional spaciousness and light to the room.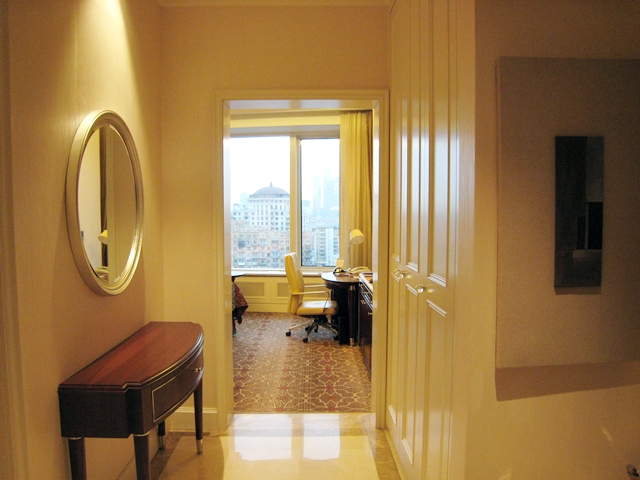 Superior Rooms are 516 square feet, with a king bed. I could have done without the bedspread (I prefer beds with duvets, but no bedspread) but most crucially it and the pillows were very comfortable.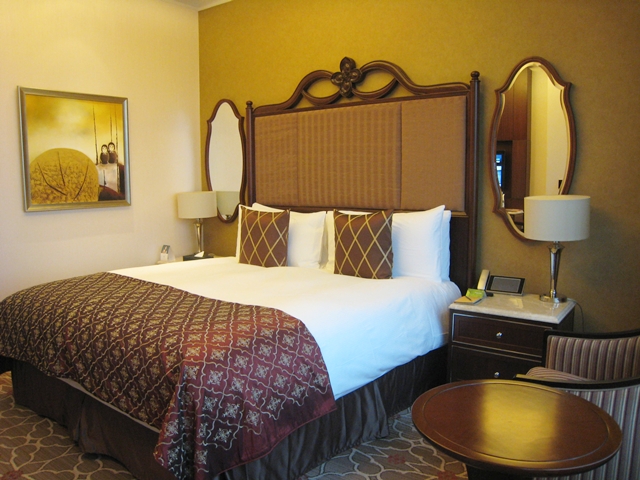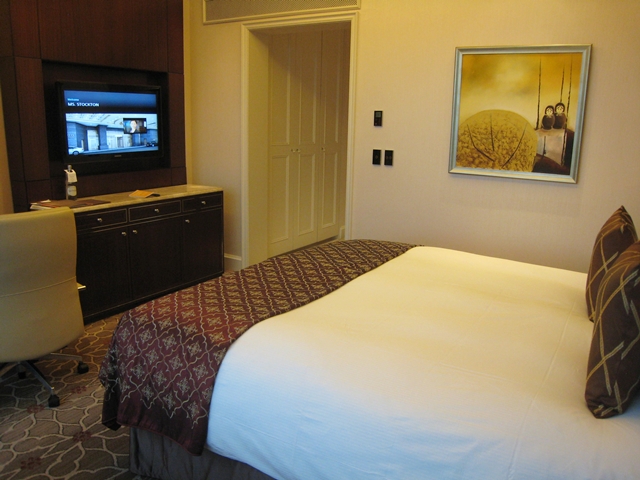 There's a desk, which isn't huge but is well equipped with office supplies–this reminded me of the Four Seasons Hong Kong, which was similarly well-equipped, reflecting both properties' great popularity with business travellers.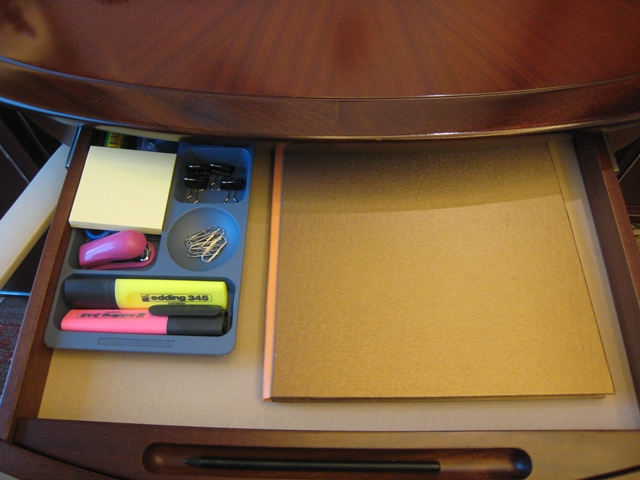 As mentioned, the view isn't that great, although at night it was interesting to be able to see the illuminated Radisson Royal that I'd just stayed at.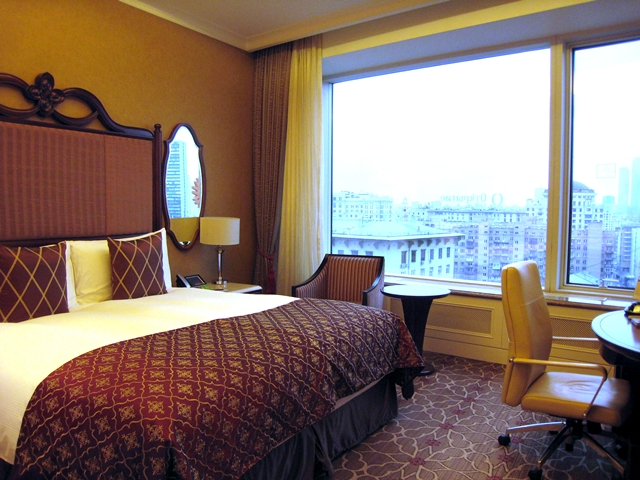 The bathroom is a highlight, with both the toilet and the shower and bath separated from the sink.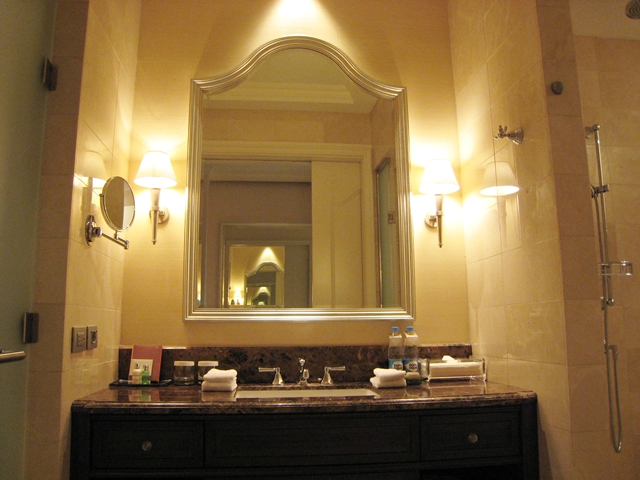 The Toto toilet is quintessentially Asian, with a heated toilet seat and various controls. I wouldn't be surprised if these are the first such toilets in Moscow hotels.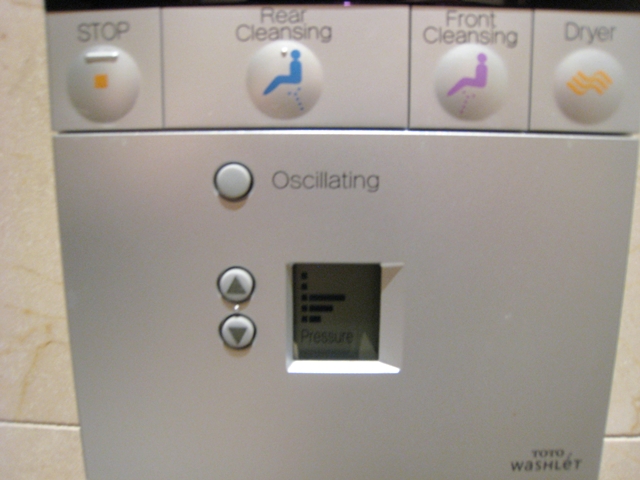 The marble soaking tub looked much nicer than the one at the Radisson Royal, and I still regret not having taking the time to have had a relaxing bath in it: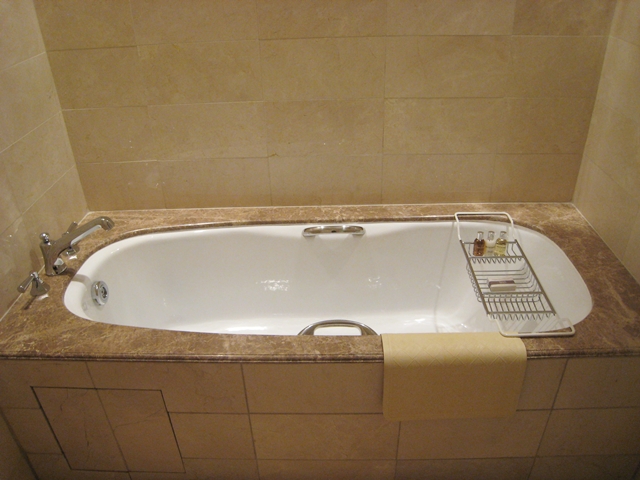 The shower offered both a rain shower and regular nozzle option, and water pressure was excellent.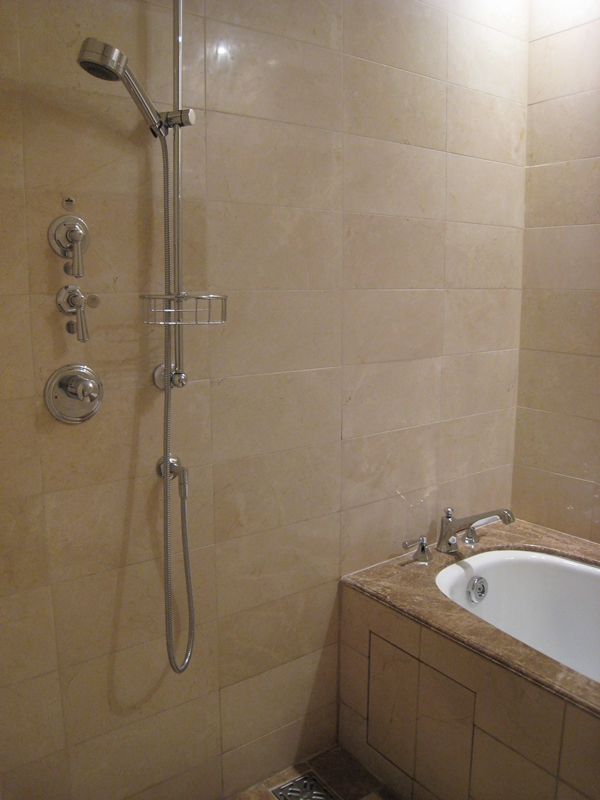 Bath amenities are Molton Brown, which I enjoy, although my personal preference is still for L'Occitane. There were also complimentary toothbrushes, razors, vanity kit, etc. available in a drawer: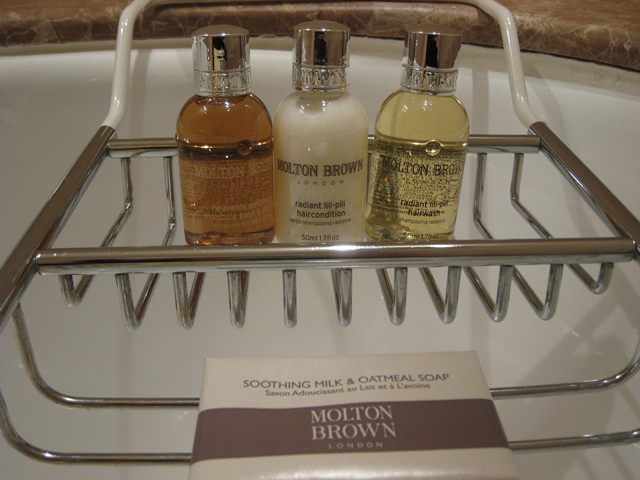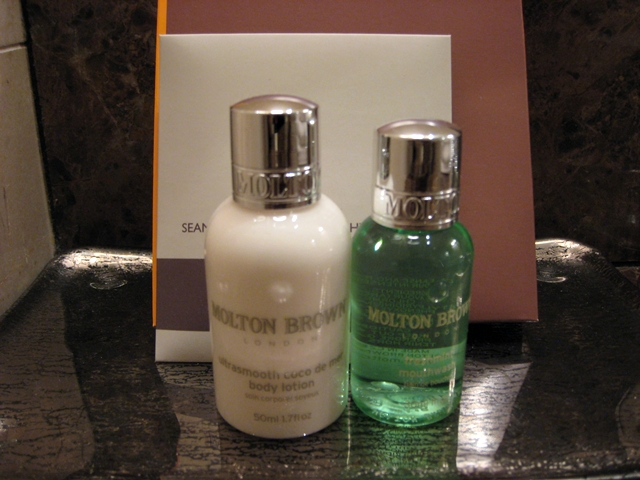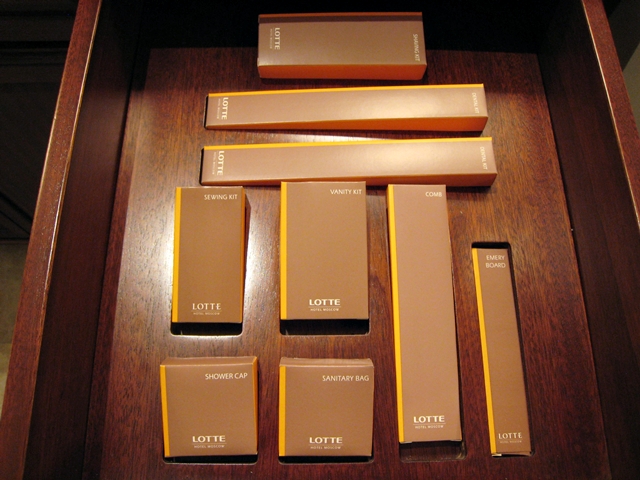 Bathrobes and slippers were in the closet, along with an umbrella and bag to borrow during your stay.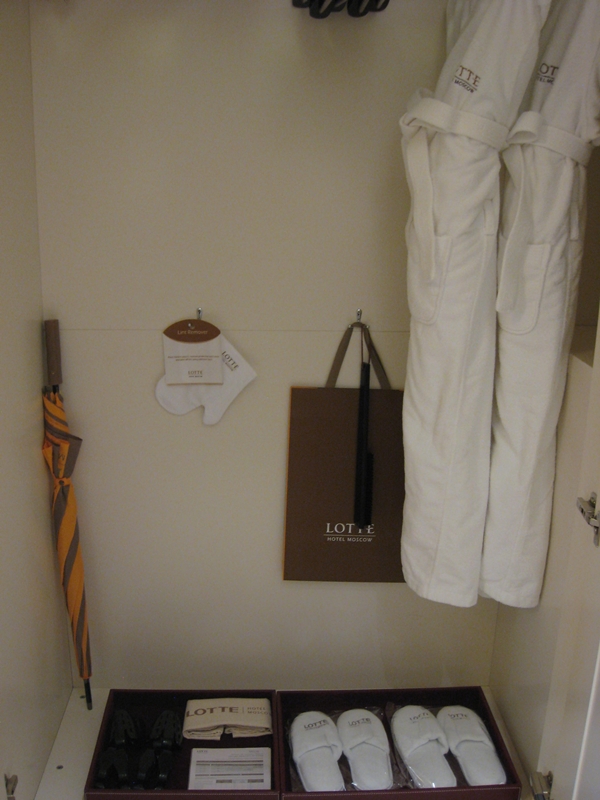 I was especially happy to see a tea kettle, since I always travel with my own tea, yet most 5-star hotels don't provide a kettle and instead you need to either order from room service or trouble the butler (at the St. Regis and similar properties). There was even a French press coffee maker, although who travels with coffee grounds?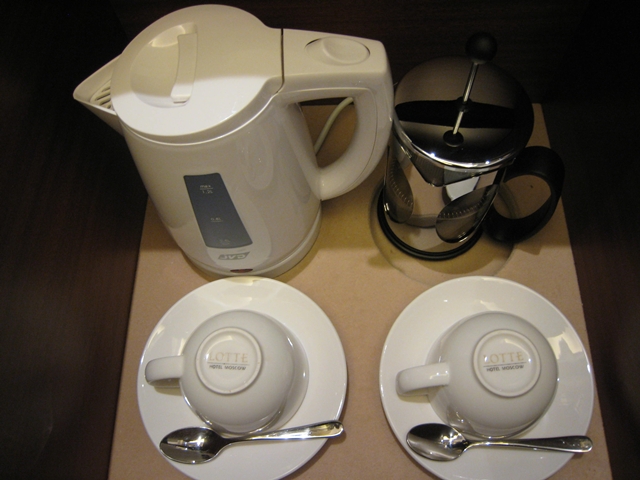 While working in my room, I was surprised to have a knock on my door, and this lovely fruit welcome amenity was brought in. Given the already wintery weather, I was thrilled that part of the selection included red currants and even an apricot: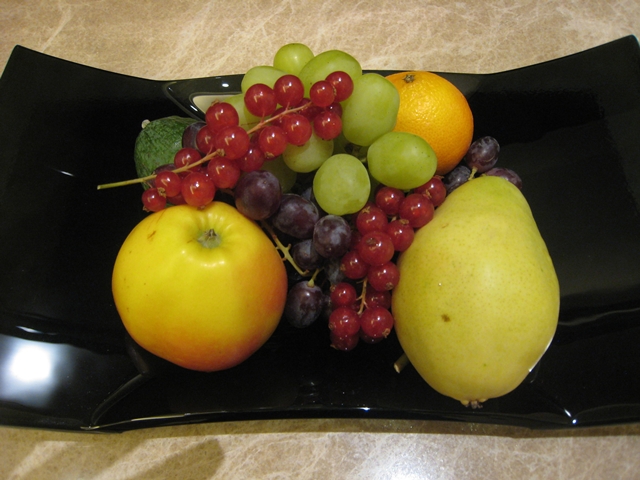 Although I was in a Superior Room, I also got a chance to see an Atrium Room, which is stylish and chic with black and white decor and a little Juliet balcony to the internal Atrium. Here's the sitting area: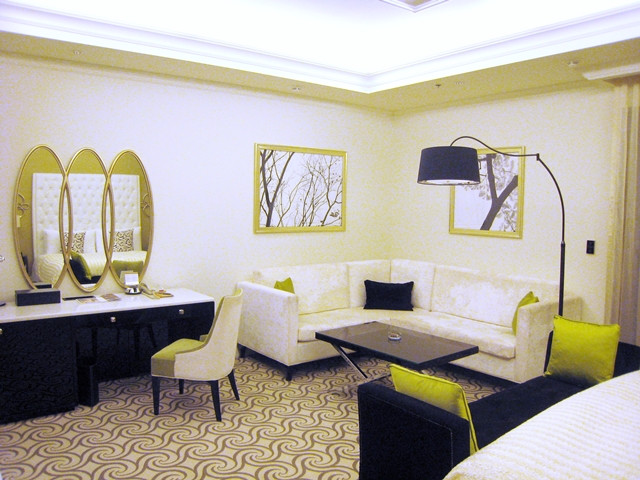 And the bathroom, with large round mirrors and a cool round soaking tub: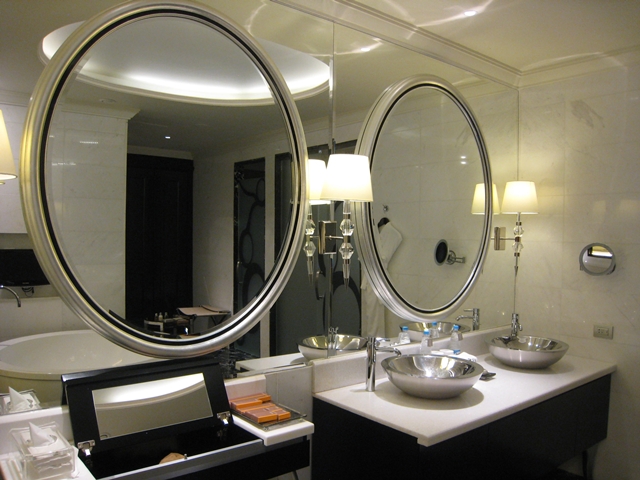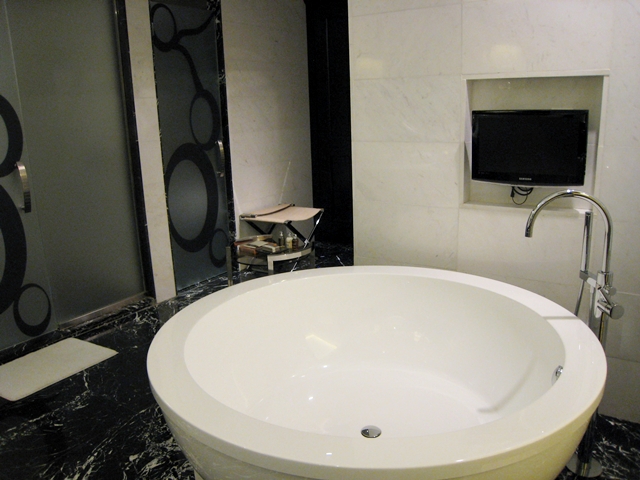 I also was able to view the Lotte Hotel Moscow's Royal Suite. If you want to stay in Moscow's largest suite, at 5274 square feet (490 square meters) this is the place! It even includes a separate room and bathroom for your bodyguard or assistant 🙂
Here's the bedroom, which, along with all other rooms in the Royal Suite, is protected by bulletproof glass: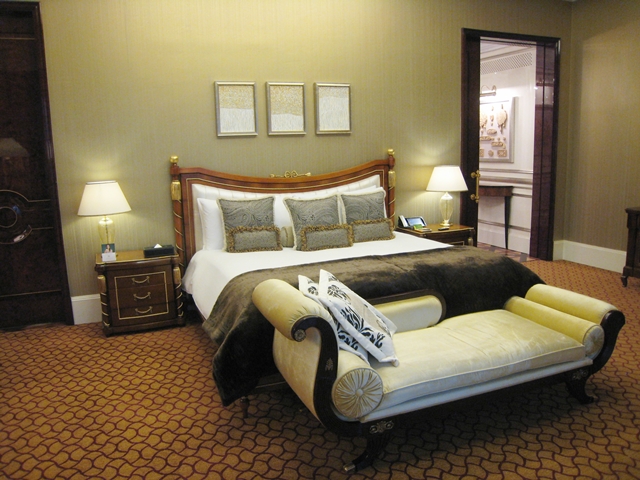 The huge walk-in closet would fit a small cocktail reception: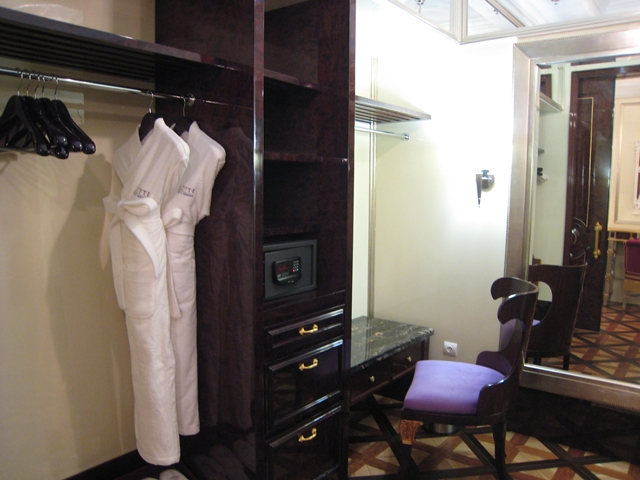 In the expansive bathroom, you can enjoy a whirlpool jacuzzi bath: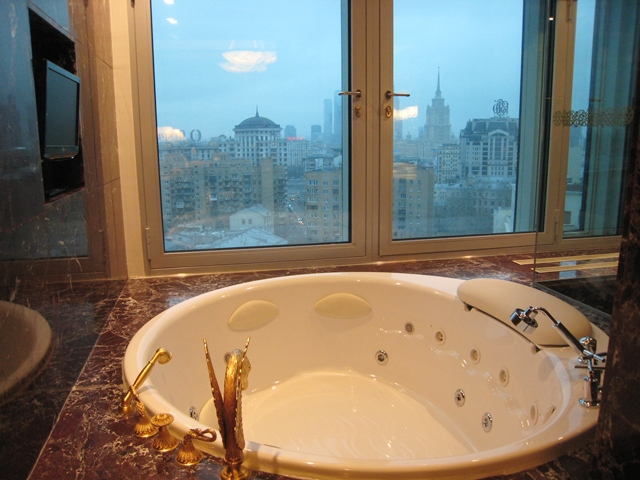 Or even treat yourself to the private sauna: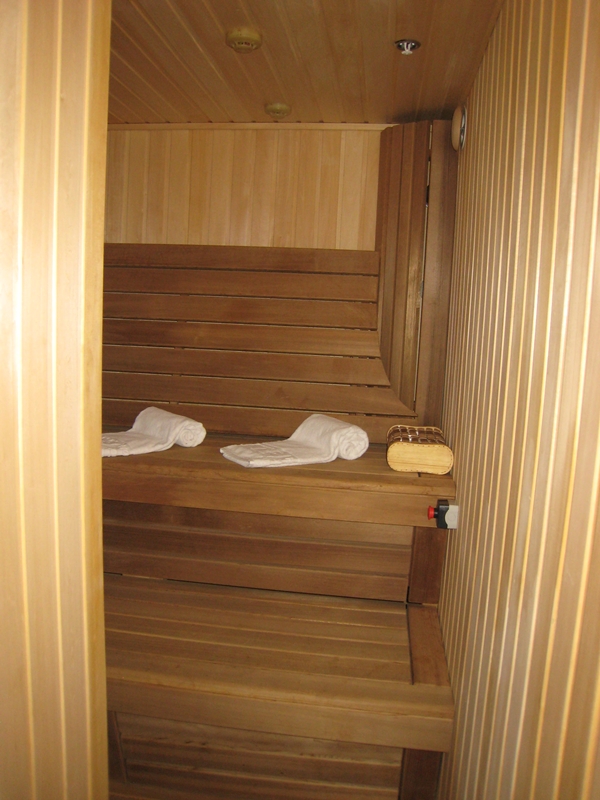 There's a study with an elegant work desk: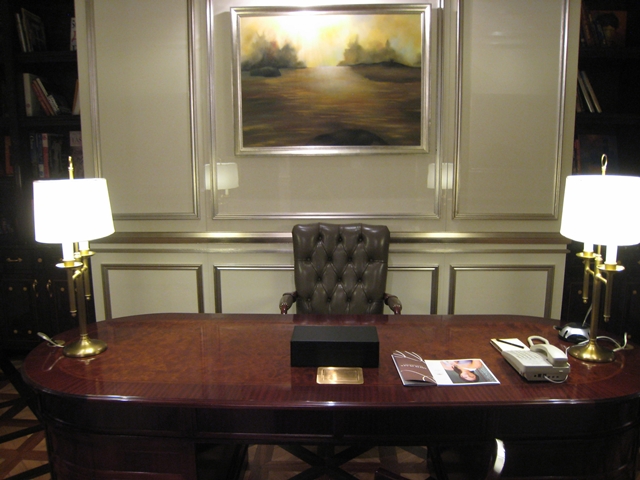 And the drawing room would be perfect for an evening soiree, with its Bechstein piano and perhaps passed hors d'oeuvres (there's a kitchen for caterers to use):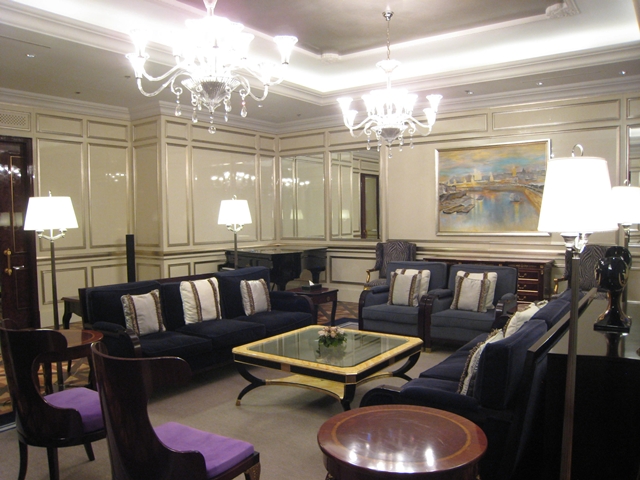 The formal dining room seats 14, and is apparently also popular with certain companies for board meetings, and with certain Middle Eastern embassies.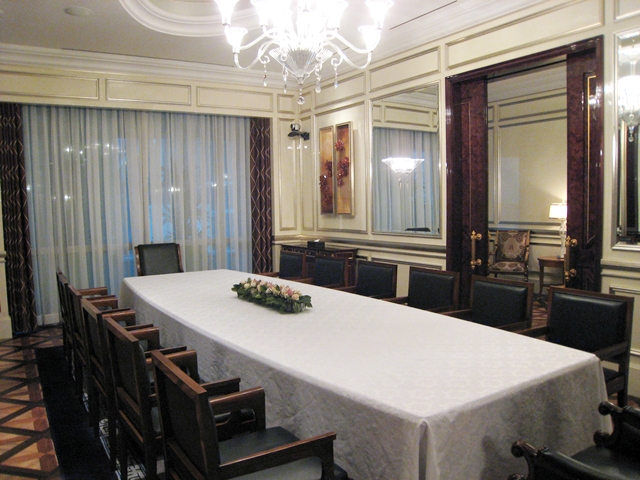 Mandara Spa is one of the top Moscow spas, although unfortunately I didn't have time to try it. Apparently treatments start with a foot washing ritual, and there's also a private shower in each treatment room.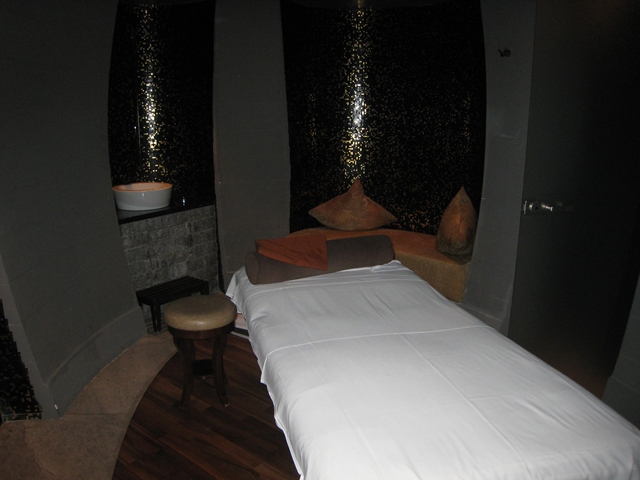 The pool here is of course smaller than the Radisson Royal, but also much cooler looking with its atmospheric lighting.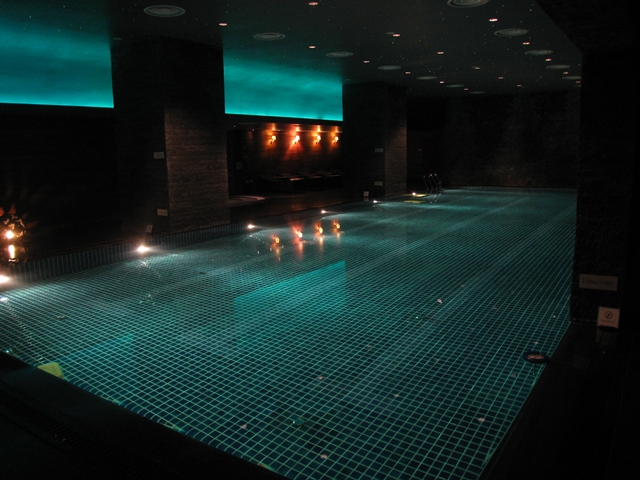 I noticed that the jacuzzi, though, as at the Radisson Royal, wasn't that hot. Perhaps Russians prefer a cooler temperature, but I would definitely prefer a hotter jacuzzi.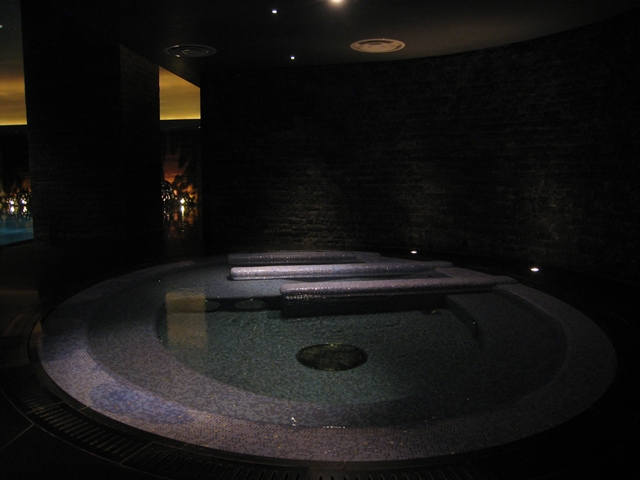 The fitness center was large and looked very well equipped: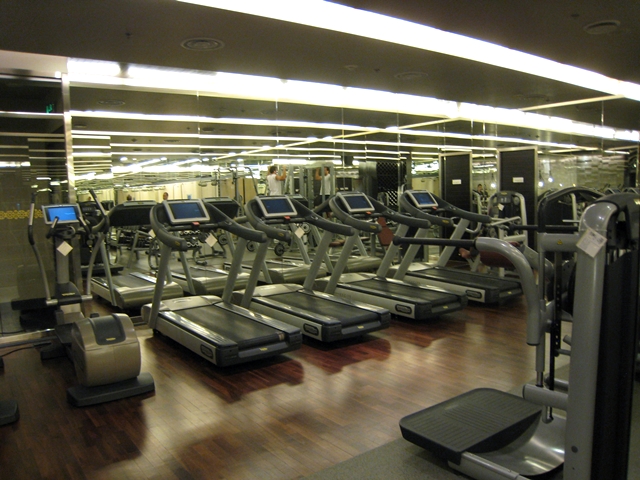 I had both dinner and a lavish breakfast buffet at Les Menus par Pierre Gagnaire, which I'll cover in a separate review.
When I left, I initially asked the bell boy for help with a taxi, but the prices were so outrageous for both the taxis lined up at the hotel and one he flagged on the street that he instead helpfully suggested the closest metro station, Smolenskaya, and that was definitely the best option. Taxis obviously know how expensive the hotel is and gouge accordingly, and traffic is often so bad you'll get there faster by subway anyway.
The Verdict: The Lotte Moscow offers some of the most well appointed and comfortable rooms in Moscow. While at the Radisson Royal I was more impressed with the hotel's public areas (the lobby, the diorama, the enormous swimming pool) and less impressed with the room itself, at the Lotte it was the reverse–my room itself was the highlight, which I in fact prefer, since it's where I spend more time anyway. I wish all 5-star hotels would offer complimentary WiFi and a tea kettle, as the Lotte Moscow does, and have thought of all the little details such as toothbrushes, razors, mouthwash, and even office supplies. And this was an entry-level room–I'll be posting photos soon of an Atrium Room and the Royal Suite, which are even more impressive.
Service from the front desk and bell boys was friendly and excellent. The only service hiccup I had was when I requested a reservation from the Concierge, who promised a call back but didn't call me back. I called back, and got a different Concierge (so perhaps there was a shift change) and she apologized for her colleague and immediately secured the reservation I sought. In short, the only thing I really missed compared to the Ritz-Carlton Moscow, where I've also stayed, was a great view of the Kremlin. But you could easily stay at the Lotte and have a drink at some point at O2 Lounge for that view.
Prices for an entry level room at the Lotte are often better than at the Ritz-Carlton Moscow and Ararat Park Hyatt, so if you're not on an award stay and are paying (or your employer is paying) for a 5-star hotel in Moscow, I'd highly recommend the Lotte Hotel Moscow, as it offers better value.
If you've stayed at Lotte Hotel Moscow, what was your experience?
Disclosure: I was a guest of the Lotte Hotel Moscow, however the views expressed in this post are my own.
Related Posts
Top Luxury Hotels in Moscow, Russia
Radisson Royal Moscow Hotel Review
The Most Beautiful Subway Stations in the World
Need Award Booking Help? Our fee is as low as $75 per ticket if you book your hotel through us.
If you enjoyed this, join 100,000+ readers: please follow TravelSort on Twitter or like us on Facebook to be alerted to new posts.
Become a TravelSort Client and Book 5-Star Hotels with Virtuoso or Four Seasons Preferred Partner Amenities!