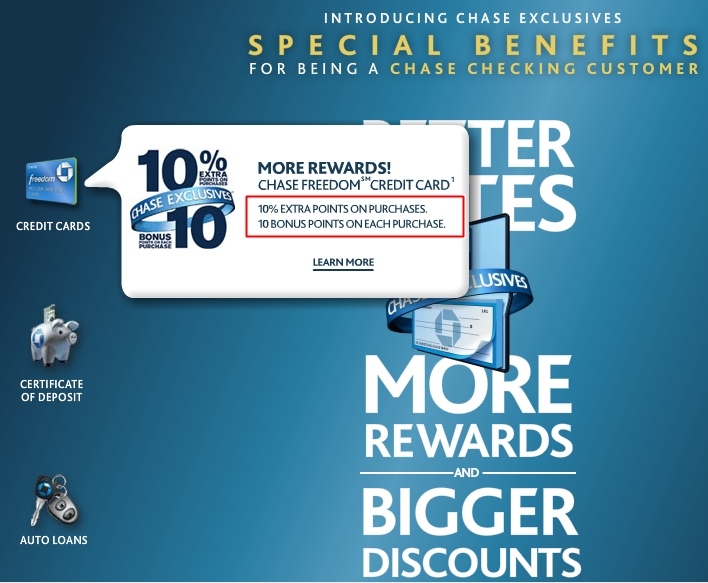 11/8 Update: Our Chase banker has confirmed that the Freedom Exclusives program is ending 11/11/12, and only those with an existing Chase Freedom card and Chase checking account as of 11/10/12 will be grandfathered in. So if you were recently approved for the Freedom and also have a Chase checking account, consider sending a secure message to confirm that you'll be grandfathered into Chase Exclusives.
Apply: Chase Freedom Visa
Apply: Chase Freedom MasterCard
TravelSort reader James asks: "I just got the Chase Freedom through your link, and already had a Chase checking account before I applied. Do I have to do anything else to link them to get the Chase Exclusives bonuses?"
First, thanks for your support James! Glad you were able to get approved for the Freedom before Chase eliminates the Chase Exclusives program sometime in November, and also in time to activate your 5X bonus for airline, hotel, Best Buy and Kohl's spend before the December 14 deadline. It's great to be able to get the additional 10% bonus points on base spend + 10 bonus points per transactions, especially if you frequently have small transactions such as small retail purchases, parking meter, vending machine etc. spend. For purchases $2 and under you'll even do better with the Freedom + Chase Exclusives than with the AMEX Bluebird or AMEX Prepaid.
Since you already had a checking account when applying for the Chase Freedom, you'll automatically be enrolled for Chase Exclusives BUT it typically takes 1-2 billing cycles for the extra bonus points to be reflected. You will get the bonus Exclusives points dating back to when you first started using your Freedom card, however. Based on recent reports, there doesn't currently seem to be a way to expedite the Exclusives bonuses to get them to show up sooner on your statement.
Even for those that apply for a checking account after getting the Chase Freedom, the accounts will eventually be linked and you'll be enrolled in Chase Exclusives, although it may take longer, such as 3 billing cycles.
The good thing is that by getting approved now, you'll be grandfathered into Chase Exclusives, even with delay in reflecting the bonuses on your statement. Someone on DDF (see Reply #12) is reporting that their Chase personal banker told them that those getting approved for the Chase Freedom after November 11 won't be eligible for Chase Exclusives, but if you got approved prior to then (and have a Chase checking account) you'll keep your Chase Exclusives bonuses.
You can view your Chase Exclusives bonuses by logging into Ultimate Rewards, selecting your Freedom card (if you have multiple cards linked to Ultimate Rewards), then going to "Rewards Activity" and selecting "Statement Summaries" from the dropdown. Note that while the Exclusives bonuses reflect recent spend, but the 5% category bonuses are delayed by a statement or two, so don't expect that line item to match up to your recent spend.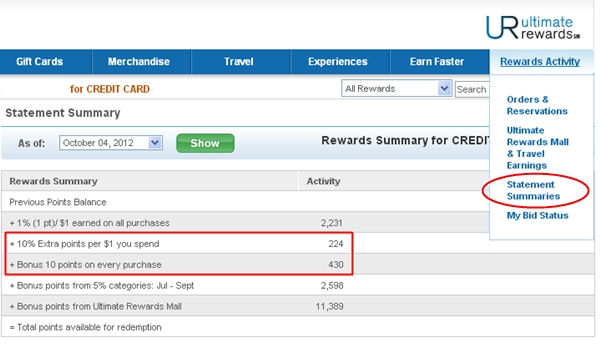 In case you later need a copy of the relevant Chase Exclusives terms, here are the current terms describing the Exclusives bonuses. Click on the image to enlarge:

Don't forget that you do need the Sapphire Preferred, Ink Bold or Ink Plus to be able to transfer Freedom points out to Ultimate Rewards partners such as United, Hyatt, Korean Air, etc. Since the Freedom has a low minimum spend of $500 to get the 10,000 point bonus, you could pair it with the Ink Bold or Ink Plus, which you may want to get if you don't have them already to take advantage of Bluebird if you have access to Vanilla refills, or of gift cards such as Amazon to get 5X on more of your regular spend.
Other good options to pair with a Chase Freedom application. I'd recommend applying for just 1 additional Chase card at the same time as the Freedom, and applying for other credt cards from other issuers.
Do you have or plan to take advantage of Chase Freedom with Chase Exclusives?
Related Links:
Get Chase Freedom Exclusives Bonuses While You Still Can
Chase Exclusives Bonuses: Maximize Chase Freedom Ultimate Rewards
Chase Freedom: Activate 5X Points for Airlines and Hotels
Check out and apply for the Best Travel Credit Cards.
If you enjoyed this, please follow TravelSort on Twitter or like us on Facebook to be alerted to new posts.
Become a Member to find your perfect luxury or boutique hotel at up to 50% off: TravelSort Hotels