This Les Menus par Pierre Gagnaire at Lotte Hotel Moscow Restaurant Review is part of a trip report including First Class and Business Class to Moscow on Lufthansa, with reviews of luxury hotels and dining in Moscow and St. Petersburg, Russia.
For the prior posts, see:
Lufthansa First Class Award Booked 15 days in Advance
Lufthansa New First Class Review
Review: Lufthansa First Class Lounge in Munich
3-Year Russian Visa Application Requirements and Tips
Radisson Royal Moscow Hotel Review
8 Things to Eat in Moscow, Russia
Les Menus par Pierre Gagnaire at the Lotte Hotel Moscow is the first restaurant anywhere in Russia by a 3 Michelin star chef, somewhat surprisingly. I say surprisingly for good reason–Moscow has the most billionaires of any city in the world, and in general there's a ton of discretionary income for dining, travel, luxury cars, etc. in Moscow. Don't believe me? Check out this Forbes article. Moreover, imperial Russian cuisine is highly influenced by French culinary traditions.
To my chagrin, even though I had a stay at the Lotte Hotel Moscow booked, I neglected to book a table at Les Menus prior to my arrival. And once at the Lotte Moscow, I found out that it was the final night of Pierre Gagnaire's visit, and the restaurant was seemingly booked out. I was kicking myself for not having planned ahead a bit more, but decided to try the concierge anyway to see if s/he could work a miracle and procure a reservation. And amazingly, the second concierge I spoke with was able to get me the very last table-yay!
There's little nicer than being able to just take the elevator down a few floors to world class dining, rather than either having to venture out for great food or being stuck with something mediocre on-property. Here's the entrance to Les Menus par Pierre Gagnaire, on the Lotte Hotel Moscow's second floor: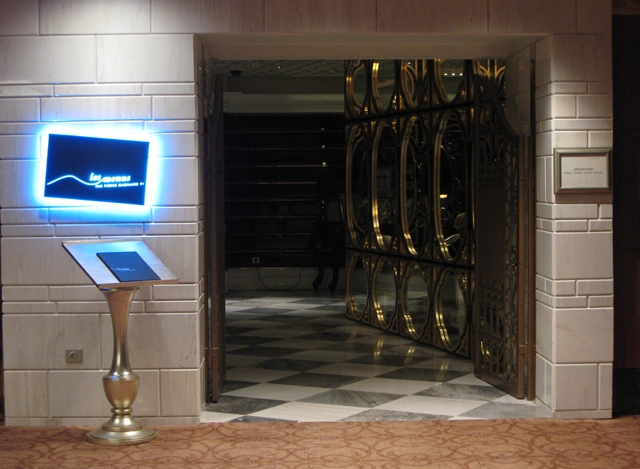 I was greeted by the hostess, who led me to my table. The concierge had warned me I was at a table near the kitchen, but I didn't mind. Lighting was romantically dim, but not so dim that one couldn't read the menu that my server provided: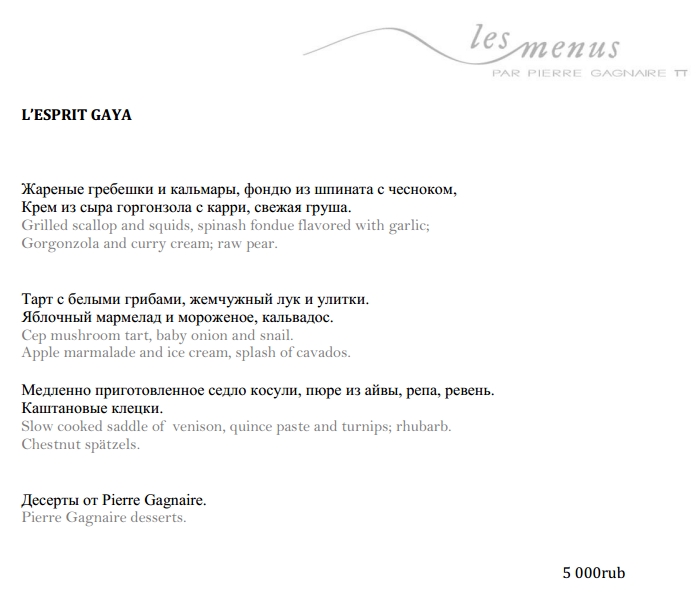 The mood was further enhanced by live piano music, again at the perfect volume, which didn't intrude upon conversation. You can see the pianist to the left: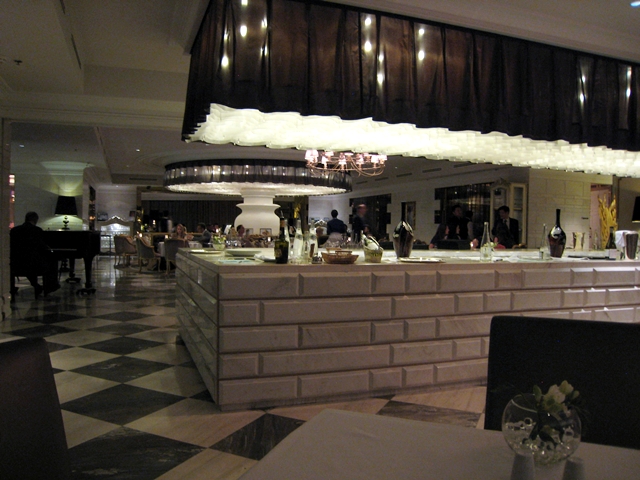 There were two special prix fixe menus offered for Pierre Gagnaire's visit, a 7 course L'Esprit Balzac menu for 10,000 Rubles and a 4 course L'Esprit Gaya menu for 5000 Rubles. I opted for the 4 course menu, since I wanted to be able to get to bed not too late and the key courses I wanted to try were on the 4 course menu.
Even before the first course, my server arrived with a trio of amuses bouches, as well as flatbread and hummus and smoky eggplant dip. The squid ink creme fraiche amuse that looks a bit like an oreo cookie was especially delicious, as was the eggplant dip, which would be a bit incongruous for a more traditional French restaurant. But then again, Pierre Gagnaire is known for eclectic, truly innovative cuisine that draws from many other culinary traditions in addition to French, so in that light, not incongruous at all.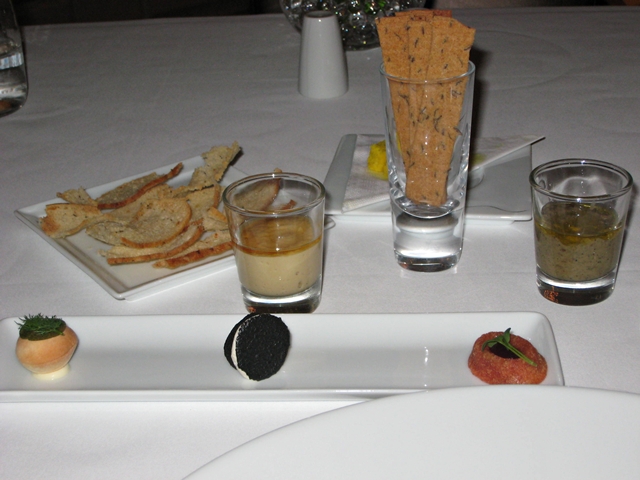 There were several breads provided, and I applaud offering a little of each so you didn't have to choose. It was perhaps the weakest of the food offerings, at least compared to the wonderfully butter rolls at Eleven Madison Park or the bread cart at Bouley, but it's also not a true course, and if there had to be a slight weakness, I'd prefer the bread rather than an actual menu course.
While I had my doubts about pairing grilled scallops and calamari with gorgonzola curry cream, the first course couldn't have been more sublime. The seafood was cooked perfectly, and stood up well to the gorgonzola curry cream sauce and spinach. I would never ever have thought of this combination but wish I could replicate it at home.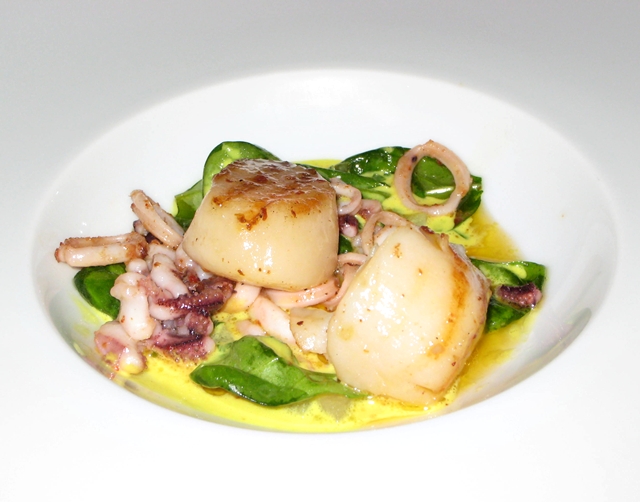 The second course was a savory porcini escargot tart, with a side dish of apple puree and apple sorbet with a tableside splash of Calvados. I can't decide whether the first course or second course was my favorite, given how delicious this was. I would happily have made a main course of this, with the meaty wild porcini mushrooms (cepes in French) perfectly complemented by the garlicky escargot, and the refreshing apple puree and sorbet on the side.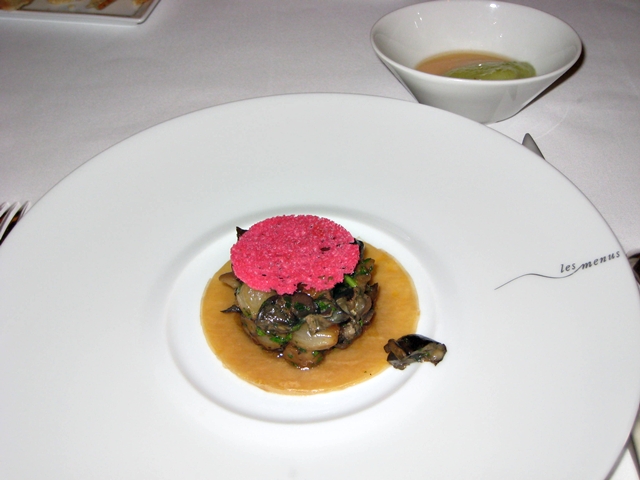 The third course was certainly no slouch either: Saddle of Venison with quince paste, turnips and a side of chestnut spaeztle. I'm a huge fan of spaetzle, traditional German dumplings, and chestnut is one of my favorite fall flavors, and I definitely prefer venison to beef as well, so this was a delicious if more straightforward dish, compared to the prior two.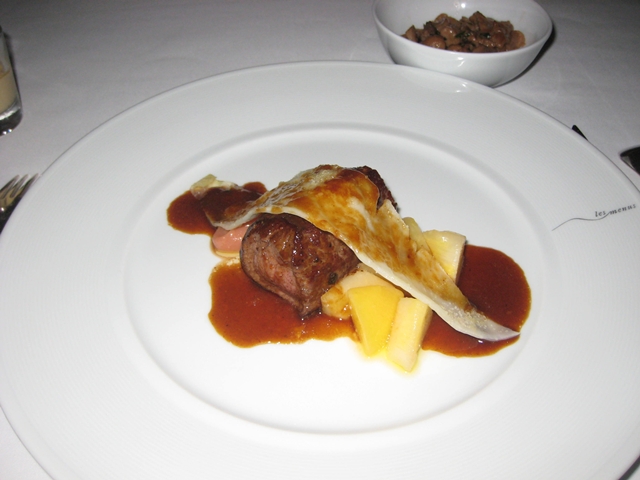 A true highlight around the time of the third course was that Pierre Gagnaire himself appeared in the dining room and spent time talking with many of the guests, including yours truly, and even graciously agreed to a photo!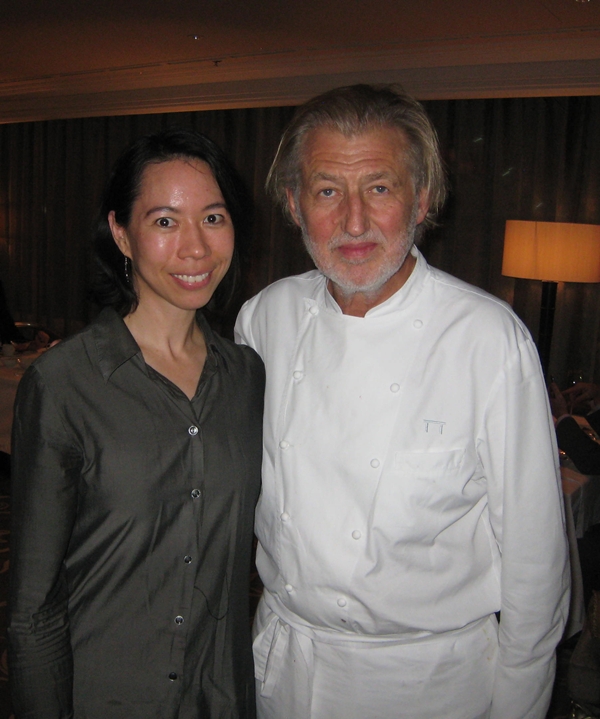 Dessert in my view was the weakest of the four courses, but that's also because as TravelSort readers know, I'm a dessert fiend. There was a trio of desserts, a mandarin orange one, a chocolate black currant one, and a black raspberry cream. I didn't care for the mandarin orange one at all, but I liked the pairing of chocolate and black currants, a more sophisticated take on a favorite Russian pastry. My favorite, however, was the simplest–black raspberry cream so intense in flavor I initially thought it also contained black currant. I would have preferred a slightly larger portion of this instead of the mandarin orange dessert.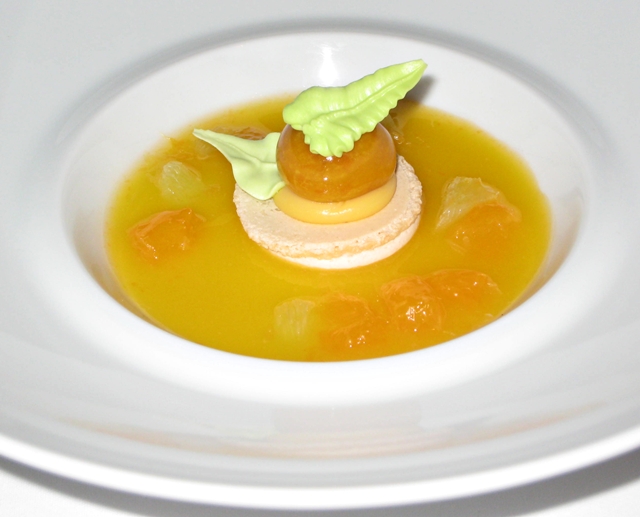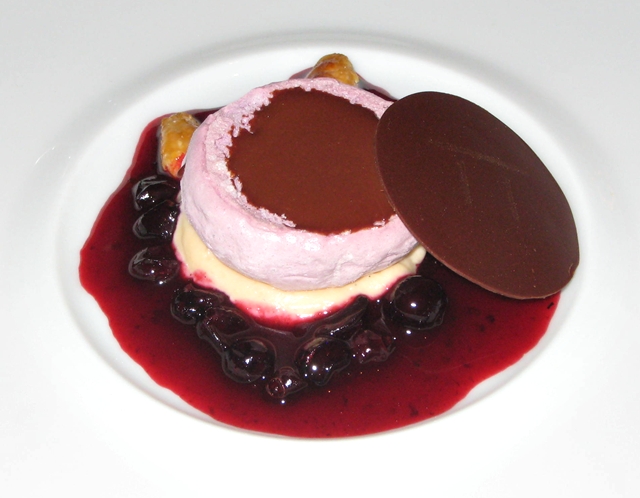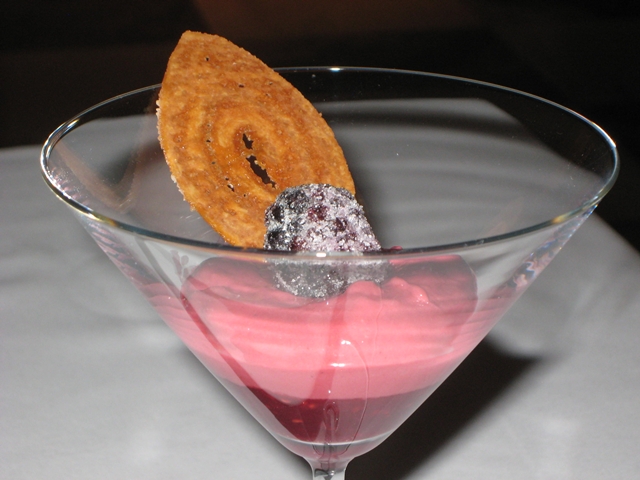 Mignardises were pleasant last sweet chocolate touch: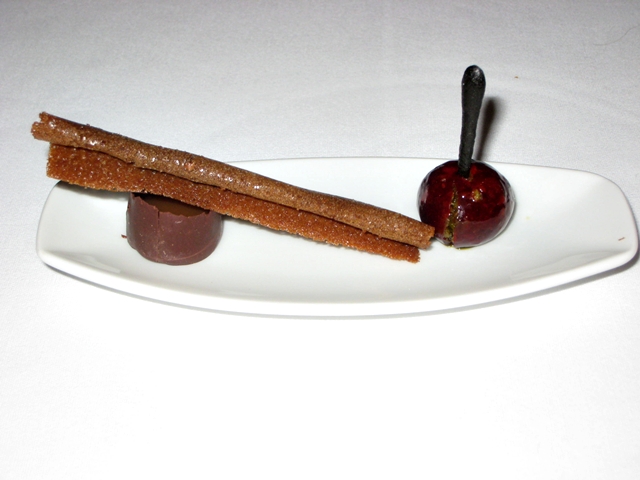 The verdict: As I said to the Maitre D' upon leaving, I truly wish this restaurant was in NYC. Normally there's an a la carte menu in addition to the tasting menu, and I know my husband and I would go regularly for that and to enjoy the live piano music. Our former favorite, Eleven Madison Park, is now only serving a 16 course tasting menu for both lunch and dinner at about $200 each, which just isn't feasible budget or time-wise for us 99% of the time. Sure, the service isn't quite as polished as, say, Eleven Madison Park or Per Se, but still very good and of course multilingual as well–Russian and English is spoken by all, and the Maitre D' speaks French as well as English. But most importantly, at least the courses I experienced, were absolutely delicious and innovative without straying into weird molecular gastronomy. While I was fortunate enough to be a guest, I would have very willingly paid the 5000 RUR (~$167) for this level of meal and service. The best card to use for dining in Moscow is the Sapphire Preferred for 2.14X per dollar spent.
Disclosure: I was a guest of the Lotte Hotel Moscow and Les Menus par Pierre Gagnaire, however the views expressed in this post are my own.
Related Posts
8 Things to Eat in Moscow, Russia
Top Luxury Hotels in Moscow, Russia
Need Award Booking Help? Our fee is as low as $75 per ticket if you book your hotel through us.
If you enjoyed this, join 100,000+ readers: please follow TravelSort on Twitter or like us on Facebook to be alerted to new posts.
Become a TravelSort Client and Book 5-Star Hotels with Virtuoso or Four Seasons Preferred Partner Amenities!