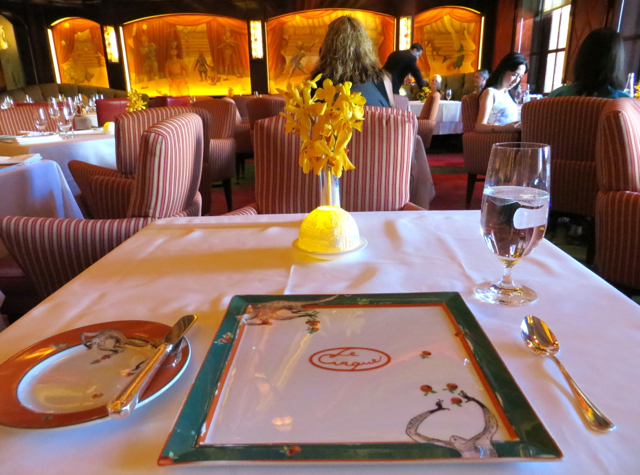 This Le Cirque at The Bellagio Las Vegas restaurant review is part of a Las Vegas trip report for Virtuoso Travel Week. For the prior posts please see:
Bellagio Las Vegas Hotel Review: Virtuoso Benefits and Hyatt Points
The Buffet at the Bellagio Review: Breakfast and Brunch Buffet
Virtuoso Travel Week Explained and Why Use a Luxury Travel Advisor
Four Seasons Las Vegas Hotel Review
Todd English's Olives at The Bellagio Las Vegas Restaurant Review
Le Cirque is one of The Bellagio's five fine dining restaurants, which also include Jasmine, Michael Mina, Picasso and Prime Steakhouse. I'd heard good things about Le Cirque, so was looking forward to dinner there. I made a 6pm reservation via Open Table in order to have the option to select the $72 pre-theater menu, which is available nightly 5:30pm-6:15pm.
I got there a few minutes after 6pm, and was politely shown to my table. Le Cirque is quite formal and more hushed than many of the top tables in NYC, but while initially a bit self conscious as a solo diner, it soon wore off as the servers and sommelier made friendly conversation with me and other guests.
My server initially brought me the regular menu, but when I expressed interest in the pre-theater menu, he quickly checked with the kitchen that it was still possible, as it was about 6:15pm, and once confirmed, invited me to order from it. He took my appetizer and entee selections, but not dessert, since it's possible to choose this later.
I was offered bread from a selection of 3 different kinds:
The amuse bouche was cucumber with housemade yogurt and a bit of smoked salmon. Frankly I would have expected something a bit more interesting–it was nice enough to look at, but primarily yogurt and just not that impressive or memorable:
What was more memorable was the piping hot, housemade Parker House Roll. I love fresh bread, and even if this was a bit incongruous as a homey American style roll in a French restaurant, it was very welcome:
I had ordered the Kobe Beef Steak Tartare on the server's recommendation. It was nicely presented and flavorful, but perhaps because I'm not a connoisseur of steak tartare and don't care for foam even as a garnish, I wasn't that impressed and wished I'd ordered the escargots instead.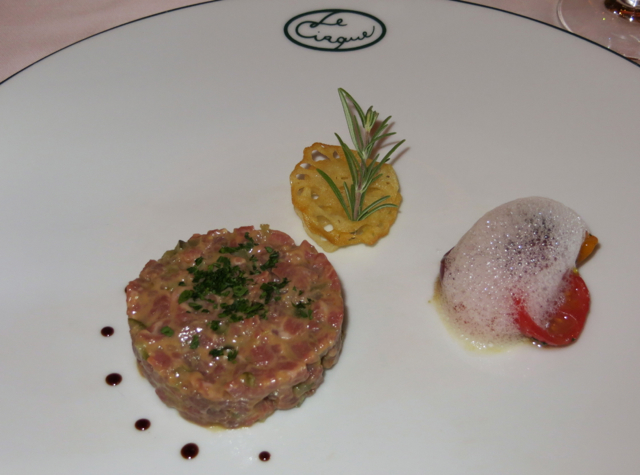 For an entree, the Filet de Loup de Mer (Paupiette of Sea Bass with Crispy Potato, Leeks and Pinot Noir Reduction) was again recommended. It was enjoyable, but personally I think a perfectly cooked filet of sea bass that wasn't encased in potato would have been preferable. I will say that the Pinot Noir reduction was delicious however–I would never have expected sea bass to go well with a red wine preparation of any kind, but in this case, with the crispy potatoes and leeks, it worked very well.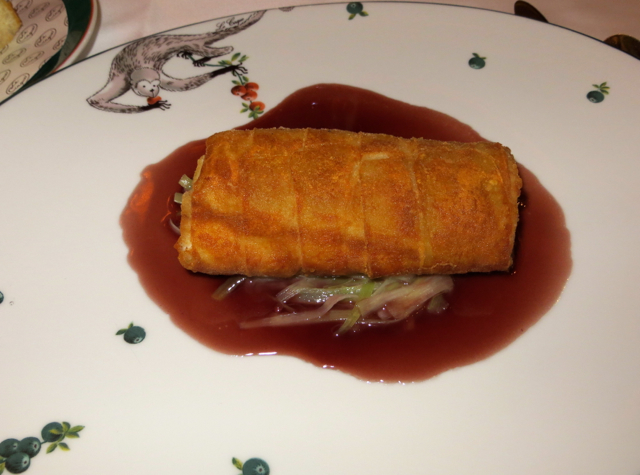 While until this point the highlight had been the Parker House Roll, the meal was about to take a turn for the better. Here is the dessert menu, which I would happily make a meal of if I ever return: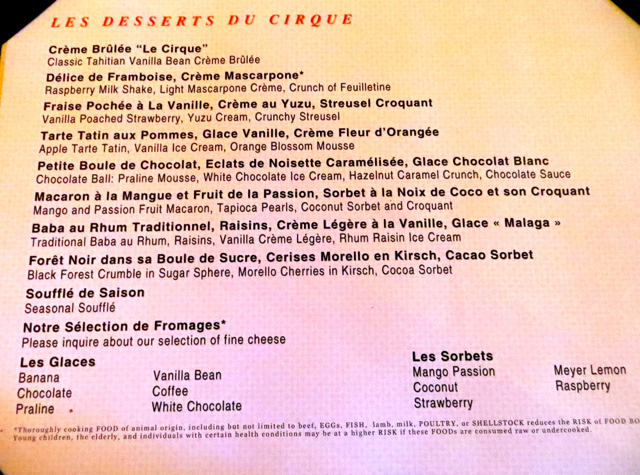 I asked my server which he would choose, the Petite Boule de Chocolat or the… and I didn't even finish, since he smiled and said he would choose the Petite Boule de Chocolat. When it came, I unfortunately missed taking a photo of the glossy intact boule, but as dark chocolate sauce was poured over it, it opened up to reveal praline cream and ice cream. Easily one of the most delicious chocolate desserts I've ever had, and a nice tableside presentation.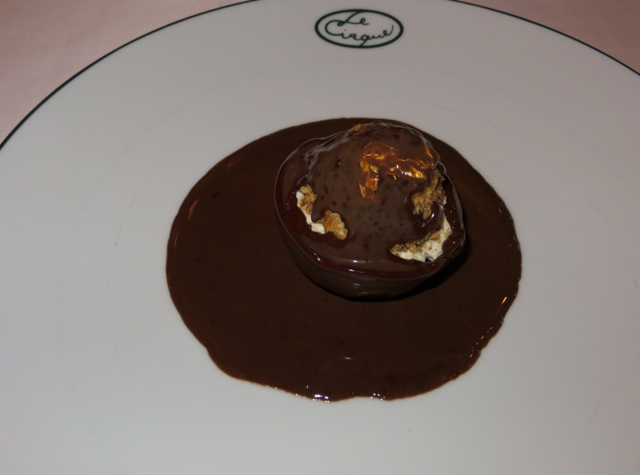 The Verdict: While most of the meal did not impress, I'd go back to Le Cirque for the Chocolate Boule dessert alone–and would love to try the other desserts there as well. It's also possible that entrees and appetizers from the regular menu are more impressive than what I ordered from the Pre-Theater menu. Service was polished throughout, if a bit more formal than I normally care for.
Related Posts
Bellagio Las Vegas Hotel Review: Virtuoso Benefits and Hyatt Points
The Buffet at the Bellagio Review: Breakfast and Brunch Buffet
Virtuoso Travel Week Explained and Why Use a Luxury Travel Advisor
Need Award Booking Help? Our fee is as low as $75 per ticket if you book your hotel through us.
If you enjoyed this, join 90,000+ readers: please follow TravelSort on Twitter or like us on Facebook to be alerted to new posts.
Become a TravelSort Client and Book The Bellagio with Virtuoso Amenities!