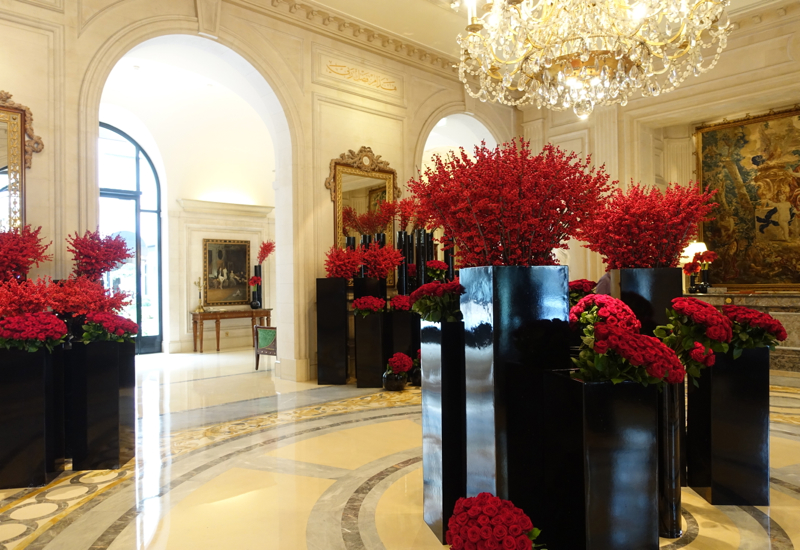 This review of Le Cinq Restaurant at Four Seasons Paris is from a recent stop for a few hours in Paris, after arriving via American Airlines Business Class.
Le Cinq at Four Seasons Paris Location
Le Cinq is the 2 Michelin Star restaurant at Four Seasons George V Paris, located at 31 Avenue Georges V, just off the Champs Elysees (closest Metro Station: George V). We previously enjoyed a fantastic stay at the Four Seasons Paris, and it's where many of my honeymoon clients prefer to stay while in Paris. We've also savored exceptional meals twice before at Le Cinq, so I was curious to see the work of new chef Christian Le Squer.
Even before walking into Le Cinq, it's worth literally taking the time to smell the roses, given the stunning flower displays by Jeff Leatham, which were a romantic red at the time of our visit.
The Vibe
We were at Le Cinq for a decadent lunch on a Saturday, so unlike during the week, when you might see some business lunches, during our visit there were primarily couples and a couple of small family groups.
My son was the only child, but everyone from the Maitre D' to our servers couldn't have been more welcoming and friendly to him, which I appreciated. I was also grateful that they didn't insist on a suit jacket for him, which is normally required for all men. If you've forgotten one, however, the restaurant will typically lend you one for your meal.
It's a peaceful setting, so while I was comfortable bringing my 7 year old, since he loves food and often eats close to adult sized portions, I wouldn't bring a toddler or picky child here who might be bored and/or too loud for the environment.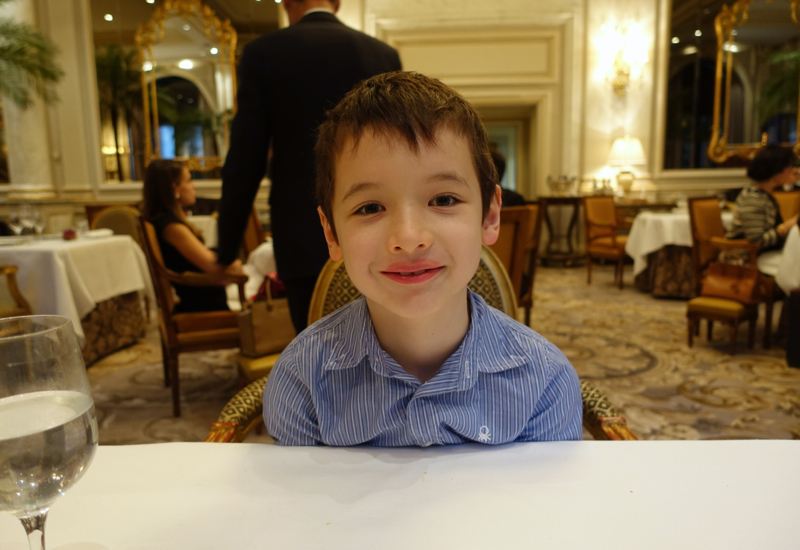 Le Cinq at Four Seasons Menu and Food
Le Cinq offers an a la carte menu, but for most guests, the best option, so as to be able to try a few different dishes, is the Tasting Menu.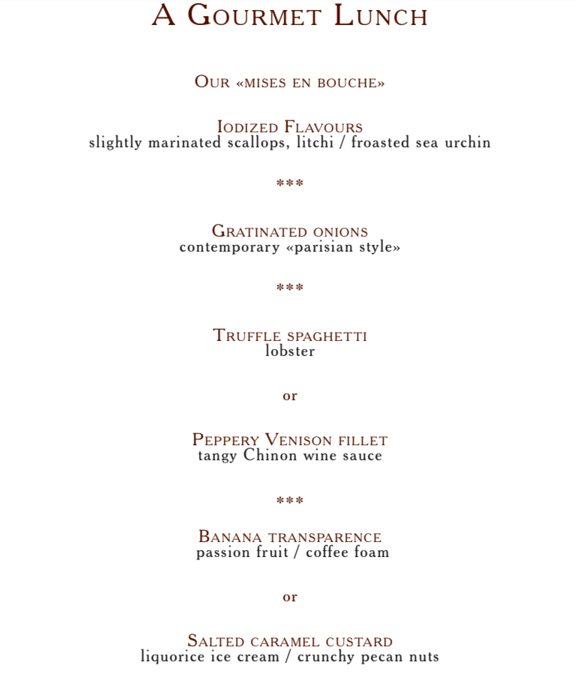 My son was asked if he wanted to see a Kids' Menu, which he did: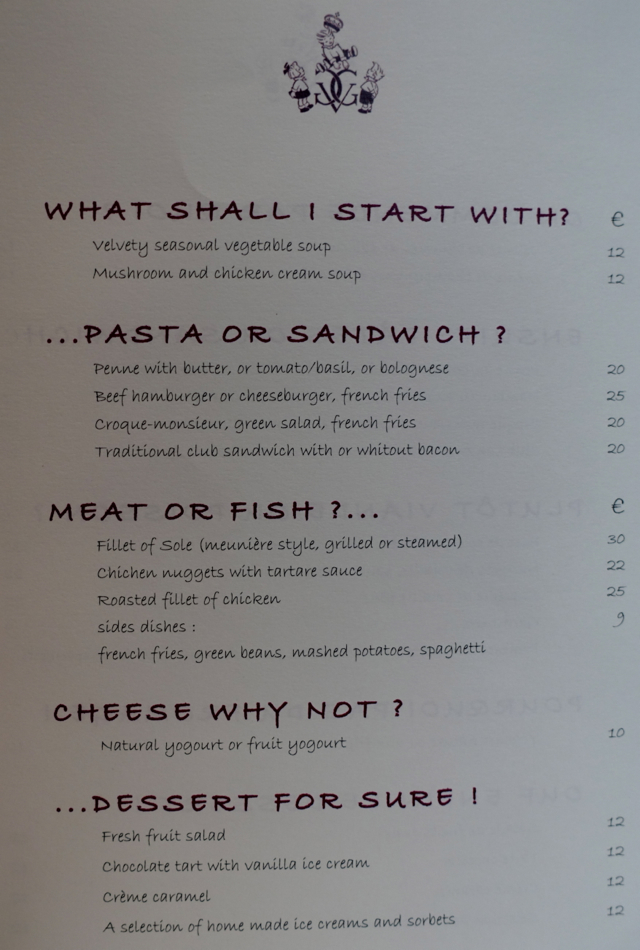 Our friendly server asked if we would like to speak French or English, and since my son is learning French in school, we decided to start with French, though we did have to ask him to explain a few times particular ingredients of some dishes.
I asked him for his recommendations for the Tasting Menu appetizer and main course choices, which turned out to be perfect for what I was in the mood for.
To start off with, we were offered a choice of breads from the bread basket, including a buttery and nutty roll and an olive bread, both served warm. We were also brought a sundried tomato and bacon Alsatian style bread, that reminded me of the one we'd had a couple years ago at Epicure. In fact, the only restaurants I've been to so far that can compete in terms of the quality of the house made bread are Epicure and Eleven Madison Park.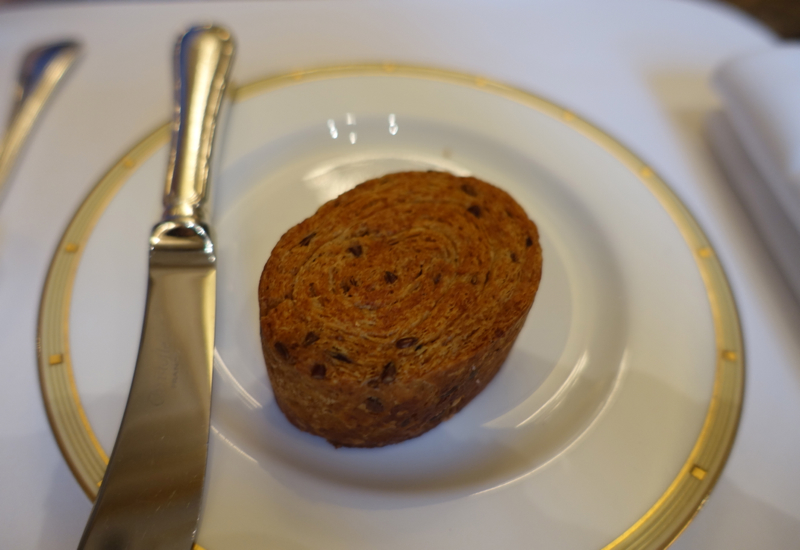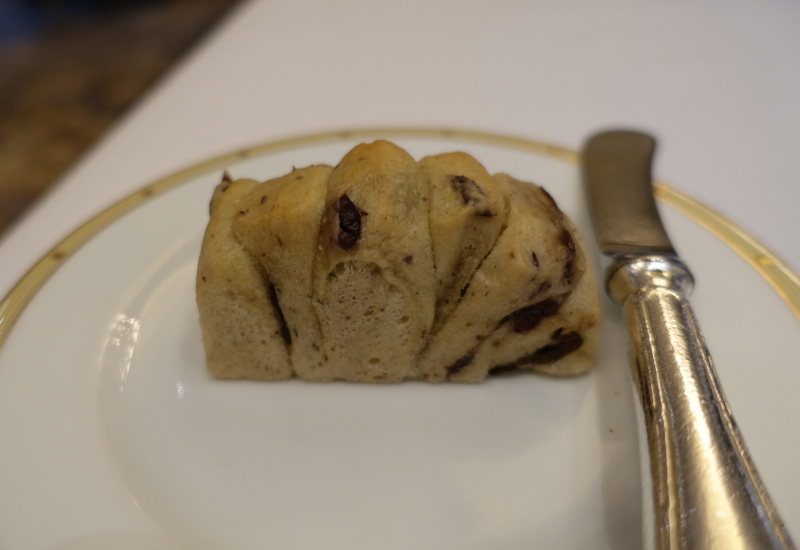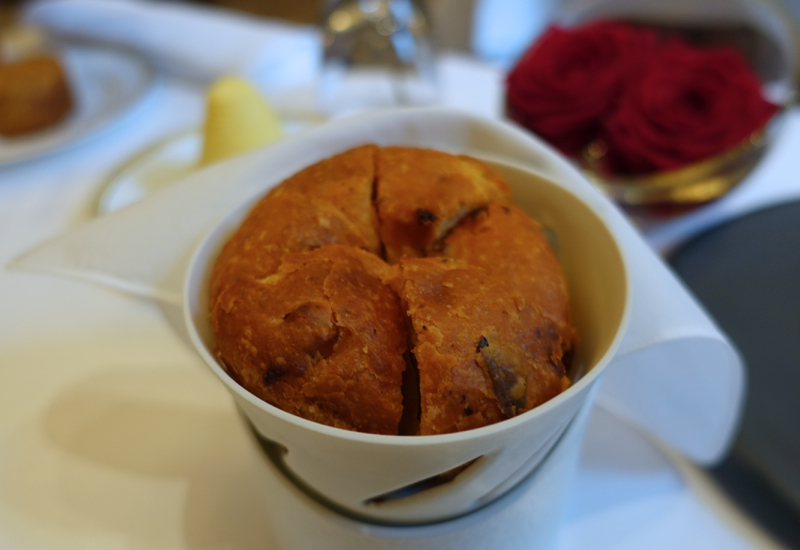 A trio of amuses bouches started off the meal: a foie gras amuse with passion fruit, a refreshing "jelly" with liquid center, and my favorite, a black truffle ball of deliciousness with a crackly exterior and a soft molten center of truffle infused egg.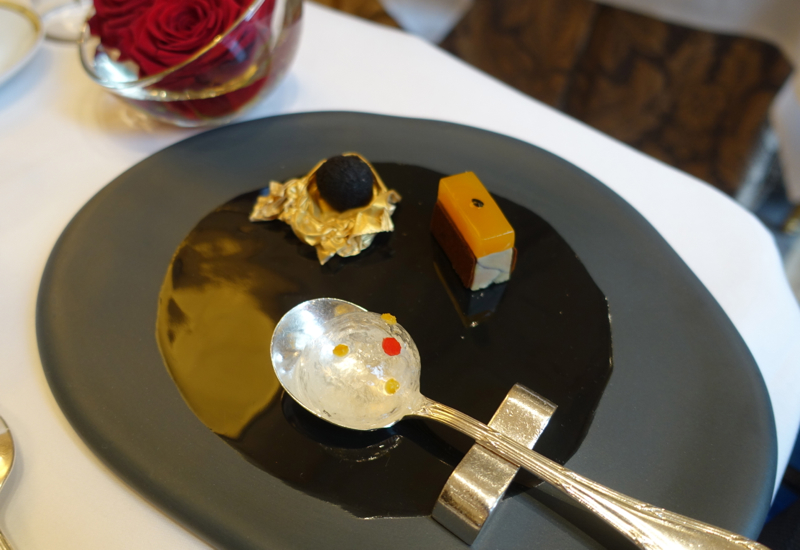 A second amuse bouche followed of beetroot and beet root sorbet with eel, which my son didn't care for, but I enjoyed.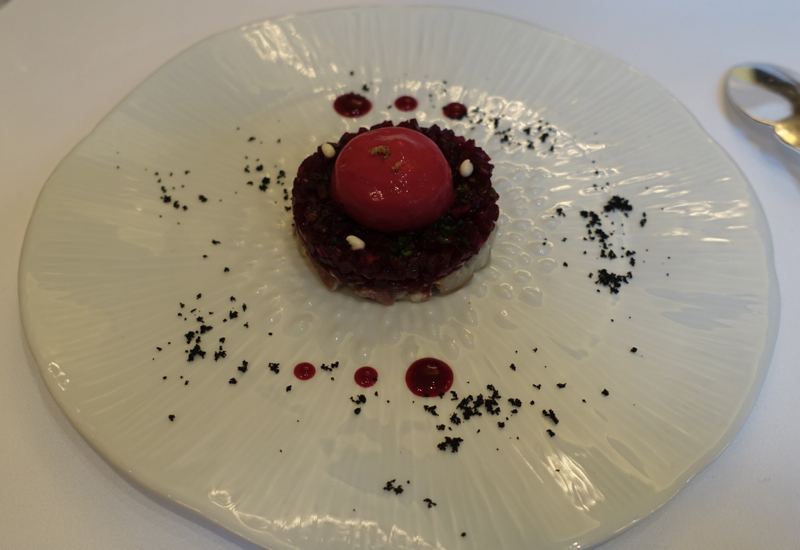 My son ordered a simply prepared fillet of sole meuniere from the kids' menu, which he asked for without lemon, and was a very generous portion. He was hungry, so I didn't manage to get a photo of it before it was cut up, but he made good work of it.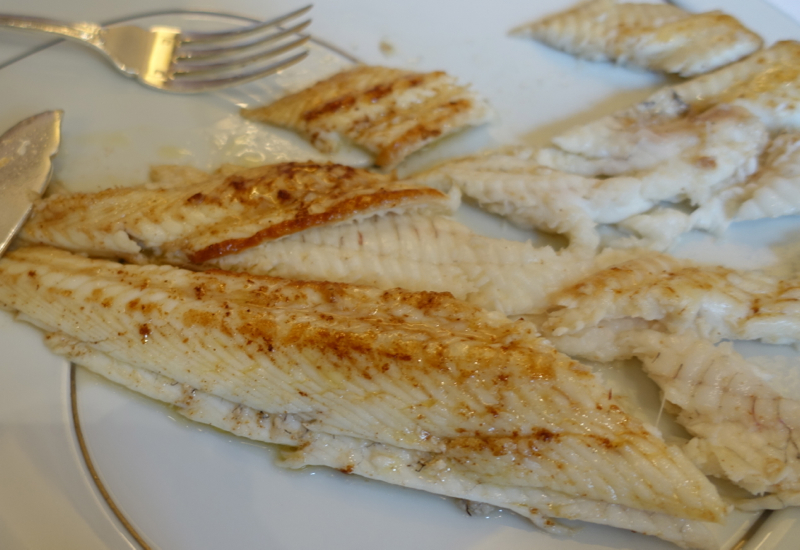 The mashed potatoes came in their own little casserole dish and were silky smooth, buttery, and some of the best mashed potatoes I've ever had (I snuck a bite).
My first course, which included sea scallops, litchi and sea urchin, was as beautifully plated as it tasted, with the briny freshness of the sea urchin nicely complemented by the tropical litchi.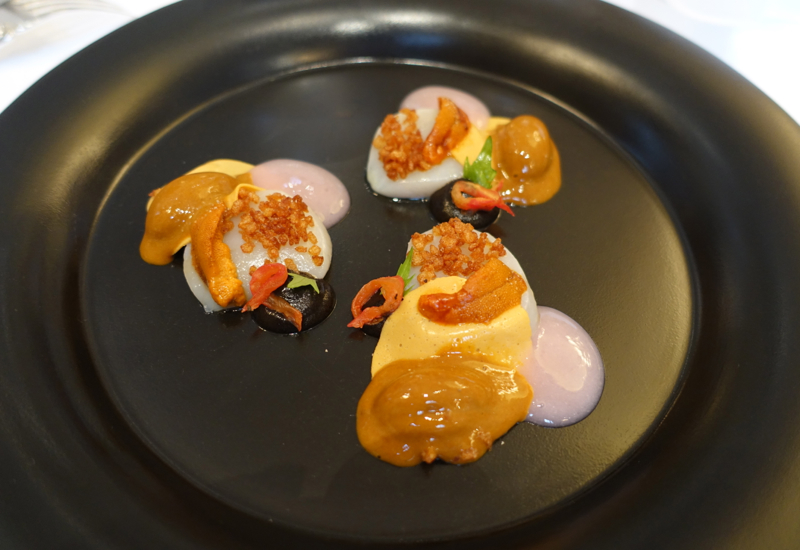 The second course sounded simple on paper—gratinated onions—but was virtuosic in the flavors and textures at play, from the caramelized onions, onion jus, and spherical balls encasing a onion liquid akin to the best French Onion soup ever—almost as if Chef Le Squer had taken the idea of soup dumplings to their ultimate incarnation, since these had the thinnest possible skins, miraculously filled with onion broth. Our server only smiled when I asked how in the world these are made, and said it was a kitchen secret.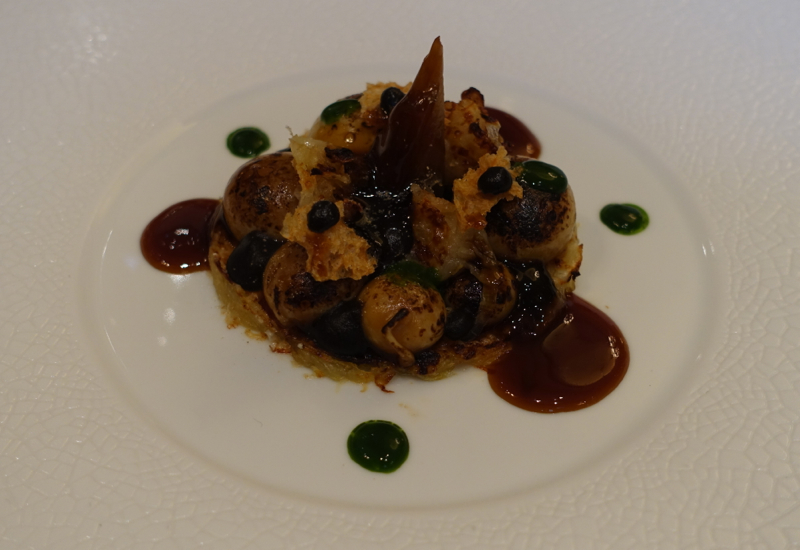 My main course of housemade truffle spaghetti with lobster and lobster sauce was the ultimate in lobster goodness, with a timbale of creamy pasta, as well as strands of black squid ink tagliatelle. My son agreed the lobster was delicious, and enjoyed several bites.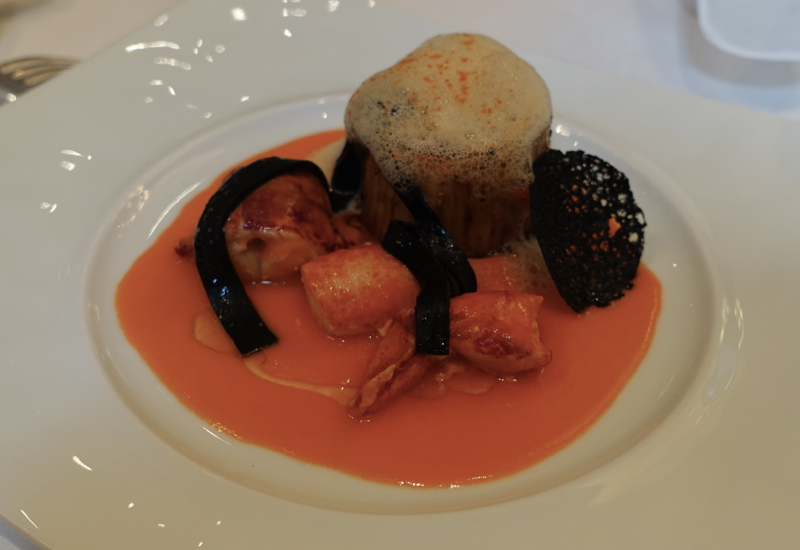 This being Le Cinq, there was a palate cleanser of apple sorbet, served cleverly in a "cone" made entirely of a single long strand of fresh apple coiled up to form the cone.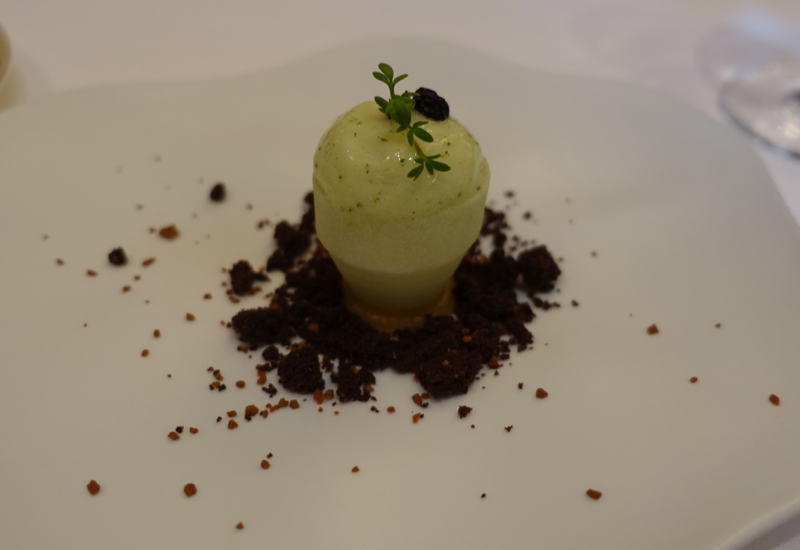 There were also some "pre-dessert" mignardises, of which my favorite was the pistachio tart: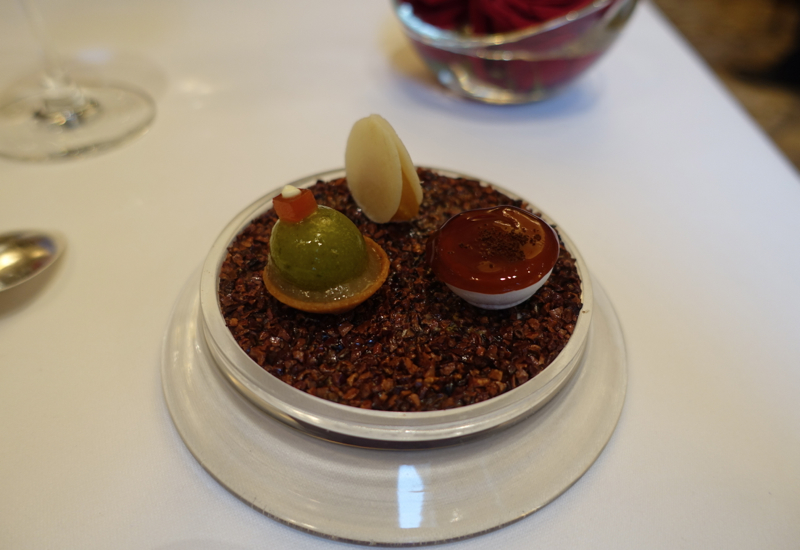 For the dessert, I'd chosen the Salted Caramel Custard with liquorice ice cream and crunchy pecans. By this point of course, I was close to full, so there was no question of being able to finish the dessert. I always enjoy salted caramel, though in custard form the flavor was more subtle, and I'll admit I'm not a huge fan of liquorice. So this was my least favorite of the courses.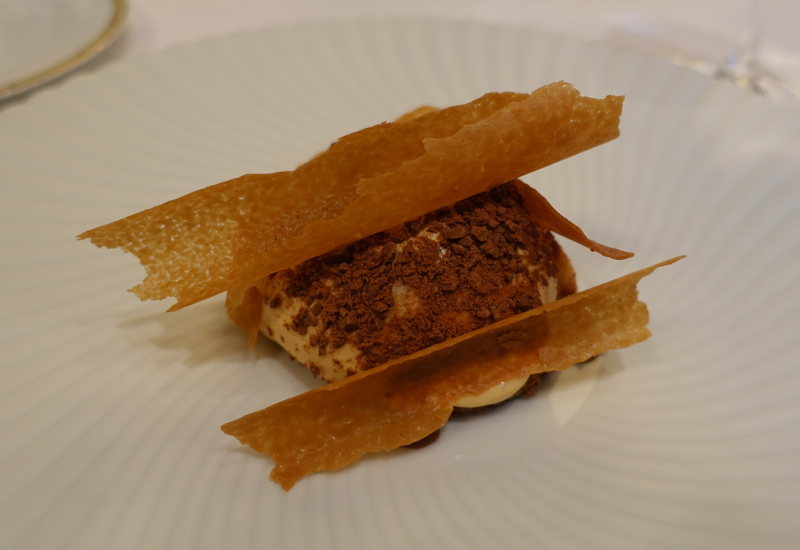 If anything, I preferred the simple, complimentary scoop of housemade vanilla bean ice cream that the kitchen and our server kindly provided to my son, even though I'd said we planned to share my dessert. Sometimes the best finale to a meal is one of the simplest. Yet even this had a rather special presentation, with shimmering crunchy adornments: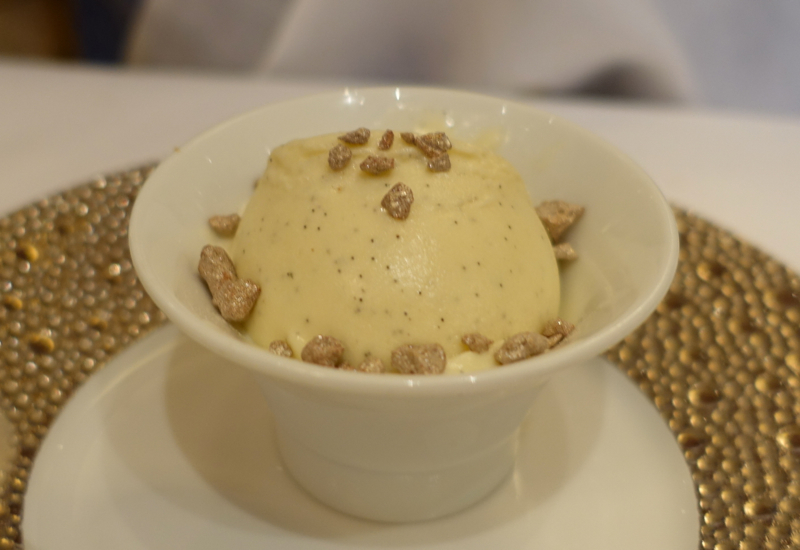 The final touch was the chocolate trolley, which is temptingly displayed close to the entrance of Le Cinq–a good strategy for encouraging you to save a bit of room. Even with my love of chocolate, I didn't manage to save room, so our server was kind enough to place a selection of these treats in boxes for us to take with us. We took them all the way to New Zealand, where we enjoyed them with my husband–his consolation prize, since he didn't get to have lunch with us at Le Cinq.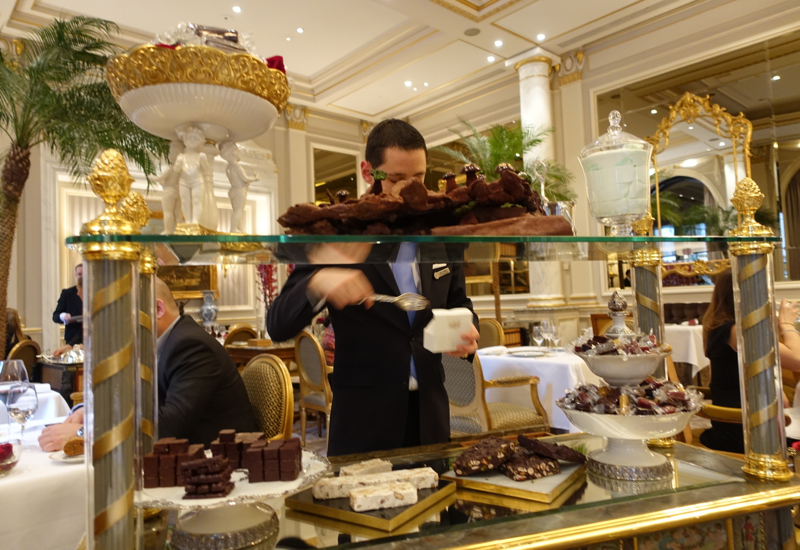 The Verdict
Each time we've visited Le Cinq seems to have been better than the last. Chef Christian Le Squer is a huge credit to Le Cinq, and it wouldn't surprise me at all if Le Cinq gains a third Michelin star within the next year. From the delicious bread and distinctive amuses bouches (particularly the truffle one) and the star treatment that even the humble onion receives in the can't miss Gratinated Onions course to the satisfying truffle spaghetti with lobster, the cuisine simply shines.
Yet what further elevates the experience and keeps us talking about our Le Cinq experiences is the service. What I love is that Le Cinq, at least at all three lunches we've enjoyed, strikes the perfect balance between utter professionalism and elegance–there's no question this is a special experience that you dress up for–and warmth. The intuitive staff help put you at ease, are happy to share their recommendations if asked, and have a sense of humor.
It was chilly and rainy the day we visited, and our server joked that Paris was experiencing London weather. But it really doesn't matter what the weather is when you visit Le Cinq–you're practically guaranteed to leave in a good mood, thanks to the pampering effects of the fantastic cuisine and the service. The only thing I would change about my meal there was the dessert, but even that was more than compensated for by the rest of the meal, not to mention the palate cleanser, pre-dessert mignardises, and the delicious chocolates and caramels that our server was willing to box up for us to take with us. And no, my opinion isn't influenced by any kind of complimentary meal–I paid the regular price for our meal and consider it well spent.
If you've dined recently at Le Cinq, what was your experience?
Related Posts
Le Cinq at Four Seasons Paris Restaurant Review
Four Seasons Paris Kids Pastry Lesson and Back of House Tour
Four Seasons Preferred Partner Benefits
Disclosure: I paid the regular price for our meal, which was EUR 145 for 4 courses, plus my son's kids' meal and bottled water.
Need Award Booking Help? Our fee is as low as $75 per ticket if you book your hotel or cruise through us.
If you enjoyed this, join 200,000+ readers: please follow TravelSort on Twitter or  like us on Facebook to be alerted to new posts. 
Become a TravelSort Client and Book Your Hotel with Virtuoso or Four Seasons Preferred VIP Amenities!