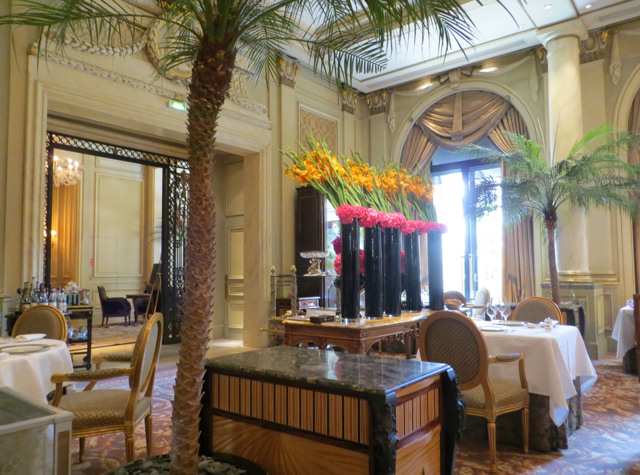 This Le Cinq at the Four Seasons Paris Restaurant Review is part of a UK and France trip report including flights in British Airways in New First Class, Singapore Business Class and Singapore Suites, stays in a Scottish castle and 5-star hotels in London and Paris, and Michelin Star Dining in Paris. For the prior posts, please see:
British Airways New First Class 777 Review
British Airways Galleries Arrivals Lounge London and Concorde Room
Singapore Business Class Review NYC (JFK) to Frankfurt
Petrus London Restaurant Review
Dalhousie Castle Hotel Review, Scotland
Dalhousie Castle Falconry Review, Scotland
Epicure at Le Bristol Paris Restaurant Review
Four Seasons Paris Hotel Review
Paris Plages (Paris Beaches) Review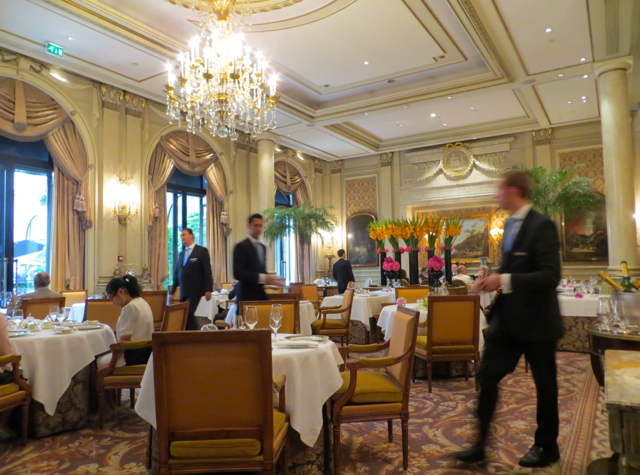 We enjoyed such a memorable meal at Le Cinq two years ago (see Le Cinq at Four Seasons George V, Paris Restaurant Review) that we just had to return, especially as this time, we were actually staying at the Four Seasons Paris. The timing worked out perfectly, since our suite would be ready after our meal.
After being welcomed by the hosts at Le Cinq, we were led to our banquette, which I was amused and pleased to see was the same one we had been seated at two years ago. It's great to have a banquette, with its plush seat and all those pillows, and midway through our meal my husband and I switched so he could sit with the munchkin and enjoy it (while also helping keep the munchkin occupied).
Since our prior visit, the Four Seasons George V Paris has a new children's theme, Les Triples au George V, so the munchkin received a very nice coloring book and colored pencils filled with humorous pictures of these mischevious triplets' antics at the Four Seasons Paris. I only hoped that he wouldn't get too many ideas from these pictures about new ways to be mischevious!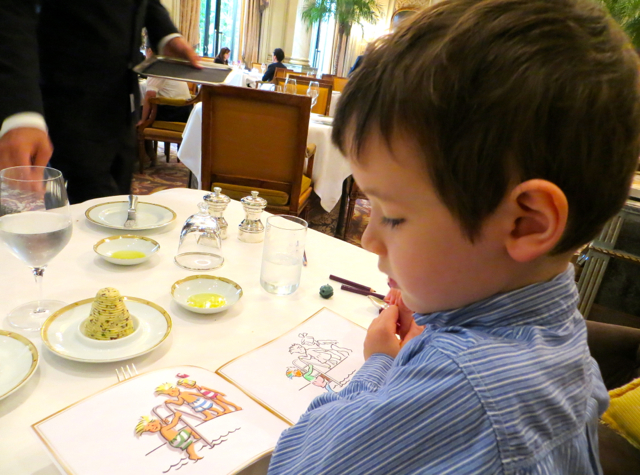 I was a bit distracted, so neglected to take a photo of our menu, but the prix fixe 3 course menu for 95 Euros per person included two choices each for first course, main course, and dessert. My husband and I opted to try one each of the first course and the dessert choices, but asked if, instead of the prix fixe main courses, we might be able to try the Lamb Shoulder from the Aveyron region for two, which is slowly roasted for 17 hours with spices. Our server was very accommodating and agreed. Here's the a la carte menu: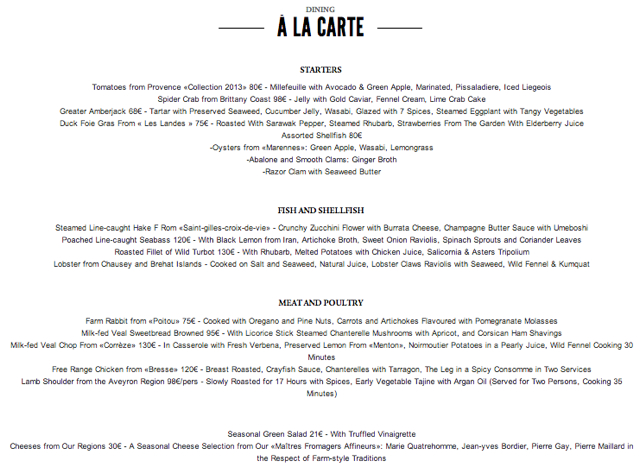 There's a very nice Kids' Menu, and once I read the choices the munchkin was quick to choose…a cheeseburger. Ah well–it was his vacation too, so we obliged, although ordered spinach for him to at least make it a little more nutritious. Here are the other Kids' Menu choices: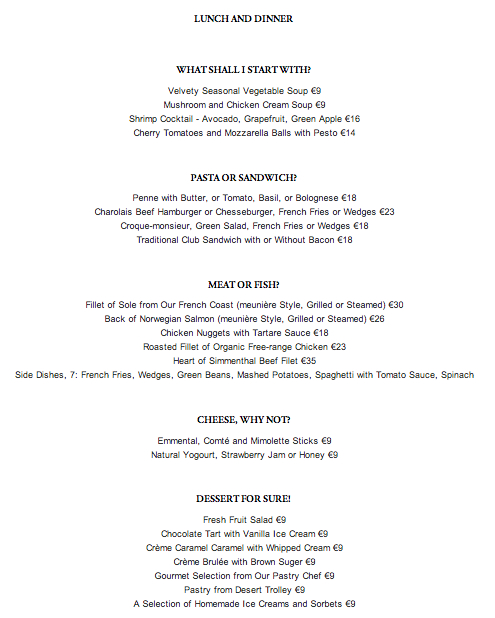 This time I managed to avoid losing my camera prior to our meal, so I managed to enjoy and take a photo of the first amuse bouche presentation; the fresh salmon reminded me of the salmon in my husband's first course the last time we dined at Le Cinq: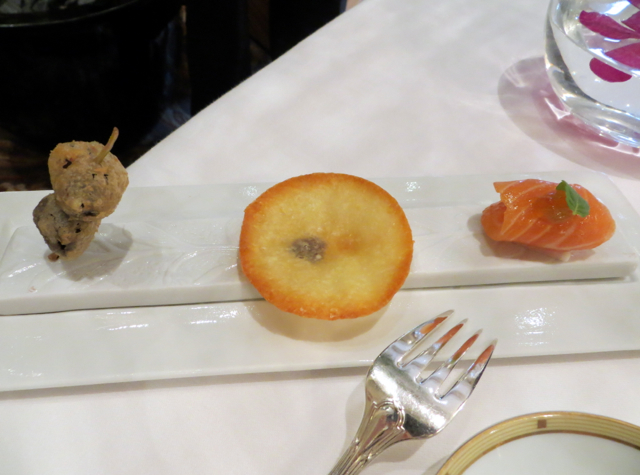 The second set of amuses bouches included two bites that we had enjoyed last time, a melon mousse and glazed octopus, along with a third bite of scallop adorned with diced tomatoes and cucumber.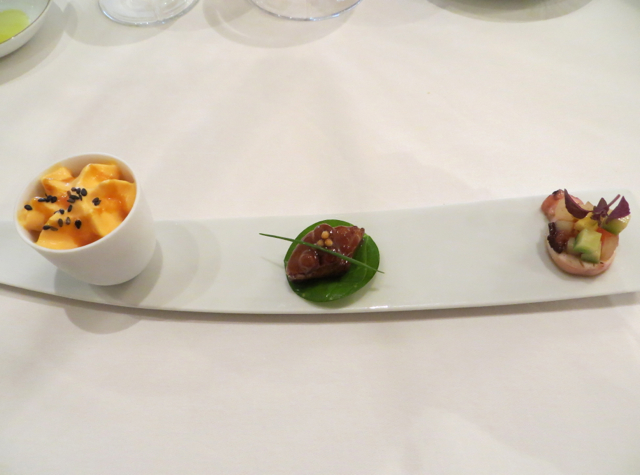 As before, my favorite was the glazed octopus: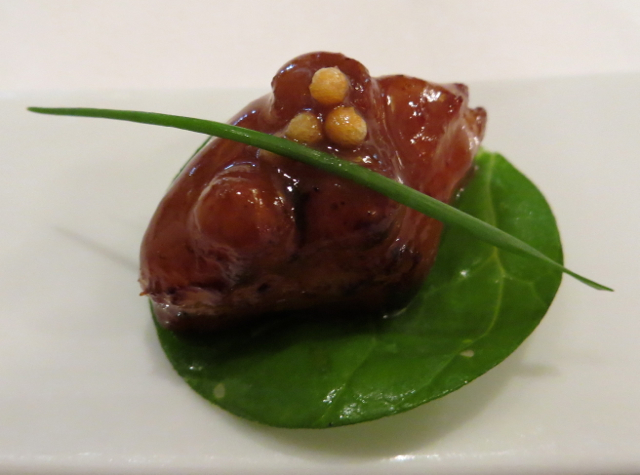 House baked breads were offered, and I chose the buttery brioche, which was perfectly flaky. I will say that I still preferred the savory kugelhopf with cheese and lardons at Epicure, which was particularly special, but in terms of straight bread with no additions, the brioche nearly matched the butter rolls at Eleven Madison Park (I give a slight edge to the latter as they are served warm).
The seaweed butter that we so enjoyed last time made a reprise, and I was a bit horrified by the major dent my husband made in it–but I bit my tongue, since it will be at least two years until he gets another taste of it 🙂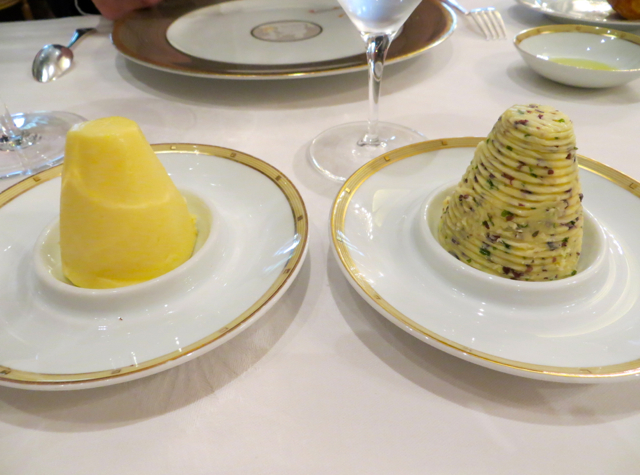 The sommelier had recommended a Domaine Jamet Cote Rotie 2009 to accompany the lamb, so we ordered a half bottle to share. While I'll admit to preferring very fruit driven, round Zinfandels and Malbecs, the Cote Rotie was a very good pairing for the lamb as a food wine.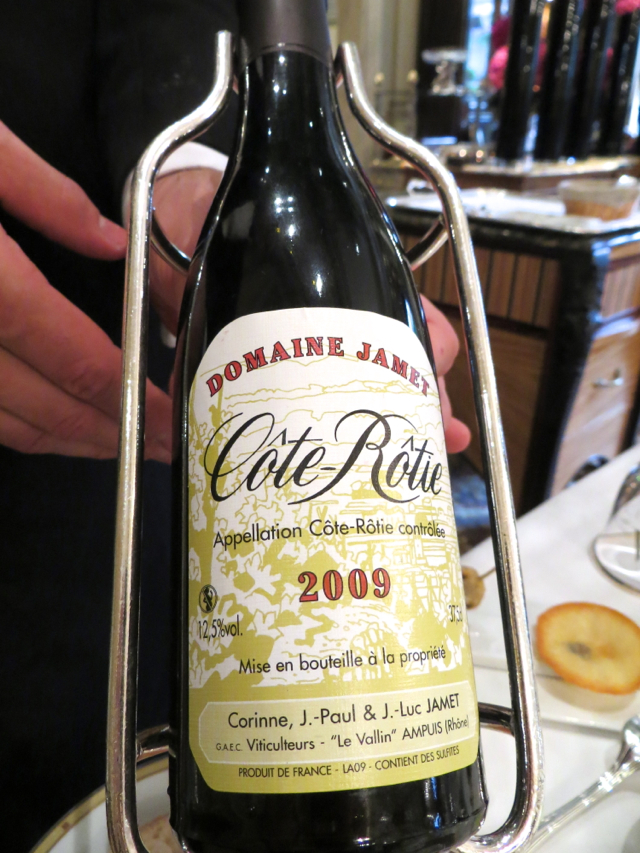 The first courses were fantastic, and in my view outshone even the very good blue lobster first course we had dined on at Epicure the day prior. My husband loved his Spider Crab first course, which came in two parts, a silky mousse and beautifully arranged fresh crab bites, with edible flowers gilding the plate: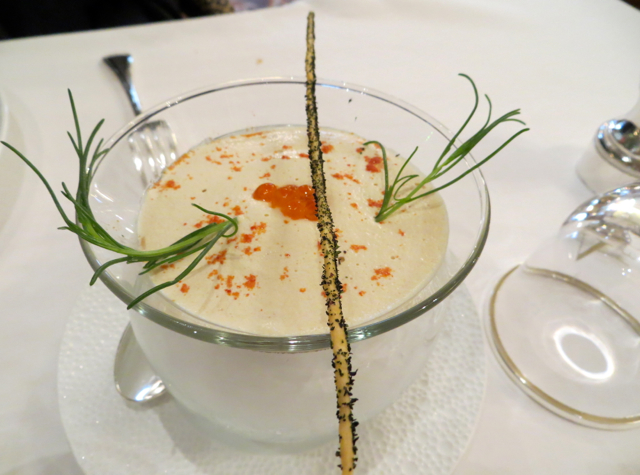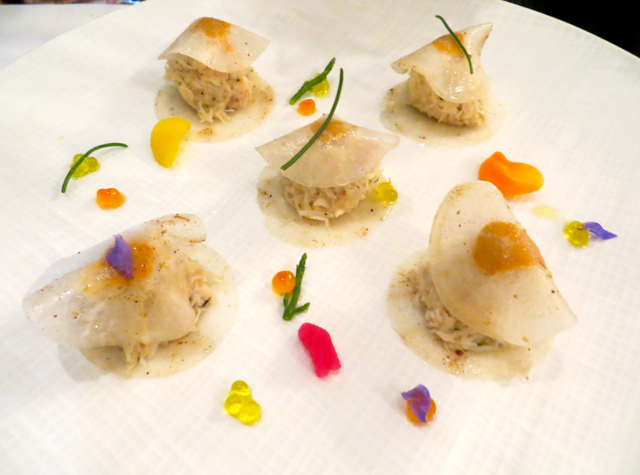 Meanwhile, I was thrilled with my oyster first course, which came in three parts; two with ecume iodee, or sea foam–I now know that very important French term from our last visit :)–and also oysters on the half shell. I've never had better oysters, these were so fresh and flavorful they seemed to have been just plucked from the sea.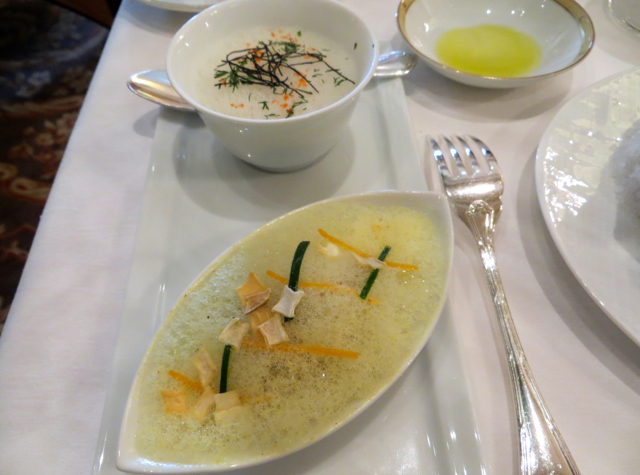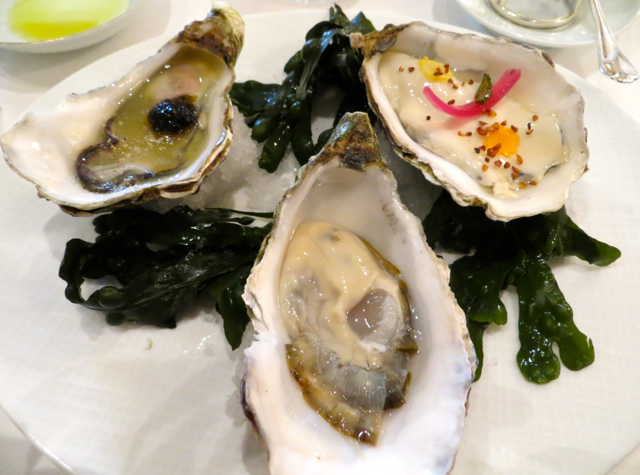 The munchkin was served his enormous cheeseburger–adult size, actually, which our friendly server joked he wouldn't mind eating–although to our amazement he managed to eat most of it, in addition to his spinach.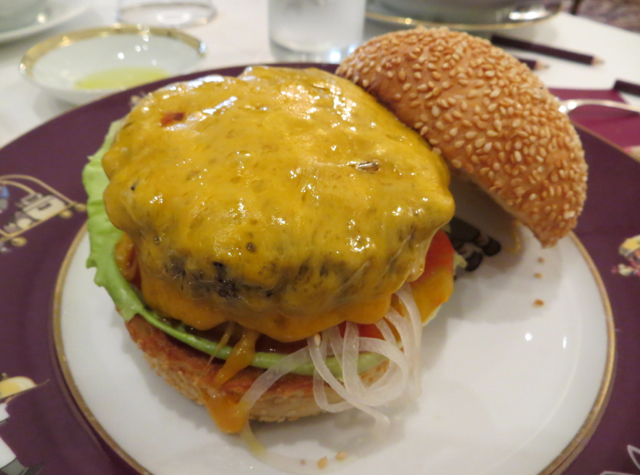 Even his spinach came beautifully plated in the special children's Les Triples au George V china: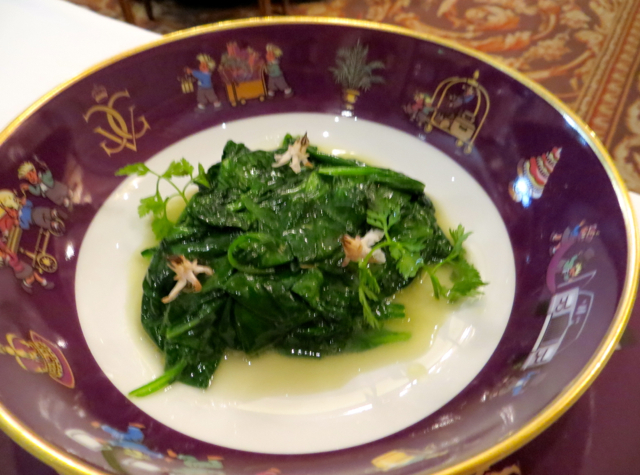 It would have been pretty tough to top such stellar first courses. That said, I loved the tableside presentation of the Lamb Shoulder from Aveyron for two. It was both carved and plated tableside: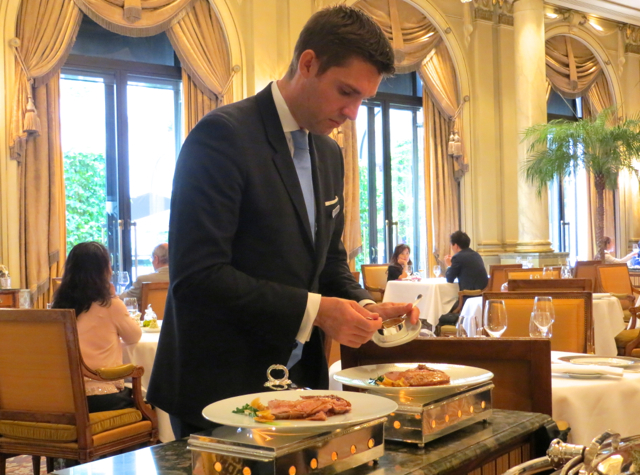 The meat was delicious, but I'd been hoping from the description for a bit more spice, or something to kick it up a notch. That didn't stop me from finishing almost all of the very generous serving, however, and it was very nice of them to allow us to order it in the first place, as a substitution for the main course on the summer prix fixe lunch menu.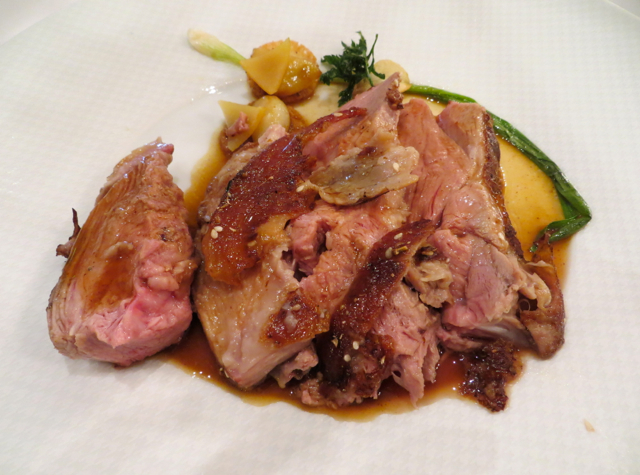 The young vegetables that accompanied were not only picture perfect, but perfectly cooked, and came with a creamy herb sauce.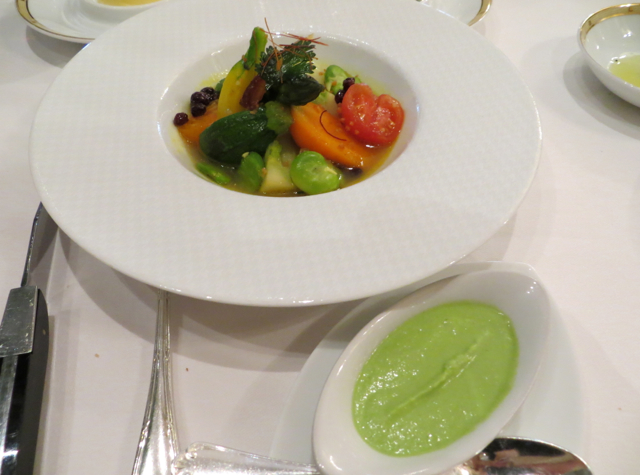 After all this, the munchkin was energized (kids are good at converting food directly to energy that way–in fact his hands are somehow a blur in this photo) and still somehow had saved room for dessert!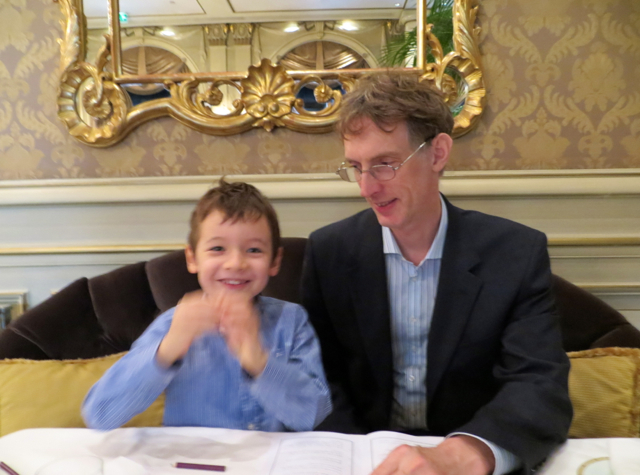 The pre dessert palate cleanser of sorbet, which was refreshing, but not as memorable as the sheeps milk brebis sorbet we'd had our last time.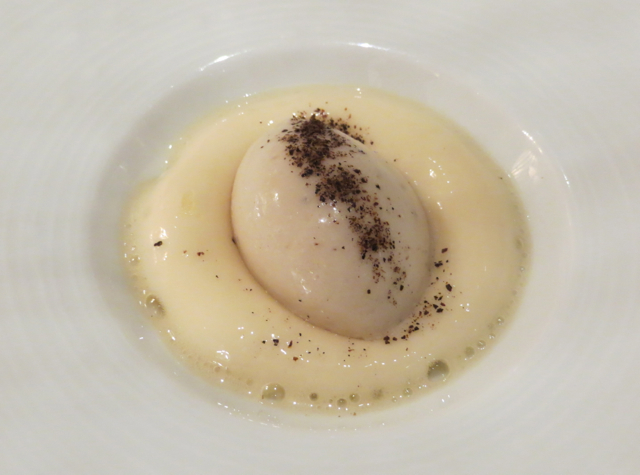 After having the munchkin devour most of our desserts at Epicure, we'd learned our lesson and got him his own dessert, a quartet of a fresh baked madeleine, mini molten chocolate cake, granita with strawberry sorbet, and ice cream. I managed to sneak bites of the molten chocolate cake and the strawberry sorbet and they were fantastic.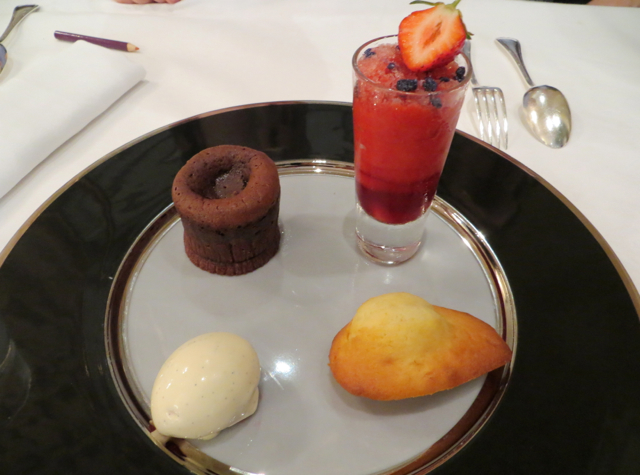 The rhubarb dessert was good, especially as I love rhubarb desserts, and beautifully plated, but it was the weaker of the two desserts in my view.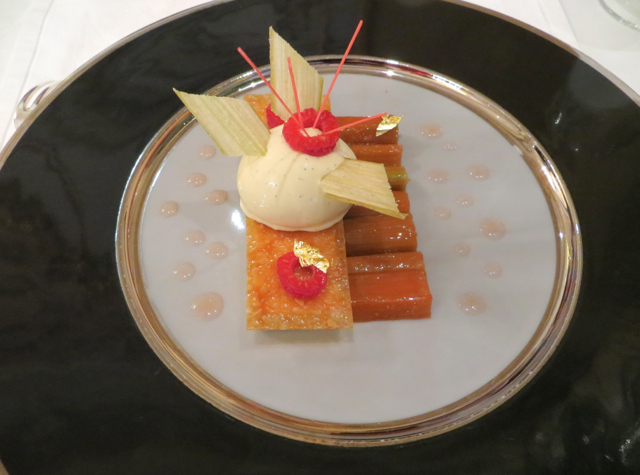 My husband's roasted apricot dessert with apricot sorbet and a Caribbean Chocolate Napoleon was sublime–I love desserts with both chocolate and fruit, and apricot is one of my favorite summer fruits–it's truly seasonal, and I've never had a dessert that paired fresh apricots (as opposed to apricot jam, say, in a Sacher Torte) with chocolate.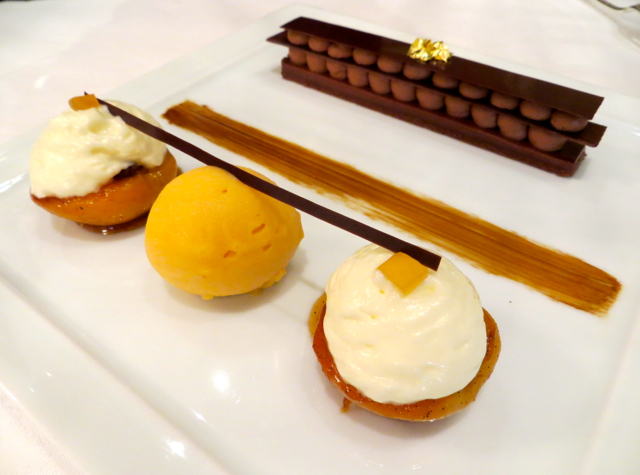 Verdict: Le Cinq remains my favorite Michelin star restaurant in Paris for its superb yet friendly service, delectable amuse bouche presentations, sublime seafood first courses and relative value of its lunch prix fixe menu given the quality of the overall experience. While I was wowed more by the tableside presentation of our main course than the dish itself, it was generous to allow us to select it as a substitution for the prix fixe menu entree choices. I thought the desserts at Epicure were a bit better, but still very much enjoyed our desserts at Le Cinq. And while a 25 EUR cheeseburger might seem a bit steep at other places, the quality and the service made it a great deal (if you have a kid and can order from the kids' menu) at Le Cinq.
Disclosure: We paid for our own meal at Le Cinq.
Related Posts
Le Cinq at Four Seasons George V, Paris Restaurant Review
Four Seasons Paris Hotel Review
Epicure at Le Bristol Paris Restaurant Review
Four Seasons Preferred Partner Benefits
Top Paris Restaurants Open During August
Need Award Booking Help? Our fee is as low as $75 per ticket if you book your hotel through us.
If you enjoyed this, join 90,000+ readers: please follow TravelSort on Twitter or like us on Facebook to be alerted to new posts.
Become a TravelSort Client and Book 5-Star Hotels with Virtuoso or Four Seasons Preferred Partner Amenities!