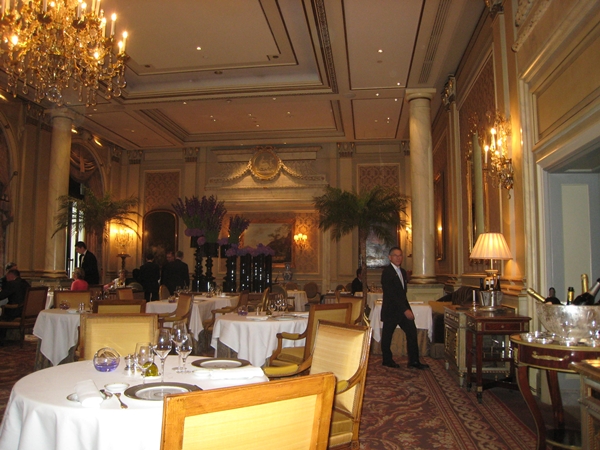 While we didn't highlight Le Cinq (also see my more recent Le Cinq at Four Seasons Paris Restaurant Review) as one of our picks for Paris Restaurants open in August we really should have. Since Taillevent, my go-to spot for a decadent French lunch (and one of the delicious places not to miss in Paris) was closed during our August visit, we decided to splurge on Le Cinq, which has 2 Michelin stars and has been particularly praised under the leadership of its current Chef des Cuisines, Eric Briffard (who honed his craft under Joel Robuchon and helmed the Plaza Athenee's Regence and Hotel Vernet's Elysees). If anyone can recapture Le Cinq's third Michelin star, lost in 2007, it's Briffard.
There is very little business being done in Paris in August, so it was easy to secure a lunch reservation for Le Cinq, via email no less, a couple weeks in advance of our visit. A very polite and gracious email confirmed my reservation, and requested that I reconfirm two days in advance. This is quite standard for high end restaurants in Paris–I remember doing the same for Taillevent, as well as for Spring Restaurant.
Since we'd been at the Jardin du Luxembourg playground with our 3-year old prior to our lunch, we availed ourselves of the Four Seasons restrooms to change into more suitable attire. In my haste, since we were running about 10 minutes late, I inadvertently left my camera in the bathroom, which I only realized after being seated at our table in Le Cinq. After searching my bag in vain, we asked at reception, and thankfully someone had turned it in, most likely a staff member. If I had to lose a camera, the Four Seasons, with its incredible staff, was the place to do it, and manage to get it returned. I've even heard of housekeeping taking it upon themselves to have a pair of broken eyeglasses repaired and returned to the exact same place in the guest's room. Similarly, while we hadn't explicitly mentioned that our 3-year old would be dining with us, the hosts and servers were nothing but welcoming to him and to us, and quickly produced a bilingual coloring book and colored pencils for him.
Relieved to have my camera again, we could finally enjoy lunch. As you can see from the photo above, there were only a few other diners in the elegantly appointed dining room, when we were there. They did seat a party of about 5 businessmen not far from us, but fortunately we were able to keep our son occupied so if anything, he was quieter than they were. One thing you can't see from the photo is the initial striking floral arrangement and tempting centerpiece of mignardises–more on that later.
First out were some lovely amuses-bouches, along with a choice of breads and two types of butter: sweet unsalted and seaweed infused Breton butter.
We opted for the 85 Euro lunch prix fixe, which offered 3 choices each for appetizer, 2 choices for the main, and 3 choices for dessert. We ordered a ham and cheese sandwich for our son, and a chocolate souffle as a special treat for all of us, dessert lovers as we are.
Even before our appetizers, we were served a complimentary course with a scallop, octopus, and melon mousse atop fresh seafood. There was clearly a seafood theme permeating the menu, from the seaweed infused butter to this and some of the menu choices, and I enjoyed it since of course everything was pristinely fresh. I'm pretty picky about octopus, since it can't be overcooked if you want to avoid any rubbery toughness, and this one was indeed perfectly grilled. I also don't care for melon, but even I could appreciate the vibrant, light combination of the melon mousse and seafood.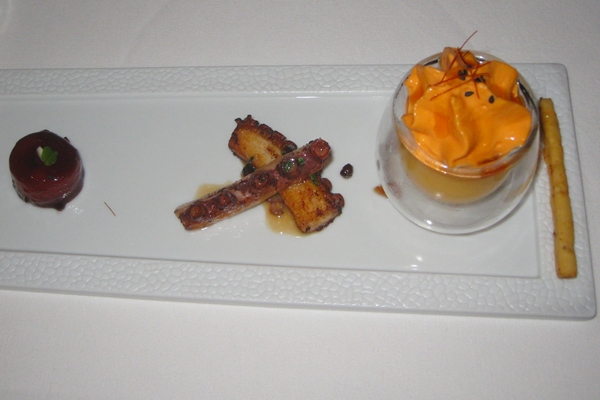 My husband had ordered the "Coeur de saumon extra-frais marine a la pomme verte/wasabi creme de cresson a la confiture d'algues" which came in two parts: the first was beautiful pieces of extra fresh salmon lightly marinated in green apple on a plate: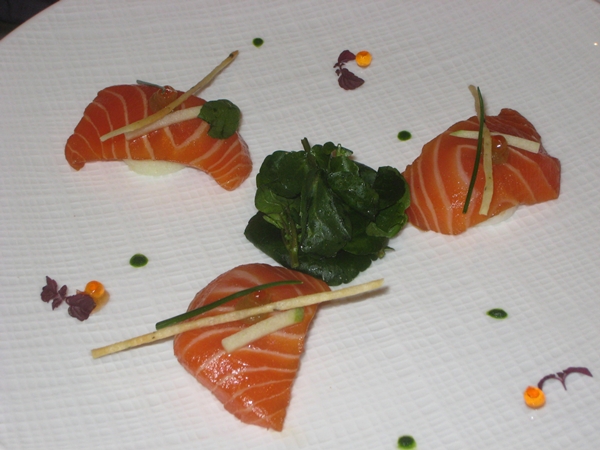 The second was a creamy watercress-wasabi soup with green algae and a bit more salmon. The soup was incredibly refreshing, with just a light kick from the wasabi, and the salmon and algae complemented it well.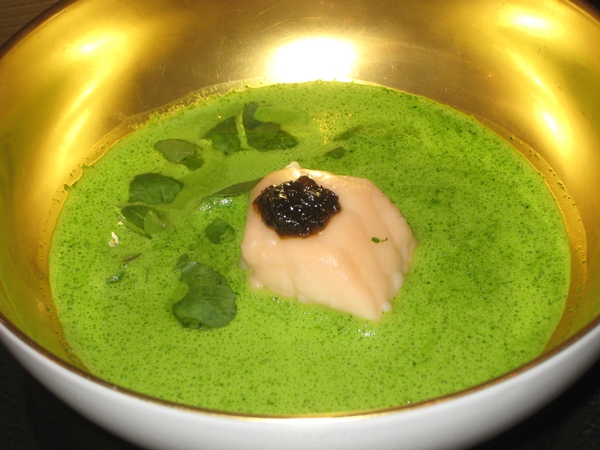 For my appetizer, I chose "Mariniere de fins coquillages et langoustines, fettucinis aux algues de reviere, ecume iodee." Since my French is serviceable but not great, I'd no idea what ecume was–it turned out to be foam, which, like molecular gastronomy, I prefer to avoid, but the rest of this dish was so delicious I didn't care. It was a luscious tangle of fresh langoustines and cockles with algae fettucini. I've never had seaweed and algae in so many courses in a non-Japanese restaurant (and they must be keeping a chef busy full-time with all these seaweed and algae preparations) but this was my second favorite course of the meal, it was so good.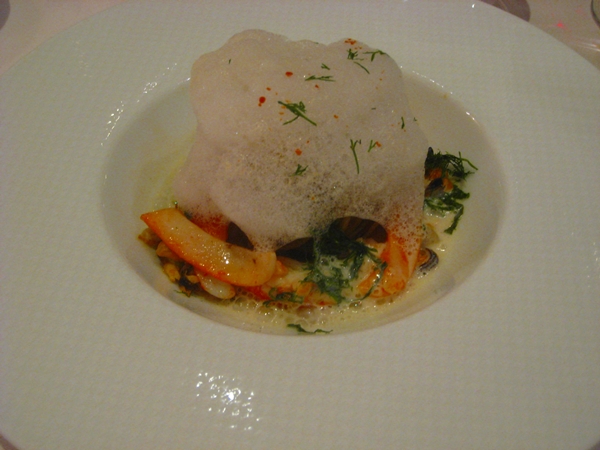 While we had toyed with the idea of each ordering a different main course, for the sake of variety, we both really wanted the Basque pork so we ended up just getting that. It was of course excellent, but I was especially taken with the croquette, stuffed with its own pork and mushroom mixture, and with the baby shiitake mushrooms, scattered over the pork and also mixed into the gingered baby vegetables. At first I mistook them for chanterelles, they were so flavorful (but am sure if it had been chanterelles, there would have been a supplement!) Unlike in some pinnacles of fine dining, the portion was generous–for once, my 6 foot 5 inch dining companion would not be snacking on something right after lunch. We split a glass of Cotes du Rhone that was well paired with the pork. I can't say I love most French wines, and especially not on their own, since they tend to be more tannic and less fruit-driven than, say, a robust Zinfandel or Malbec, but the one we drank was a good "food" wine, and nicely balanced the richness of the pork.
This being Le Cinq, we were treated to a palate cleansing pre-dessert of chilled sheeps milk yogurt (almost like ice cream, it was so rich), brightened with a splash of olive oil. It may sound like an unlikely pre-dessert course, but it was so good in its pure, refreshing flavor and simplicity that it was my favorite part of the meal. I can't ever recall a palate cleanser or pre-dessert being such a highlight.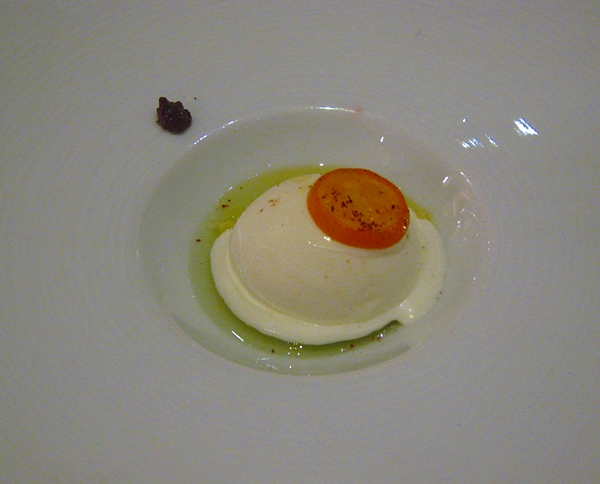 For dessert, we were first brought our pre-fixe desserts; the "Citron confit givre aux eclats de key lime pie" for my husband, and "Instant Framboises/guanaja papillotte chocolatee a la tapenade" for me. Unfortunately, my husband and 3-year old made such quick work of the creamy lemony lime sorbet that I didn't even manage to get a picture of it. It may as well have been called "Gone in 30 seconds." They then turned to hungrily eye my dessert, a gorgeous fresh raspberry cake gilded with gold leaf and accompanied by guanaja chocolate phyllo pastries.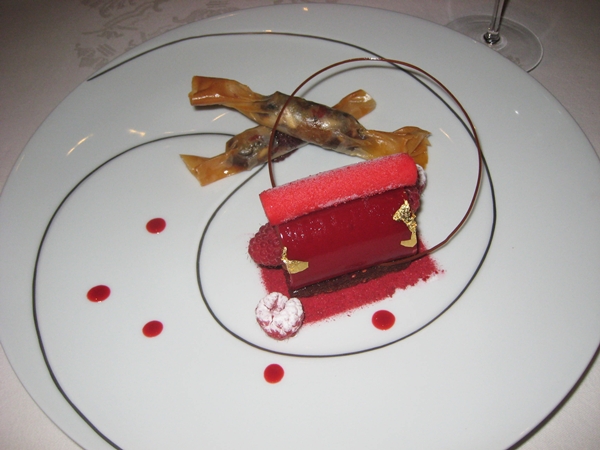 Fortunately, just as I was resigning myself to relinquishing some of my dessert, our chocolate souffle arrived and attention turned to it. How they get it to look so perfect and stay puffed for as long as it did, I've no idea–mine fall pretty quickly after removing them from the oven. The rich chocolate used in the souffle really did not need further adornment, but we made good use of the accompanying chocolate sauce anyway. Silence at the table, as we savored one of the best Paris desserts.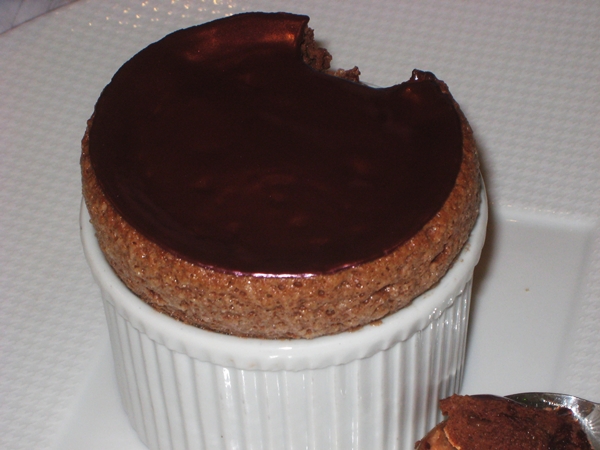 Since we had definitely exhausted our 3-year old (this was a 3 hour lunch) we had to pay and depart soon after dessert, so to my regret we didn't get to try the beautiful mignardises and chocolates that customarily end the meal and that were arranged so exquisitely at the front of the dining room…ah well, next time!
Related Posts
Le Cinq at Four Seasons Paris Restaurant Review (2013)
Four Seasons Paris Hotel Review
Epicure at Le Bristol Paris Restaurant Review
Four Seasons Preferred Partner Benefits
Need Award Booking Help? Our fee is as low as $75 per ticket if you book your hotel through us.
If you enjoyed this, join 90,000+ readers: please follow TravelSort on Twitter or like us on Facebook to be alerted to new posts.
Become a TravelSort Client and Book Your Hotel with Virtuoso or Four Seasons Preferred VIP Amenities!