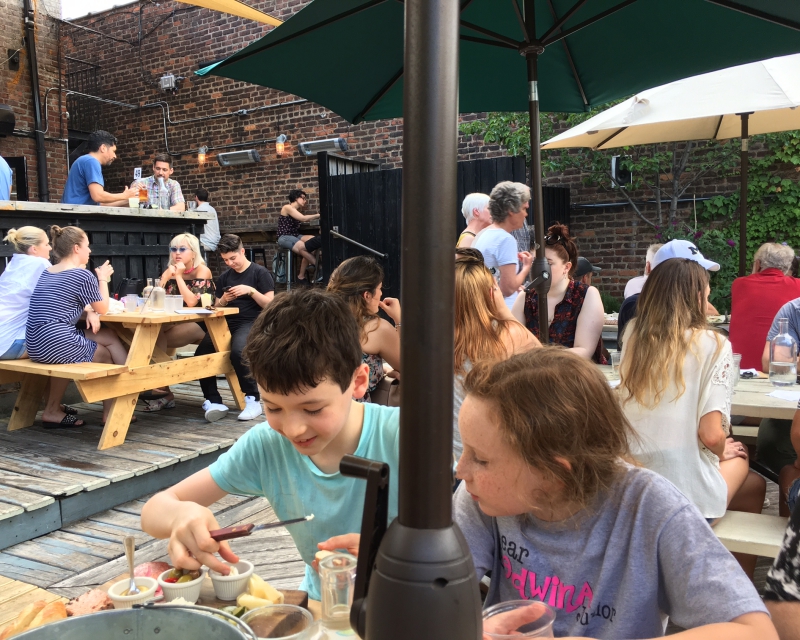 This Lavender Lake Brooklyn Review is from our recent early dinner there, in the restaurant's outdoor courtyard, after our son and a friend enjoyed rock climbing and bouldering at Brooklyn Boulders, about an 8 minute walk away.
Visiting New York? See all of our posts tagged NYC.
Getting to Lavender Lake in Gowanus, Brooklyn
Lavender Lake is located at 383 Carroll Street, in Gowanus, Brooklyn. Its name is a sly reference to the nearby Gowanus Canal, nicknamed "lavender" for its decidedly unnatural color due to years of toxic waste polluting it, although it's in the process of a Superfund cleanup.
The closest subway stop is Union Street (D, N, R trains), about a 9 minute walk away, otherwise there's the Atlantic Avenue Barclays Center Station (2, 3, 4, 5, Q trains in addition to the D, N and R) about a 20 min. walk away.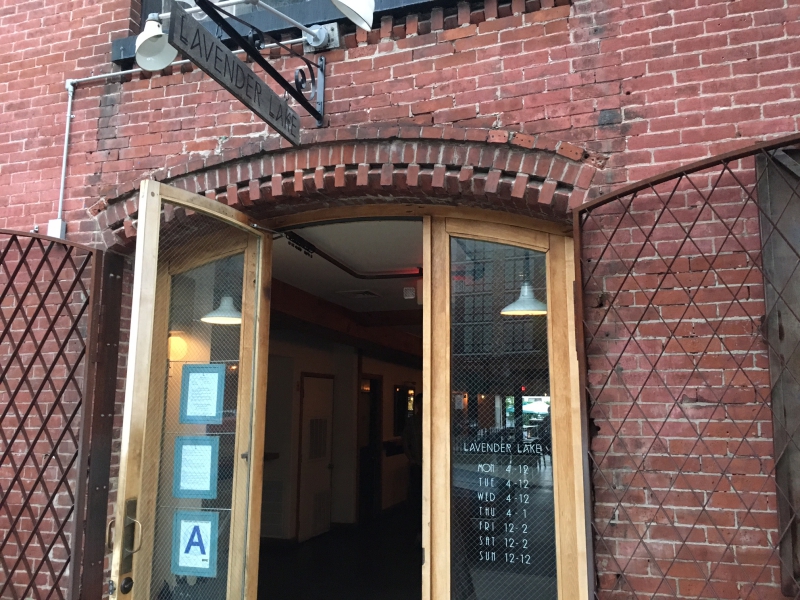 The Scene
The bar and interior part of Lavender Lake is quite dark and gloomy, so given the sunny day, nearly everyone was packed into the outdoor courtyard. We were lucky to get an outside table even at around 4:45pm, well before usual dinner time. There was a large group who were occupying a couple of the tables, and the other parties were small groups of friends, most in their late 20s and 30s, but also some older folks. Our kids were the only ones in sight, but it's a casual atmosphere, so kids won't feel out of place.
Menu and Food at Lavender Lake
While Lavender Lake is apparently more known for its cocktails and housemade sodas, the my husband and our friends all ordered beer. My husband didn't care for his at all, so I'd recommend sticking with the cocktails, wine, or perhaps the tempting looking frozen vodka concoction served at the kiosk in the courtyard (this is separate from Lavender Lake, and cash only).
The food menu isn't huge, but has some very tasty small plate options: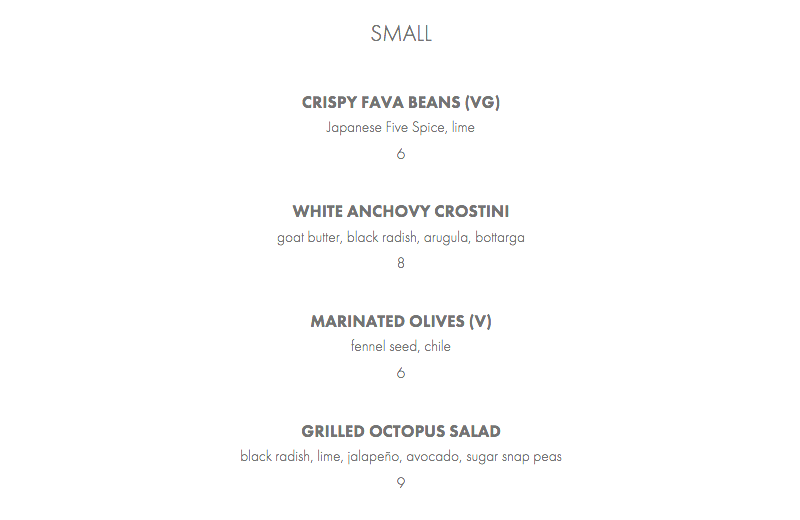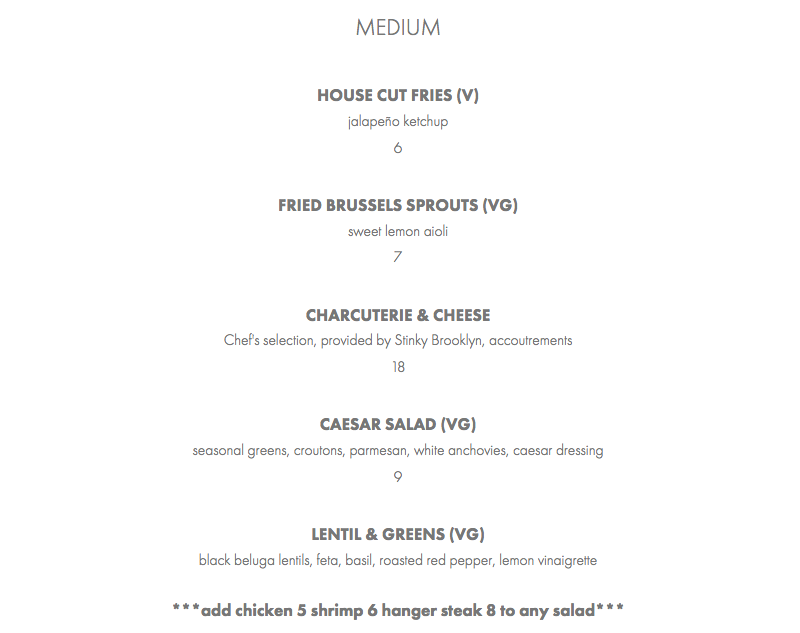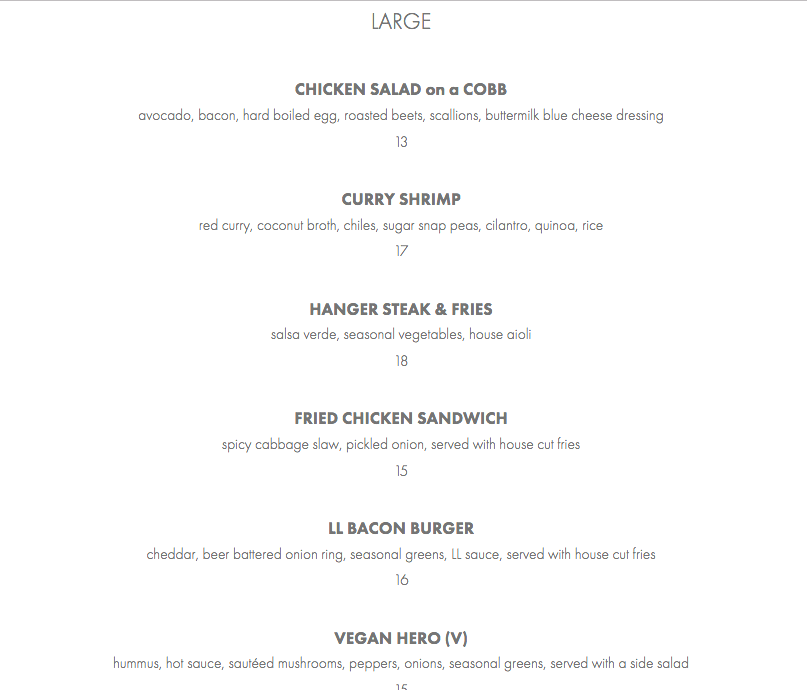 Our server was friendly, and laughingly accommodated me when, due to how hot and muggy it was, I ordered a "bucket of ice" in addition to the grilled octopus salad.
The first of our orders to emerge were the Crispy Fava Beans and the Fried Brussels Sprouts. Both were knockout dishes, and the highlight of the meal.
I've never cared much for fava beans, and was skeptical that our son, who also has never had them, would enjoy them given the Japanese Five Spice and lime seasoning. I was wrong. It was a good thing he ordered his own and that we ordered another for the rest of us to share, because we had no problem devouring all of them. Even though I don't consider myself much of a snacker and have never seen the point of potato chips, I was compulsively snacking on these.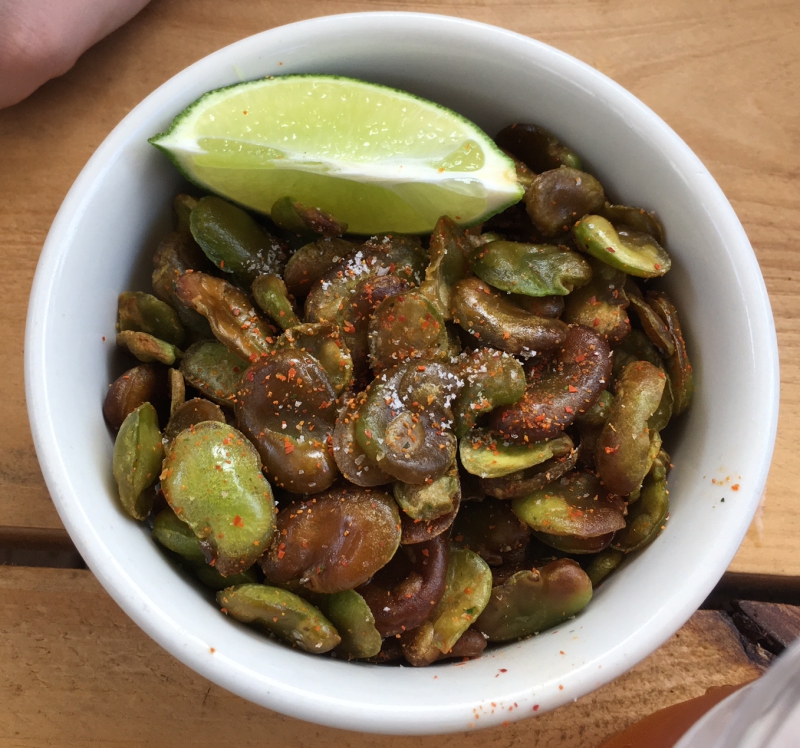 The Fried Brussels Sprouts are another must-order–these are the best brussels sprouts I've had in recent memory, and the sweet lemon aioli puts them over the top. Among the 6 of us, I think these lasted about 5 minutes tops, and we really should have ordered another one. It also is good value, at $7.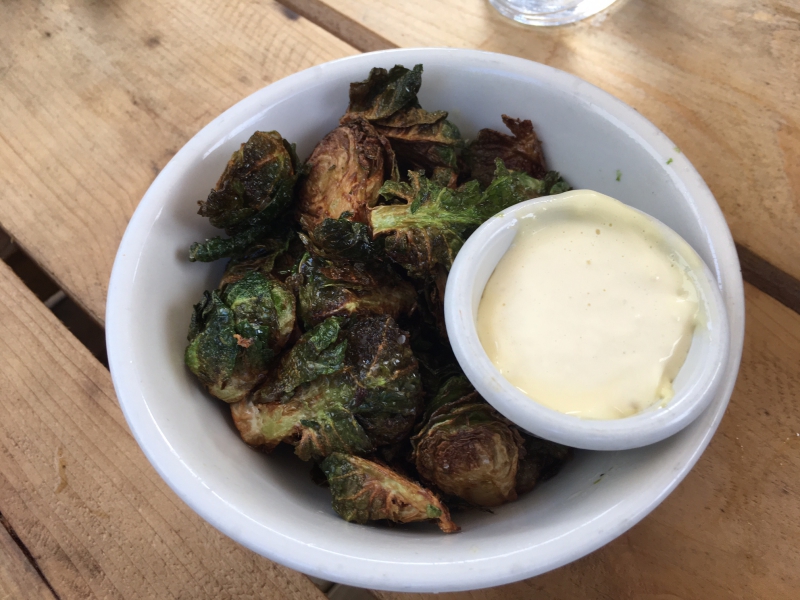 Given the richness of the crispy fava beans and fried brussels sprouts, I was happy that I made the Grilled Octopus Salad appetizer my main dish. The octopus was tender, and while it wasn't the best grilled octopus I've had, and it would have been better with a bit more octopus, I did enjoy the combination of flavors, particularly the avocado, crunchy snap peas, lime, and heat from the jalapenos.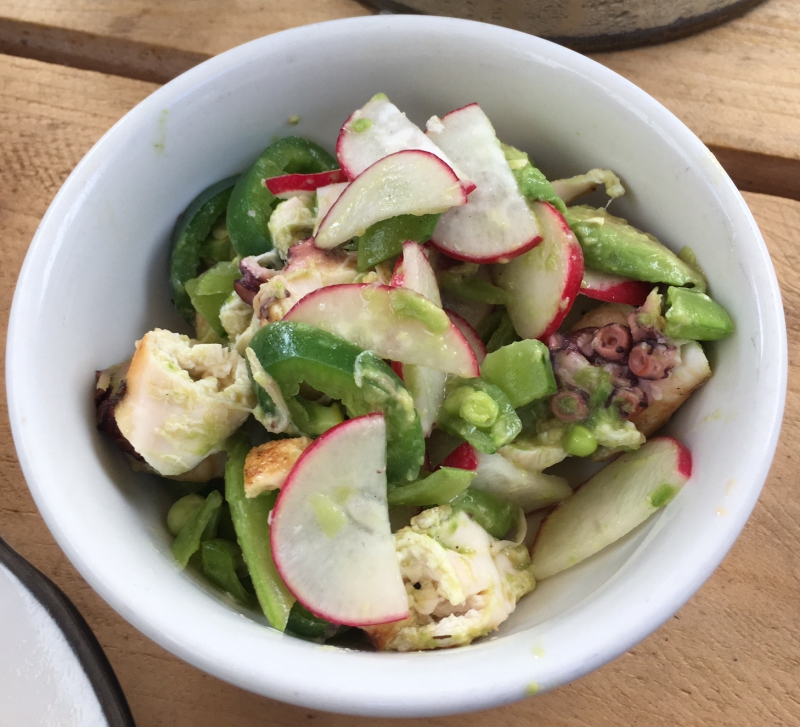 My husband ordered an appetizer of White Anchovy Crostini, which he liked, although they paled in comparison with the fava bean and brussels sprout appetizers.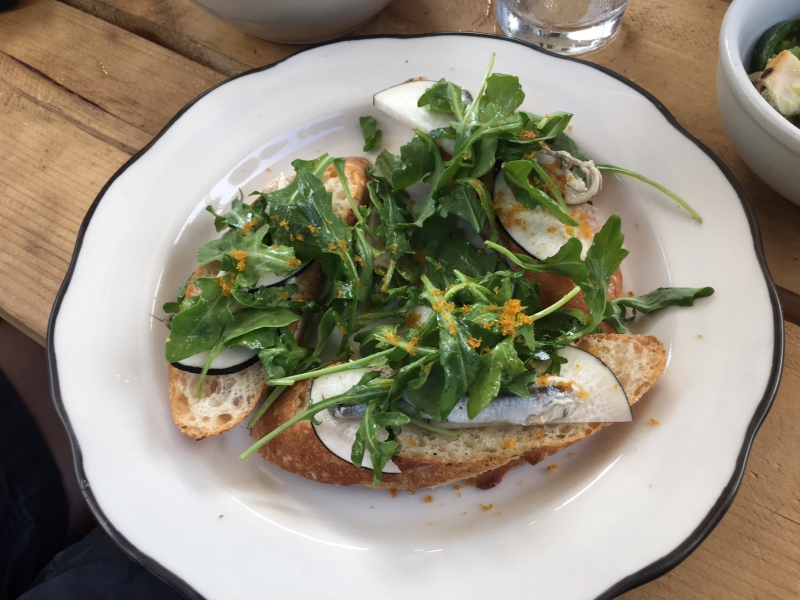 Our son ordered the Charcuterie & Cheese, and this was a good choice given how backed up the kitchen became with the large party, as it came out well before the other entrees. It included two kinds of cheese, a country terrine, cured meat, olives, mustard, pickled onions, pickles, and walnuts. He ate nearly all of it, with just a little help from his friend.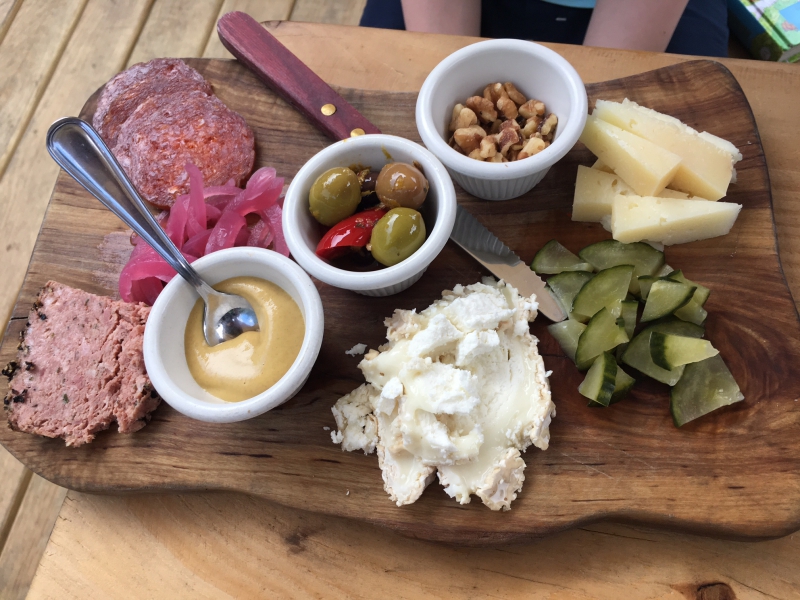 My husband and our friend ordered the bacon burgers, and while these hit the spot for them on that day, you can easily find better burgers in NYC.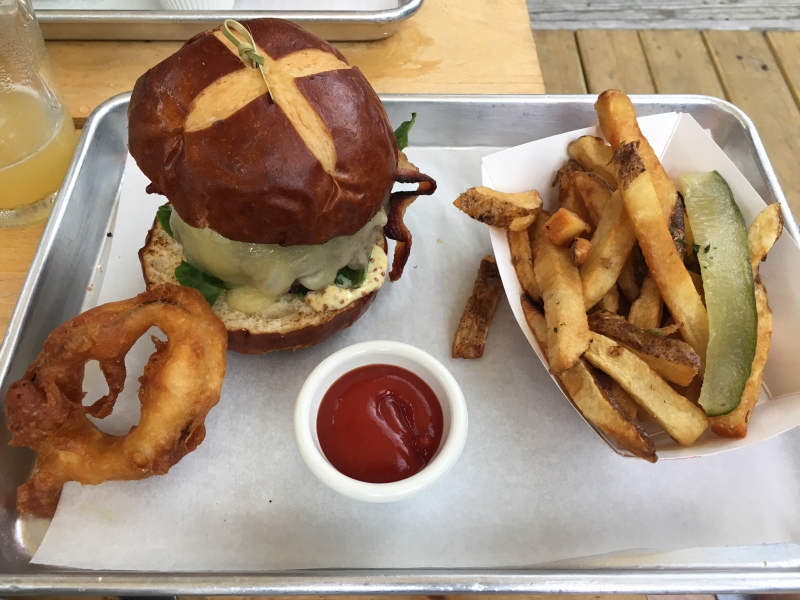 Our vegetarian friend ordered the Vegan Hero, which looked like the healthiest choice of all, packed with fresh veggies, and with an accompanying side salad that included beets. It must have been good, since even though he'd planned to take home half of it, but ended up finishing both the sandwich and the salad.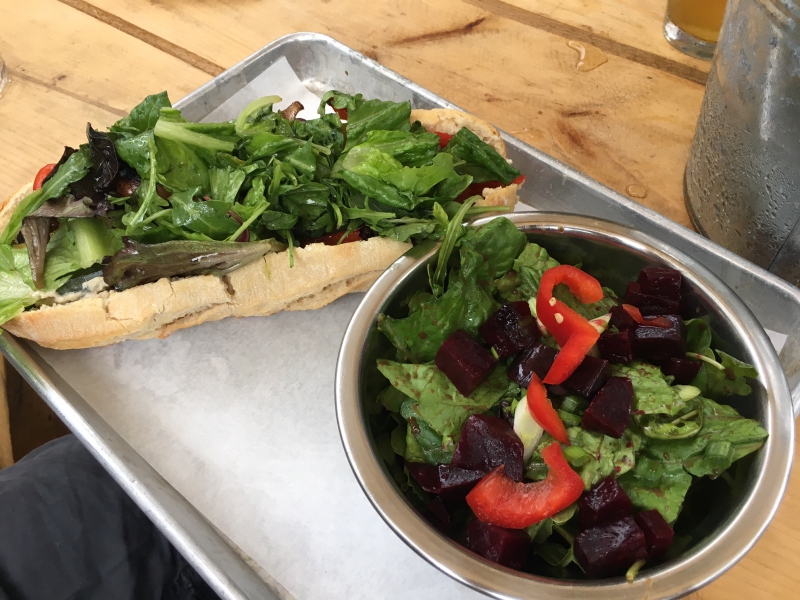 The Verdict
Don't let the name and the nearby Gowanus Canal put you off; Lavender Lake's courtyard is a lovely place on a nice day, and well worth it even if you only order the Crispy Fava Beans and Fried Brussels Sprouts, along with a cold drink of your choice. And if it's an especially hot, humid day, feel free to also order a bucket of ice, as we did 🙂
Have you been to Lavender Lake in Gowanus, Brooklyn?
Recommended Posts
Aska NYC Restaurant Review, 2 Michelin Stars
Chase Freedom: 5X on Restaurants for Q3 2017
The Modern NYC Restaurant Review, 2 Michelin Stars
NYC Restaurant Week Summer 2017: Where to Go and AMEX Statement Credit
Need Award Booking Help? Our fee is as low as $75 per ticket if you book your hotel or cruise with TravelSort.
If you enjoyed this, join 200,000+ readers: please follow TravelSort on Twitter or like us on Facebook to be alerted to new posts.
Become a TravelSort Client and Book 5-Star Hotels with Virtuoso or Four Seasons Preferred Partner Benefits