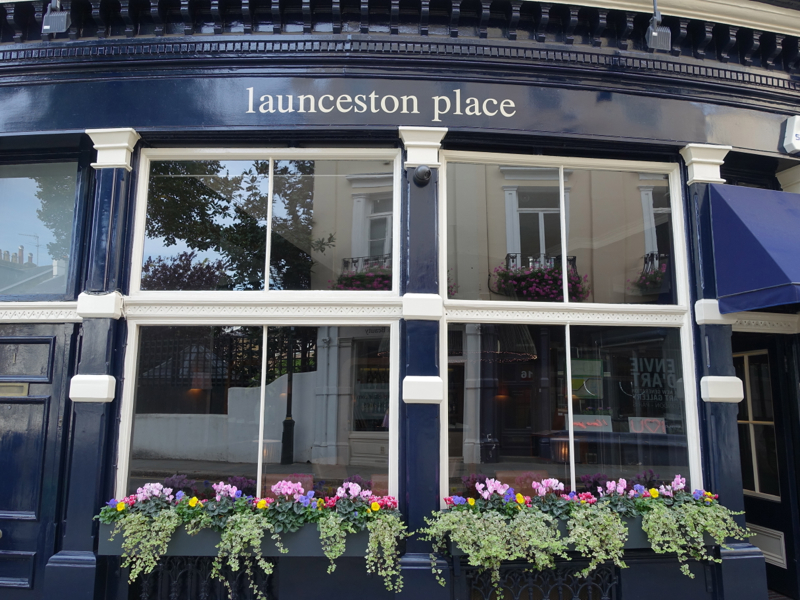 This Launceston Place London Restaurant Review is part of a round the world trip report including first class and business class flights, luxury hotel stays in London and Asia, and restaurant reviews.
For the prior posts, please see:
Review: British Airways Concorde Room Lounge NYC JFK Terminal 7
Review: British Airways Business Class on the 747-400 JFK-LHR
Best Seats in British Airways New First Class 747-400
Review: British Airways Arrivals Lounge in LHR and Heathrow Express to London
Getting to Launceston Place
Launceston Place is located in a pretty South Kensington neighborhood, at 1a Launceston Place, London W8 5RL. The closest London Underground (Tube) stations are High Street Kensington (District and Circle lines) and Gloucester Road (District, Circle and Piccadilly lines). Note that until mid-December, 2014, there is no Piccadilly line access at Gloucester Road due to repairs; if you're taking the Piccadilly you'll need to instead take it to South Kensington and transfer to the District or Circle line, then go one stop to Gloucester Road. Launceston Place is about an 8 minute walk from Gloucester Road station.
Once you enter, you'll see lounge seating on the left–a nice waiting area, especially during winter months or when the weather is inclement.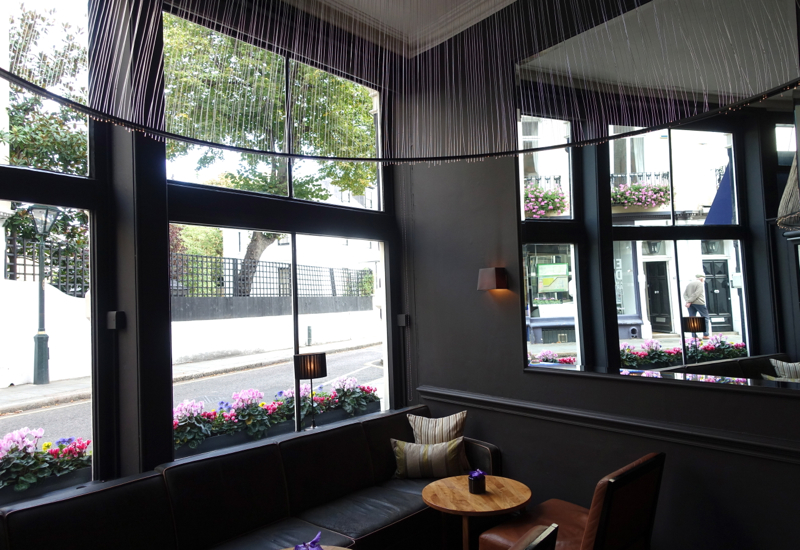 The Scene
I thought the munchkin would be the only child at Launceston Place, and I was right, for most of our meal–at our neighboring tables were mostly young couples in their late twenties/early thirties, an older couple, and a couple of well dressed young professional women having a girls' lunch out.
Towards the end of our lunch, however, a young family with a baby was welcomed and seated, however, so my son was by no means the youngest in the restaurant after all.
Launceston Place Menu and Food
Launceston Place self-describes itself as serving a "flamboyant and seasonally-inspired British menu created by Head Chef Tim Allen." I'm not sure I'd describe the food as flamboyant, as it actually seemed fairly tame and restrained to me, but it is market-driven and aims to make the most of what's in season, with updated versions of British classics. Here's our Sunday Lunch Menu: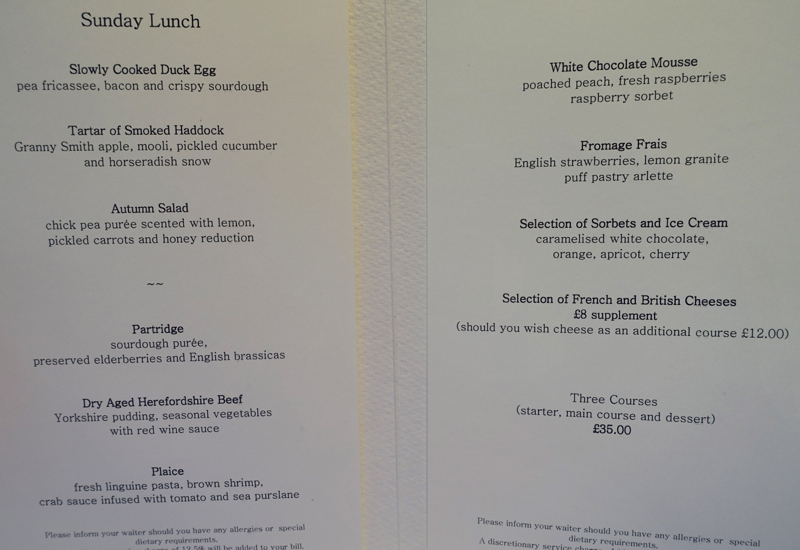 Our server asked us our choice of water, and after asking for her recommendation on the main dishes, I chose the Partridge, since it's not a common menu item and she recommended it. We were soon brought bread and butter, which my son happily buttered and began to eat, although I just had a bite. I do think there's an opportunity to upgrade the bread offering. I realize Launceston Place is 1 Michelin Star, so I don't necessarily expect the addictive buttery rolls served at 3 Michelin Star Eleven Madison Park, but if restaurants such as The Clam in NYC, with no Michelin stars, can serve fantastic fresh baked rolls, a Michelin Star restaurant can as well.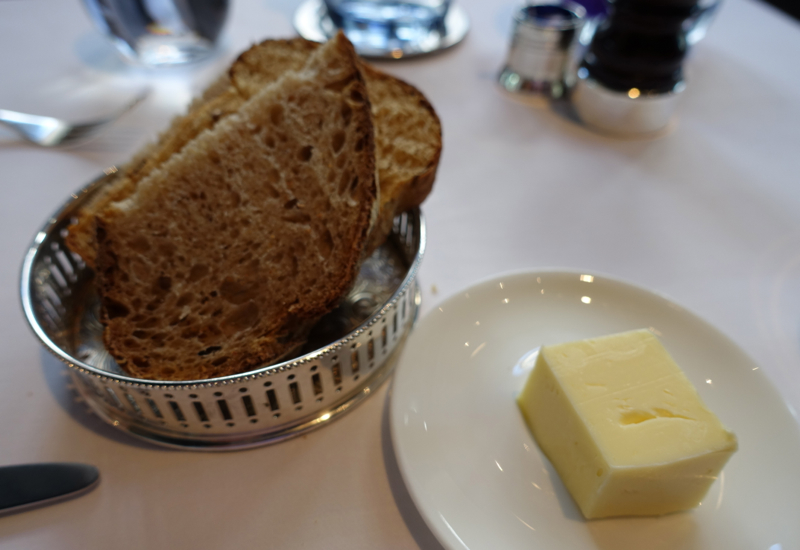 The bread aside, we were treated to two amuses bouches: a tray of some cheese filled puff pastries and tartlets with beetroot, which were delicious: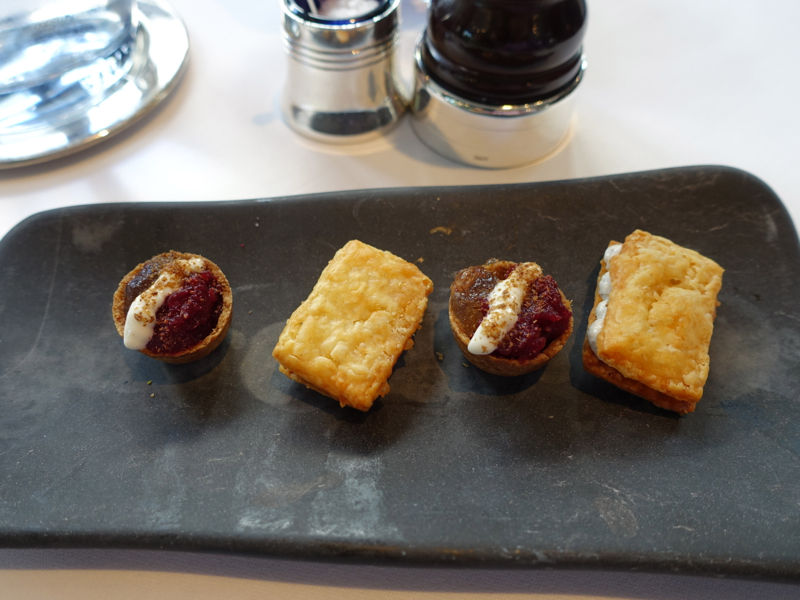 And a more adventurous (and probably the most "flamboyant" item we tried) amuse of a cold tomato gelee with a cauliflower sorbet–very refreshing, although I was of course more a fan of it than was the munchkin.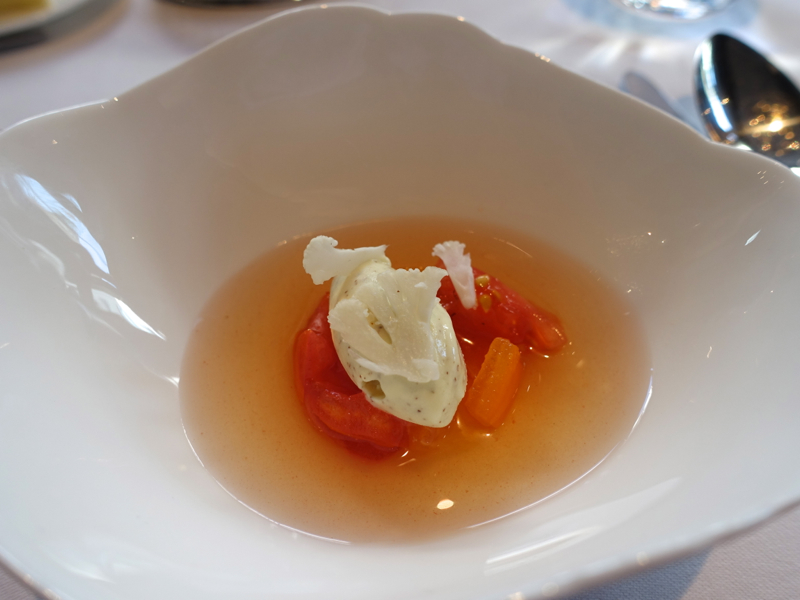 Our appetizer, the Slow Cooked Duck Egg, was my favorite course of all. It really was the perfect combination of sweet pea puree, bursting with flavor, rich salty bacon, and silky poached duck egg. Both of us really enjoyed this course.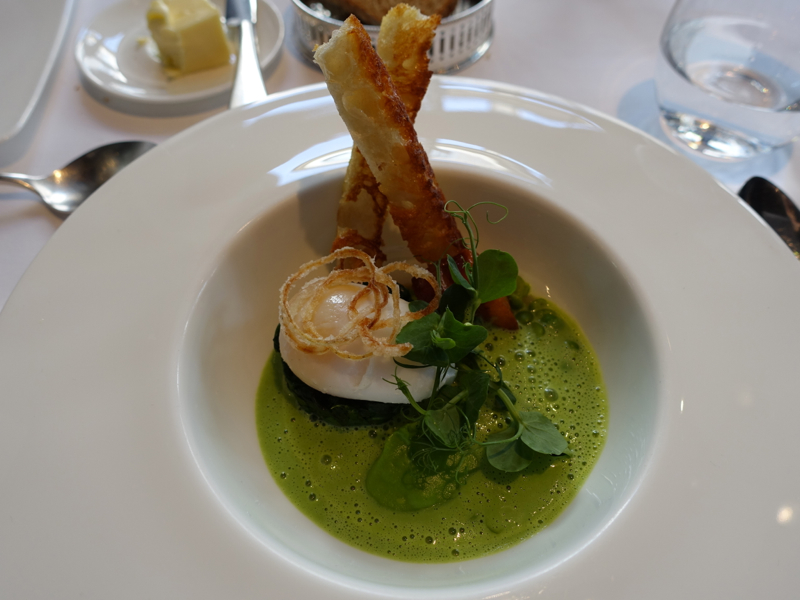 The Partidge main was also excellent–perfectly cooked (you don't want to overcook game birds), and complemented well by the elderberries and caramelized brussels sprouts, as well as the sourdough puree.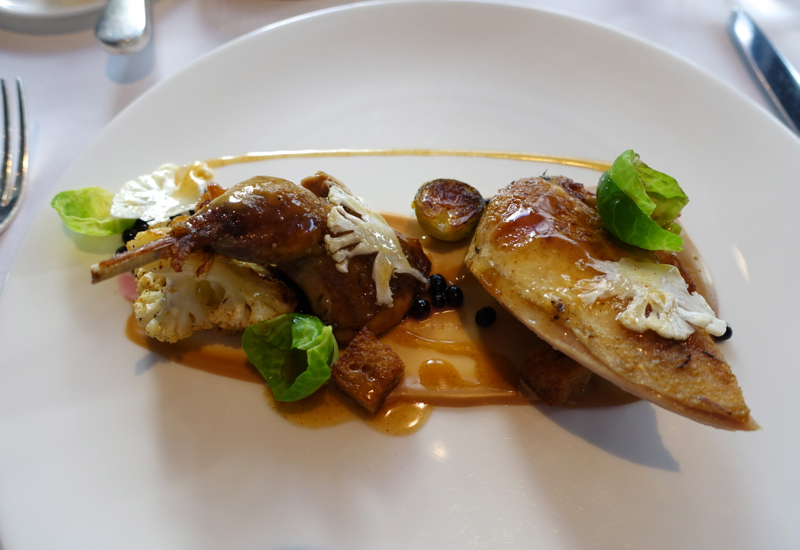 The Sunday Lunch menu offered 3 dessert choices, none of which sounded remotely appealing to me: White Chocolate Mousse (come on–white chocolate isn't chocolate at all–no cocoa solids, just cocoa butter) with poached peach, fresh raspberries and raspberry sorbet; Fromage Frais with strawberries, lemon granite and puff pastry arlette; and four flavors of ice cream/sorbets. No hot choices, no dark chocolate choices, no nut-based choices–only fruit selections. To be clear, I do enjoy fruit desserts sometimes, but not when the selection is so limited that that's all there is.
So, even though 95% of the time I order dessert, this dessert menu was so uninspiring it was a slam dunk to order cheese instead of dessert, as opposed to in addition to dessert.
It was a given that we'd be ordering cheese as a course, as the munchkin always looks forward most to the cheese cart. We were invited to look at all the varieties on offer, and select up to 5 to taste. While most of these are also available to me at Murray's Cheese Shop in NYC, if not Whole Foods, our server did recommend a Camembert au Calvados from France that I'd never tried, in addition to our more standard choices of a buttery Brie, Pont l'Eveque, aged Gruyere, and an English Farmhouse Cheddar.
While not quite as impressive in terms of goat cheese selection or presentation as at 3 Michelin Star Epicure at Le Bristol, I'd say this was a very impressive cheese offering for a 1 Michelin Star restaurant, particularly in terms of blue cheese selections (which I didn't try since they're too strong tasting for my son). I do wish the portions of each had been similar, since the one I enjoyed most, the Camembert au Calvados, was also the one that we were given least of, whereas we were given more of the more ordinary cheeses.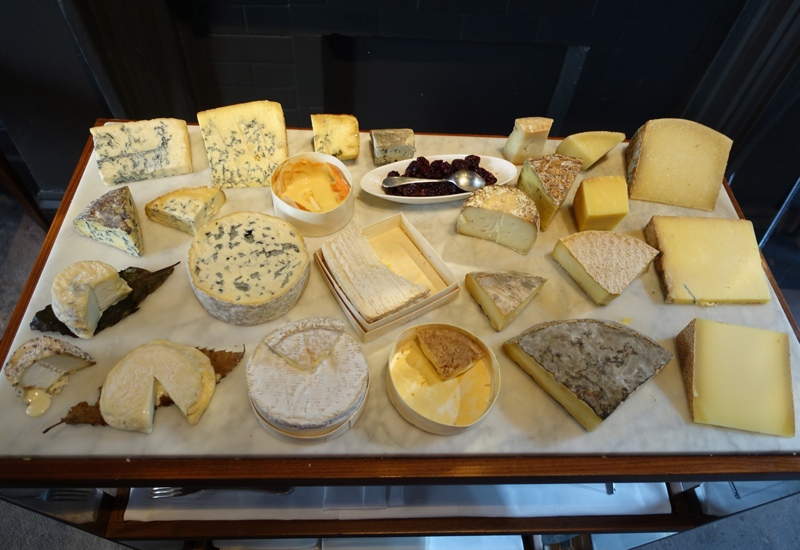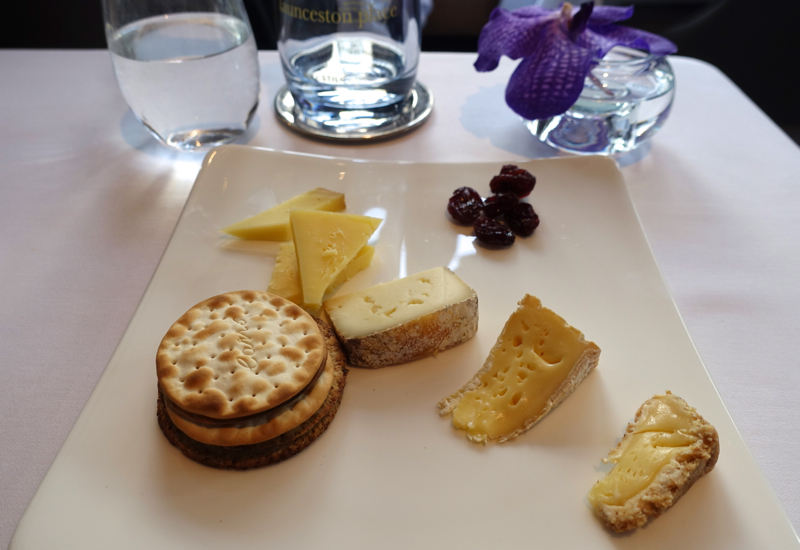 The Service
Service from our welcome through our meal and to our departure was professional and generally excellent, although I did feel that the meal was too protracted and could have benefited from better pacing. If you have someplace you need to be, such as a West End show, I would definitely check at the time of making the reservation that you can be accommodated, so as not to stress during the meal as to whether you'll finish in time for your next appointment.
The Verdict
Launceston Place is a delightful destination for its Sunday lunch or, during the week, its set lunch. We particularly enjoyed our Slow Cooked Duck Egg appetizer and Partridge main dish, and cheese lovers will be happy with the extensive cheese cart selection.
The restaurant was also very accommodating of the fact that the munchkin wasn't as hungry as he usually is, due to the time change, and kindly allowed me to share my lunch with him, which I appreciated.
While I didn't try them, I found the dessert choices uninspired–although there is apparently a dedicated pastry chef, per Chef Tim, neither the White Chocolate Mousse nor the Fromage Frais sounded tempting, and there were no hot dessert options, nor any dark chocolate or nut-based options–only light fruit desserts. Having one is good, but there really should be contrasting, different types of dessert options and these were too similar. Whoever is the pastry chef should check out fellow London Michelin 1 Star Petrus, which offers a fantastic chocolate sphere as a constant on its dessert menu, and Gramercy Tavern, to see how to put together a more compelling dessert menu.
Also, most restaurants of this caliber would offer some complimentary mignardises to conclude the meal or at least a pre-dessert, as Petrus does. So overall, I wasn't as impressed as at Petrus, but I do still recommend Launceston Place, particularly if you plan to be in the South Kensington neighborhood.
If you've dined at Launceston Place in London, what was your experience?
Related Posts
Petrus London Restaurant Review
Best Time of the Year to Visit London?
London with Frequent Flyer Miles and Points?
Need Award Booking Help? Our fee is as low as $75 per ticket if you book your hotel through us.
If you enjoyed this, join 150,000+ readers: please follow TravelSort on Twitter or like us on Facebook to be alerted to new posts.
Become a TravelSort Client and Book 5-Star Hotels with Virtuoso or Four Seasons Preferred Partner Amenities!