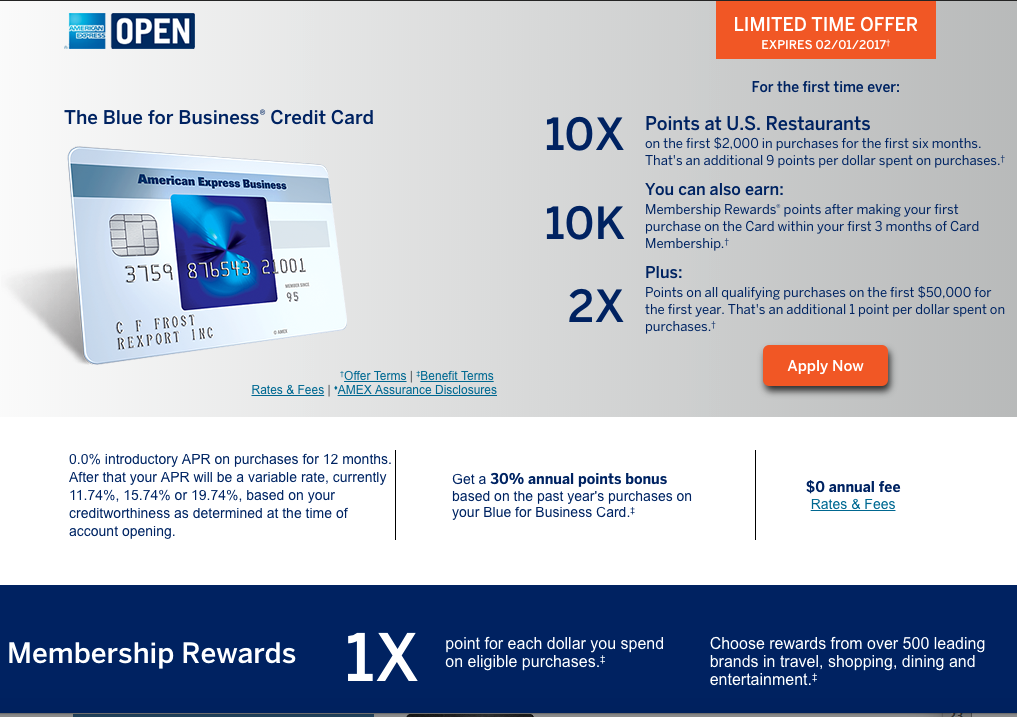 The AMEX Blue for Business Card offers 10X at U.S. restaurants for the first 6 months, up to $2000 on purchases (so 20,000 AMEX Membership Rewards points) if you apply by February 22, 2017. Although the offer's been out for awhile, I'd procrastinated applying for the card since I first wanted to get the 100K Chase Sapphire Reserve and the 50K Citi AAdvantage Platinum Select, which was matched to 60K.
But since I review restaurants as well as luxury hotels and flights for clients, I was keen to enjoy 10X per dollar for U.S. restaurants, particularly as this is a no annual fee card. Here are the full card details, in case it's a good fit for you as well:
10X at U.S. restaurants for the first six months, on up to $2,000 in purchases. Offer expires 02/22/2017.
2X points on all qualifying purchases on the first $50,000 for the first year.
10,000 Membership Rewards points after making your first purchase on the Card within your first 3 months of Card Membership.
Get a 30% annual points bonus based on the past year's purchases on your Blue for Business Card.
FAQ
Is The 30% Annual Points Bonus Based on the Bonus Spend or Base Spend?
It's based on the base spend, so if your total spend in 2017 was $2000 on restaurants and $50,000 in other spend your bonus spend would be 0.3 x 52,000 = 15,600 bonus points, on top of the 20,000 points for restaurants (10 x 2000) and 100,000 (2 x 50,000) and the 10,000 signup bonus:
10,000 signup bonus
20,000 given $2000 restaurant spend within the first 6 months
100,000 given $50,000 spend in 2017
15,600 as 30% annual points bonus
Total: 145,600 points
Can These Points Be Transferred Out to AMEX Membership Rewards Partners?
Is There a Foreign Transaction Fee?
Yes: 2.7%, so you don't want to use this card internationally. Use your Chase Sapphire Reserve or Ink Business Preferred instead, for 3X points on travel, including international travel, with no foreign transaction fees.
Am I Eligible for the Offer If I've Had the Card Before?
You're not eligible for the welcome bonus offer if you have or have ever had the AMEX Blue for Business card. I believe you should get the other offers (10X on restaurants for the first 6 months, up to $2000, and 2X on spend up to $50,000 in the first year) but if you've had the card before, I'd apply by phone to double check with the AMEX representative.
Does Applying for This Card Count for Purposes of Chase 5/24?
No; AMEX Business Card applications don't count for Chase 5/24. So if you've had 3 credit inquiries in the past 24 months, this will not add to it.
Do you have the AMEX Blue for Business Card or plan to apply by 2/22 to get 10X at U.S. restaurants?
Recommended Posts