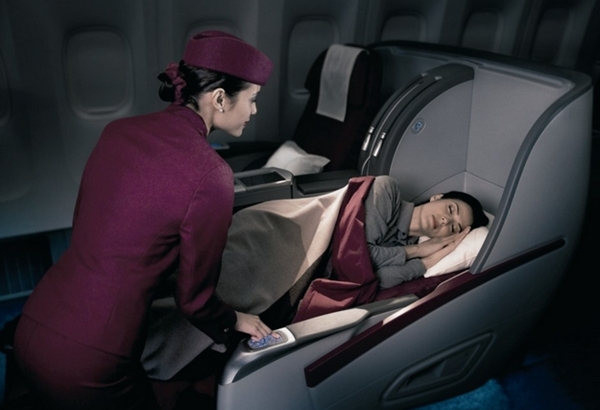 9/13 Update: Qatar Business Class awards are again available on United for a few more hours. Here's an example of a business class NYC-Doha award I just found: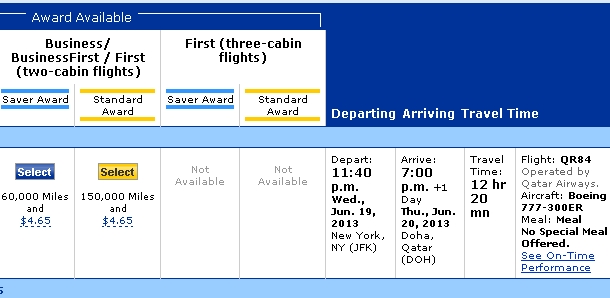 Qatar's United partnership ends this week, on September 14, so it's your last chance to book Qatar business class (which has an in-flight experience akin to many airlines' first class) on United.com. Particularly if you're planning a trip to the Middle East, India or the Maldives, Qatar would be a good way to get there. One way in business class NYC-Doha is 60,000 United miles, just a little more than the 50,000 signup bonus from either the Ink Bold or Ink Plus.
You can easily book flights to Doha via United.com, but don't expect to call United to piece together an award, since rather notoriously, United agents have been falsely instructed that the partnership is already over and not to book Qatar awards. See our prior post, Book Qatar to the Maldives Before It's Too Late for a handy FAQ. I've found more availability in 2013, but even if you can't find Qatar availability on a U.S. nonstop to Doha, you often can find an award that goes through Montreal.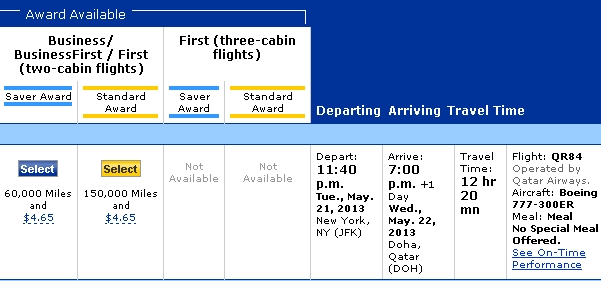 But watch out: Matthew reports that a passenger he booked on Qatar and had a confirmed flight including Qatar PNR, got to his gateway city and Qatar couldn't find his reservation. Here are excerpts:
"…while United had said everything was great in Cleveland (checking the bags all the way through to their final destination), Qatar had been unable to locate one of the tickets upon check-in in Houston…
I called the United electronic support desk immediately where a woman took a look at the ticket and said everything looked fine. Everything looked fine on the United side to me too, but the ticket would not longer pull up on Qatar's website as it had done when I first issued the ticket in July…
[The Qatar representative] kept insisting there was no reservation, until the United agent read her the ticket number, which she manually inputted.
Suddenly, the reservation popped up: Qatar had found it. And it was booked in business class!
…Here's what I think happened–Qatar somehow missed the ticket and by the time they found it (how sad that United had to help them locate it), the client's business class seat had been given away."
This is really worrisome; naturally the first thing I did was to check my own Qatar reservations for 2013 using the Qatar Web site. You'll need the Qatar PNR, which you can get by calling United. Fortunately, so far, everything is in order, and our seat reservations are intact, but I recommend continuing to check them periodically, especially as your departure date draws closer.
And if you're making a new Qatar reservation, don't just rely on the United confirmation and e-ticket; call to get the Qatar PNR and make sure your reservation is also in Qatar's system BEFORE September 14, to make sure it was issued by Qatar.
Have you had any similar issues with Qatar or another partner airline on an award ticket?
Related posts
Best Qatar Awards Bookable with United Miles
Tips for Booking Award Tickets to the Maldives
Review: Qatar Business Class NYC JFK to Doha
Review: Qatar Business Class Lounge, Doha
Need Award Booking Help? Our fee is as low as $75 per ticket if you book your hotel through us.
If you enjoyed this, please follow TravelSort on Twitter or like us on Facebook to be alerted to new posts.