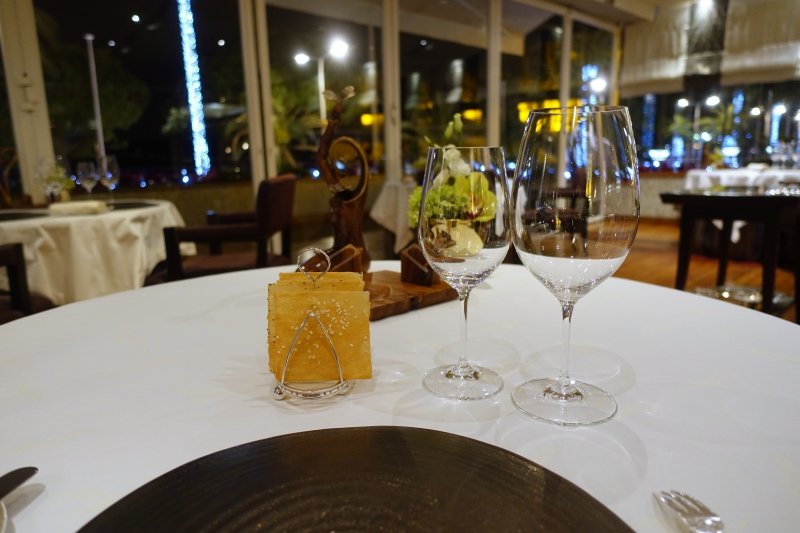 This Review of La Palme d'Or Restaurant in Cannes, which is the only 2 Michelin star restaurant in Cannes, is from my recent stay at the Grand Hyatt Cannes Hotel Martinez. I reserved my stay with Virtuoso benefits, which in addition to complimentary breakfast and an upgrade if available, include a $100 USD equivalent dining credit to be utilized during the stay, which covered most of my dinner.
See all our Michelin star restaurant reviews and posts.
Getting to La Palme d'Or Cannes and Opening Days and Hours
The Grand Hyatt Cannes Hotel Martinez where La Palme d'Or is located is at 73, Boulevard la Croisette, with views of the Bay of Cannes. To get to the restaurant you turn right from the main hotel lobby to where there is a dedicated elevator, with a staff member welcoming and escorting you in the elevator to the restaurant.
La Palme d'Or may have some of the most limited opening times I've seen for a Michelin restaurant that is open for lunch and dinner. It is closed annually in January and February and the other 10 months is open Wednesday-Saturday (closed Sunday, Monday and Tuesday) for lunch 12:30-1:30pm and for dinner 8-10pm.
The Scene
I dined on a Thursday night at 8pm, and for awhile was the only guest in the entire restaurant, before a couple arrived at about 8:45pm. While I'm used to dining alone when traveling for work, it did feel a bit strange to be the only guest there. I don't like noisy restaurants, but I'm not looking to be the sole diner, either.
The restaurant was apparently very busy for lunch, however, as I wasn't able to get a lunch reservation on Wednesday. This might have something to do with the fact that for lunch, there's a very good deal EUR 74 5 course lunch menu that includes half a bottle of wine and coffee.
La Palme d'Or Cannes Menu and Food
The special menus at La Palme d'Or are organized as "movements," typically 3 movements around a specific ingredient such as Dublin Prawn, Vegetables, Lamb, Oyster, Tuna or Pigeon. Because of this, the a la carte menu features just 3 appetizer options and 3 main course options. Here's the a la carte dinner menu: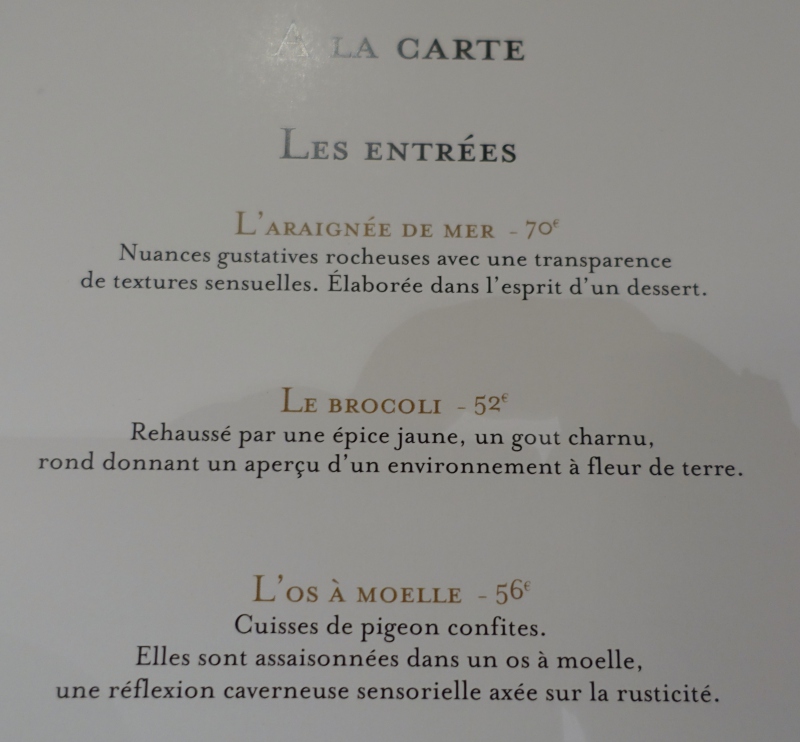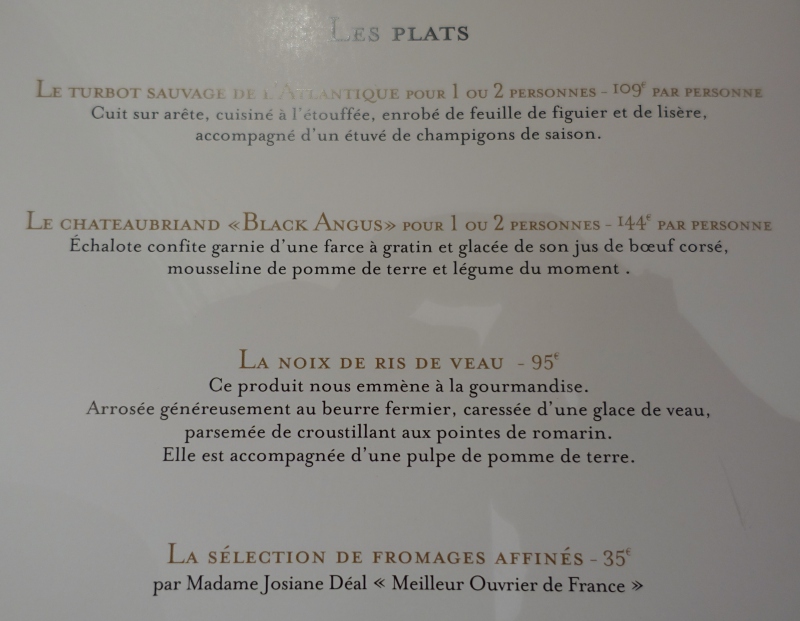 Nevertheless, since I needed to get some work done that evening, I opted to order an appetizer and cheeses. I suspected there would be a nice amuse bouche or even a few, and I was not mistaken. The first ones were even presented before I selected my dishes.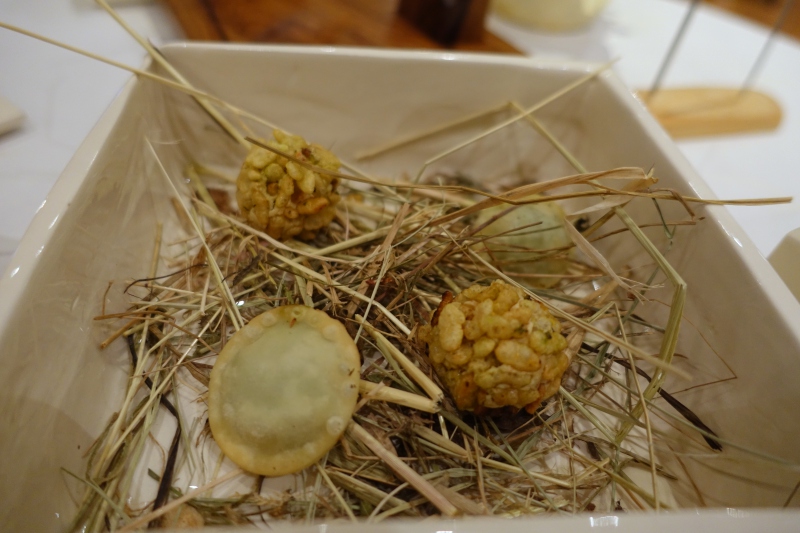 Another amuse bouche trio was presented later, my favorite being the foie gras mousse between two crisp squid ink wafers. I also enjoyed the savory "truffles," but didn't care for the marshmallow like texture of the green ones, which I didn't eat.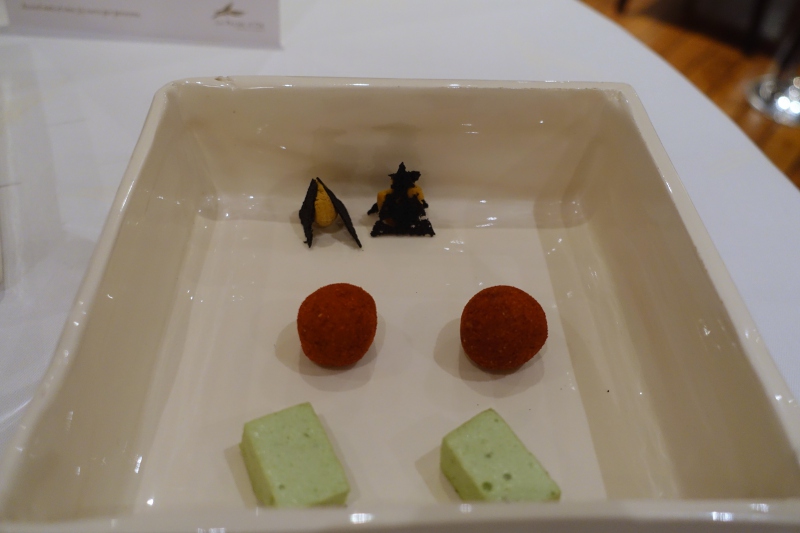 There was a choice of housemade breads, and I couldn't resist trying this eye-catching squid ink bread that seemed to be in the shape of a book with its pages unfurled. It didn't really taste much of squid ink, however, any more than most squid ink pasta–the ink colors it black but it tastes like most bread.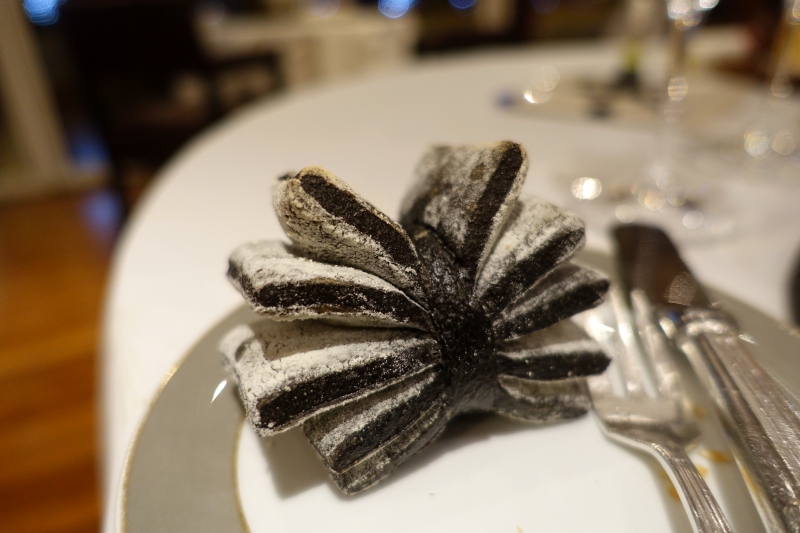 I thought it interesting that another bread offering was cornbread, which I would never have expected to see in France, especially at a Michelin star restaurant, although it was tasty. Since this is the south of France, it was served with olive oil, not butter.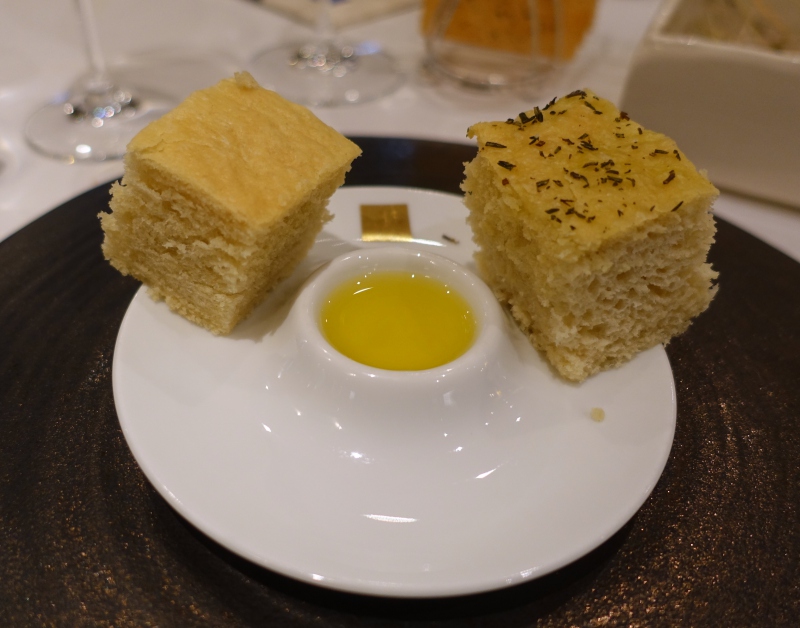 A final complimentary seafood amuse bouche featured black caviar and–you guessed it–a squid ink wafer alongside. Scrumptious.
For my appetizer I ordered the Spider Crab, which was incredibly fragrant and initially covered with a fig leaf that imparted a certain sweetness. Initially I thought there was some coconut in the dish, but there isn't. The spider crab is gently cooked similar to creme caramel, and accented with wild mushrooms. The surrounding bouillon is good to the last drop, and I mopped up every last bit. While I've never ordered a 70 EUR appetizer before, it was worth it given the taste of this dish.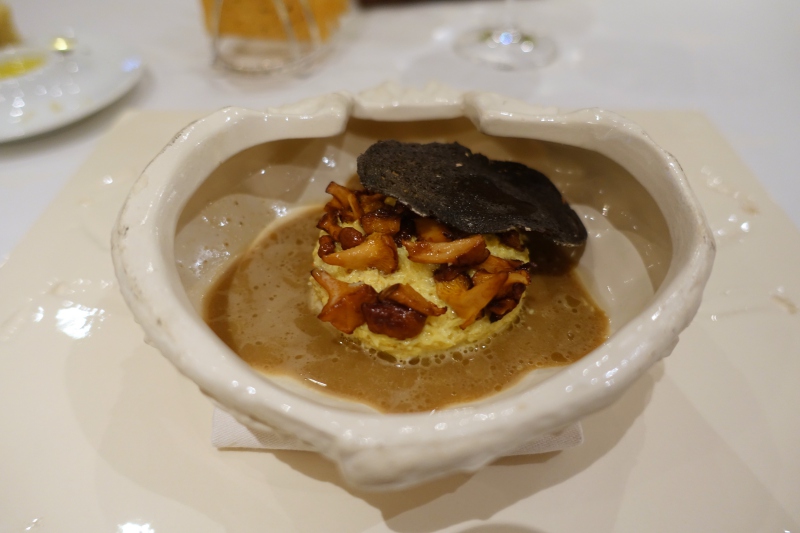 Although I love dessert, I wasn't that tempted by any of the dessert descriptions, so I opted for the cheese trolley instead. The cheeses are courtesy of affineur Mme. Josiane Deal, who has a "Meilleur Ouvrier de France" designation, so I was expecting great things. Here's the cheese trolley, with its many delicious choices: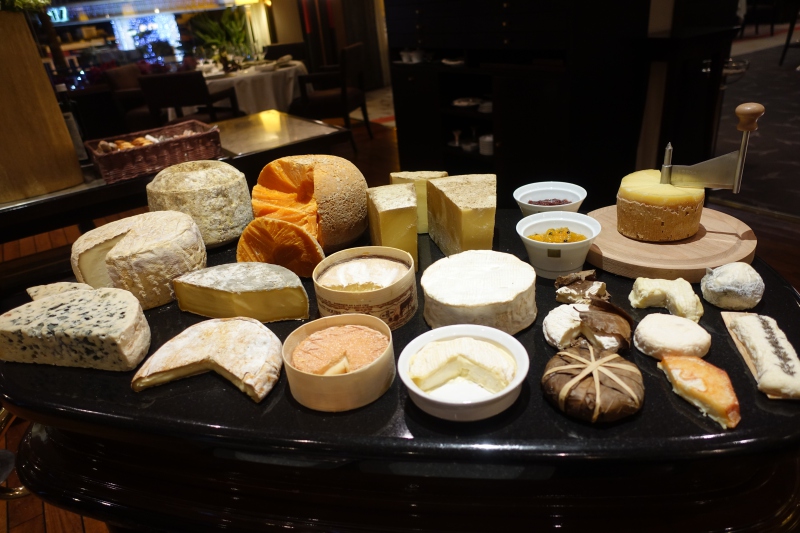 My very affable server asked me which kinds of cheeses I'd prefer, and I mentioned that I wanted to go beyond the cheeses I can get at Whole Foods (even though I'm sure the versions here would have been far better due to the expert cheese aging). He found some of the more local sheep's milk and goat's milk cheeses and carefully arranged them around the plate, in the order in which to enjoy them, from the freshest and youngest cheeses to the most mature and strongly flavored cheeses.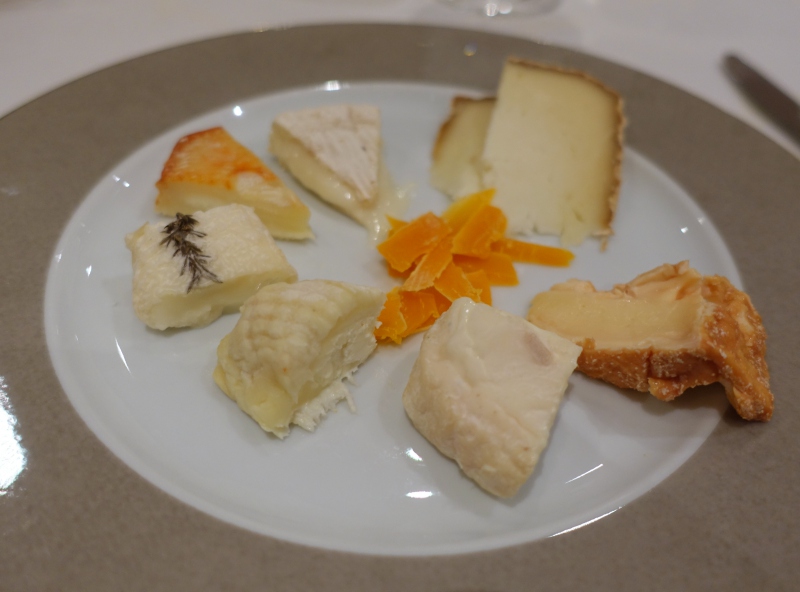 I also really enjoyed the fruit and nut bread slice that accompanied the cheese. This course was so satisfying, I was very happy to have only ordered an appetizer, so that I was hungry for it.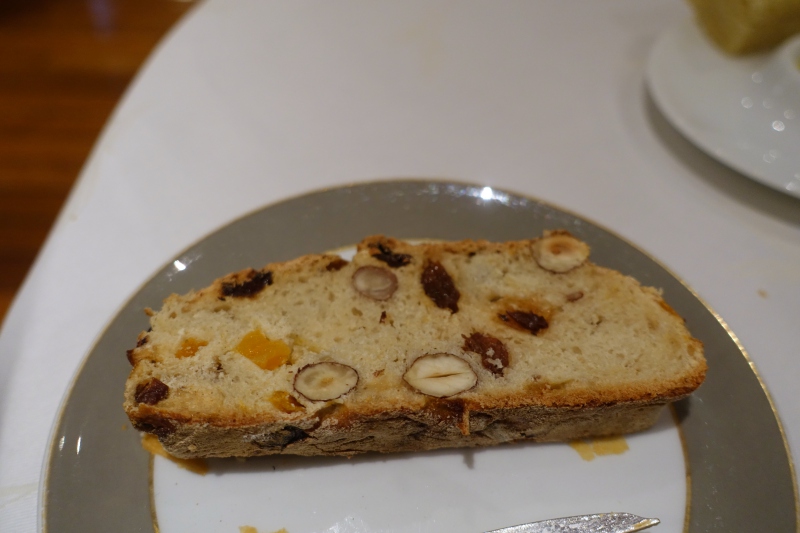 Several mignardises concluded an excellent meal. These weren't as revelatory as the mignardises at Le 1947 at Cheval Blanc Randheli, but they were the perfect sweet touch, and I liked that they used dark chocolate, which I prefer to milk chocolate.
As a parting gift, I was given a mini baba-like cake with some cream and fruit nestled in the center. It was the perfect treat the next day, on my TGV train to Paris.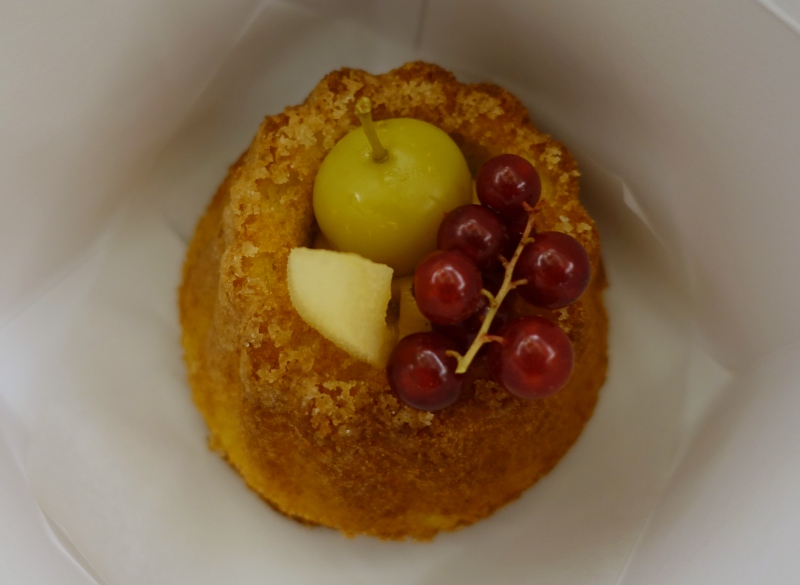 The Verdict
While I was surprised to initially be the only guest at the restaurant on a Thursday evening, and initially felt the service was too formal, I ended up really enjoying my dinner at La Palme d'Or. Don't fill up on bread, since there are several delectable sets of amuse bouche. And if ordering a la carte, I highly recommend the Spider Crab appetizer, as well as the cheese course.
The team fluently speaks English, although were happy to accommodate my wanting to practice my French, and by the end of my meal I was chatting with one of them about his recent visit to NYC and Brooklyn.
If you're attending a major conference or meetings at the convention center, be sure to reserve well in advance for lunch, given how popular it is.
If you've dined at La Palme d'Or in Cannes, what was your experience?
Recommended Posts
Review: Le Park 45 in Cannes, 1 Michelin Star
Grand Hotel du Cap-Ferrat Joins Four Seasons
Le Cinq Paris Restaurant Review, 3 Michelin Stars
Review: Mathieu Pacaud Histoires Paris, 2 Michelin Stars
Need Award Booking Help? Our fee is as low as $75 per ticket if you book your hotel through us.
If you enjoyed this, join 200,000+ readers: please follow TravelSort on Twitter or  like us on Facebook to be alerted to new posts. 
Become a TravelSort Client and Book your Cannes or French Riviera Luxury Hotel with Virtuoso or Preferred Partner Benefits