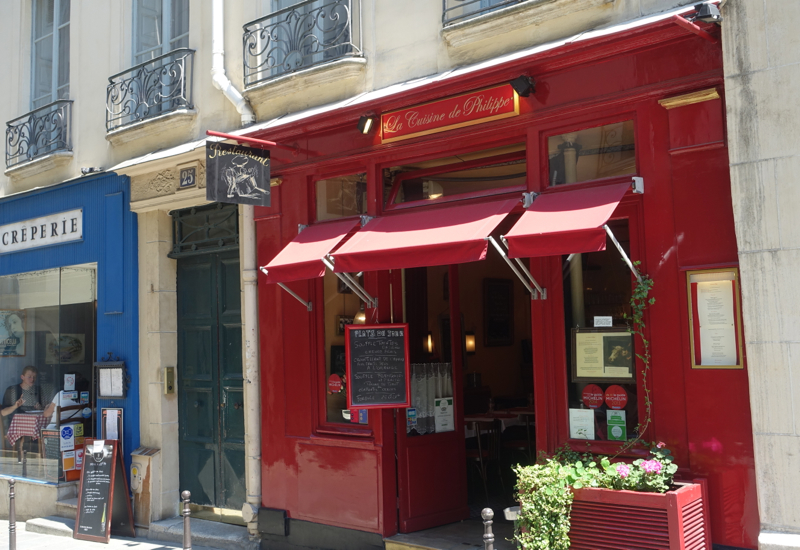 La Cuisine de Philippe is a must on your next visit to Paris, if you enjoy souffles–it's a rare place that specializes in them. I've been meaning to go for years, but either the restaurant was closed or I hadn't made a reservation in time–and the restaurant is tiny, so a reservation is a must for dinner and even strongly advised for lunch.
This review is part of a trip report including luxury hotel stays and Michelin star dining in Paris and London. For the previous posts, please see:
Review: Lufthansa First Class Lounge JFK Airport Terminal 1
Review: Lufthansa First Class 747-8 NYC to Frankfurt
Review: Lufthansa First Class Terminal Frankfurt
Review: Pur' Paris Restaurant, Park Hyatt Paris
Hotel Review: Park Hyatt Paris-Vendome
Getting to La Cuisine de Philippe Restaurant
La Cuisine de Philippe is located at 25 Rue Servadoni, right by Rue de Vaugirard and the Luxembourg Gardens, so perfect for combining a visit to the gardens, and if you have kids, sailing some boats there or even a visit to the adventure playground. If arriving on the Paris Metro (which I highly recommend–we started taking a taxi from our hotel, then gave up due to horrible traffic and took the metro instead) the closest subway stops are Saint Sulpice (line 4), Rennes (line 12) and Odeon (lines 10, 4).
You can't miss the bright red restaurant's cheerful facade, looking as if it had jumped right out of a French painting or storybook.
The Scene
You might think that with that bright red facade and all the glowing reviews in English on TripAdvisor La Cuisine de Philippe would be a tourist trap, but it's not. During our lunchtime visit, there was only one other foreigner, and everyone else was French; some couples, some friends, and a table next to us of older "regulars" who were there when we arrived and were still there when we departed.
While this was our first time and we were unfortunately late, we were graciously welcomed nonetheless and excited to try our souffles.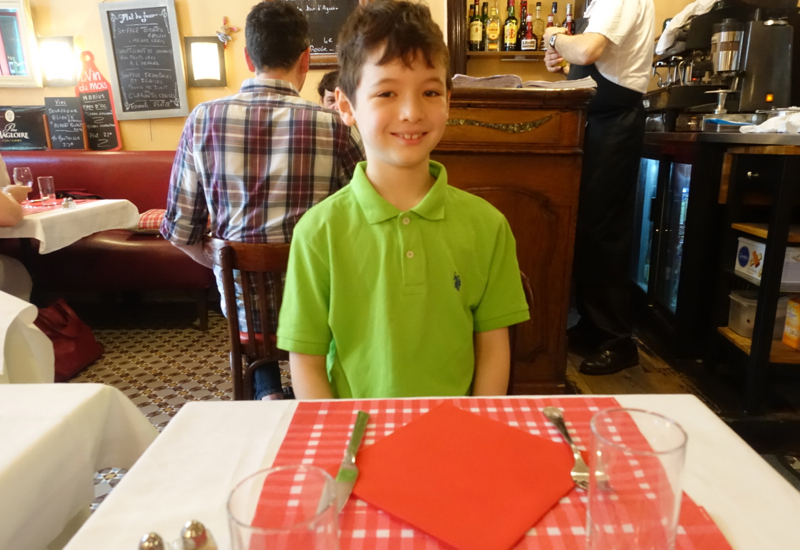 La Cuisine de Philippe Restaurant Menu and Food
While there is a regular menu (and I knew that it included lobster souffle, which I keenly wanted to try) I recommend looking at the menu of the day posted on the blackboard, which is also an excellent deal if you're hungry enough for it, at just EUR 25 or 28 depending on your selections. We didn't have the time or appetite to order the entire three course meal, but from it I decided to order the clafoutis for dessert.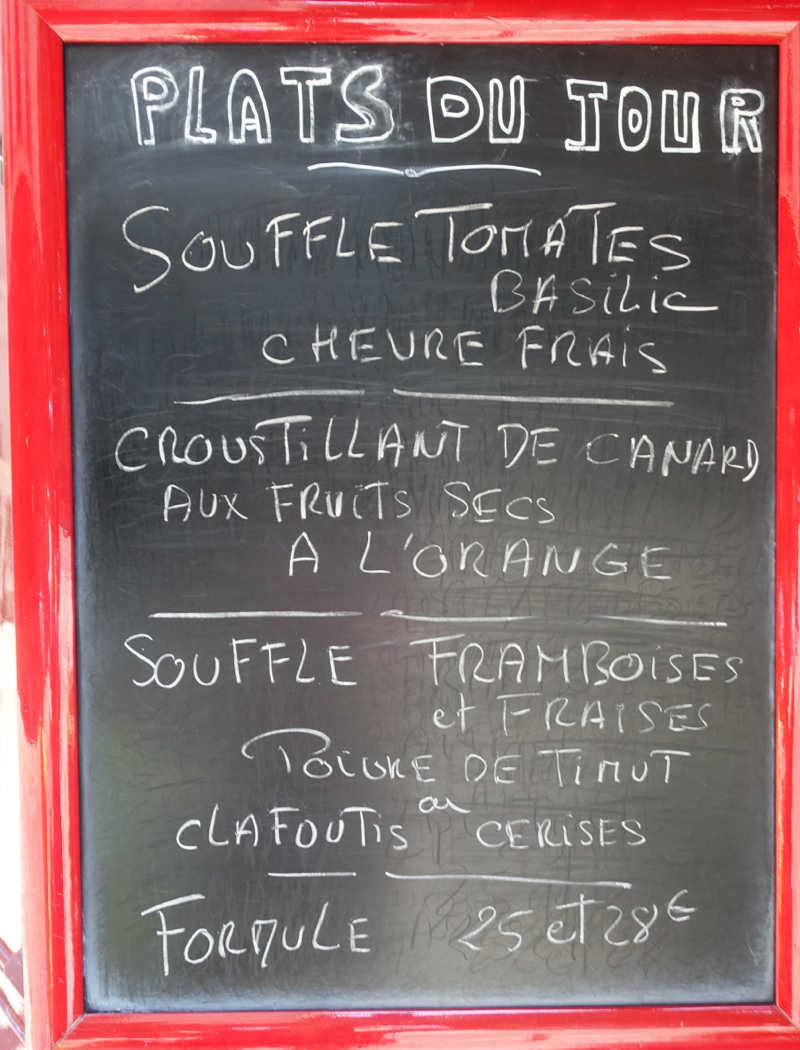 Since we were thirsty from practically running from the subway stop to the restaurant, we ordered my son a fresh squeezed orange juice and also a carafe d'eau (pitcher of tap water) for us. As I mentioned in a prior post, one of the things I love about dining out in France as opposed to, say, Germany, is that it's perfectly acceptable to order a carafe d'eau in a restaurant, which is complimentary tap water. We drink a ton of water, and prefer not to increase the amount of plastic or glass that needs to be recycled for bottled water, not to mention the expense of several large bottles of water for a meal.
We were also given a basket of fresh baguette, which we both appreciated, having skipped breakfast that morning.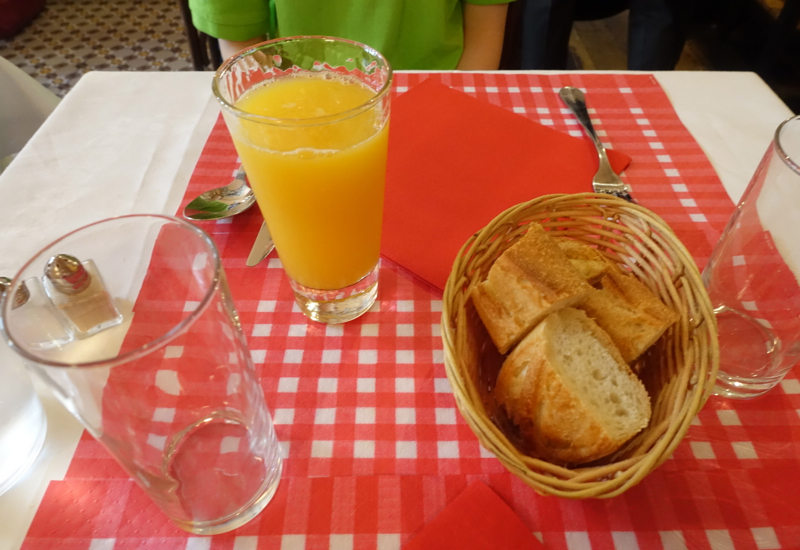 Souffles do take some time to bake, but in about 20 minutes we were each presented our lunch: a delicious cheese souffle for my son, with a crispy top and light, moist interior:
And my lobster souffle, which is the favorite savory souffle I've enjoyed to date. If was garnished with the large piece of lobster you see in the photo, but I also loved the bits of lobster throughout the souffle. If you like lobster and only get one souffle at La Cuisine de Philippe, I'd make it this one.
In the interest of textural contrast and because clafoutis, when made well, is one of my favorite French comfort food desserts, I ordered the Clafoutis aux Cerises for our dessert. It ended up being the perfect choice taste-wise, even though my son made a bit of a mess when he was taking out the cherry pits. Traditional French cherry clafoutis is made with unpitted cherries, so again, in case you had any doubt about La Cuisine de Philippe being the real deal, the authentic cherry clafoutis should convince you. The clafoutis was nicely caramelized around the crispy edges, with a silky texture and super fresh, sweet and juicy cherries–a very satisfying way to conclude our meal.
Chef Philippe's wife, who playfully joked with my son about his big appetite, used gestures to convey to him that he'd need to take out the pits, and also explained it to me in French. I overheard her speaking English as well to the only other foreigner, although our interactions were in French.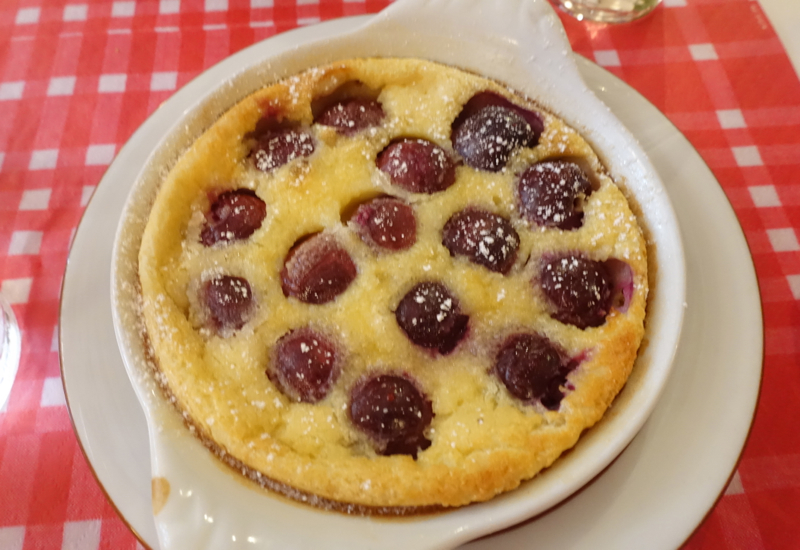 The Verdict
I regret not making it to La Cuisine de Philippe sooner, now that I know how good its souffles and clafoutis are, as well as its friendly service and atmosphere. Prices are very reasonable for the quality–we paid about $35 for our two souffles, dessert and my son's fresh squeezed orange juice. While this trip to Paris was all too short, I already have another short visit to Paris planned for later this year and will definitely be back for another lunch or dinner at La Cuisine de Philippe, which is saying something, since there are still so many places I want to try. Just don't forget to make a reservation in advance. Note that the restaurant is closed on Sunday and Monday, so plan accordingly when figuring out where to dine in Paris.
Related Posts
La Regalade Conservatoire Paris Restaurant Review
Spring Restaurant, Paris Restaurant Review
Paris with Kids-Jardin du Luxembourg
Le Cinq Restaurant Review, Four Seasons George V Paris
Disclosure: I paid for our meal at La Cuisine de Philippe.
Need Award Booking Help? Our fee is as low as $75 per ticket if you book your hotel through us.
If you enjoyed this, join 200,000+ readers: please follow TravelSort on Twitter or like us on Facebook to be alerted to new posts.
Become a TravelSort Client and Book Your Hotel with Virtuoso or Four Seasons Preferred Partner Amenities!