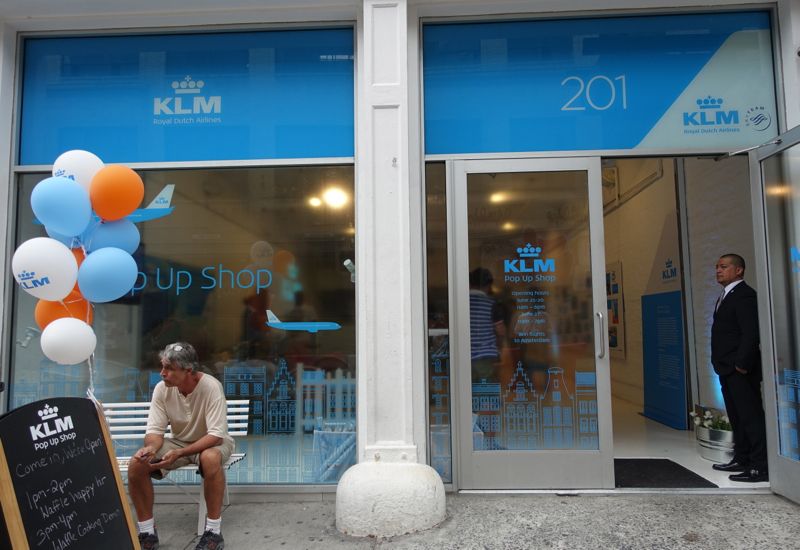 KLM's Pop Up Store landed in NYC yesterday, and is open through tomorrow, Saturday, 11am-7pm at the Openhouse Gallery, 201 Mulberry Street in Soho. Here are the times for tomorrow:
11am: KLM Pop Up Store opens: exhibits such as KLM New Business Class and Cycle for Miles are open
3pm Live illustration by Merjin Hos & print screening
5pm Heineken Happy Hour + Live DJ Set
My son and I went briefly yesterday to see it and check out KLM's new business class seats, which were also on display. We arrived in the midst of the 5-6pm "Happy Hour" with Dutch electronic dance music thumping away, courtesy of a live DJ, and there was a line to the downstairs section where Heineken beer was being served. If the music hadn't been quite so deafening, I'd have enjoyed the space, which had a skylight and was decorated of course with KLM's blue and white colors, including paper airplanes.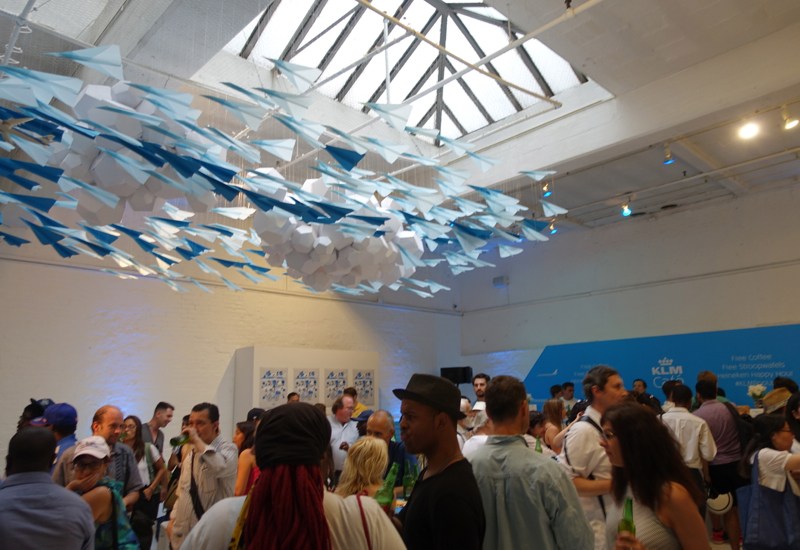 Fortunately several people exited, so our wait wasn't too long. I wasn't interested in Heineken, since I'm not a beer drinker, but a kind KLM exec got us some of the delicious Beemster cheese that was on offer, which the munchkin thoroughly enjoyed. Originally I'd told him there might be waffles, but I'd messed up the time—waffles were 1-3pm that day. The cheese made up for the waffle disappointment, and the caramelized notes reminded me of Saenkanter gouda, one of my favorite aged cheeses.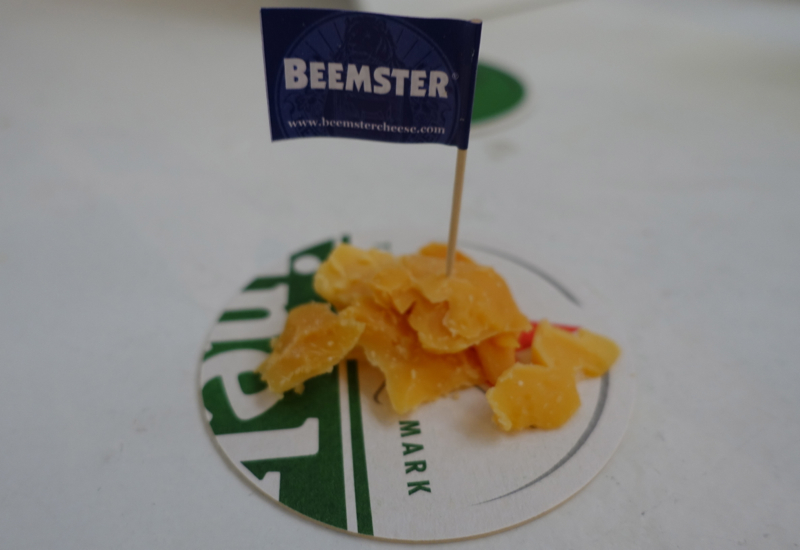 After finishing the cheese, we took a quick look at the Kids' Corner, but it had little in it and seemed to be intended for much younger kids, so my 7 year old wasn't interested.
We then made our way back up the stairs, where my son looked at a timeline of KLM's history: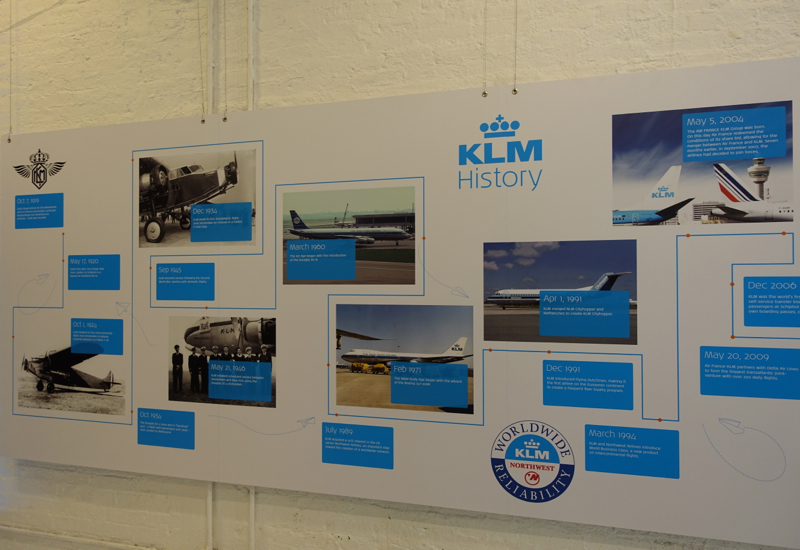 And also stared curiously at the "Cycle for Miles," where someone was bicycling furiously to earn Flying Blue miles. There's also a drawing for a trip to Amsterdam that you can enter by printing out an Eventbrite ticket; it needs to be turned in by the bar area downstairs.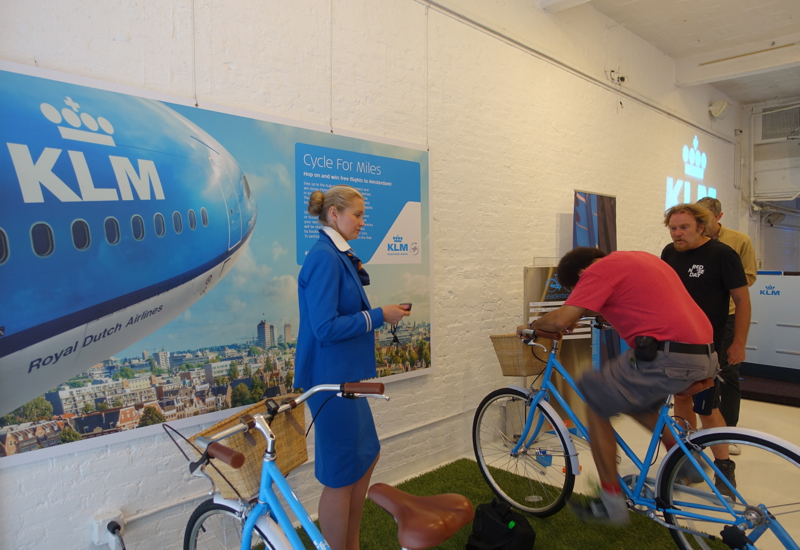 And I had a look at KLM's new business class, with fully flat bed seats. Unlike Air France's New Business Class, which features direct aisle access from every seat (as do most good international business class products, such as Singapore Business Class, Cathay Pacific Business Class, SWISS Business Class, JAL Skysuite Business Class, Iberia New Business Class, etc.) KLM went the Lufthansa route and opted for pairs of business class seats in a 2-2-2 configuration on its 777-200ERs.
It's an odd choice for business class, since many business class travelers fly solo and don't necessarily want to get to know a seat mate, much less have to climb over one, if the aisle seatmate has his or her seat in bed mode. At least you don't have to worry about playing footsie with your neighbor, as in Lufthansa's new Business Class, where the chairs angle toward each other and there's only a small divider between the footwells.
I wasn't able to actually sit or lie in the seats, so I'll reserve judgment on how comfortable they are, especially in flat bed mode.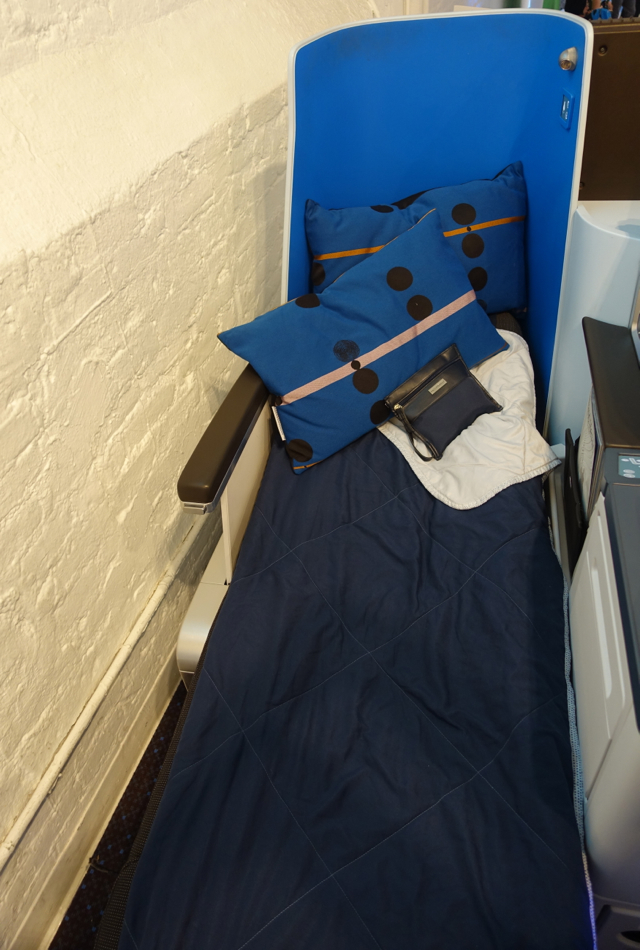 KLM's old business class seats were decently padded and fairly comfortable for a daytime flight, when I flew KLM last year. The color scheme is cozy and practical, rather than sleek: brown fabric upholstered chairs, with the interior of the hard shell in blue, and blue pillows with a bright orange or white stripe and black circles.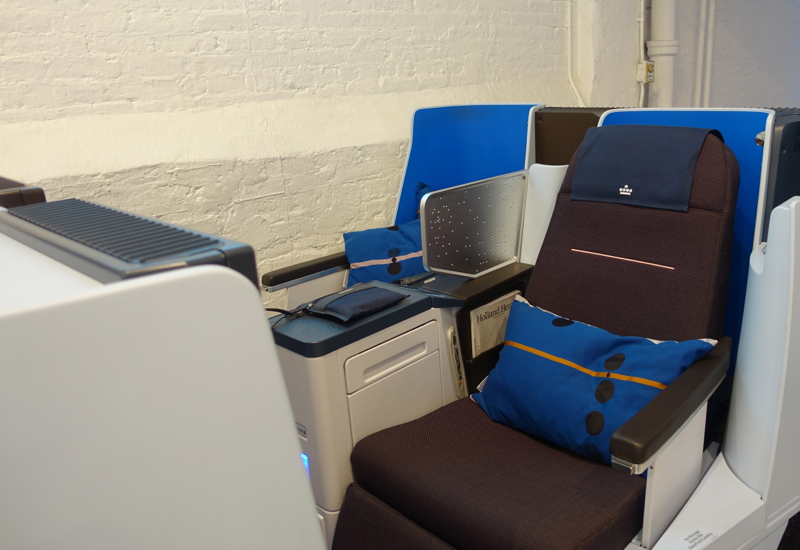 And yet, KLM is clearly going for a more "designed" appearance, given that the new china shown in the place setting is a simple white, whereas in the past delft-pattern bowls have been used.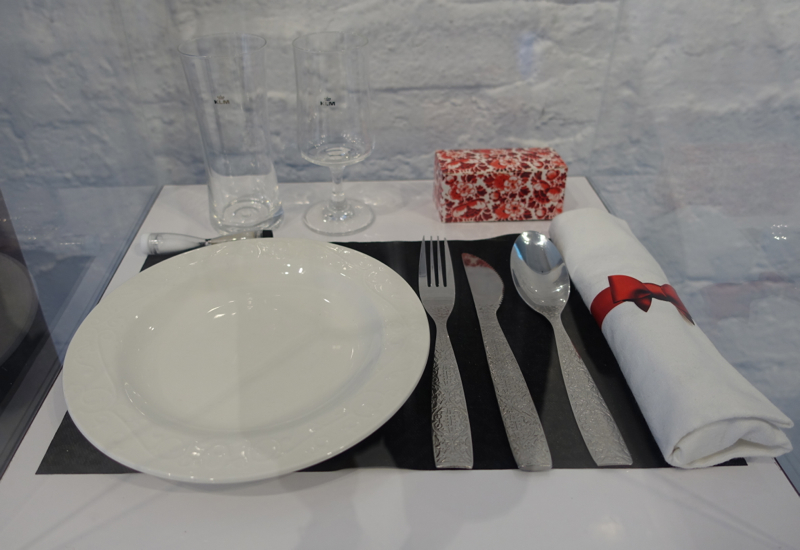 The amenity kit was a Viktor & Rolf bag very similar to the one I received in KLM's old business class, except the women's version is beige and includes moisturizer, in addition to the other basics: sleep mask, toothbrush and toothpaste, earplugs, socks, comb, lip balm and pen. Actually, I do really like the inclusion of a pen, since it's often needed to fill out immigration and customs forms, and saves you hunting for your own pen.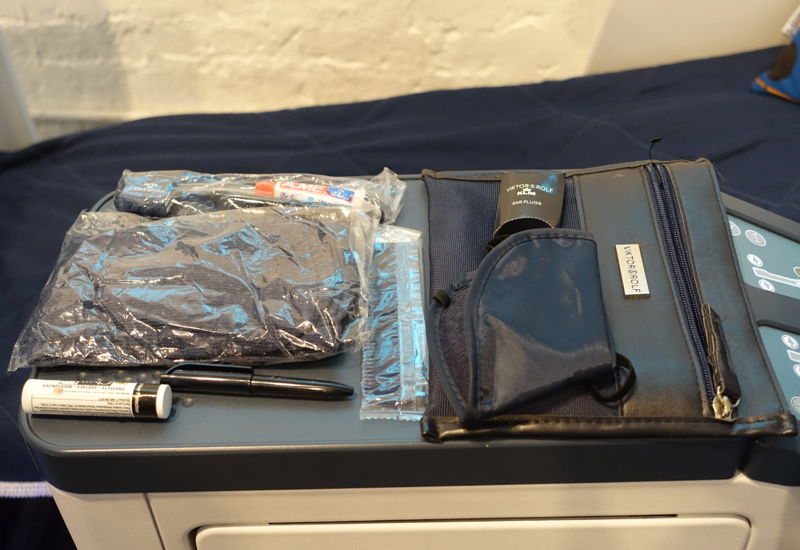 One of the cute aspects of KLM business class are the porcelain Dutch houses that house Dutch gin, given as a parting gift. There are different houses, so a variety of them were on display: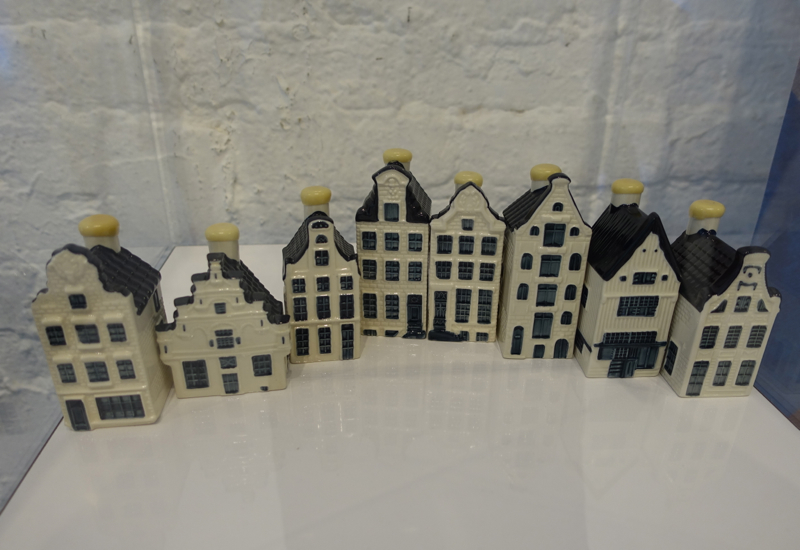 If you've been to the KLM Pop Up Store or flown in KLM's new business class, what was your experience?
Related Posts
Air France Flying Blue Changes: Cheaper Economy Awards, More Expensive Premium Awards
Air France New La Premiere First Class Suite
Air France New Business Class and La Premiere Photos (Air France Expo)
Need Award Booking Help? Our fee is as low as $75 per ticket if you book your hotel through us.
If you enjoyed this, join 200,000+ readers: please follow TravelSort on Twitter or like us on Facebook to be alerted to new posts.
Become a TravelSort Client and Book 5-Star Hotels with Virtuoso or Four Seasons Preferred Partner Amenities!