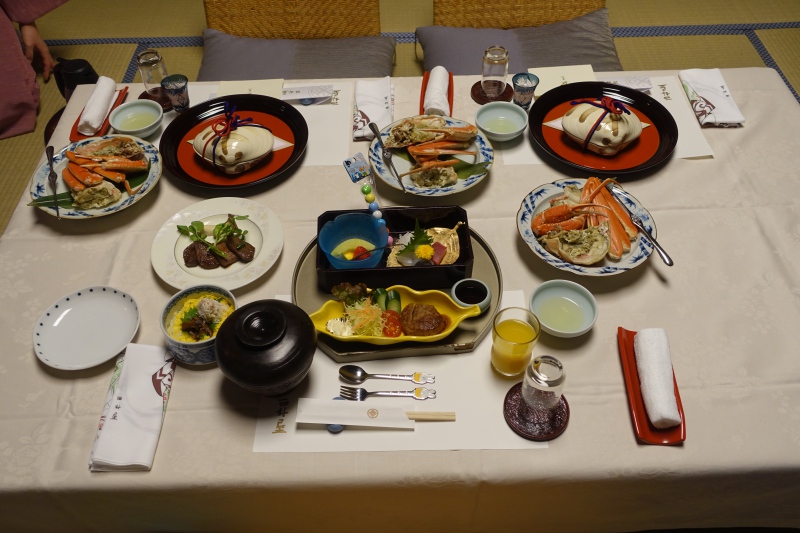 Nishimuraya Honkan in Kinosaki Onsen is one of 20 Relais & Chateaux properties in Japan, and was highly recommended to me by a TravelSort Client who has been countless times to Japan. Kinosaki Onsen is a popular mountain resort area, with 7 public onsen (bath houses with natural mineral hot spring water) all walking distance from each other.
Nishimuraya Honkan Location and Getting to Kinosaki Onsen
Nishimuraya Honkan is located at 469 Kinosakicho Yushima, in Toyooka. It takes about 2.5 hours by limited express train from Kyoto, or just under 3 hours by limited express train from Osaka to reach Kinosaki Onsen. Here's the JR Limited Express train schedule at time of writing.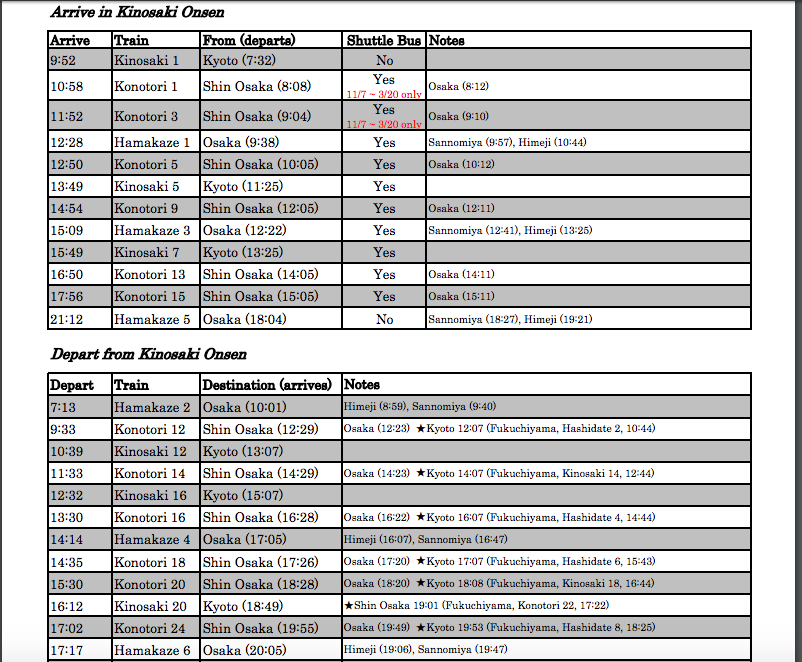 After a beautiful morning exploring Kyoto (see Things to Do in Kyoto) we collected our luggage from the Four Seasons Kyoto and took a taxi to the JR Kyoto Station to catch the 1:25pm train to Kinosaki Onsen. Here's what the train looked like: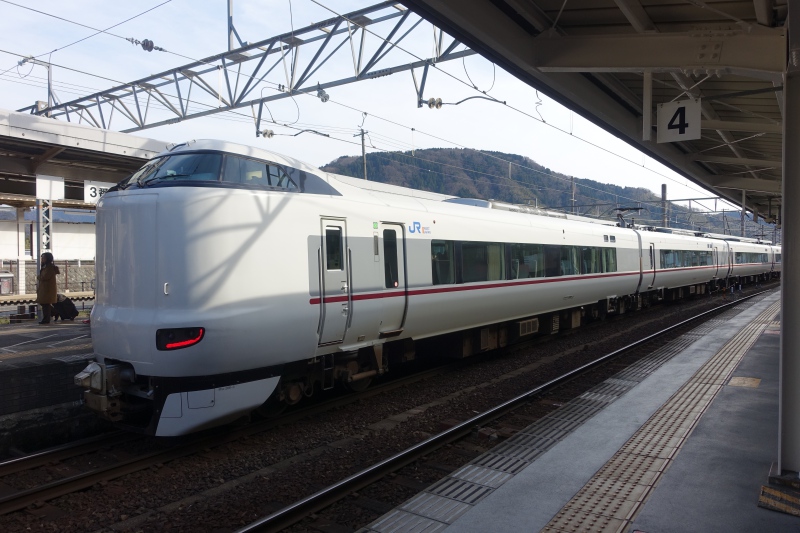 We had the JR Rail Pass for Green Cars, so we had reserved seats in the Green Car, which featured comfortable reclining chairs in a 2-2 configuration, with a power port at each seat.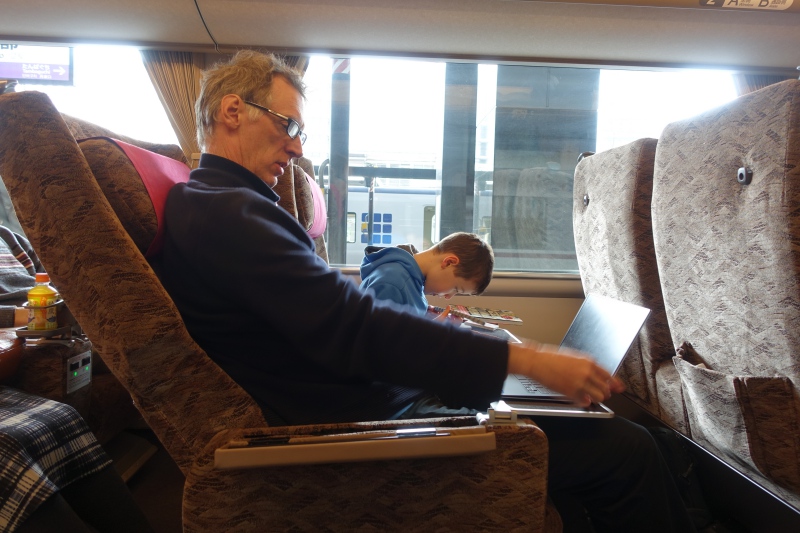 On the way we had some lovely water views: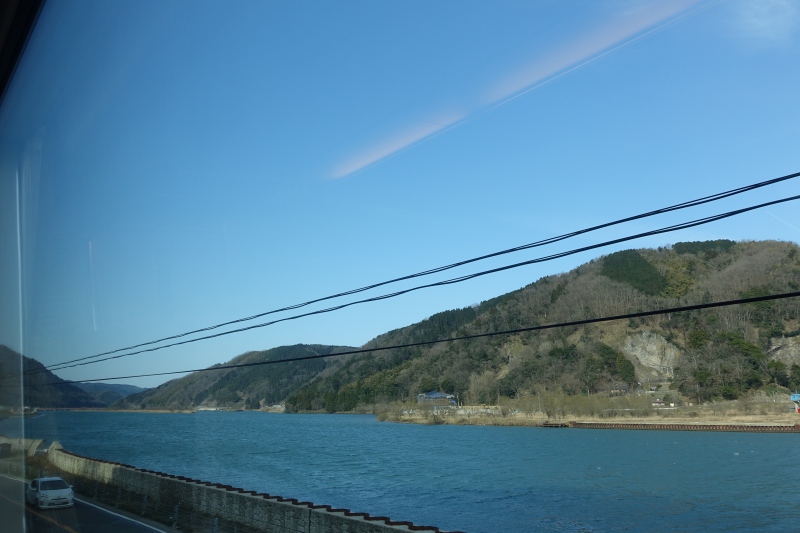 This being Japan, we arrived right on time, at 3:49pm, and once outside the station, a representative of the ryokans ushered us into a waiting bus that makes stops at all the Kinosaki Onsen ryokans: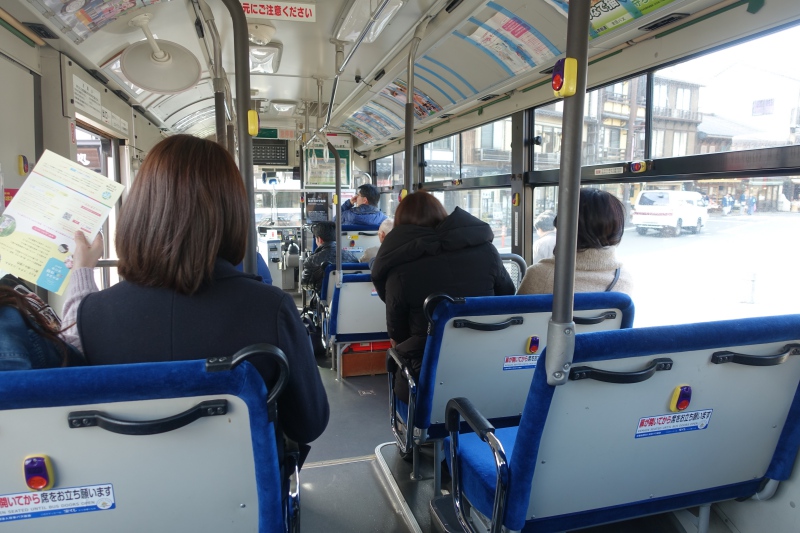 Be sure to advise Nishimuraya Honkan before your arrival date of the train you'll be on, so that they know which shuttle to expect you on. We were met at our stop, and graciously led inside via the courtyard, to the lobby to check in. We were immediately invited to remove our shoes and change to slippers. There are even traditional wooden geta clogs to wear when visiting the onsen.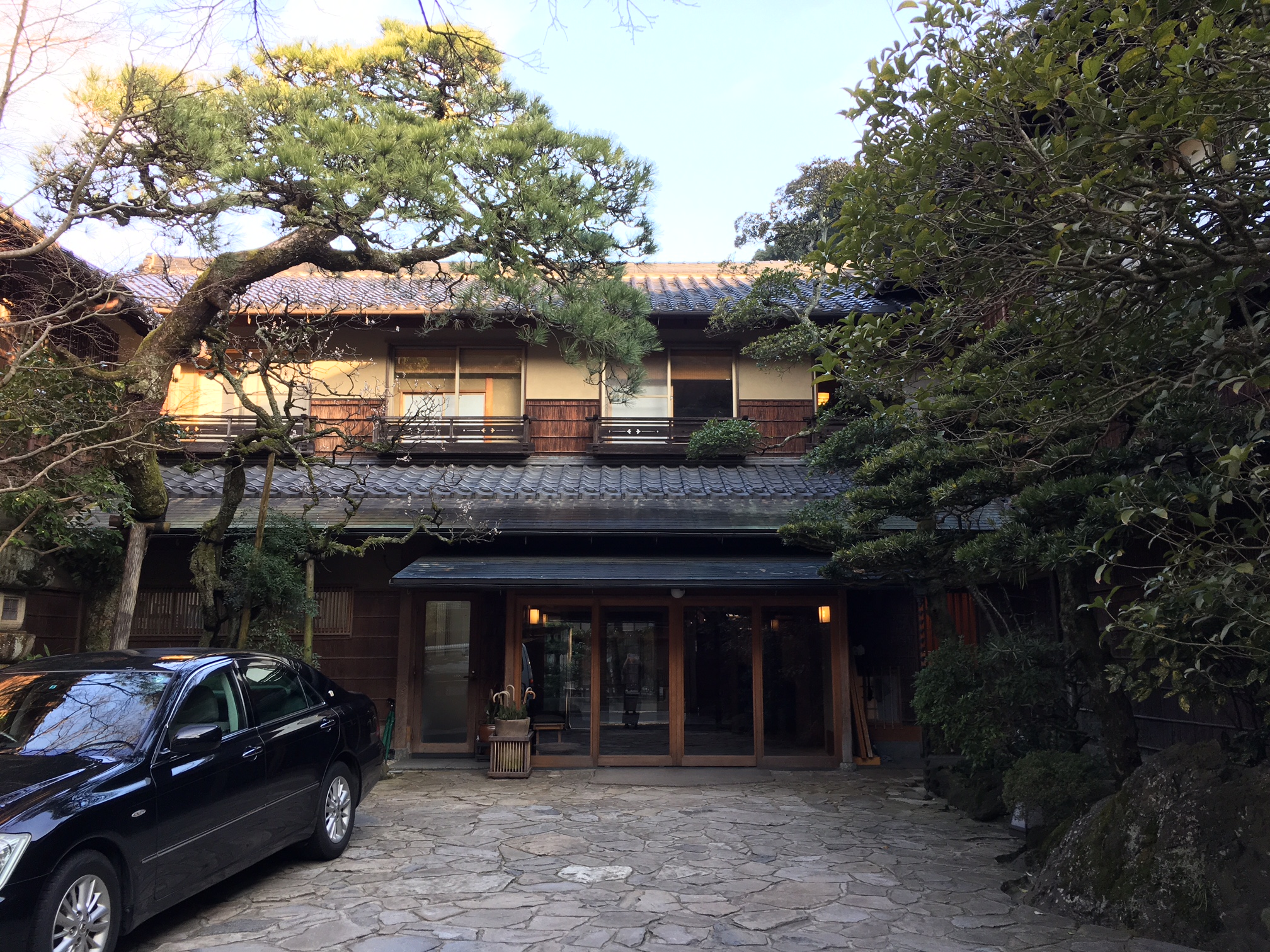 Nishimuraya Honkan Hatsune Room with Open Air Bath
We'd reserved a Hatsune Room with outdoor open air bath. The main room is 8 tatami mats in size, and during the day is set up with a low table at which you take your breakfast and dinner.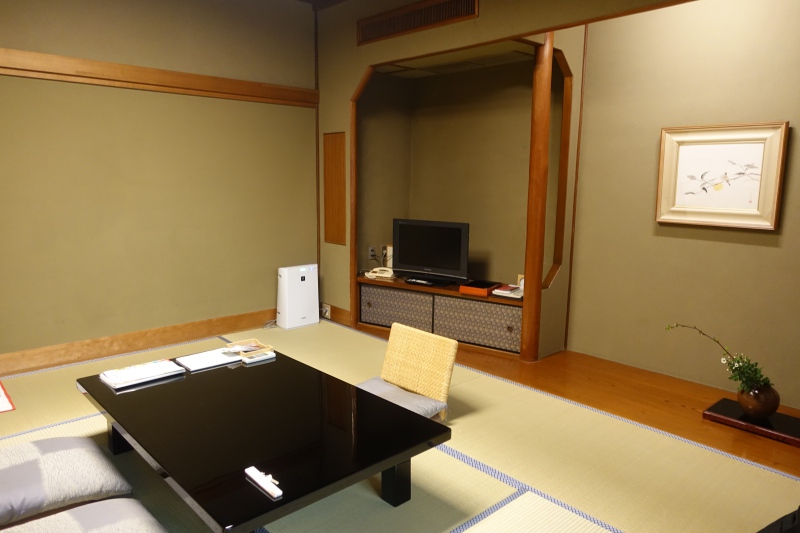 We were offered matcha, strong frothy green tea, and oshibori towels to refresh. There was also a basket of oranges, which made for a healthy snack (although in retrospect we should have saved our appetite for dinner).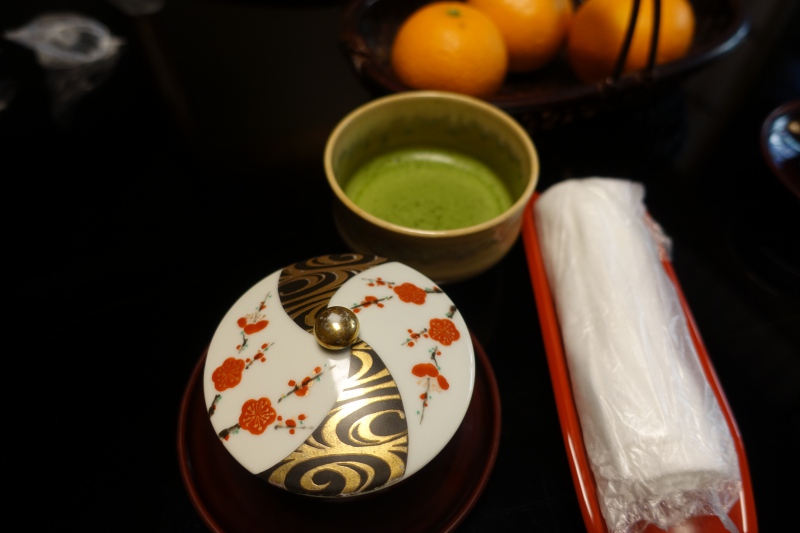 There's a small table and chairs by the window: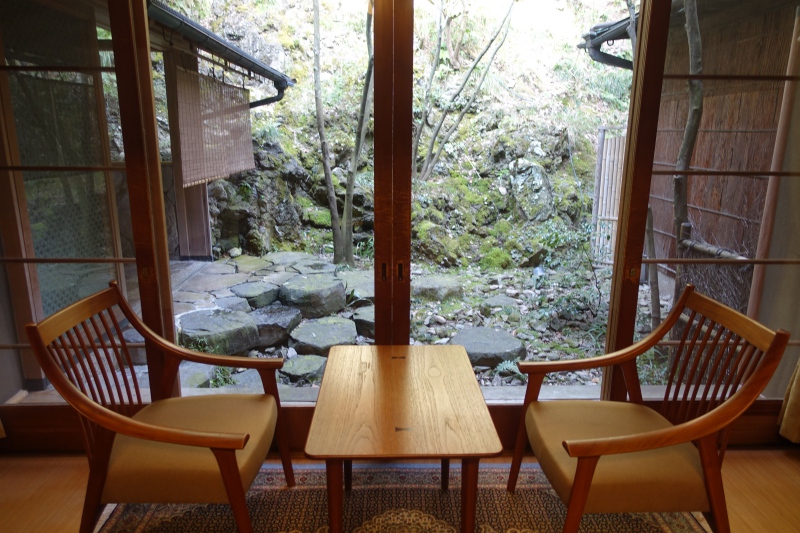 The toilet is in a separate room off to the right (be sure to change slippers, as the bathroom slippers remain in the bathroom) with a small sink, but the main sink is on the opposite side, separated by a shoji door. Bath products and amenities were basic, but all the essentials were there.
A sliding door opened to the outside, where the open air bath was. Note that due to regulations in Kinosaki Onsen, all ryokan are prohibited from having mineral spring water for individual guest rooms, so the water used is normal hot tap water. As it turned out, we enjoyed the onsen so much that we didn't have occasion to use the bath at all during our brief one night stay.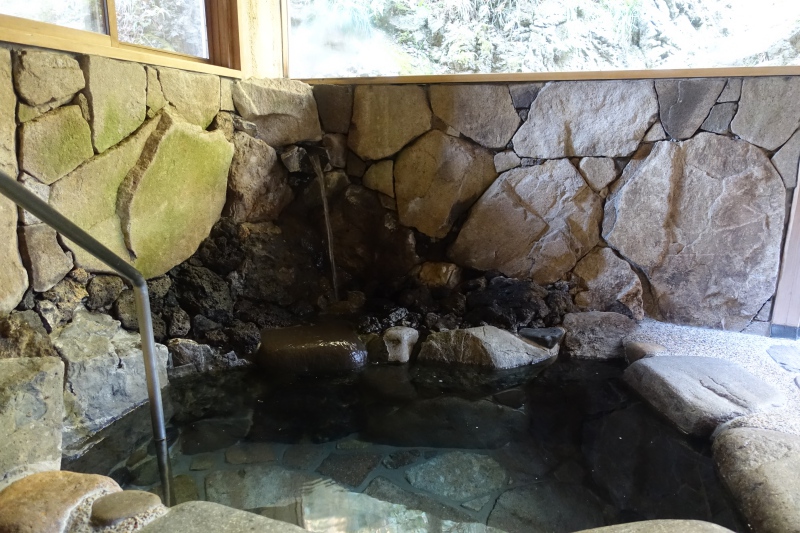 In the evening, after dinner, our lovely room attendant who served us our gourmet kaiseki dinner cleared the dishes and placed futons on the tatami mats for us to sleep. While they're firmer and less comfortable than our mattress at home, they were softer than some futons I've slept on. Our son was very cozy in his 🙂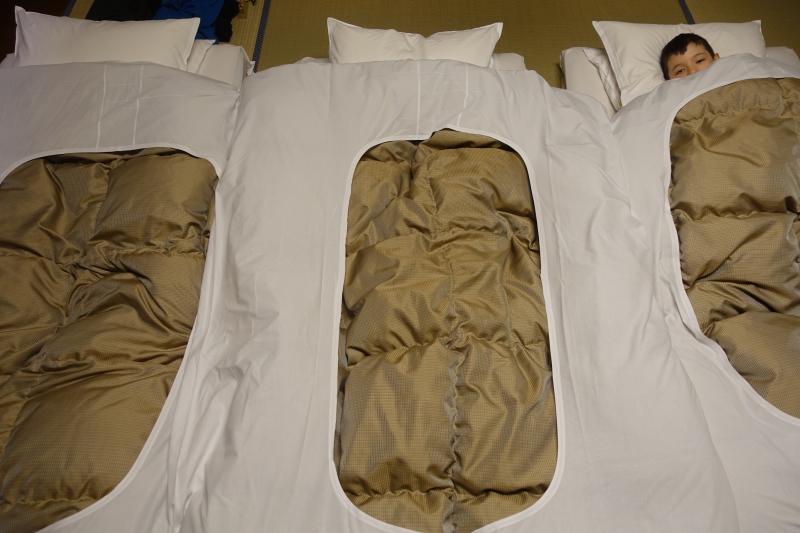 And here's our wonderful room attendant (who spoke excellent English) clad in her kimono: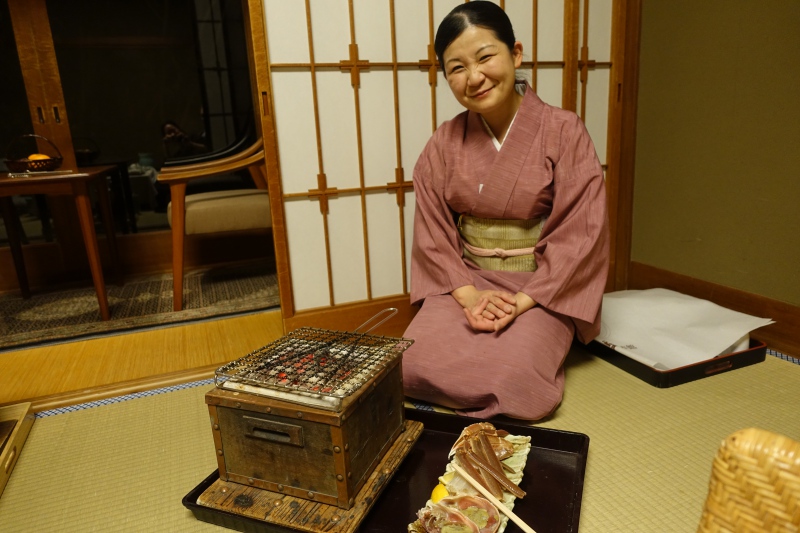 Nishimuraya Honkan Dining: Kaiseki Dinner and Breakfast
Dinner at Nishimuraya Honkan is truly an event, and worth saving room for. Normally I consider my husband and son to be big eaters, and I have a pretty healthy appetite as well, but even we ran out of room towards the end and had to skip the hot pot course entirely. So you've been warned–unless you're a sumo wrestler in training or truly have a big appetite, you may have trouble finishing all the food presented to you.
Here's the menu for our dinner, followed by photos, commentary to be added later.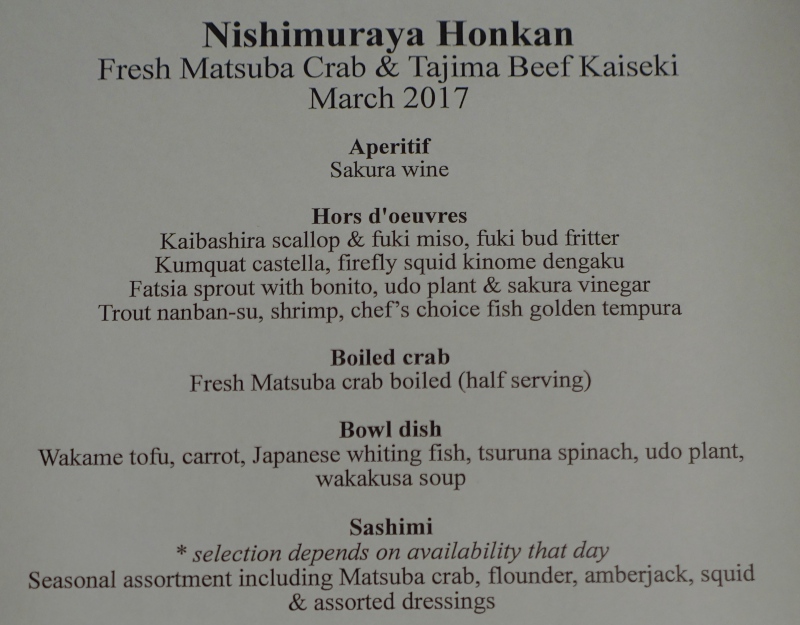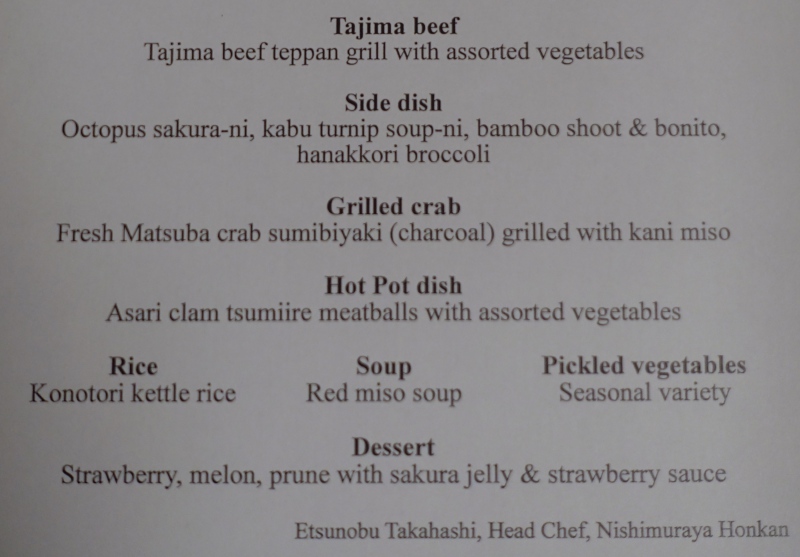 Our meal started with an aperitif of Sakura Wine, which was so lovely that I saved a bit of it to go with dessert.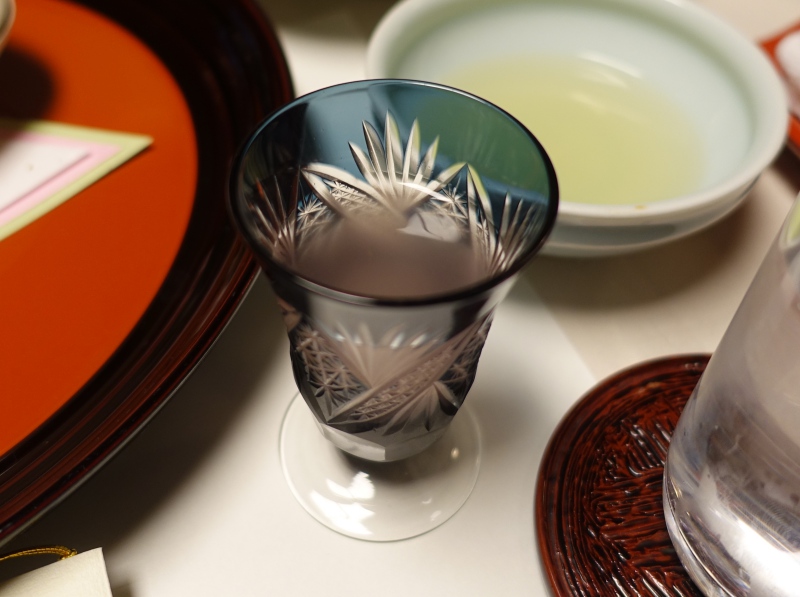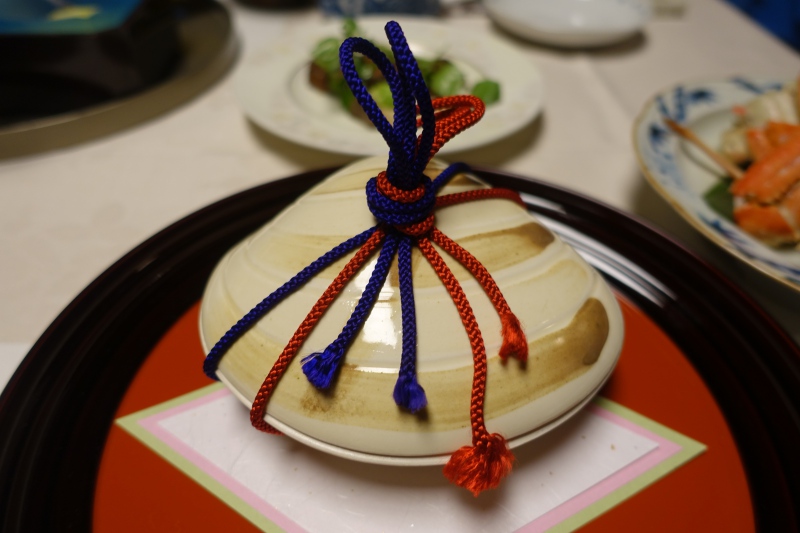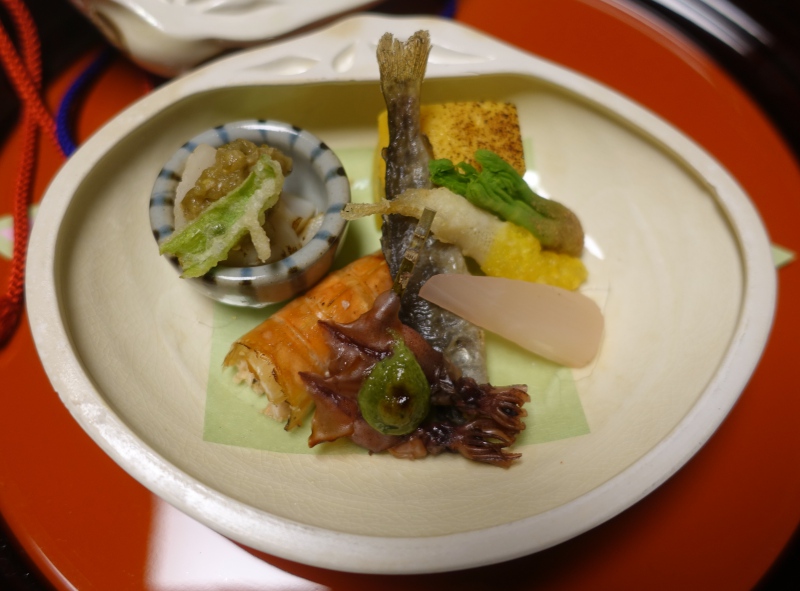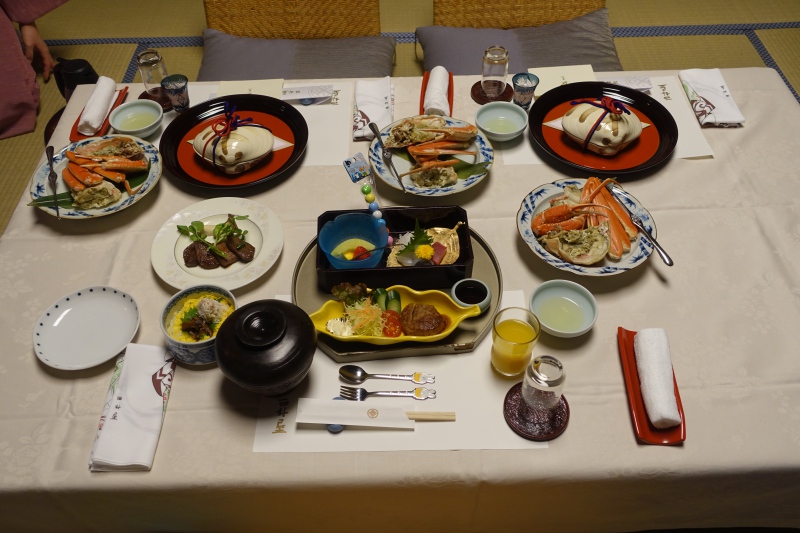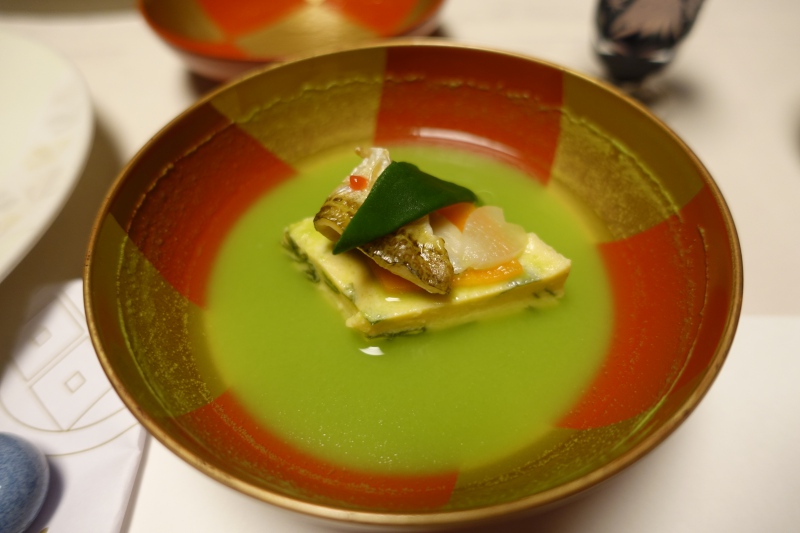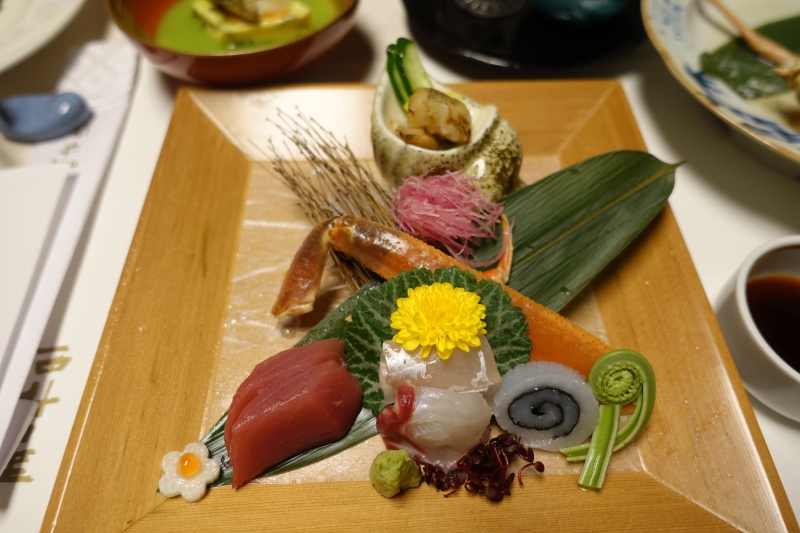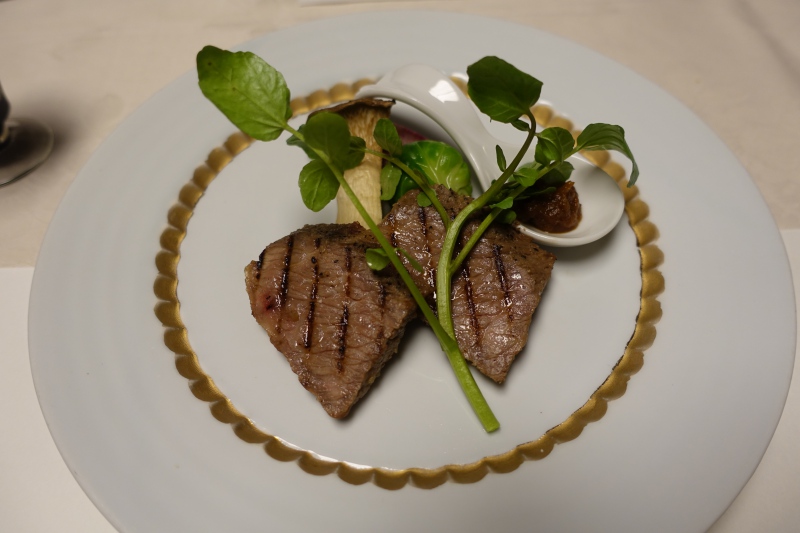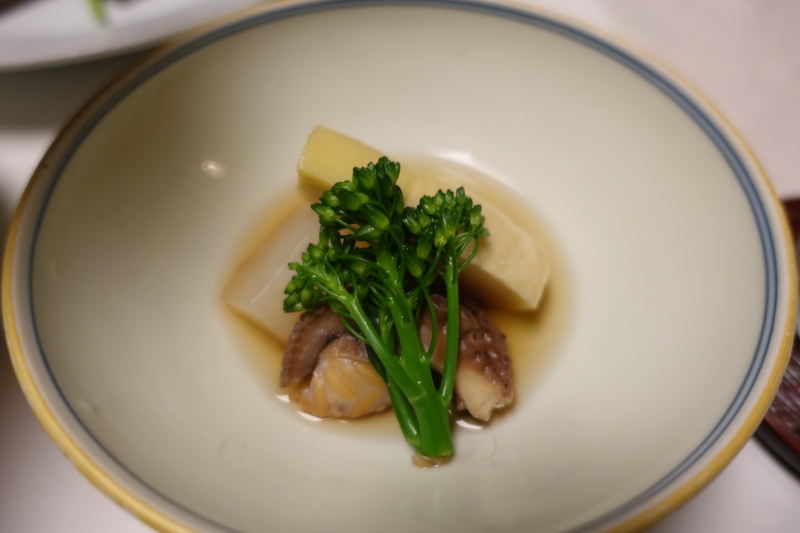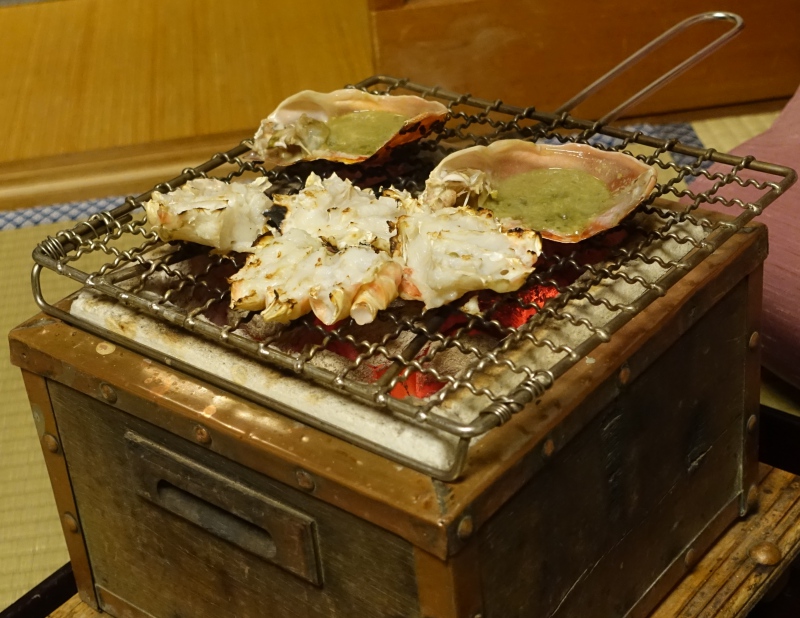 Our son had his own dinner, also delicious and very generous in portion size: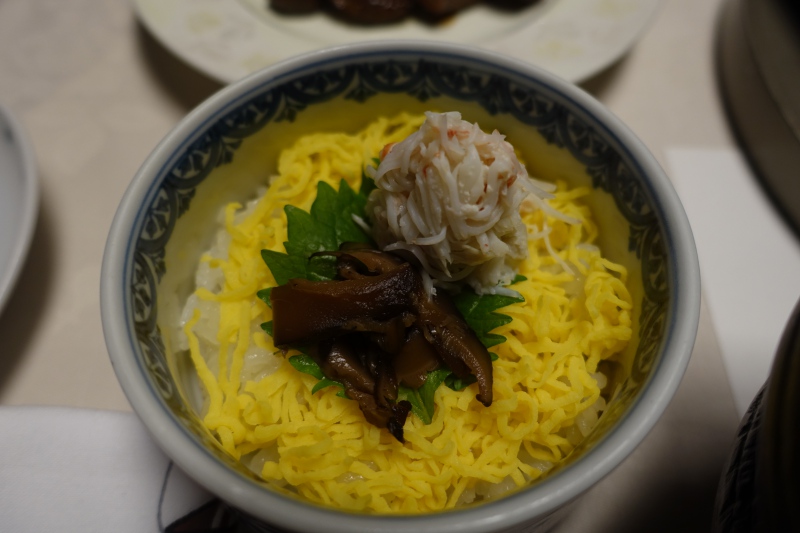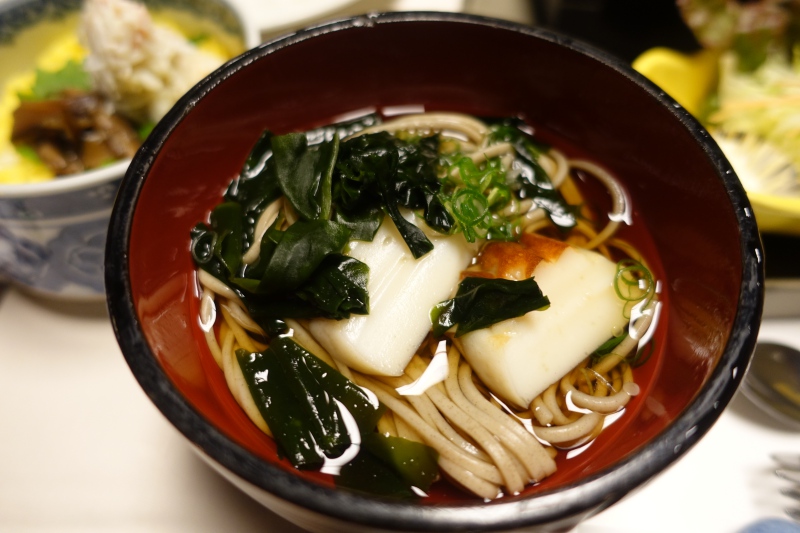 Thank goodness dessert was simpler, and based on fresh fruit!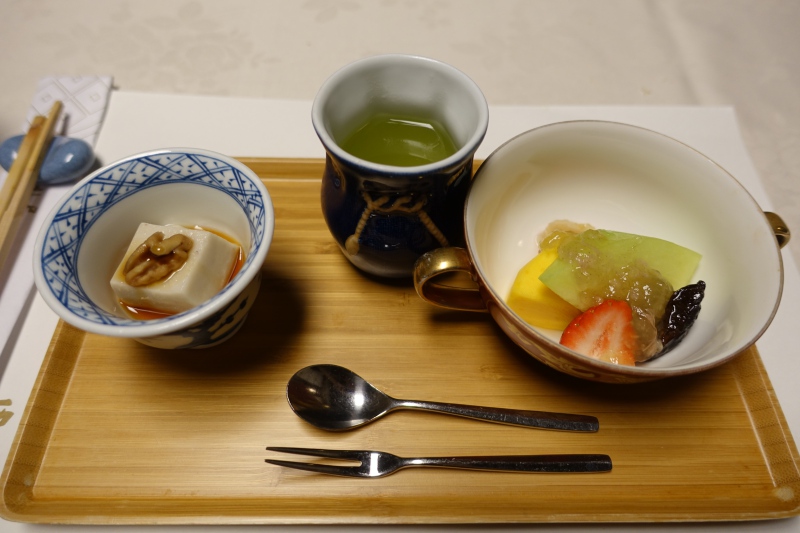 There was the option of Japanese Breakfast or Western Breakfast the next morning; I liked my Japanese breakfast, but those who have had their fill of seafood may prefer scrambled eggs and bacon.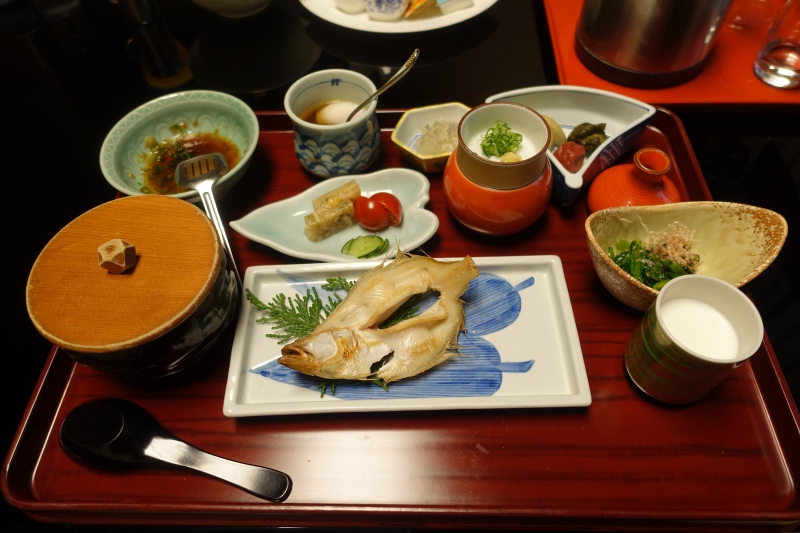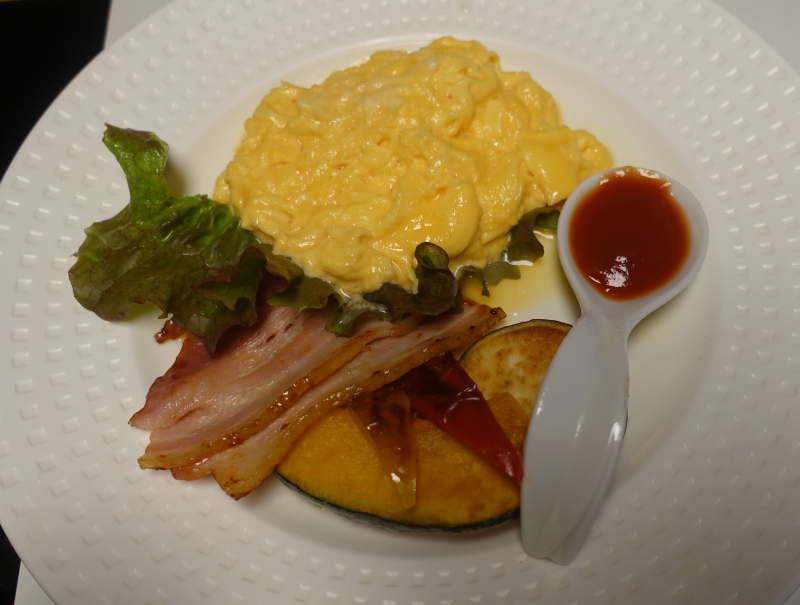 The Verdict
Nishimuraya Honkan isn't for everyone: I have clients who wanted to try Japanese onsen in a bathing suit, but that's not possible at Kinosaki Onsen or most traditional Japanese onsen, where bathing is gender segregated and nude. If that's too uncomfortable, try Amanemu instead, which also has natural hot spring water, including in the privacy of your bathroom, and where the large onsen at the spa is co-ed and done with bathing suits on. Also, tatami rooms are quite modest in size and style and fairly dark, so don't expect anything like Amanemu's spacious and light-filled suites.
But for foodies who love Japanese cuisine and traditional onsen, Kinosaki Onsen is a great trip from Kyoto for a stay of 1-2 nights, and Nishimuraya Honkan is the best place to stay. If you go, definitely have a very light lunch and save plenty of room for dinner, which is truly a feast. Definitely take advantage of the Matsuba Crab if you visit between November and March, as this was a highlight for us of the dinner.
If you've been to Nishimuraya Honkan in Kinosaki Onsen, what was your experience?
Recommended Posts
Amanemu Virtuoso Review, Ise-Shima Japan
Hotel Review: Four Seasons Kyoto with Preferred Partner Upgrade and Benefits
Review: Sushi Wakon at Four Seasons Kyoto
Things to Do in Kyoto with Kids
Disclosure: I paid for our stay at a slightly discounted travel professional rate.
Need Award Booking Help? Our fee is as low as $75 per ticket if you book your hotel through us.
If you enjoyed this, join 200,000+ readers: please follow TravelSort on Twitter or like us on Facebook to be alerted to new posts.
Become a TravelSort Client and Book Your Japan Luxury Hotel with Virtuoso or Preferred Partner Benefits!