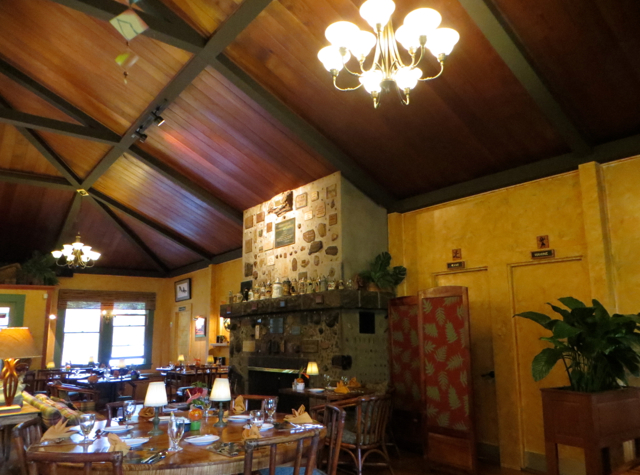 This review of Kilauea Lodge Restaurant, near the Hawaii Volcanoes National Park, is from a recent trip to the Big Island of Hawaii and Maui, with stays at Four Seasons Resort Hawaii at Hualalai, Andaz Maui at Wailea and Four Seasons Maui at Wailea.
For prior posts in this trip report, please see:
Alaska Airlines First Class Review
Alaska Airlines Board Room Seattle Lounge Review
Alaska Airlines First Class to Hawaii
Hyatt Place Waikiki Beach Review
Andaz Maui at Wailea Suite Review
Ka'ana Kitchen Review and Andaz Maui at Wailea Dining
Mama's Fish House Review in Paia, Maui
Four Seasons Resort Maui at Wailea Review
Breakfast at DUO at Four Seasons Maui at Wailea
Hawaii Volcano Treehouse Review
Hawaii Volcanoes National Park Review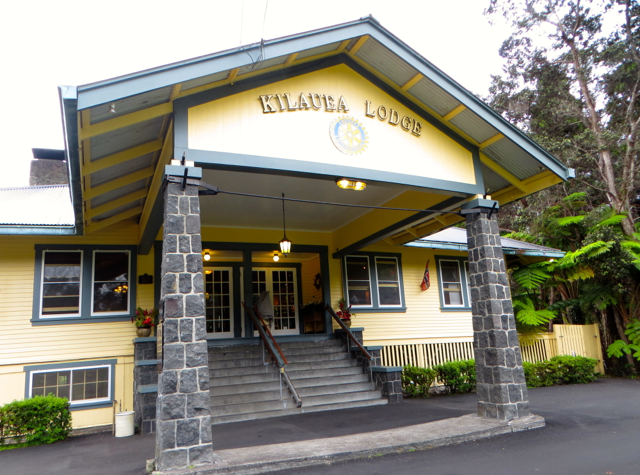 Getting to Kilauea Lodge Near Hawaii Volcanoes National Park
Kilauea Lodge is located at 19-3948 Old Volcano Road. If coming from Hilo, look for mile marker 26. After mile marker 26 and before mile marker 27, turn right onto Wright Road, then left at the stop sign. Kilauea Lodge will be on your right hand side (look for a big lawn and gazebo).
Before entering Kilauea Lodge, I noticed a plaque that explained the lodge's history. It was originally built in 1938 as a YMCA Camp, Hale-o-Aloha. Its centerpiece and heart is the International Fireplace of Friendship, made of over 100 unique stones from 34 countries and coins from 56 countries. During World War II, the camp became a radio school for the US Army. The Y later sold the camp, which was operated as a lodge and restaurant, starting in the 1960s, and its current incarnation as Kilauea Lodge dates to 1988, after current owners Lorna and Albert Jeyte restored the lodge. Albert Jeyte serves as head chef, although an interesting bit of trivia is that in a past life he was an Emmy-winning makeup artist for Magnum, P.I.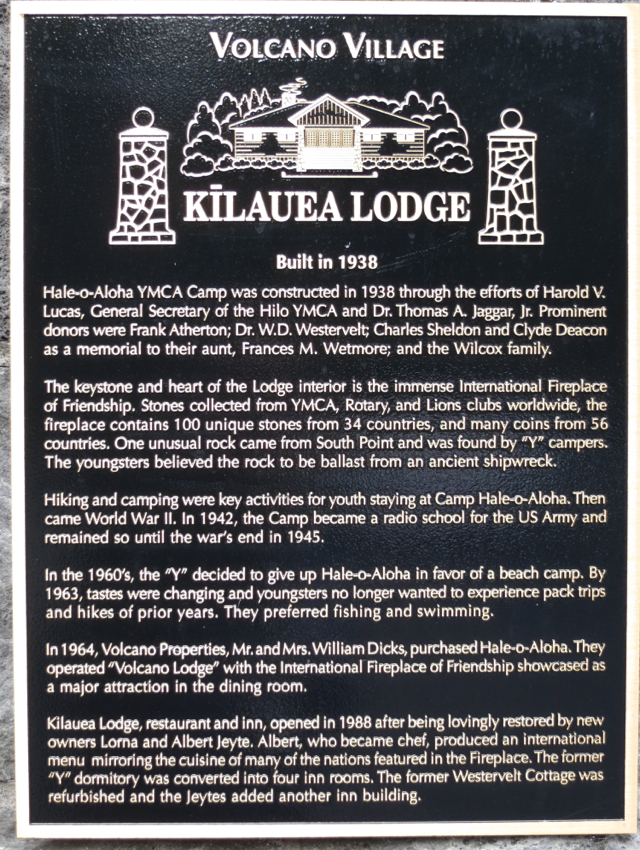 The Scene
I'd heard that Kilauea Lodge was a great place to eat in the Volcano Area, and it was also recommended by Skye Petersen, who rented us the treehouse. The Lodge serves breakfast, lunch and dinner and is open to all diners for these meals, not just those staying at Kilauea Lodge.
Since this is the Volcano area, even for dinner, people were not overly dressed up. A nice shirt and slacks are perfect (and it often is a bit chilly, if not drizzly, so you may want a light jacket or fleece). On the night we dined, there was a mixture of couples, families with kids, and small groups of friends.
Kilauea Lodge Menu and Food
We were offered the dinner menu, a keiki (kids) menu, and the wine list. The regular dinner menu ranges from a simple German Sausage Plate for $25.50 to more elaborate preparations such as Leg of Antelope Filet with red wine sauce for $34, and regular specials such as Tristan Rock Lobster Tail for $49.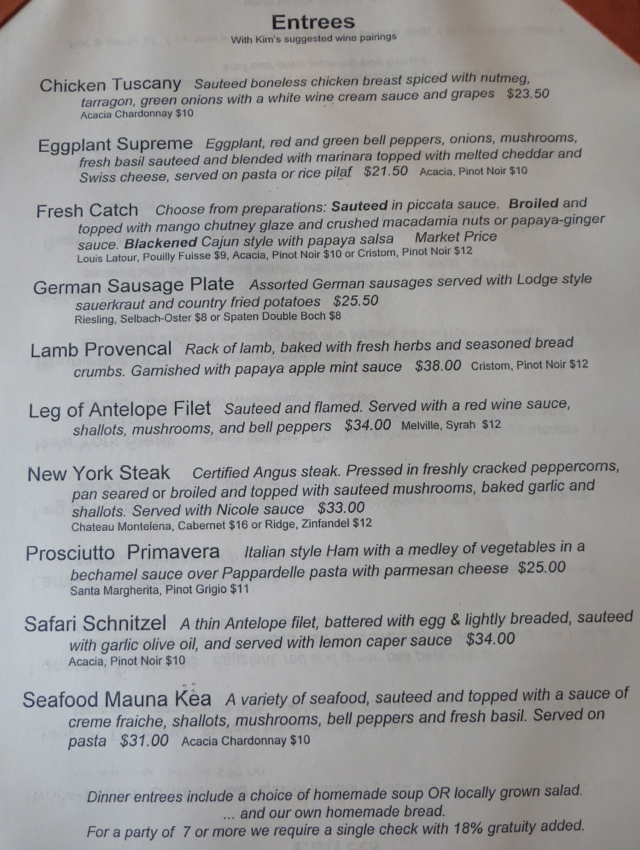 Helpfully, wine pairing suggestions are listed next to menu items, and I was pleasantly surprised at the many selections of wine by the glass, which is what we wanted since we were driving, albeit not far.
The Kids' Menu fortunately sticks to tried and true favorites, such as macaroni & cheese, chicken teriyaki, and spaghetti.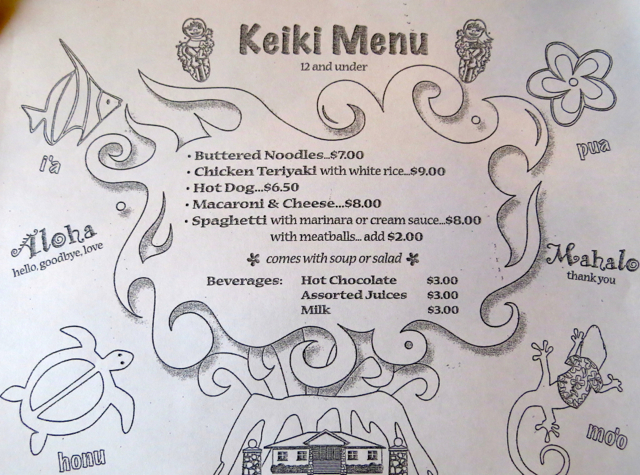 Cheese is a huge favorite in our family, so we decided to share the Brie Wedge (coated in herb batter and coconut flakes and lightly fried) to start. It came with a delicious, piping hot loaf of three grain homemade bread, along with papaya salsa and brandied apples, and was one the stars of the night. The homemade bread was so good that none of could resist asking for another.
Neither my husband nor I was crazy about the papaya salsa, but the brandied apples were delicious and the fried brie atop the homemade bread was fantastic.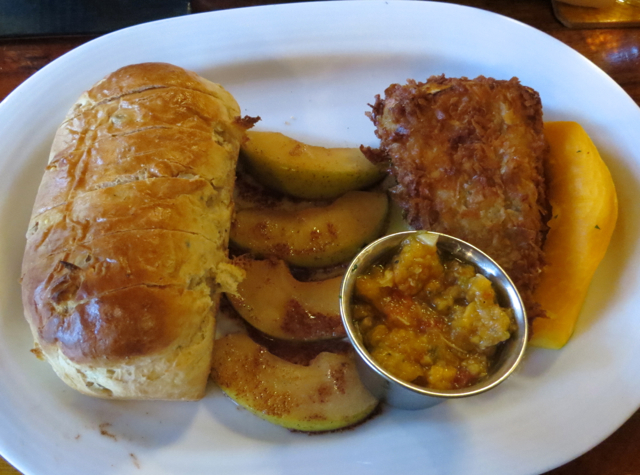 Main dishes (including kids' meals) come with a choice of soup or salad, and we all chose soup. And the soups were impressive–honestly, if you just want a light meal, I'd ask if you can pay for soup and homemade bread, these were that good. I couldn't decide which I enjoyed more, the spicy Alsatian soup my husband and I both ordered, or the Coconut Cream of Celery soup we ordered for the munchkin. While he only ate about half of it, my husband and I easily polished off the remainder, including the crispy coconut that garnished it.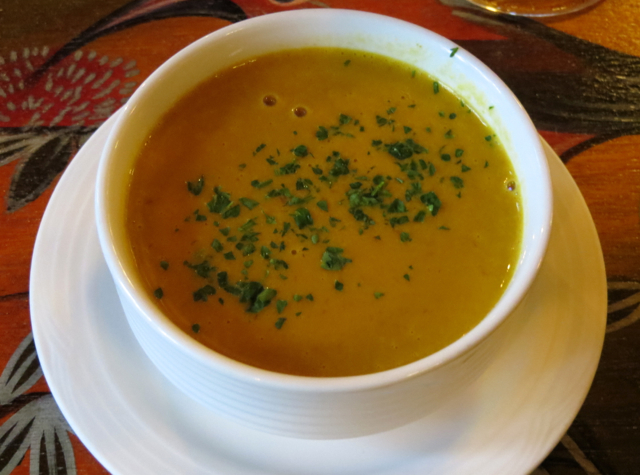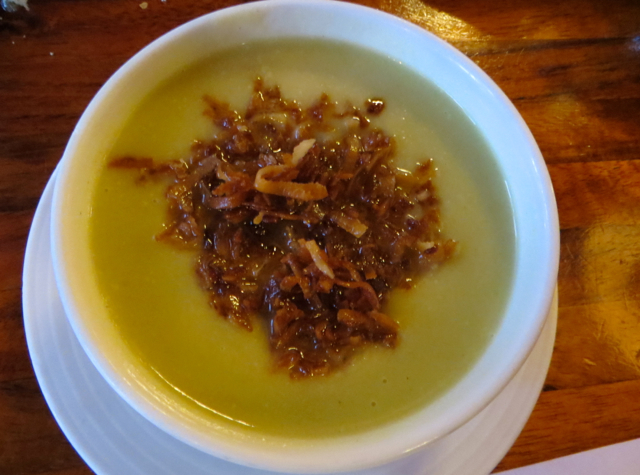 My husband chose the special Duck L'Orange served with apricot mustard glaze and quinoa, and that was my favorite of our two entrees.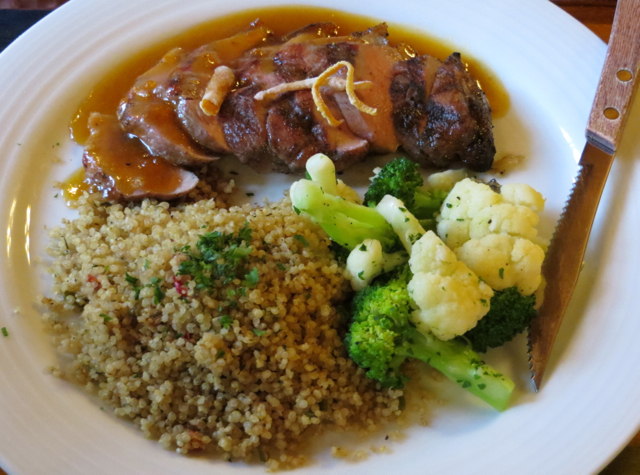 For my main course, I opted for the Leg of Antelope Filet with red wine sauce and vegetables, which also came with mashed potatoes and German red cabbage. I liked it, and the red wine sauce was very flavorful, but antelope is quite a lean meat so it wasn't quite as tender as I would have liked.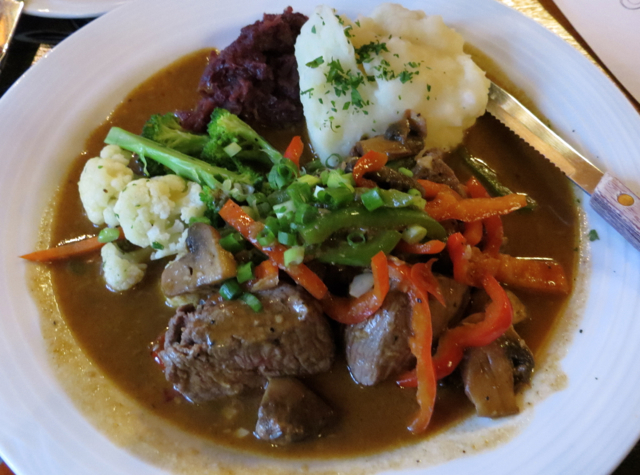 The munchkin enjoyed a bit of his Teriyaki Chicken, but he'd eaten so much of the homemade bread we ended up taking most of his dish home.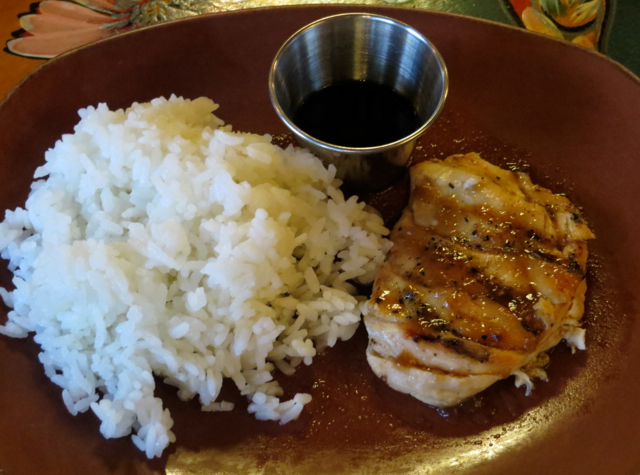 Desserts are all homemade and change daily, so they aren't listed on the menu. From the choices offered, we decided on the Apple Crisp, which we split three ways, and it was a very satisfying choice.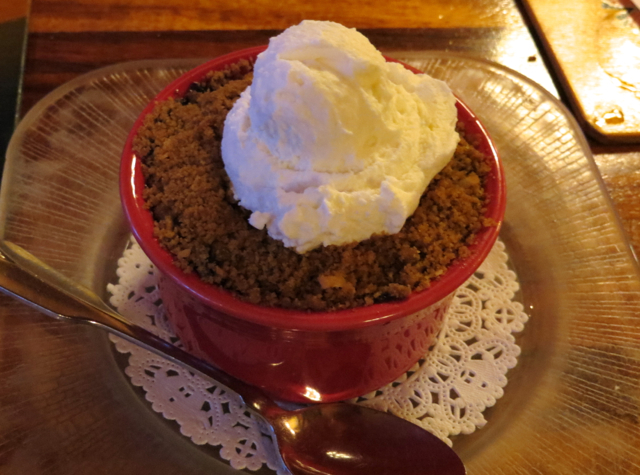 The Service
Most of the servers are friendly older women who seem to have been working at Kilauea Lodge for a long time. The restaurant did get busier towards the end of our meal, so there were a couple of occasions we needed to look around for our server to get her attention, but there were no major service hiccups, and service was good for a family run place.
We were especially grateful for the host's help when we ended up returning to the restaurant after it emerged that the munchkin had left behind a dinosaur coloring mat (one he'd received at the Four Seasons Maui and had been diligently coloring while waiting for dinner at the Kilauea Lodge). It had of course been thrown away, but miraculously was still in great shape, with no food on it, so all was well.
The Lodge also didn't mind my husband and the munchkin tossing a frisbee around on the lawn (there are various frisbees, balls and even a croquet set for Kilauea Lodge guests in the gazebo).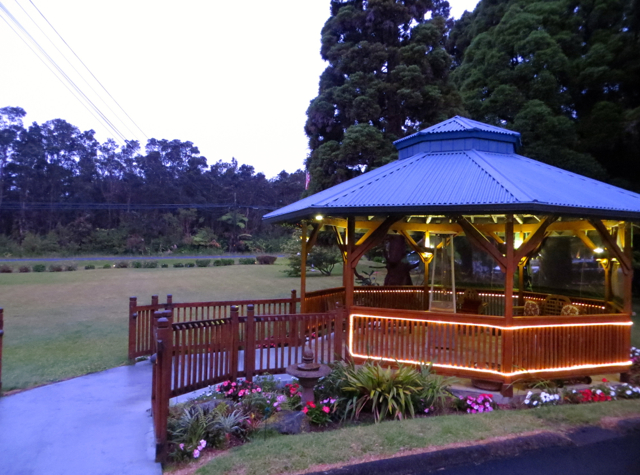 The Verdict
Kilauea Lodge is easily your best bet for a great meal in the Volcano Area of Hawaii, particularly if you're seeking some hearty European fare, fresh bread, and a good selection of wine. Prices are fair, given the quality and the cost to import a number of the ingredients to Hawaii. Another option is to try Kilauea Lodge for breakfast or lunch, although note that offerings aren't as creative and are more standard breakfast and lunch fare.
If you've dined at Kilauea Lodge, what was your experience?
Related Posts
Hawaii Volcano Treehouse Review
Hawaii Volcanoes National Park Review
Need Award Booking Help? Our fee is as low as $75 per ticket if you book your hotel or cruise through us.
If you enjoyed this, join 150,000+ readers: please follow TravelSort on Twitter or like us on Facebook to be alerted to new posts.
Become a TravelSort Client and Book 5-Star Hotels with Virtuoso or Four Seasons Preferred Partner Amenities!