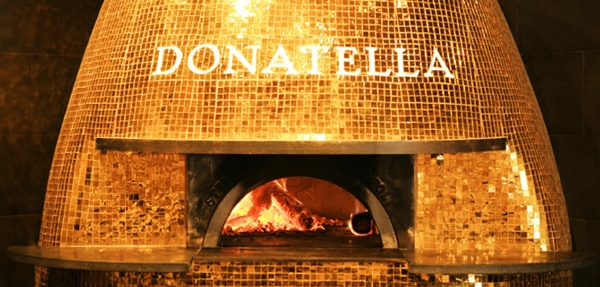 What kid doesn't like freshly made pizza? When I told my son we were going to a pizza making class at Donatella, he beamed and had two questions: "Will we make real pizza?" and "Do I get to eat it?" Yes and yes.
I'd found out about this class last August, as part of MasterCard's "Priceless" promotion in conjunction with Time Out Kids New York and various NYC restaurants around town. Some of the promotions were simply decorating cupcakes at a restaurant, but this one looked especially good, as I knew that Donatella, the eponymous pizzeria of Donatella Arpaia, specializes in authentic Neapolitan pizza baked in its wood-burning oven. Pizza and fire? Sign my kid up.
Once we arrived, we were ushered to a large table right in front of the open kitchen, where there were already 6-7 kids and their parents. Kids and parents continued to arrive–about 13 kids in all, with their parents. They had two long banquettes and pairs of marble tables set up, with big stainless steel bowls full of flour, and smaller ones with water. The chefs, who had clearly taught kids pizza making classes before, showed the kids how to mix salt and flour with the water to form a dough, working in the flour until the dough was smooth. My son was happier watching than actually mixing (strange, how he never wants to wash hands when they're messy, yet when there's a class where he's supposed to get his hands messy, he wants to keep them clean).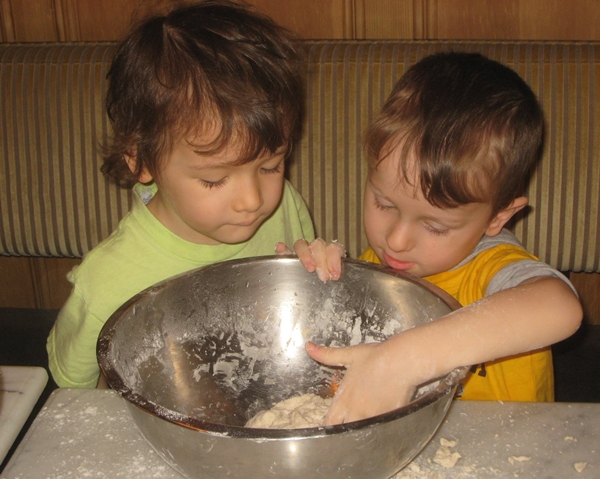 Nevertheless, he was happy to punch down and knead his own portion of dough: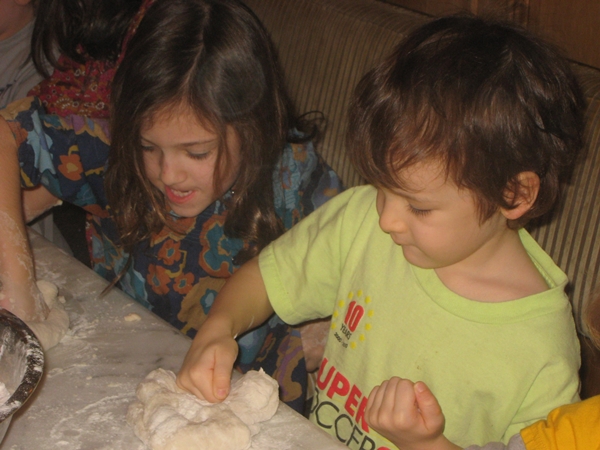 For the next step they were given actual pizza dough that had had time to rise, and shown how to shape it out into a round, then flip it over and press it out some more. Finally, the chefs showed them how to flip and slap it down, although that part was rather tricky for all but the 5 year and older set.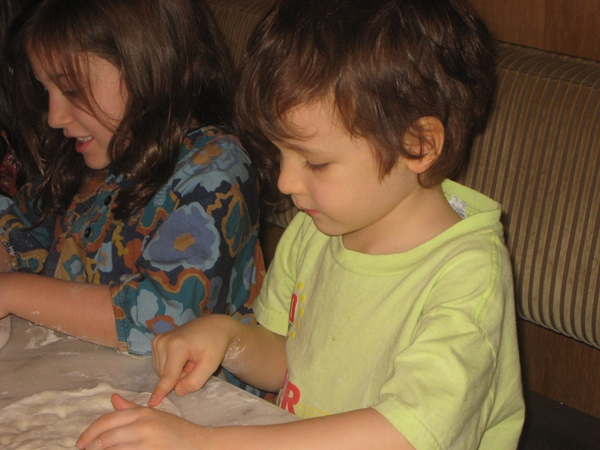 Next, the chefs added the toppings for a Pizza Margherita: San Marzano tomato puree, fresh buffalo mozzarella, and some fresh basil.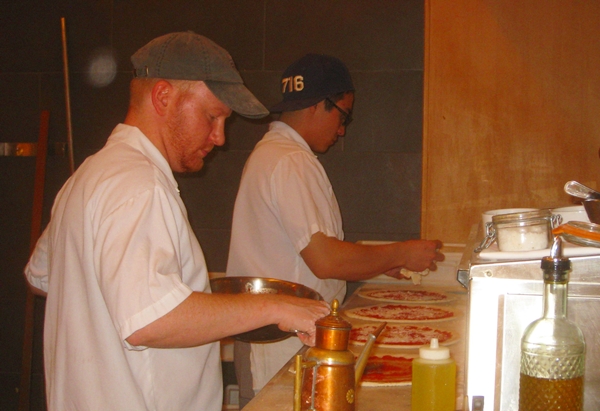 Four kids at a time were invited to stand on crates and watch as the pizzas were lifted on giant wooden pizza paddles and slid into the 700 degree pizza oven, then just minutes later, with crisp crusts and bubbling toppings, were slid onto plates and cut into 4 slices.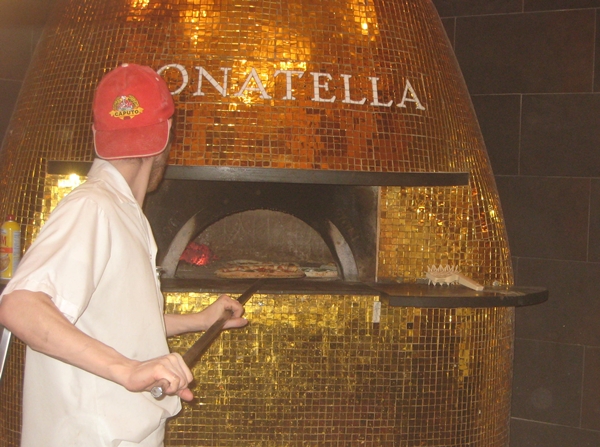 Each child got a whole Pizza Margherita, along with some orange pineapple juice.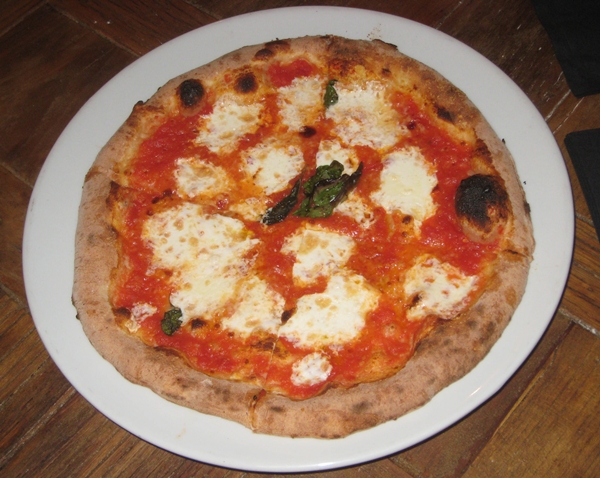 Plenty for both kid and parent, right? Well, it was so good that I only got 1/8 (the part that had fresh basil on it, which my son was a bit leery of) and he ate the other 7/8. Donatella staff even gave each child a pizza making certificate, pizza stickers, and a bag of housemade chocolate chip cookies–very nice.
While the MasterCard Priceless class was a one-time event with special pricing, Donatella does periodically offer this same kids pizza making class–contact Michelle Owen at 212-493-5150 to find out when the next class is being held. For other kid-friendly restaurants and activities in NYC, check out New York City with Kids.
If you enjoyed this, please follow TravelSort on Twitter or like us on Facebook to be alerted to new posts.
Become a Member to find your perfect luxury or boutique hotel at up to 50% off: TravelSort Hotels