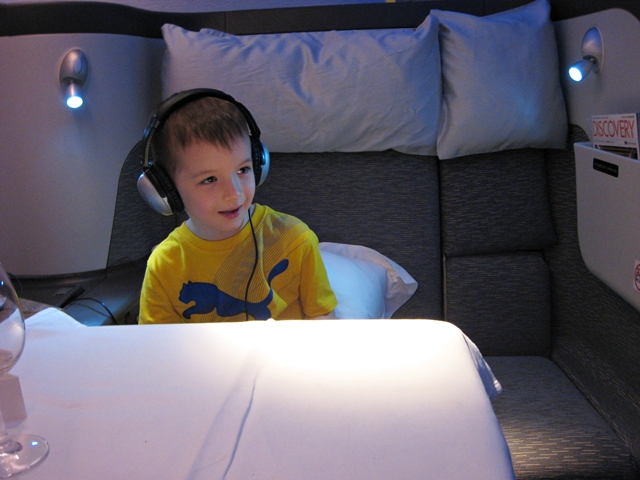 Kids and jet lag–for other parents out there, don't let worries about this stop you from taking a long international trip, at least if you're able to book the flights as first class or business class award travel. We're currently 18 hours ahead of our usual time, and have logged over 30 hours of flights in the last few days, and while we're not perfectly on schedule, we have very little jet lag.
Here's what I recommend to help stave off jet lag for kids (and even for adults, for that matter):
1. Ensure You Have Flat Bed Seats on All Long Flights
While many kids can go to sleep sitting up, most (similarly to adults) stay asleep longer and get better quality sleep when lying down, and this becomes more relevant with older and bigger kids. While you can't help booking an angled flat seat on some routes where it's the only option, such as Bora Bora, if you possibly can, book a full flat bed seat for each of you. The entire family will arrive more rested. Also see Flying First Class with Kids: Which Airlines and Seats?
2. Limit Screen Time Before Bedtime
The blue light emitted from electronic device screens interferes with the body releasing melatonin, which reduces alertness and helps prepare our body for sleep. While it's only natural on long flights that your child will be watching movies or playing games on the IFE or a tablet some of the time, aim to avoid screen time a couple hours before you want your child to fall asleep, for example by having a meal (milk is good to include, if your child drinks it, since it contains sleep-inducing tryptophan) then reading stories with your child.
3. Don't Deprive Your Child of Sleep Before Travel
While it may be tempting to keep your child up before travel, in hopes that s/he will sleep well on the flight, it can easily backfire, since overtired kids may be harder to get to sleep, and in the meantime their crankiness could be hard to manage for you, and very disruptive to other passengers. Plus, lack of sleep isn't good for the immune system, and the last thing you need on a long flight is for either you or your child to be ill. Both for my son and for us, I try to ensure we go to bed early and get plenty of sleep on the nights before we travel.
4. Get Outside and Play or Exercise at Your Destination
Getting outside and exercising at your destination helps just about everyone in dealing with jet lag, but it's especially important for kids who have been on long flights without being able to work out their excess energy. If there was one thing I could add to every airport, for healthier and more family friendly layovers, it would be an open air playground for kids to run around in and get some natural light.
So once you get to your final destination, get your kids to the playground, pool, beach, or somewhere they can run around after all those long flights–they'll sleep better that evening.
5. Give Your Child a Healthy Meal Before Bedtime
One of the worst things for jet lag is when you arrive earlyish at your destination and take a nap, only to fall asleep and then wake up in the middle of the night from hunger. If you have to take a nap, try to do it early in the day (say after a night flight) and set an alarm, so you can all try to get into the local schedule.
For example yesterday, after a 4 hour night flight that arrived just before 5am, we went straight to the hotel where my husband was already sleeping, napped for a couple hours, then had breakfast and a pretty normal day, going to bed at our usual hour.
What are your tips for helping kids with jet lag?
Related Posts
Jet Lag Pill in Development and Tips to Avoid Jet Lag
10 Tips to Travel Better with Kids
Parental Consent Form to Travel: Does Your Child Need One?
Award Flights to Europe with 3 First Class Award Seats?
Tips: No Checked Bags for a Month of Travel
Need Award Booking Help? Our fee is as low as $75 per ticket if you book your hotel or cruise through us.
If you enjoyed this, join 200,000+ readers: please follow TravelSort on Twitter or like us on Facebook to be alerted to new posts.
Become a TravelSort Client and Book Your Hotel with Virtuoso or Four Seasons Preferred VIP Amenities!