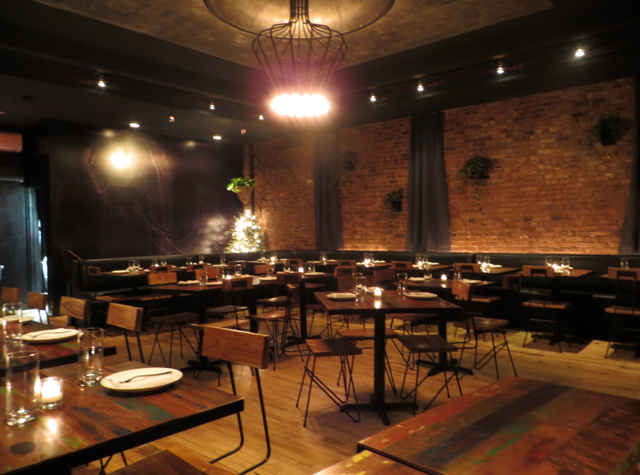 This Khe-Yo Review is one of our many NYC Restaurant Reviews. Visiting New York? See all of our posts tagged NYC.
New Year's Eve last night for my small family, given that we have a 6 year old, was a low key affair. Instead of attending a swanky New Year's Eve party, we opted for an early dinner at a newcomer to the NYC restaurant scene, Khe-Yo in Tribeca. We rarely find ourselves in Tribeca, but my interest was piqued by Khe-Yo, since to my knowledge it's the only dedicated Laotian restaurant in Manhattan.
Laotian food is very similar to Thai Issan cuisine, which we've enjoyed at Zabb Elee and in the Seattle area at Pestle Rock. The good thing is that while salads are spicy, it's usually possible to get grilled meats of some kind that aren't spicy, but just come with a spicy sauce. That makes it perfect for bringing the munchkin along, since he can munch sticky rice and barbecued meat, while my husband and I get our spicy food fix.
Getting There
Khe-Yo is located in Tribeca at 157 Duane Street, between Hudson and West Broadway, so the closest subway station is Chambers Street, which is conveniently served by both local and express trains (the 1, 2 and 3 trains). Or, if you're on the East side and don't mind walking a few blocks cross town, just take the 4, 5 or 6 train to City Hall and walk West on Chambers then North on West Broadway to Duane Street.
The Scene
As you'd expect for Tribeca, Khe-Yo attracts a mostly couples crowd. It's dimly lit by candlelight, with a romantic yet laid back ambience, and a great date place. There was music in the background, so it's not the place to go if you want a quiet or formal meal, but this also made us feel more comfortable bringing the munchkin. He was the only kid in the restaurant while we were there, but the staff was very welcoming.
Khe-Yo Menu
Don't expect pages and pages of choices here–the menu is very abbreviated, and this is also not the place to go if you're vegetarian, and also not the best restaurant choice if you don't eat pork, although I have heard good things about the Whole Grilled Black Sea Bass with Tamarind Peanut Sauce, and the other two specials of the night were seafood: Wok Fried Black Diamond Mussels, and Curried Dungeness Crab. We'd looked at the menu online before making our Open Table reservation, and already had a good idea of what we wanted to order.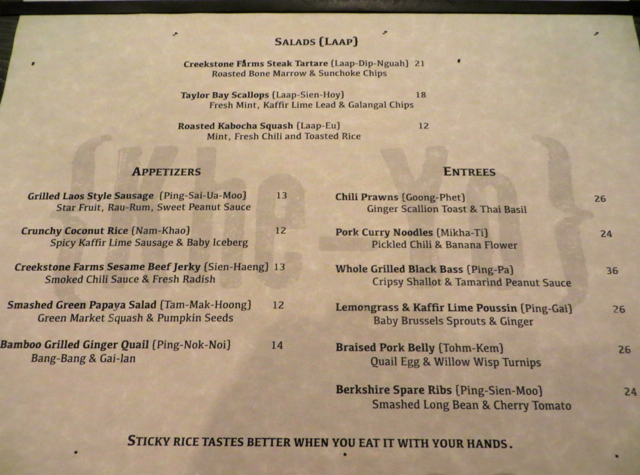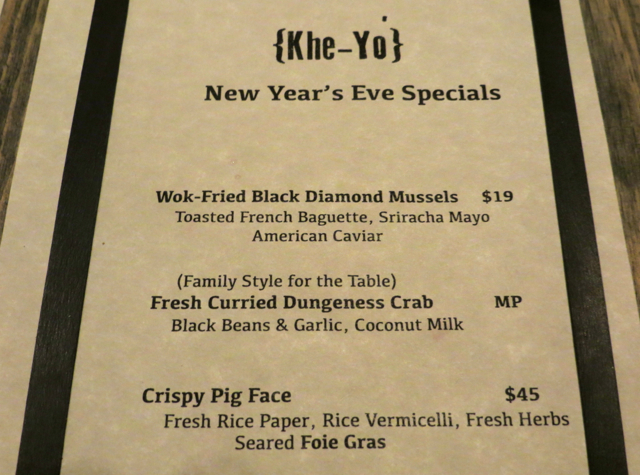 After ordering, the first thing that we were brought, apart from water, were moistened towelettes to clean our hands. You'll feel right at home if you're used to pre-meal moist towels in Cathay Pacific First Class, Singapore Suites, or other first class airline cabins 🙂 This would be great at all restaurants, so that you didn't have to visit the bathroom to wash hands, but it's especially important at Khe-Yo since you're invited to eat the sticky rice Lao style, with your hands.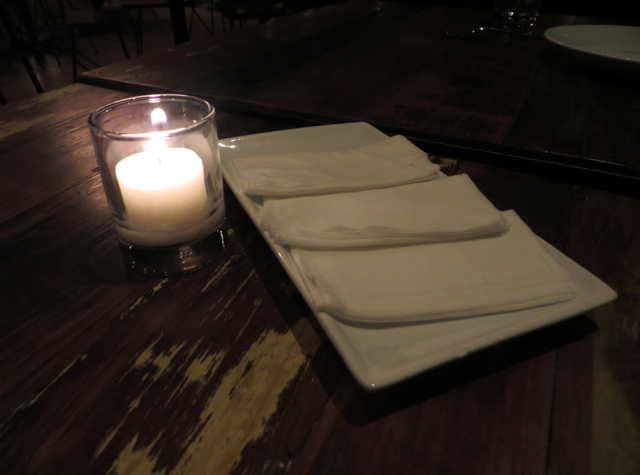 Speaking of which, one of the best aspects of a meal at Khe-Yo is that complimentary sticky rice and sauces (one of them a slightly smoky and sweet eggplant dip, the other a spicy chili lime sauce) are brought to you, and replenished if you need more. The munchkin needed no invitation to dig in, and it was all we could do to get him to slow down on the sticky rice in order to save room for his entree.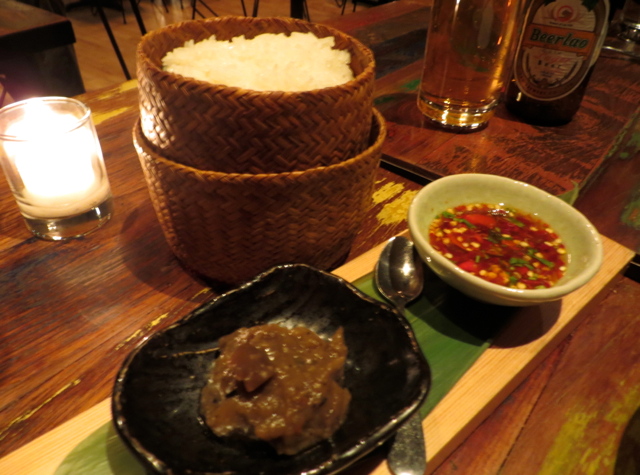 We'd ordered the kabocha salad, and while this was, as expected, too spicy for the munchkin, my husband and I loved it. Kabocha (Asian pumpkin) is naturally dense and sweet, especially when steamed or roasted, and this contrasted nicely with the chilis, mint, and toasted rice powder.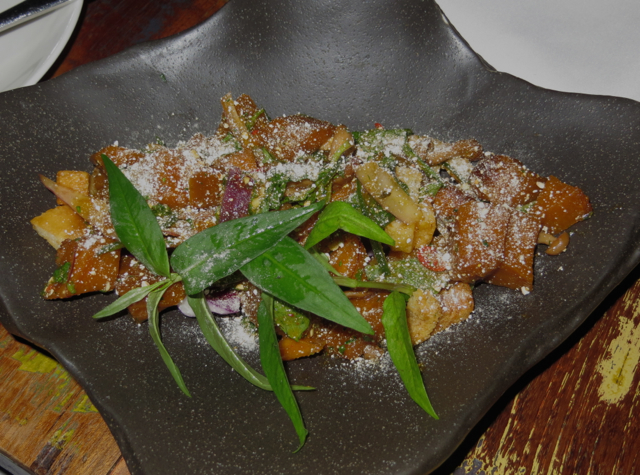 There was a bit of a long wait for our main dishes, probably because I'd ordered one of the nightly specials, the Crispy Pig Face, and that takes awhile to prepare. But at last they arrived, and two of them were spectacular.
The munchkin had ordered the Berkshire Spare Ribs, which were fragrant from the marinade and nicely charred from the grill. The smashed long beans that accompanied them were too spicy for the munchkin, but I enjoyed them.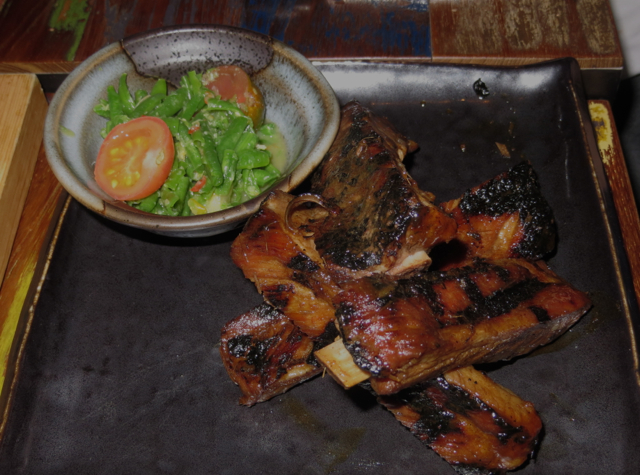 My husband's Braised Pork Belly was adequate, and he finished it, but not something that special, and he wouldn't order them again. It came with a nice side of bok choy, however, a good counterpoint in the rather meat-centric meal we ordered.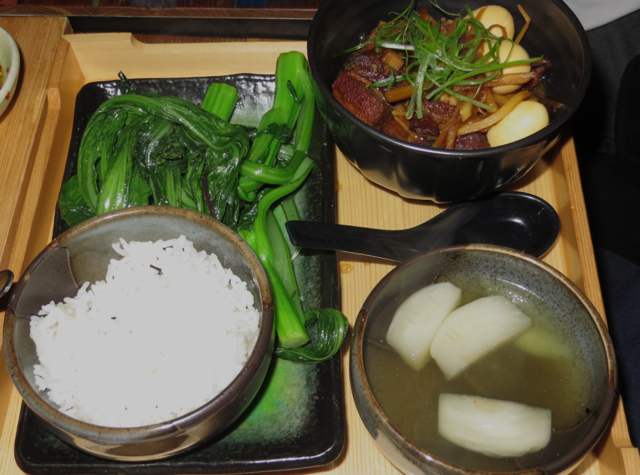 The highlight was the Crispy Pig Face. Even without the addition of deliciously seared foie gras (a celebratory touch, as it was New Year's Eve) this dish was a standout and one of the very best things I've ordered at a restaurant anywhere, in months. While the name may be off-putting (my husband made a face just now as I mentioned it) the actual dish is fantastic, with super crispy pork skin, tender, rich meat underneath, and all of the accompaniments to make rice paper rolls: rice noodles, an abundance of fresh herbs (mint, cilantro, Asian basil), lettuce, rice paper that you dipped in warm water to soften, and the Lao / Issan hot chili lime sauce, known here as Bang Bang sauce. This added the perfect kick and contrast to the rich meat and skin and the vibrant fresh herbs in each roll.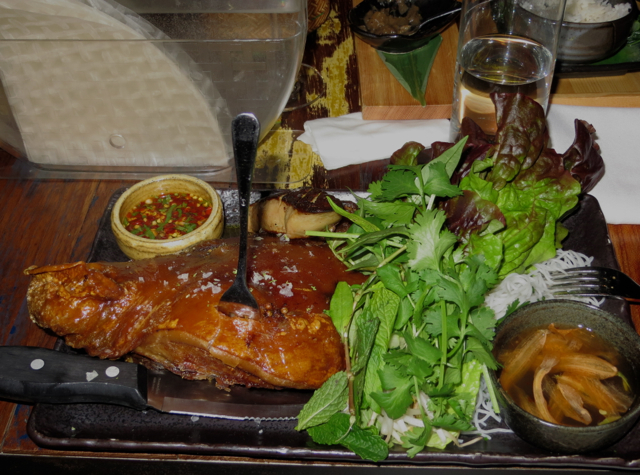 What to Drink
The traditional drink of choice is beer, and my husband enjoyed Lao Beer with his dinner. I'm not a beer drinker, so I enjoyed a glass of Riesling instead, which went very well. I was surprised to not see a Gewurztraminer on the wine list, as a Gewurz is often an even better match with spicy food.
The Service
Service at Khe-Yo was exemplary, from being greeted and led to our table, to our friendly server, who was happy to make recommendations, and also the bus staff, who were quick to refill waters, provide additional sticky rice, and provide the towelettes before and after the meal.
The Verdict
Khe-Yo is a great addition to the increasingly popular Southeast Asian food scene in NYC, and we'll definitely be back for the Crispy Pig Face and Roasted Kabocha Squash alone. It's also has a more romantic, date night vibe than any other Issan or Northern Thai place I'm aware of in Manhattan. We'll continue to do take out and quick, inexpensive meals at Zabb Elee, but when we want something more upscale, or have a craving for the above standout dishes, we'll head back to Khe-Yo.
Have you tried Laotian food at Khe-Yo in Tribeca?
Related Posts
Zabb Elee NYC Restaurant Review (East Village Location)
Momofuku Noodle Bar, NYC Restaurant Review
Baan Korean NYC Restaurant Week Review
ABC Kitchen NYC Restaurant Review
Where to Eat in NYC: The Best Places New York Restaurants Right Now
Need Award Booking Help? Our fee is as low as $75 per ticket if you book your hotel through us.
If you enjoyed this, join 90,000+ readers: please follow TravelSort on Twitter or like us on Facebook to be alerted to new posts.
Become a TravelSort Client and Book Your Hotel with Virtuoso or Four Seasons Preferred VIP Amenities!