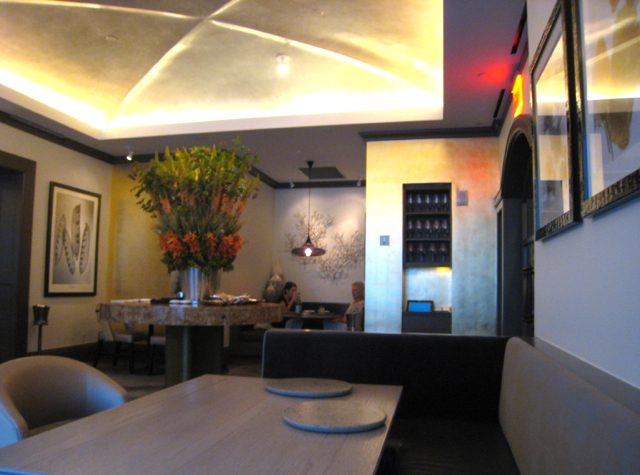 This Juni Restaurant Review is one of our many NYC Restaurant Reviews. Visiting New York? See all of our posts tagged NYC.
Juni opened almost a year ago in August 2013, and is helmed by Australian chef Shaun Hergatt (well known for his 2 Michelin starred restaurant SHO Shaun Hergatt, closed 2012). Billed as a more personal and intimate restaurant than SHO, emphasizing locally grown produce, it takes its name from June, one of the best months of the year for fresh, ripe fruits and vegetables. It seemed all the more appropriate, then, to visit Juni during its first June in operation.
Getting to Juni
Juni is in the Flatiron district, at 12 East 31st Street, between Madison Avenue and 5th Avenue. It's an easy walk from the 33rd Street subway station (6 train) or the 28th Street and Broadway station (R and N trains).
The Scene
We visited Juni for a Friday lunch (lunch is offered Monday to Friday, 12pm – 2:30pm) and other tables were a mixture of business lunches and couples, probably some of them guests of the Hotel Chandler, which Juni is part of.
Dinner is a more elaborate affair (a 4 course menu is $90, 6 courses for $120, tasting menu for $180) so I'd expect it to be primarily couples and small groups of friends.
There are a couple of rooms, and tables are well spaced, so it doesn't feel as hectic as, say, the tavern part of Gramercy Tavern, much less the uncomfortably crowded space of Gotham Bar and Grill. It's lacks the romantic light filled space of Eleven Madison Park, but more on that later.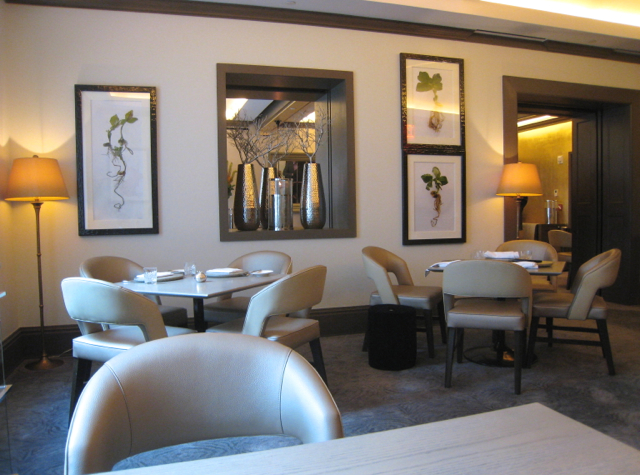 Juni Menu and Food
Since we visited Juni for lunch, we were presented with two menus: the regular lunch menu, featuring 3 choices each for Appetizer, Main Course and Dessert (two courses for $30, 3 courses for $35) and a Vegetarian Tasting Menu for $50. While I'm not vegetarian, I applaud offering a vegetarian tasting menu, both to showcase the bounty of the season and because so many folks these days are vegetarian or at least trying to eat more healthfully.
Since I was dining with the munchkin, however, and I knew he wouldn't go for a 5 course vegetarian menu, we selected from the regular 3 course menu.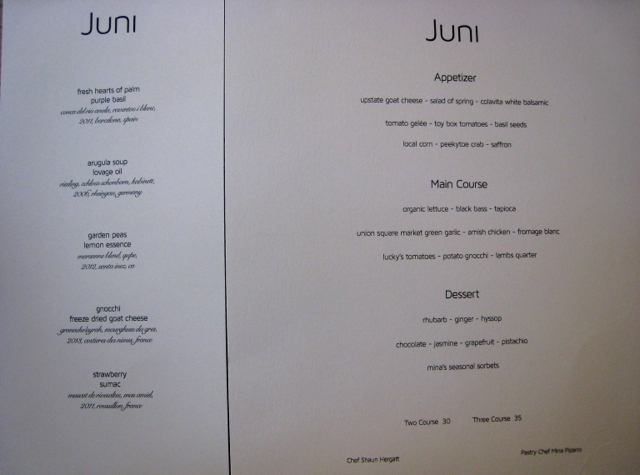 Our friendly server offered a choice of waters (iced NYC tap water with lemon was fine for us) and, soon after taking our orders, we were presented with a choice of regular and olive ficelle breads, along with butter and a green olive tapenade. I've only tasted black olive tapenade in the past, so this smooth and garlicky green tapenade was a delicious change of pace that even the munchkin enjoyed.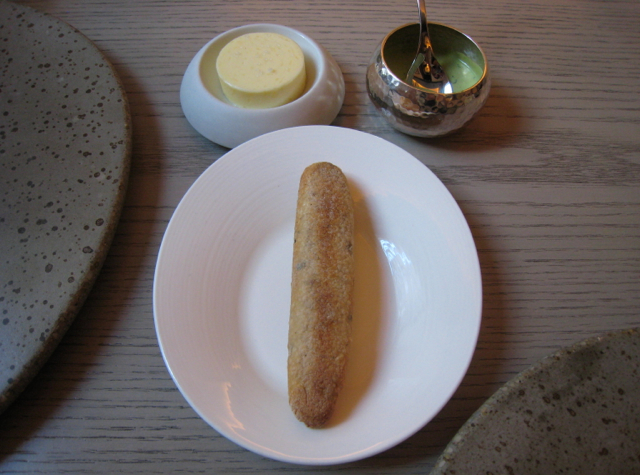 We both chose the Peekytoe Crab with Local Sweet Corn and Saffron as our appetizer, and this was my favorite dish of all. While crab and corn is not exactly a new combination, this particular dish was inspired in its execution: velvety, creamy saffron corn puree enveloping ultra fresh Peekytoe Crab, with some fresh, crunchy super sweet corn kernals on the side. The munchkin enjoyed the crab much more than the corn (which he never eats at home) but even he gamely ate a good amount of the corn before I finished his dish for him.
If I'd only had this one dish and nothing else, I would still want to return to Juni.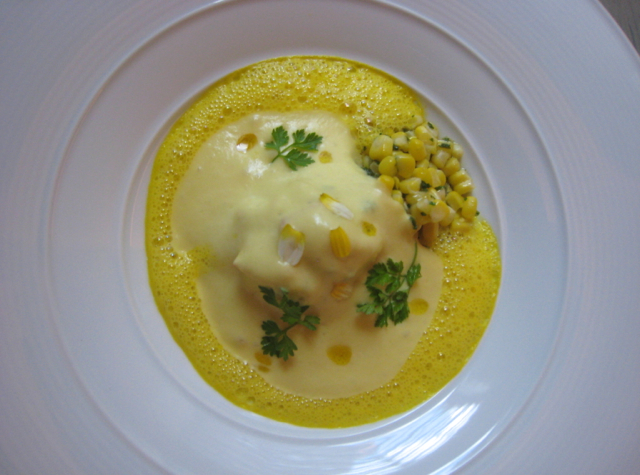 For entrees, I ordered the Amish Chicken for the munchkin, and it was beautifully presented, with the Union Square Greenmarket green garlic taking center stage, flanked by medallions of Amish Chicken on each side, each with deliciously savory jus. Adorning the dollops of fromage blanc were edible flowers–almost too precious to eat.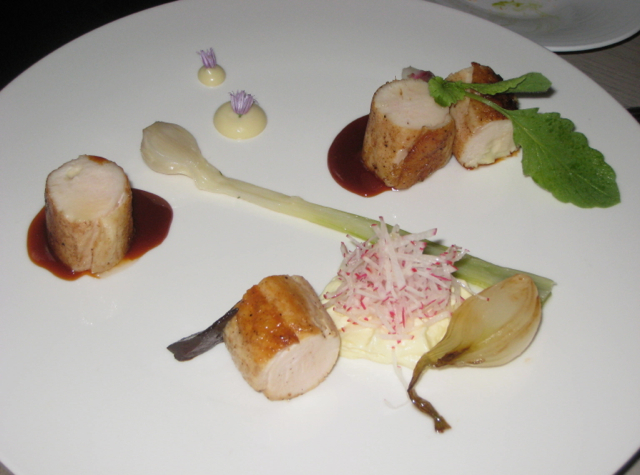 My entree of Black Bass with fresh lettuce and tapioca was one recommended by our server. I enjoy fish, although not tapioca (have never liked those bubble tea drinks) but that didn't stop me from finishing this dish. So often, even fine dining restaurants slightly overcook their fish, but not here–it was perfectly cooked (some traditionalists would probably think it was undercooked, but it wasn't) and the fresh peas, lettuce and tapioca added some nice textural contrast to the silky fish.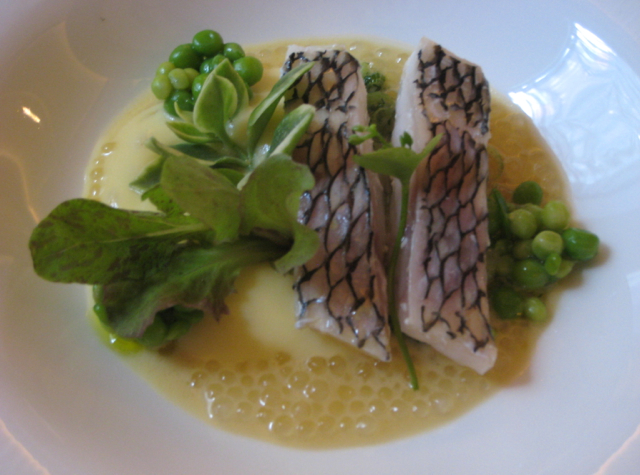 Our desserts were if anything even more ambitious, both with their presentation and their flavors. The munchkin, to my surprise, chose the ginger – rhubarb – hyssop dessert (only being familiar with rhubarb) and ate it all. The ginger ice cream was artistically piped in a wreath form, adorned with fresh hyssop blossoms (can't really get much more seasonal than that) and bits of sweet tart rhubarb. If you're seeking a truly refreshing finish with a taste of summer in every bite, this is it.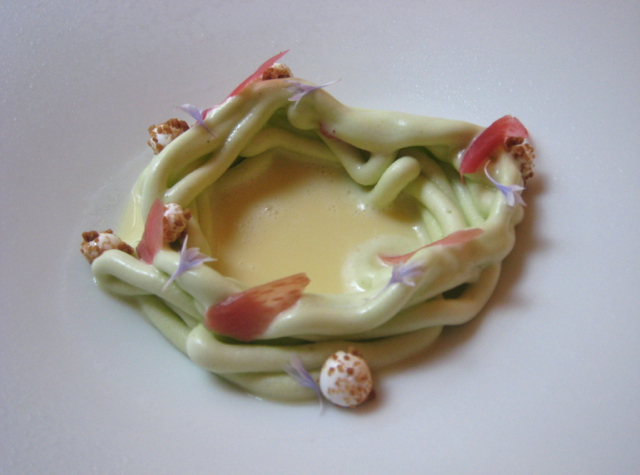 I selected the chocolate – grapefruit – jasmine – pistachio dessert, which included a milk chocolate fondant, bits of candied grapefruit, pistachio ice cream, pistachio crumbles, and jasmine blossoms. I thought the strongest aspects of this dessert were the housemade pistachio ice cream–fantastic–and the addictive pistachio crumbles scattered on the plate. Personally, I prefer much darker chocolate, so the milk chocolate fondant didn't really do it for me, nor did I care for the grapefruit pieces.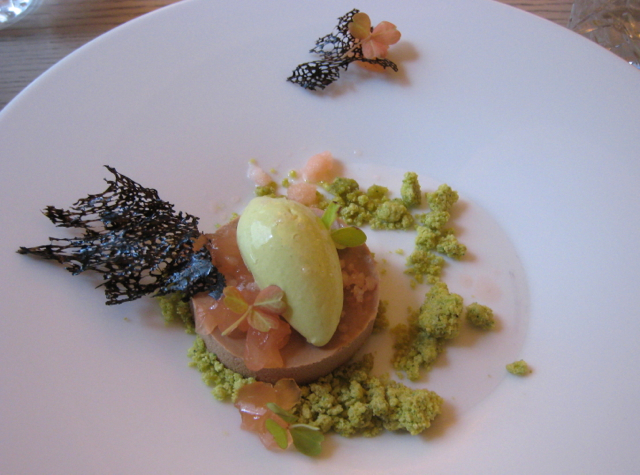 Our server asked if we wanted anything to drink with our dessert, and although I declined an offer of coffee, he offered to have the kitchen make some hot chocolate for the munchkin, which I thought was a nice touch–I can't imagine that most other diners here request hot chocolate. The munchkin really enjoyed it, as it was foamy and milky, perfect for a kid, even though I prefer much thicker, bittersweet hot chocolate for myself.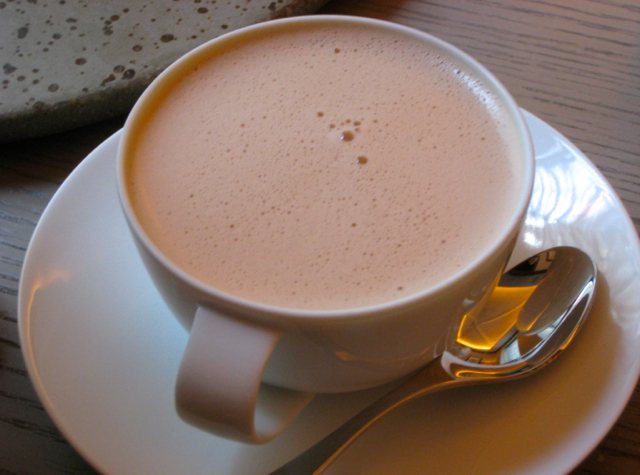 Our final tasting was of the mignardises our server brought: housemade passionfruit gelee (my favorite of the two) and some matcha green tea macadamia nuts.
The Service
Service was attentive, professional and friendly. No one batted an eye at my bringing the munchkin, and fortunately he behaved himself very well given the several business lunches going on around us. Pacing was very good as well–no overly long waits between courses, but ample time to enjoy each one. Our water glasses were always promptly filled and never empty as well. The only slight complaint is that the check was brought without our asking for it, although this is a minor nitpick.
The Verdict
We very much enjoyed our visit to Juni, and in my view, it's the best splurge fine dining lunch deal in NYC right now. I haven't yet tried dinner, which is considerably pricier. If I had to nitpick, my two criticisms would be the lack of any kind of amuse bouche for lunch (which is something you do enjoy at Jean-Georges) and the dining room.
I wouldn't go so far as Time Out New York to say that it's like a dentist's waiting room (at least my dentist doesn't have a grand bouquet of flowers as its centerpiece), but it lacks the kind of elegance and romantic ambience of Eleven Madison Park, simply by virtue of its location in the Hotel Chandler and lack of view. Of course, that's true of most NYC restaurants, and to be fair, at least Juni offers more affordable dinner options, at $90 and $120, than its $180 tasting menu, whereas Eleven Madison Park is now at $225 per person for its tasting menu, both for lunch and dinner.
If you've dined at Juni in NYC, what was your experience?
Related Posts
ABC Kitchen NYC Restaurant Review
Gramercy Tavern NYC Restaurant Review
Eleven Madison Park, NYC Restaurant Review
Need Award Booking Help? Our fee is as low as $75 per ticket if you book your hotel through us.
If you enjoyed this, join 100,000+ readers: please follow TravelSort on Twitter or like us on Facebook to be alerted to new posts.
Become a TravelSort Client and Book Your Hotel with Virtuoso or Four Seasons Preferred VIP Amenities!