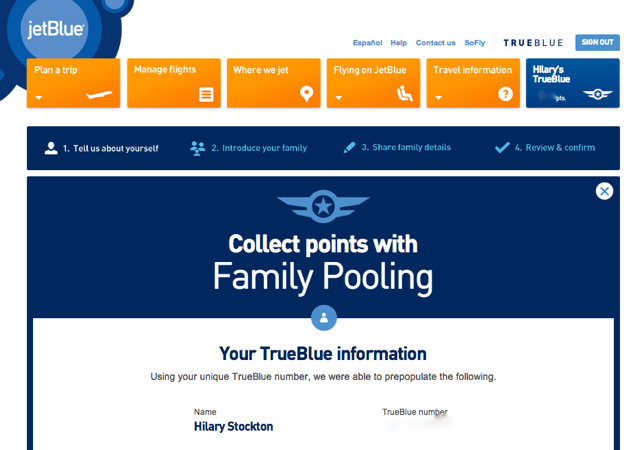 JetBlue has lauched Family Pooling Accounts that can pool TrueBlue points from family members in order to redeem sooner for TrueBlue awards.
I rarely fly JetBlue since most of our travel is international, and TrueBlue points aren't valuable in the way that American AAdvantage miles and United MileagePlus miles are, because the latter can be redeemed on for great international award flights such as Cathay Pacific First Class, Qantas, Etihad First Class, Singapore Business Class, Lufthansa First Class, and others. JetBlue isn't part of Star Alliance, Oneworld or any other major alliance, so TrueBlue points have to be redeemed for JetBlue flights at a fixed value.
Nevertheless, Family Pooling is good news. Family accounts are fairly common among Asia and Middle Eastern carriers (JAL, Korean, Asiana, ANA, Etihad and Emirates all offer them) and British Airways has offered the well known Household Account for years, but U.S. carriers don't offer any family pooling to their U.S. frequent flyer members.
And if you and your family fly JetBlue frequently, maybe you already have enough in your account for JetBlue's MINT private suite product between JFK and LAX.
Here's how the JetBlue TrueBlue Family Pooling / Family Accounts work:
1. Minimum Two Members, Maximum 2 Adults and 5 Children
This should work for most immediate families, although with the maximum of 2 adults it won't work for extended family, such as a grandparent, aunt, uncle etc. if they live with you, unless they will be one of the two adults permitted.
2. An adult is 21 or older. A child is anyone under 21
The terms don't say anything about the child having to live at the same address, so the nice thing is that even kids who have gone off to college should still be able to be included in the Family Pooling account until they turn 21.
3. A Head of Household manages all the points in the Family Pooling account
Note that only the Head of Household can redeem points for award tickets, and once a family member has contributed points to a family account, all those points are part of the Family Account and that transfer cannot be reversed.
4. After a Head of Household Invites Members to Join, Each Member Decides How Many Points to Contribute
Each member can decide how many existing points to contribute, and the percentage of points (minimum 10%) to contribute to the Family Account on an ongoing basis.
5. Changes in the Percentage of Points to Contribute Can Be Made Once a Year from the Date the Family Account Was Formed
If any member wants to change the percentage of TrueBlue points contributed to the family account, that decision can only be made once a year on the anniversary of the date the Family Account was set up.
6. Additional TrueBlue Points Transfers Cost $12 per 1000 Points
The $12 per 1000 points applies for any points transfers made after your initial decision of how many TrueBlue points to transfer into the Family Pooling Account–that initial setup transfer is free.
7. Members Are Not Permitted to Join Multiple Family Pooling Accounts
Self explanatory.
As I discovered, however, setting up a family account wasn't as easy as I would have liked, primarily because of problems today with JetBlue emails. I'd forgotten my own password and those for my husband and son, so I tried to issue a password reset link for all of us. None of them worked, at least not within the several hours of requesting a reset password link to be sent.
So I called JetBlue and got the agent to issue password reset links that did finally make it through.
Once I logged into my own account and set up a Family Pooling account, I issued invitations to my husband and son, but these weren't received either. Fortunately, once I finally had reset passwords so that I could log in to my husband's and son's accounts, the invitations are able to be accepted by going to "How it Works" then "Family Pooling."
Apparently we're not the only family that has been experiencing problems with receiving emails–per the agent I spoke with, many other calls had been about not receiving emailed invitations for the family pooling.
It turns out that the problem is that emails were only being sent if you'd filled out your JetBlue profile more completely than we had, including your home airport, favorite destination, and accepting the new terms of conditions. Hmm, would be good if you were prompted to do those things when requesting a password reset, rather than just not receive the password reset link at all. Just sayin'….
While it was something of a hassle, at least it's set up now, so for our once in a blue moon JetBlue flights, we now have a better chance of actually redeeming for a free flight.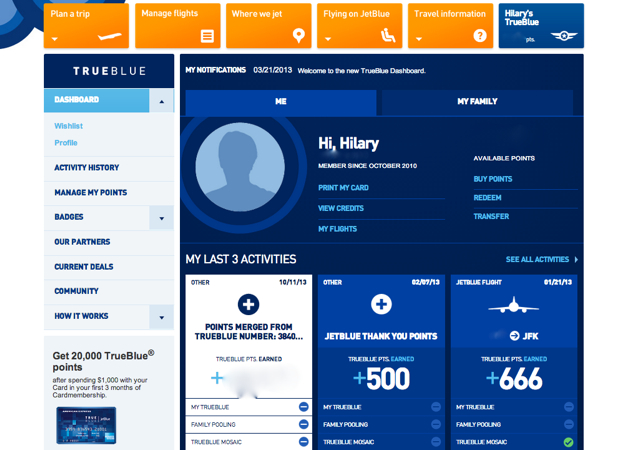 Will you be using a new JetBlue Family Pooling Account?
Related Posts
Review: Airspace Lounge at JFK Terminal 5 Before a JetBlue Flight
JetBlue Mint Private Suite and Flat Bed Seats Now on Sale
JetBlue: New Private Suite on A321 Unveiled
Transfer Frequent Flyer Miles and Points Between Family Members?
Top 10 Tips: Use Frequent Flyer Miles and Points for Family Travel
Need Award Booking Help? Our fee is as low as $75 per ticket if you book your hotel through us.
If you enjoyed this, join 200,000+ readers: please follow TravelSort on Twitter or like us on Facebook to be alerted to new posts.
Become a TravelSort Client and Book 5-Star Hotels with Virtuoso or Four Seasons Preferred Partner Amenities!