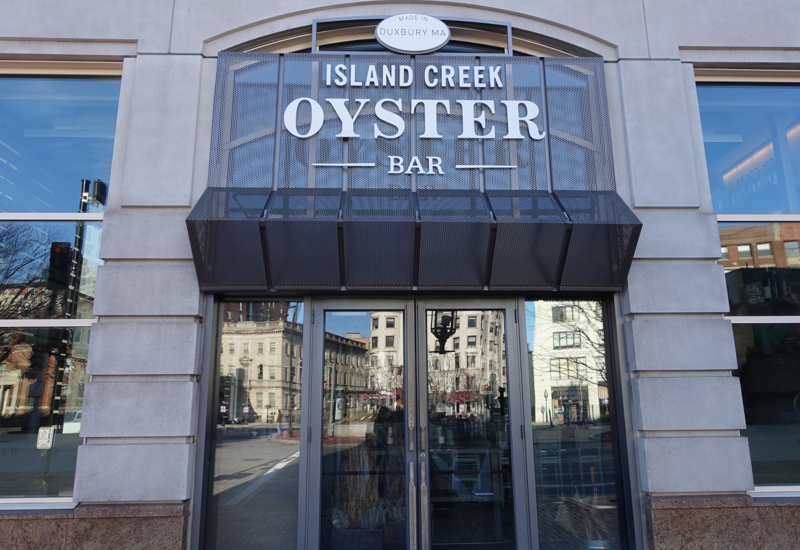 This Island Creek Oyster Bar Boston Review is one of our many Restaurant Reviews. Visiting Boston? See all of our posts tagged Boston.
Getting to Island Creek Oyster Bar
Island Creek Oyster Bar is located at Hotel Commonwealth, at 500 Commonwealth Avenue, in Boston's Back Bay neighborhood. It's conveniently located right by Kenmore T Station, on the Green Line.
The Scene
We visited the Island Creek Oyster Bar for both dinner one evening and for brunch. When we arrived for an early dinner, the bar and tables near the front of the restaurant were very busy, with a mix of couples and small groups of friends, mostly in their late 20s and 30s, although a few older couples were there as well. I saw just one other family with young kids, but we were welcomed, and the moderate noise level makes it comfortable to take a well behaved kid here.
We were seated in a section in the back, which steadily filled up over the course of our dinner. We were walk-ins, but it's definitely advisable to reserve in advance for dinner.
Weekend brunch was a much less crowded affair, with just a few tables occupied when we were there, probably due to it being only 10:30am.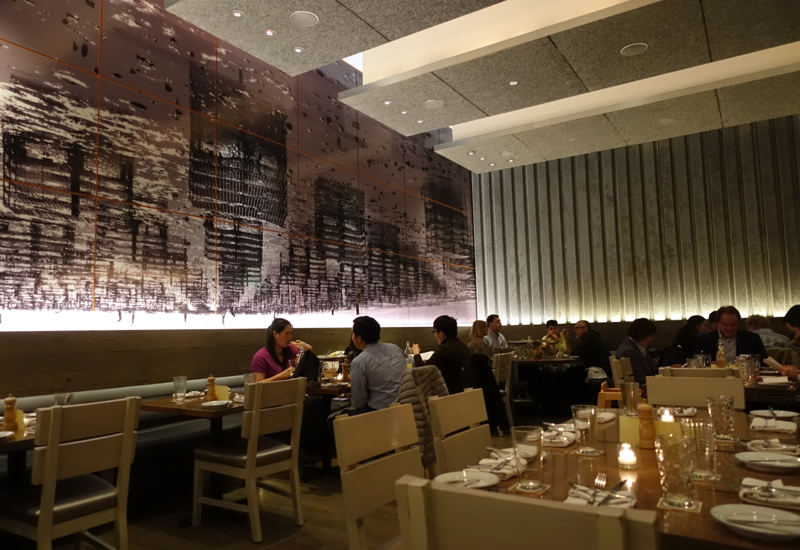 Island Creek Oyster Bar Menu and Food
My husband hails from Boston, so every now and then he craves a good clam chowder and fried clams. There were many other tempting seafood items on the dinner menu, from crab cakes and oyster sliders to lobster rolls and the dish I ended up ordering, Cape Cod Bluefish: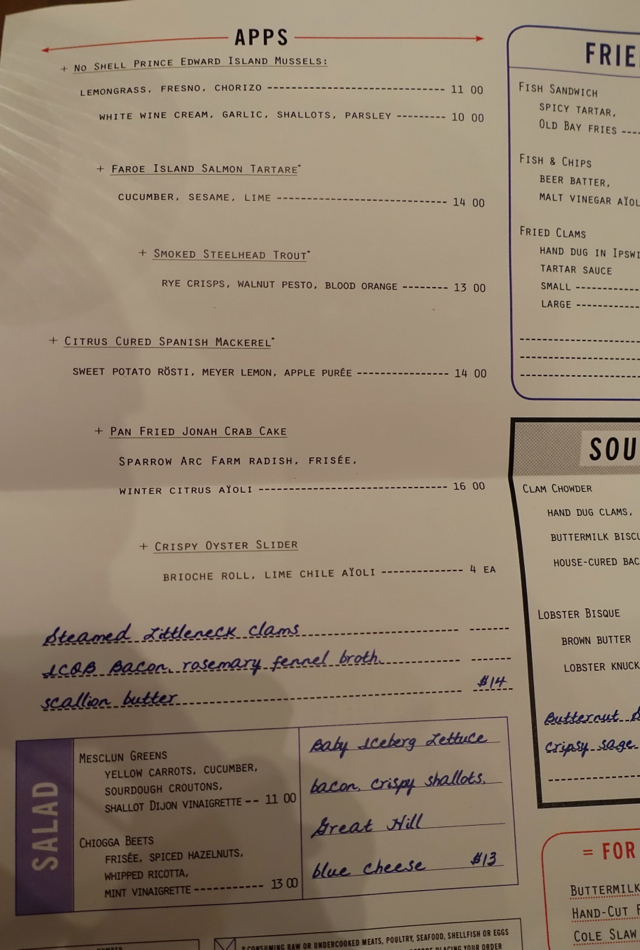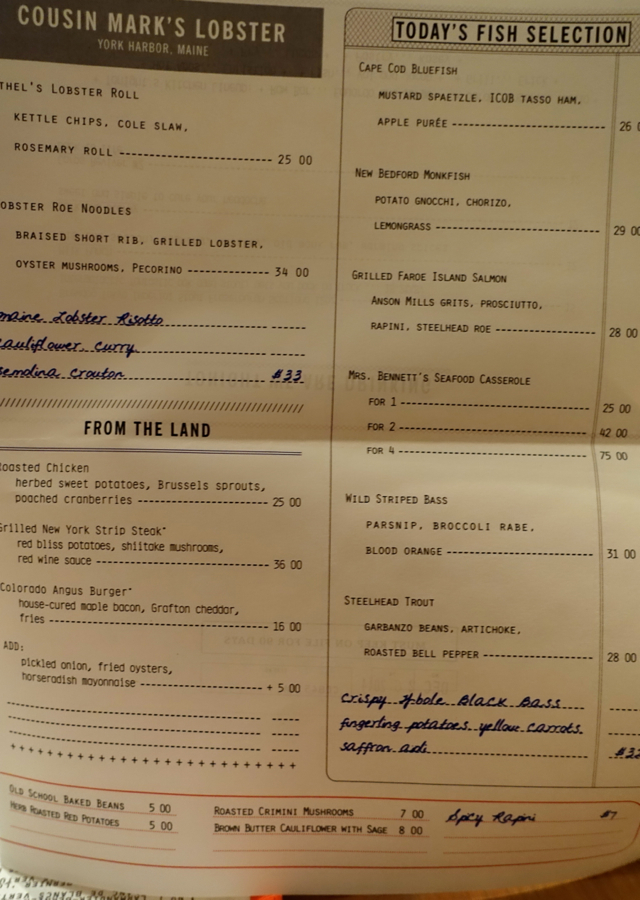 The food part of our experience went well. We were started off with bread and butter, which was fresh, although personally I would have loved to have something such as piping hot Parker House Rolls, such as at The Clam in NYC.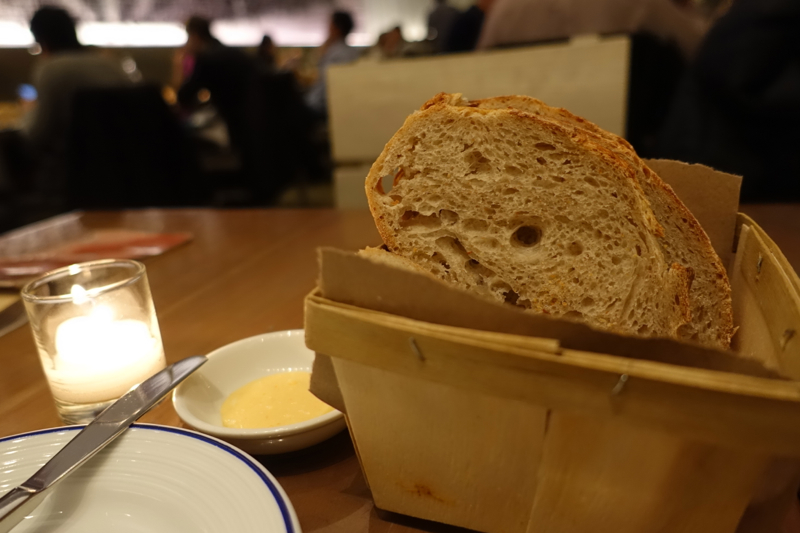 On the night of our visit, we were served an amuse bouche of smoked bluefish pate on crostini, which was delicious: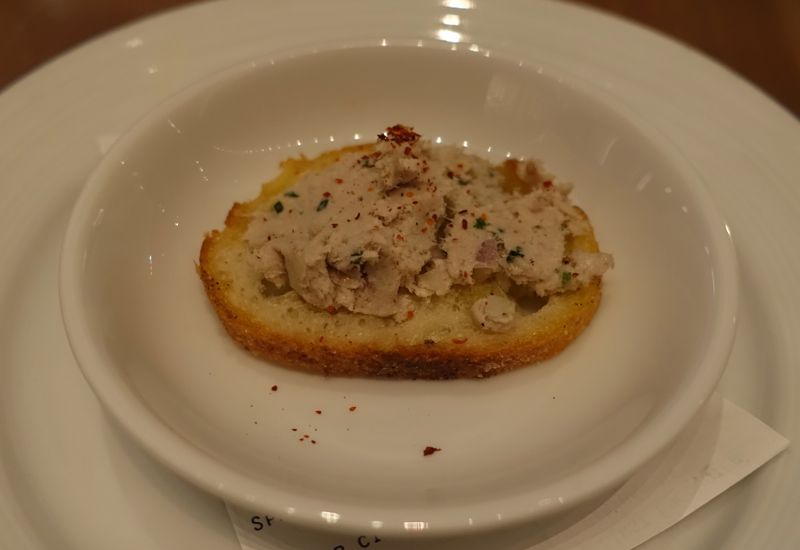 My husband's Clam Chowder also really hit the spot for him, with its abundance of clams, creamy broth (fortunately not over-thickened, as so many poor versions are) and a homemade little buttermilk biscuit in the soup: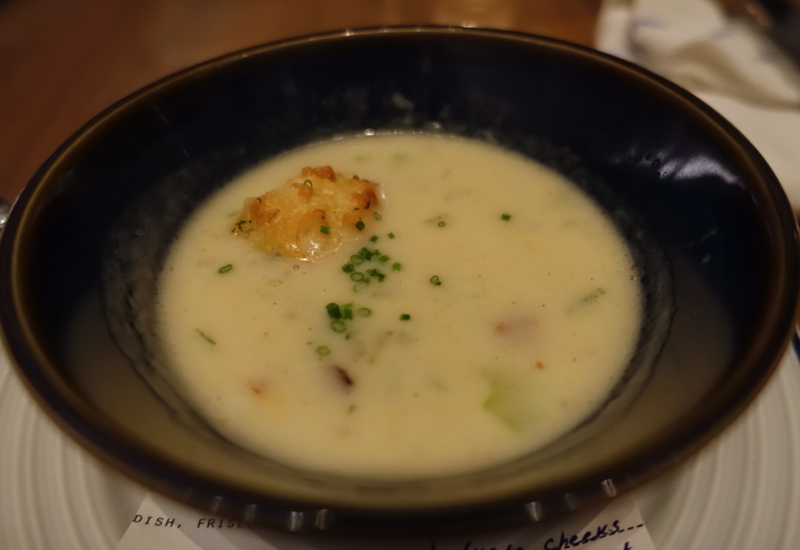 Unfortunately, after this promising start, service fell apart. We waited. And waited. Nearly a full hour went by, and we periodically kept asking about when our meals would be out, to be met with "it's coming soon.." but no food. This would have been one thing if it was just my husband and me, but we had a very hungry son with us, so it became a more frustrating wait.
Finally, our entrees did come (served by one of the managers, as our server basically went MIA in terms of our table), and I will say that the food was very good, even though the wait was far too long.
My husband enjoyed his fried clams, which also came with an abundance of fries: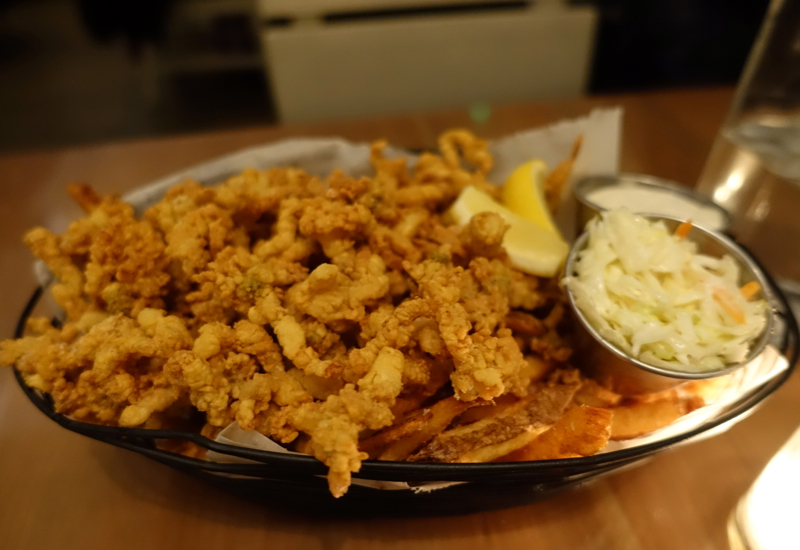 I loved my entree of Bluefish with Mustard Spaetzle. I'd never tried bluefish before, but it's a moderately oily fish with a distinctive flavor; it reminded me a bit of another of my favorite fish, Hawaiian Opah. The skin was perfectly crisped, and the tang from the mustard spaetzle was a great foil for the richness of the fish. A crisp Sauvignon Blanc made a nice accompaniment.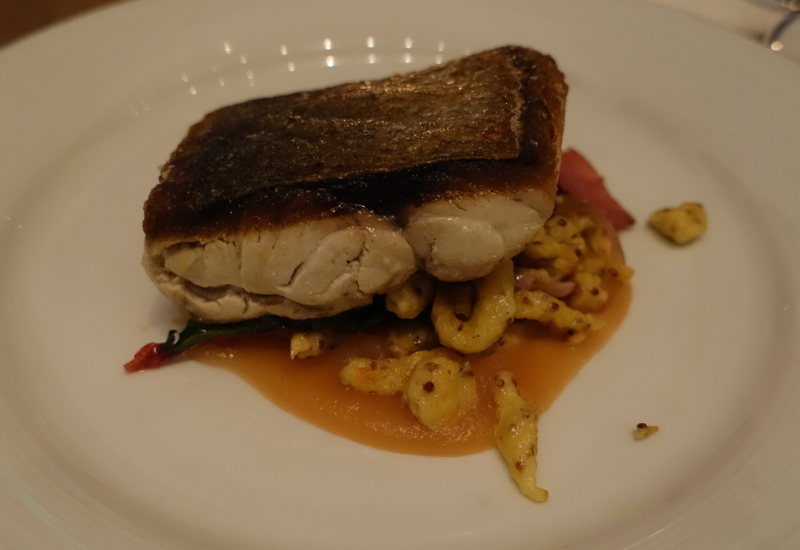 Although he does eat fish, on this occasion the munchkin just wanted a burger. Not what I'd order at a seafood place, but he was happy and it was a perfectly fine if not stellar burger, judging from my one bite.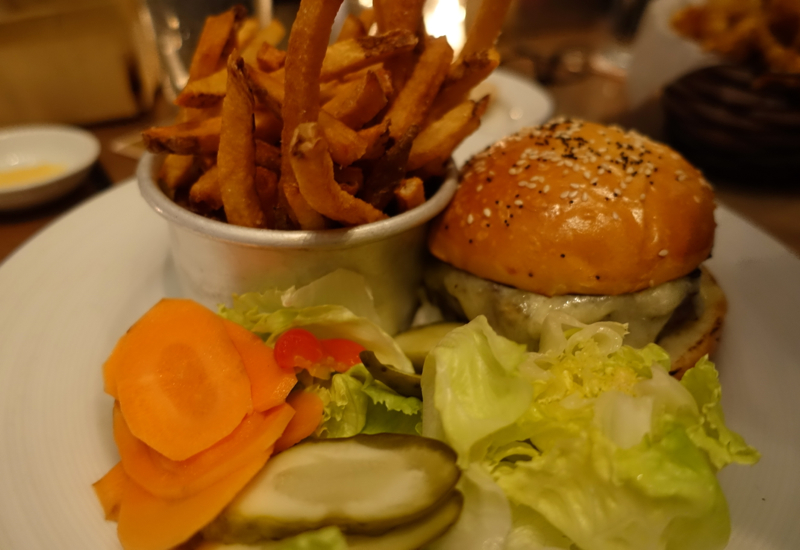 For weekend brunch, the menu had the usual favorites, but many of them had a bit of a twist to them, such as the Old Bay Fritter with the Maine Crab Bisque, the Cranberry Brioche, the Egg White Frittata with oyster mushrooms, broccoli rabe and whipped ricotta: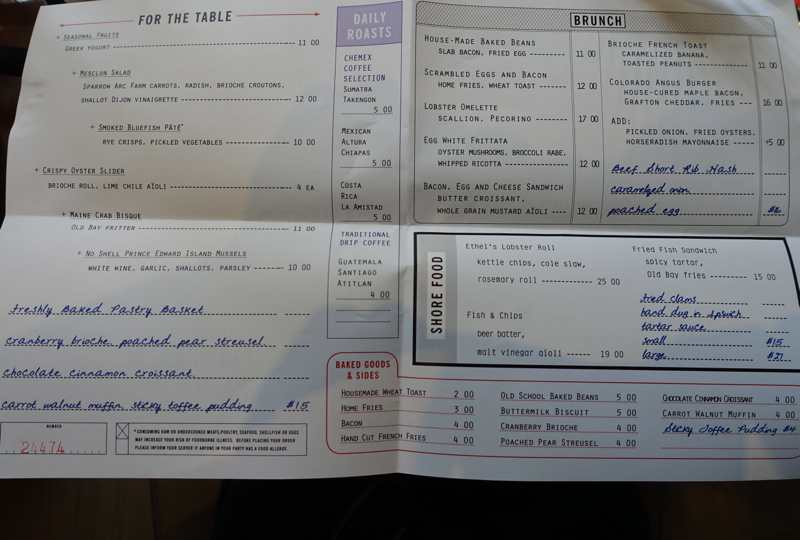 I liked the fact that the pastry basket included less commonly seen pastries, such as chocolate cinnamon croissant and sticky toffee pudding, not to mention a cranberry brioche, all of which were wonderful. The carrot walnut muffin was ordinary and our least favorite, but the poached pear streusel cake was very good.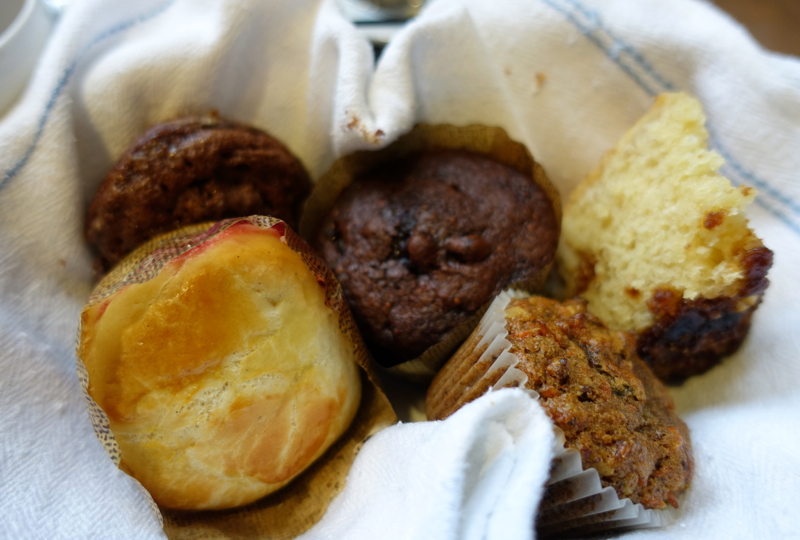 In contrast to the great pastry basket, our brunch entrees proved to be more ordinary. My husband ordered the Bacon, Egg and Cheese Sandwich on Croissant, and while fine, it was notable mostly for its buttery richness.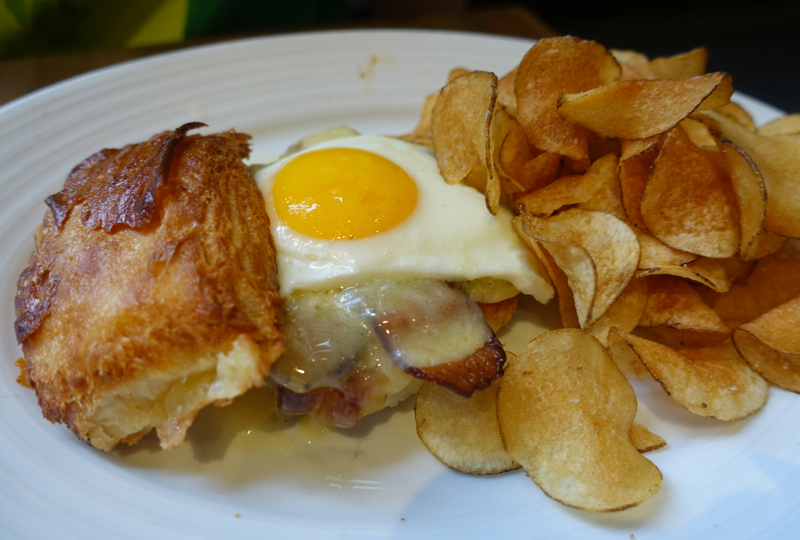 Similarly, my Beef Short Rib Hash with Caramelized Onion and Poached Egg was very one dimensional in terms of taste, and rich without being very interesting. I wouldn't order either entree again.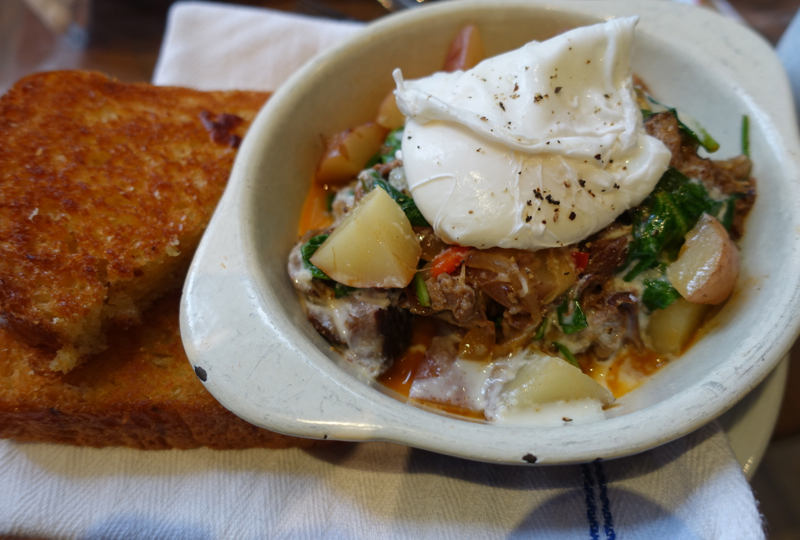 The Service
Service was great initially, from the host who worked to get us in as walk-ins to our initial server who took our orders and served us the bread, wine, amuse bouche and appetizers.
Once it was clear that the food was delayed, I do think the service really suffered. Given how delayed it was and how hungry our son was, I think a more proactive approach should have been taken, such as perhaps offering something on the house from the raw bar (no cooking needed). As it was, I did ask if some kind of discount could be given due to the long wait (without making any more specific request) and the manager did, to her credit, really take care of us from that point forward. The service recovery was so good that based on that and the food we returned for brunch a couple days later.
At brunch, my husband thought he was adding sugar to his coffee, but it turned out to be salt…which I realized as soon as he took his first sip and made a face. Fortunately, our server was willing to replace the coffee without charge, so that was another plus in terms of service.
The Verdict
The Island Creek Oyster Bar offers some of the best seafood we've had in a downtown Boston restaurant. I'd recommend the Clam Chowder and Bluefish based on our visit, and raw bar items also seem to be popular, judging from the tables around us. Unfortunately, during our dinner visit, there were very long waits for our entrees. This is not a place to visit during peak dinner time if you're on a tight schedule (or have a very hungry kid). Brunch was a bit hit and miss–our experience was that the pastry quality exceeded that of the egg-based entrees. That said, service recovery was excellent, and I recommend the restaurant if you can go during off peak hours, and if you stick with seafood items.
Related Posts
Four Seasons Boston State Suite Review
Cathay Pacific First Class Awards Available Boston to Hong Kong
10 Places to Satisfy Your Sweet Tooth in Boston
Need Award Booking Help? Our fee is as low as $75 per ticket if you book your hotel through us.
If you enjoyed this, join 150,000+ readers: please follow TravelSort on Twitter or like us on Facebook to be alerted to new posts.
Become a TravelSort Client and Book Your Hotel with Virtuoso or Four Seasons Preferred VIP Amenities!